Diesel generators are fast becoming the number one choice for portable power generation in Australia. But do you know what to look for when you see diesel generators for sale?
Why Diesel Generators? First, let's take a look at precisely why diesel generators are growing in popularity. Essentially, it comes down to the benefits of diesel as a fuel. Diesel produces much more power than petrol, costs less to operate and is safer to store because it is not as volatile as petrol. With longer life and lower operating costs, diesel engines have long been popular in trucks, trains, farm equipment, and other heavy machinery. So it was only a matter of time before diesel generators caught up. What's more, diesel fuel is a light-grade oil, which means there's less friction - and therefore less wear and tear - for the engine parts. With less maintenance, you can enjoy a generator that truly delivers better value for money over a longer time. [caption id="attachment_385" align="aligncenter" width="434"]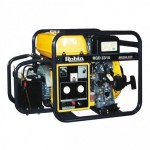 3kVA Robin Subaru Diesel Generator[/caption] Whisper Quiet Diesel Generators More recently, there's been a growing demand for whisper quiet generators. In other words, generators that will run without disturbing everybody within a kilometre radius. Noise has long been a drawback of even the best quality generators, especially diesel generators, which perform so well in every other aspect. For recreational and domestic uses, it's important to have a diesel generator that doesn't keep the neighbours awake. This is also important for outdoor events, and worksites within a suburban or urban environment where strict noise restrictions are enforced. Fortunately, diesel generators for sale today now address this customer demand. Many of the latest diesel generator designs incorporate extensive noise shielding, and superior muffler systems for the engine exhaust. The likes of Himoinsa, Pramac and other leading generator manufacturers boast about their patented noise reduction technologies. Pramac particularly have diesel models with soundproof casing and insulation to absorb the noise when running. If you really have special requirements, be sure to compare the specifications looking at the rated decibel output levels. [caption id="attachment_1078" align="aligncenter" width="434"]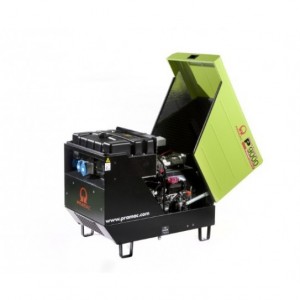 The Pramac P9000 is the market leader for auto-start domestic backup generators, with silenced models in their range[/caption] Types of Diesel Generator for Sale in Australia Like petrol generators, diesel generator for sale in Australia come in models suitable for various applications. Arguably the most versatile type of diesel generator for sale is the portable variety. These mobile gensets provide power in remote locations, such as construction sites, farming or small events for short periods of time. Many households and businesses will also use a portable diesel generator unit to power essential equipment during a power outage. Diesel generators are also ideal for the construction and mining industries. For example, Powerlite and Gentech are leading diesel manufactures with Yanmar and Kohler engines that provides diesel reliability and economy in a compact Workmate package ideal for trades, rural and emergency back-up wherever portable clean power is needed. It can also be fully specified to suit mining requirements. [caption id="attachment_384" align="aligncenter" width="480"]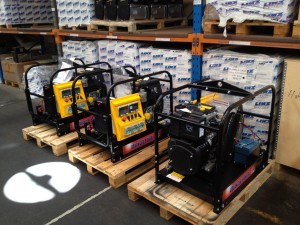 Diesel Powered Mine Specification Generators[/caption] Need more advice or information on diesel generators for sale? Visit MyGenerator.com.au and for large Stationary Diesel Generators, check out or range here
DISCLAIMER* Please note, this advice is general in nature and we strongly recommend consulting the product manual and where relevant, a professional installer.