If you're thinking of buying a caravan 12v television, you'll have heard about Englaon TVs. You've probably already read a few Englaon TV reviews. But are they worth the hype? We put them to the test.

Here's our Englaon TV review:

Reception And Tuning
The first thing you want to know when you're taking a TV around Australia is whether you'll be able to tune into your favourite channels. This is where Englaon TVs stand out. All televisions in their range come with a built-in HD tuner, which means you have access to free-to-air channels wherever you go. No need for an additional tuner - unless you are thinking of going super remote, in which case it never hurts to have an extra aerial.
Protection
Every Englaon TV review talks about the durability of these caravan televisions. That's because they are designed for use in caravans and on boats. Most models come with built-in 10-30v surge protection, which protects the TV from damage when the voltage supply suddenly drops. It's a feature that you should always look for in caravan TVs.

Made For Travel
Every caravanner knows the best destinations are off the beaten track. Even if you're not planning on going off-road, there will be bumpy surfaces from time to time. That's why it's important for your caravan TV to be designed to withstand vibrations and bumps. We're happy to report in our Englaon TV review that these models are designed for adventures. Whether you're on a boat or on the road, Englaon TVs are vibration resistant and designed to endure bumpy and choppy conditions in the long run. So if you hit a pothole or two, there's no need to worry about whether your TV will work when you reach your destination.
Range Of Sizes
One of the questions in an Englaon TV review is whether you can choose a TV that suits your caravan or boat size. The Englaon TVs come in a huge range of sizes made for caravans and marine purposes, including 22", 24" and 32" models. Whichever size you choose, the televisions are incredibly lightweight, so they won't add unnecessary kilos to your load. The Englaon 24" Full HD Smart 12V TV Android 9.0 with built-in DVD player and Chromecast weighs just 2.5kg, which is just half the weight of the NCE 24" Smart LED LCD TV/DVD Combo!

Top Features
If you think choosing a caravan TV means you need to compromise the features you love, think again. Englaon has everything you want in its TVs so you can choose from a wide range of features to suit your needs. Need a sound bar or full motion wall bracket? Check out Englaons range of accessories on the products.
Looking for a built-in DVD player? The Englaon 24″ Full HD 12V TV with inbuilt DVD player has it covered. After all, you can't always rely on internet coverage to stream your favourite movies on the road! Some models come with Bluetooth connectivity, so you can hook up the speaker of your choice and enjoy even better sound. As well as the built-in HD tuner, some TVs come with an Android operating system so you can enjoy Netflix, YouTube and more. Plus, there are HDMI and USB inputs to let you connect your laptop, hard drive and gaming console.
Can I Watch The Footy On My Englaon TV?
Of course we can't forget to answer your burning question: can I watch the footy on my Englaon TV? Yes you can!
Choose an Englaon TV powered by Android 11 and you have access to all the apps in the Google Play Store including Kayo for watching the footy. Ensure you have a Kayo subscription, a strong internet connection and 12V power. These models include:
Efficient Performance
When you're travelling on a boat or in a caravan, you don't always have unlimited power and your appliances need to be highly efficient. Englaon TVs don't draw too much power, so you don't need to worry about running down your battery just to catch up on your latest shows. The 32" Englaon TV model with built-in DVD player, Bluetooth and Chromecast has an average power consumption of just 42 watts compared to 65 watts for the NCE 32" model and 48 watts for the NCE 28″ Smart LED LCD TV/DVD Combo with Wifi and Bluetooth Connectivity. Better yet, the Englaon 22″ Full HD Android Smart 12V TV with Built-in Chromecast consumes an average of just 23 watts!
Picture Quality
Just because the power consumption is low doesn't mean you need to worry about the picture quality. You can choose the HD resolution models for a crisp, super sharp picture. Almost all models come with 1920 x 1080 full HD ultra-wide viewing - perfect for movies and gaming.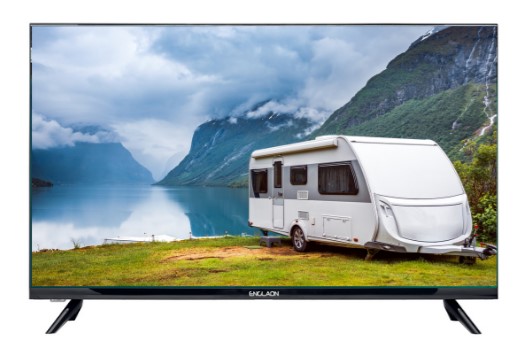 Englaon TV Review Verdict
When it comes to top-end 12v TVs, the Englaon TV range is hard to beat. Built for travel, low power consumption, high picture quality and lots of features, Englaon is ticking all the boxes. Best of all, they won't break the bank!

View all Englaon TVs on My Generator now!
DISCLAIMER* Please note, this advice is general in nature and we strongly recommend consulting the product manual and where relevant, a professional installer.