"Best Price and Service"
Happy to say My Generator had the best prices and service I could find. Good to know someone can help out if anything goes wrong. Really impressed with my Pramac S8000. It's a great backup generator for our solar system. Many thanks, Jordo
Jordan Cleland, Ballina NSW
Lowest Price Guarantee
My Generator - Power Products Direct, is an an Australian online retailer that provides the biggest range of the best brands. We guarantee to have the lowest prices on our premium product range!
We are able to make this guarantee because our business is 100% online, keeping our overheads low. This allows us to pass on savings to our customers!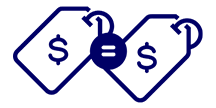 Price Match Guarantee: If you find a better price on any immediately available, identical product from another retailer operating in Australia, we'll be happy to match it. It's that easy!
So, at My Generator you can shop with the knowledge that we have all the best top quality brands you can trust, at the lowest possible prices!
This offer does not apply to lower prices being offered on our own site due to price reductions or sale discounts which are given from time to time.
NB: - My Generator Price Match Guarantee excludes; liquidated/demo/damaged stock, wholesale/tradesman or bulk pricing, online auction and clearance sites, eBay, Amazon, Catch, other marketplaces and member/club/VIP pricing. We also note that; the competitor must be Australian based, have the item in stock, and confirmation of competitor's advertised price is required. i.e. catalogue/newspaper advertising (verbal and written quotes not accepted). All price matching excludes delivery. The price must not be below our cost price. All price matching excludes bonus items and promotional packs. This Price Match Guarantee is subject to change without notice, but any changes will always be published on this page.