How do you protect your battery? Batteries can be damaged by a wide range of factors - one of the biggest causes is when a battery is drained completely. This can cause the battery lifespan to be compromised or, worse, the battery to be damaged or even destroyed completely.
Draining your batteries charge is a simple error to make. Without 12V battery protection, you can easily run a fan, light or small 12V device without realising it. But there is a solution. Using a good battery monitor, low voltage disconnect or both can protect your battery system from being damaged by running flat. So how do you protect your batteries?
What Is 12V Battery Protection?
A 12V battery monitor makes it easy to track the health of your battery to essentially protect your battery, while a battery protection will ensure no actual damage happens to your battery. Take a look at how they work and our recommended products for both.

12V Battery Monitors:
A 12V battery monitor will reveal all sorts of important information about your batteries. You can find out the state of your batteries charge, the battery age, discharge current and temperature - all the factors that determine the actual battery capacity. Think of it as a fuel gauge for your batteries.
The great thing about battery monitors is they can also show you historical recordings. This means you can see the deepest discharge, number of cycles, and average depth of discharge, to name a few. All of these readings are so important to help you work out the health of your battery bank after a few years of use.
Simply by looking at the battery monitor on a daily basis, you will understand exactly when to fire up the generator to charge up the battery or connect your AC charger. Another advantage of battery monitors is that you can set low voltage alarms, which helps you protect both your battery and your devices.

Our Top Picks For 12V Battery Monitors Include:

Enerdrive ePRO Plus
Under $400, 500 Amps: The Enerdrive ePRO PLUS can monitor up to three battery banks. Inputs for the second and third battery banks can also be configured for other purposes, like mid-point voltage measurement, keyswitch input, backlight control and more. The ePRO PLUS lets you see the history of the battery including Average Discharge (AH and %), Deepest Discharge (AH and %), Total AH removed, and Total AH charged to the battery.
Simarine By Enerdrive
From $849, 300amps, (Shunt 300A): It's far from the cheapest on the market, but the Simarine is highly versatile. You can add up to 20 x Simarine shunts and modules, which means you can monitor up to 6 battery banks, 14 tanks, 10 temperatures, 20 independent generators, and a Inclinometer sensor with pitch and roll readings (slope and tilt).
Use the free app to connect your PICO display to your smartphone using Wi-Fi and monitor all battery and tank data. You can also edit and restore settings and even upgrade the firmware with new features. As a simple battery monitor, the Pico system gives a simple overview of voltage, current, amp hours, battery capacity (%), and battery temperature.
Victron BMV-712 Smart
Under $300, 500 Amps: Victron's smart BMV-712 battery monitor is a step up from the BMV-702, with the addition of Bluetooth connectivity. It lets you monitor up to 2 batteries, and the additional input means you can measure the voltage of a second battery.
Keep check on a great range of metrics including Average Discharge (AH and %), Deepest Discharge (AH and %), Total AH removed from battery, and Total AH charged to the battery, highest and lowest battery voltage, number of days since last full charge, number of full discharges (0%), number of charge cycles (below 65% and above 90%), and average discharge depth. There's also an additional Victron Temperature Sensor available as an add-on.
Victron Smart Shunts
From $230, 500amp/1000amp/2000amp: The Victron SmartShunt is an all-in-one battery monitor but without a display. Instead, your smartphone or tablet acts as the display using the VictronConnect App to connect via Bluetooth. This means you can read all monitored battery parameters, including state of charge, time to go, historical information, and much more. If you want battery monitoring without the wiring and clutter, this is a great alternative.
Renogy 500A Battery Monitor with Shunt
Save youself hundreds of dollars with this advance battery monitor from Renogy. It displays the following electronic parameters:
Voltage
Current
Consumed Power
Battery Capacity
Check out this wiring outline of the unit working in unison with batteries, inverters and a charger: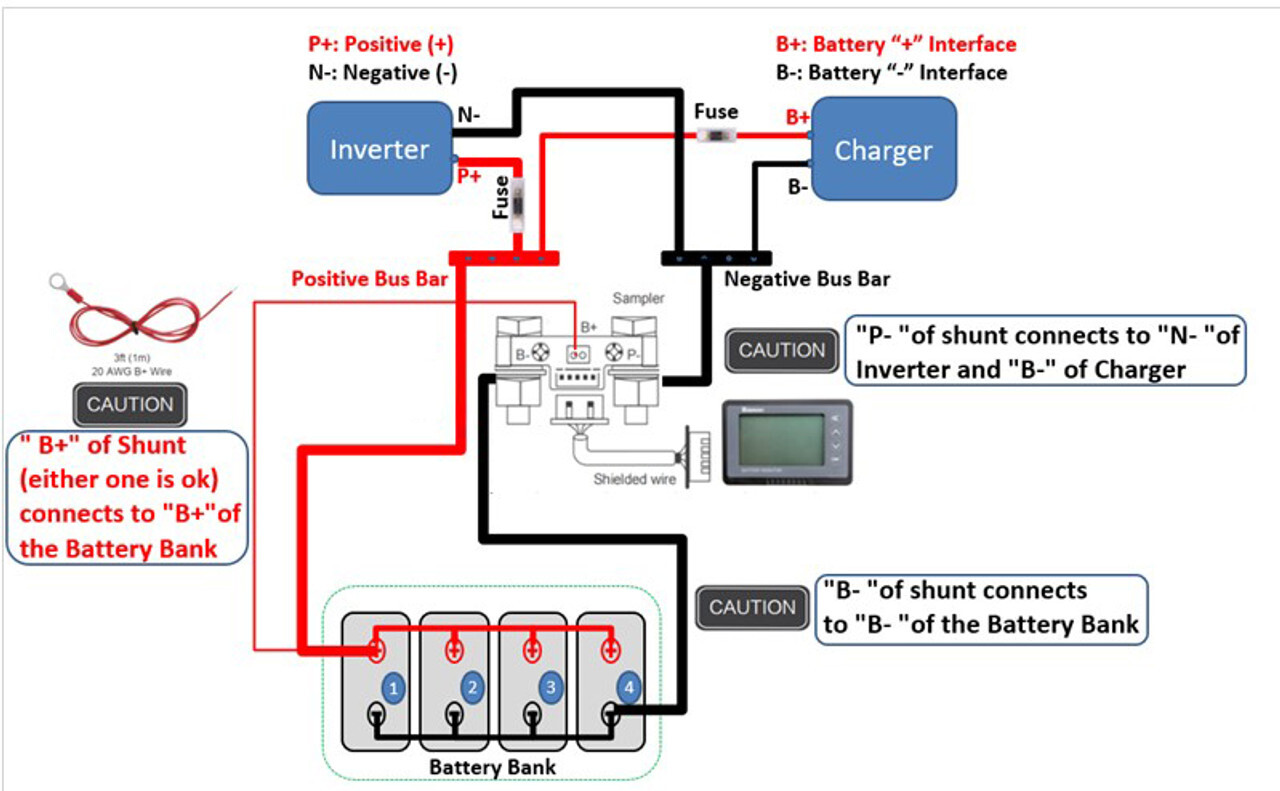 Low Battery Cut Out (Battery Protect):
A Battery Protect can be used in any battery application that needs to be protected and isolated. It is installed to protect batteries from over-discharge by isolating loads once they reach a certain voltage.

Brands For 12V Battery Protection:
Victron Battery Protect
One of the top models on the market is Victron Battery Protect. The Victron Battery Protect works by disconnecting the battery from non-essential loads before it is completely discharged. It is ideal for vehicles, solar installations, motorhomes and boats, and can be used as a battery isolator.
The Battery Connect comes with an LED display which makes set-up and programming a breeze. If you have a BMV-700 series battery monitor, you can also benefit from the alarms and monitoring. In addition, the VictronConnect app makes it easy to manage the batteries from your smartphone or tablet. The Battery Protect 12/24V comes in 65A, 100A, and 220A.
Enerdrive Low Battery Cut Out
Another top-notch choice is the Enerdrive Low Battery Cut Out. The ePOWER Low Battery Cut Out is microprocessor controlled and protects your batteries from non-essential loads before the battery is completely discharged.
This battery protection also protects connected electrical appliances and gadgets against over voltage. It has 10 different programs that engage or disengage the voltage load over different voltage parameters - such as whenever the DC voltage goes beyond 16V (12V mode) or 32V (24V mode).
To view all My Generator Battery Monitors and Protection products - CLICK HERE!
DISCLAIMER* Please note, this advice is general in nature and we strongly recommend consulting the product manual and where relevant, a professional installer.