When a company calls themselves the "battery management professionals", you know they should be on the shortlist for your electronic products. Let us introduce you to BMPRO.
Don't get us wrong - BMPRO are not new to the market. In fact, while their brand name might be fairly new, they are part of SETEC which has been in the power management business for over 50 years. So, who is BMPRO, what products are worth a look and why should you pay attention?
Read on for our introduction.

Who Is BMPRO?
BMPRO deals in the market of off-grid power systems and battery solutions. The BMPRO range is regarded as high quality and highly reliable battery management gear. The first thing that people notice and get excited about with BMPRO and their products is that they are Australian made and owned. Most of the product range is designed and manufactured in a factory in Knoxfield, Victoria.
This fact alone sets their products apart from the competitors. Products are tested extensively and proudly wear the "Australian made", ISO9001, and regulatory compliance marks and quality tags. But that's not the only thing you should take notice of. BMPRO also boasts an exceptional after sales service and warranty team. They back their quality with a 2 year warranty on all products. In fact, BMPRO even offers free upgrades for the firmware on older management systems and monitors in order to make them lithium compatible. That's smart business!
BMPRO are such experts in electronics for travellers that they were commissioned by Jayco to produce a complete range of Battery Management Systems for the latest models of caravans. This includes the BMPRO J35B-L Battery Management System for Lead Acid & Lithium Battery.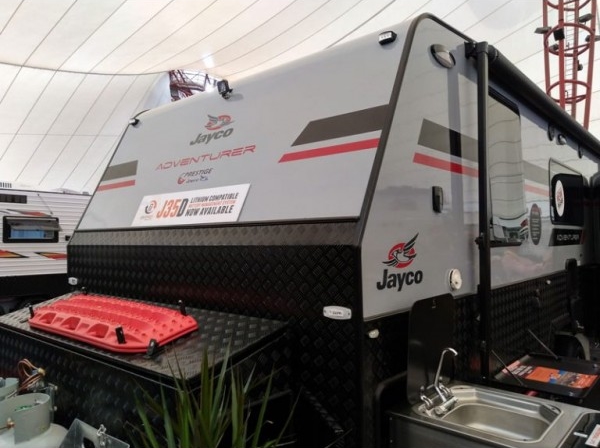 New Age, Concept Caravans and Coronet RV also use BMPRO systems. In fact, there are now at least 150,000 units installed in Aussie caravans and RVs alone. If that's not reason enough to trust BMPRO, what is?

Pros Of Buying BMPRO:
Manufactured in Australia by an Australian company:
Not only does this mean that you are supporting local, but you know you are getting the benefit of products that have been designed and made with Aussie customers in mind.
Competitive pricing:
BMPRO aren't the cheapest, but they also aren't the most expensive. They are well priced compared to other management systems in the market, so you know you're getting good quality, and good value for money.
All-in-one solutions:
With BMPRO you get all-in-one systems for your off-grid battery setup which makes installation easier and cheaper.

Drawbacks Of Buying BMPRO:
Limited compatibility:
Only BMPRO equipment is compatible with their management systems, meaning that if you are upgrading, all components will have to be upgraded. Use our compatibility table below in order to ensure optimal compatibility of the BMPRO products you are looking to purchase.

Can be difficult to match together the items:
One thing to keep in mind with the entire BMPRO range is that components can be quite difficult to match together, but the My Generator team is here to support you. We can recommend the best setup for your requirements and budget.

Popular BMPRO Products:
BMPRO Prosmart Sensor Monitor with App
The Prosmart Sensor Monitor with App is used to monitor life on the road! You can monitor water levels in your fresh or grey water tanks, gas levels in your BBQ and propane bottles, tyre pressure (TPMS), fridge, freezer and vehicle interior temperatures, and 12V battery charge - all from an easy-to-use app on your smartphone.
BMPRO BatteryPlus35-HA
The BMPRO BatteryPlus35-HA is the newest and most popular management system in the BMPRO range and is designed to support the transition of your caravan to lithium batteries. An all-in-one power solution, the BatterPlus combines a 35A power supply for 12V loads, 30A multi-stage AC charging and 30A Solar MPPT regulation and important battery protection features.
BMPRO J35D Lithium Compatible Battery Management System
The BMPRO J35D Lithium Compatible Battery Management System is a 30amp AC charger with a 28amp solar regulator built-in. It also features a 35amp auxiliary input. The J35D comes with a ControlNode103 that gives you complete control over the unit via the app.
-
BMPRO MiniBoostPro 30A 12V DC to DC Battery Charger with Solar Input
The BMPRO MiniBoostPro 30A is compatible with both the BMPRO BatteryPlus35-HA and BMPRO J35D Lithium Compatible Battery Management System. It is used in conjunction with these systems to make the DC to DC charging lithium compatible. This allows you to charge via solar and the alternator at the same time.
-
Converting AGM To Lithium In A Jayco Caravan
Many Jayco caravans are equipped with BMPRO products and AGM batteries. Converting this system to lithium batteries may require an upgrade to some of your BMPRO components.
If you already have a BMPRO J35 Lithium Compatible Battery Management System that is only compatible with AGM batteries an upgrade to the J35D is relatively simple. First of all you'll need to switch your existing J35 charging unit to the J35D.
You will then need to add the MiniBoostPro 30A and a compatible battery monitor (these can be found in the accessories list). You won't be able to use your existing battery monitor as there is no lithium charging option.
BMPRO offer a range of high quality and easy to use battery monitors. You can pick a model based on your monitoring requirements. The most basic monitoring system is the BMPRO JControl 12V Display & Control Unit and if you want to step it up a notch check out the BMPRO JHub 12V RV Control Panel. The BMPRO JHub Tablet is even portable so you can walk around your caravan while controlling your 12V loads including your lights and hot water system.
Finally, if you are upgrading to lithium so that you can run a larger inverter (over 1000W) you will also need to add in the BMPRO BC300 External Shunt and CommLink. This shunt allows you to monitor loads up to 300A.
Here at My Generator we offer BMPRO bundles that include all the components necessary for a lithium upgrade. The BMPRO Full Lithium Upgrade Bundle with BatteryPlus-II-HA 35A BMS, MiniBoostPro 30A DC-DC Charger & RV View 2 Battery Monitor is your go to BMPRO lithium system if you don't have an existing J35 set up.
If you do have an existing J35 set up and you would like to make the upgrade to lithium the BMPRO J35D BMS Existing Full Lithium Upgrade Bundle with MiniBoostPro 30A DC-DC Charger, JControl & B300 Shunt is for you.

View all Power and Electrical devices on My Generator HERE!
DISCLAIMER* Please note, this advice is general in nature and we strongly recommend consulting the product manual and where relevant, a professional installer.