Does your caravan feel like an oven in summer months? Wherever you travel in Australia, sweltering temperatures can make or break your trip. There's nothing worse than dripping in sweat while you're trying to get to sleep. Fans only blow the hot air around your van, not to mention the annoying whirring noise that keeps you awake.
Caravan aircon is the answer. But not all caravan aircons are created equal. To help you work out the best option for your van, we've compared the best caravan aircons on the market:
-------
Dometic
Who Is Dometic?
Millions of people around the world use Dometic products. They have been making products for the recreational industry since the 1960s and are renowned for their market leading products. Dometic definitely holds the crown of global leader in products for RVs. One thing Dometic prides itself on is building products for convenience and comfort. As they say on their website: "Our job is to meet your essential needs on the journey. Like cooking, keeping food fresh, taking care of personal hygiene and maintaining a pleasant temperature. That way, you can explore more, see more and stay away longer. We call it mobile living made easy." View all Dometic Aircon products here.
-------
What Caravan Aircons Do They Offer?
When it comes to comfort, there's nothing like the Dometic range of caravan aircons. There are three inverter rooftop models in the Dometic caravan aircon range.
The Dometic Harrier has inverter technology that eliminates the large start-up current issues that are caused by many caravan air conditioners. It held the crown for the latest and greatest rooftop air con unit in the market when it was released in 2016. It is super energy efficient, and has been tried and tested in harsh Australian environments. It's also extremely quiet, even when running at top speed, so you can enjoy a cool, undisturbed night's sleep.
--------
Then in 2019 Dometic released the IBIS 4 Air Conditioner model, a low profile sleek model with inverter technology for energy efficiency and minimal vibration and noise. One of the features caravan owners love about the IBIS 4 is its low profile and sleek design. And that's not all.
----------
Dometic stunned the market when it launched the Harrier Lite, combining the best of the IBIS 4 and the Harrier in one unit specifically designed to fit small to medium-sized caravans/campers.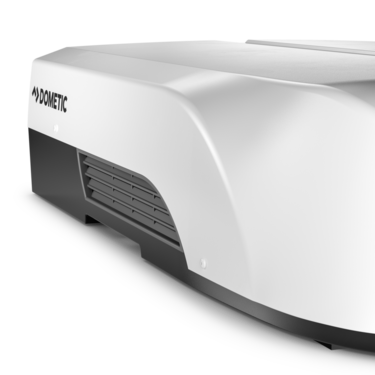 --------
Top Features Of Dometic Aircons:
One day dispatch!

Choose from small, medium and large models, which cover most RV sizes. You can also find a unit for different roof openings: 360 x 360mm or 400 x 400mm.

Inverter technology means the caravan aircon units are particularly quiet and energy efficient

Dometic offers impressive nationwide support for peace of mind while you're on the road. Use their simple online tool to find your local support agent.

3 year warranty - Dometic doesn't scrimp on its warranties!
Why We Love Dometic Caravan Aircons:
What's not to love about Dometic? This established global market leader boasts decades in the RV appliance industry, which gives caravan owners all the benefits. The inclusion of inverter technology in their caravan aircons is a testament to their innovation. Did we mention 1 day dispatch?!

Truma
Who Is Truma?
Almost every camper in Europe knows Truma. The German brand has been marketing accessories for caravans and RVs since 1949, and has built a good reputation in the industry, especially for caravan heaters, hot water systems and air conditioners.
--------
What Caravan Aircons Do They Offer?
Truma offers both rooftop and underbunk units for a range of caravan sizes. If it's a lightweight caravan aircon unit you're after, Truma has it covered.
The Truma Aventa Comfort Rooftop Air Conditioner weighs in at just 33kg and has the slimmest air distributor on the market. Not only do you get powerful cooling, the Truma Aventa also offers energy-saving reverse cycle heating for when the temperature drops. As a bonus feature, the unit also features LED lighting which can be dimmed to create atmosphere in your van.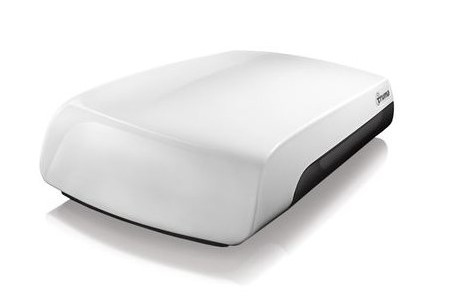 The other popular aircon unit is the Truma Saphir Comfort Reverse Cycle Under Bunk model. This air conditioner is ready to install - it fits under a bed or cupboard with a vent to the outside. Air is circulated within your vehicle via ducting, which is available as separate accessories. The Saphir Comfort's high power means it will cool vehicles up to 6.5 metres in length.
------------
Top Features Of Truma Aircons:
Truma aircon units are insanely lightweight

Truma offers nationwide support

The Truma Saphir not only cools air, but cleans and dehumidifies it too - perfect for allergy sufferers

You get a 2 year warranty on caravan aircons
Why We Love Truma Caravan Aircons:
Truma offers both rooftop and underbunk models. In fact, the Truma Saphir is the most popular underbunk air conditioner on the market!

Houghton Belaire
Who Is Houghton Belaire?
An Australian brand, Houghton Belaire knows how to make reliable air con units for modern caravans and RVs. If you're looking for a great value caravan aircon unit, Houghton is a great choice.
What Caravan Aircons Do They Offer?
Houghton offers four rooftop and underbunk aircons. But don't let the low price fool you – the features are still top-notch. The HB3500 rooftop model features intelligent defrosting technology, three speeds, a high efficiency fan, and ultra-quiet operation. It's especially popular for its cooling capacity and extremely competitive price. For light caravans, Houghton has designed super strong and lightweight UV stabilised polypropylene aircon units. Plus, the innovative air filter design means easy, no-hassle cleaning on the road.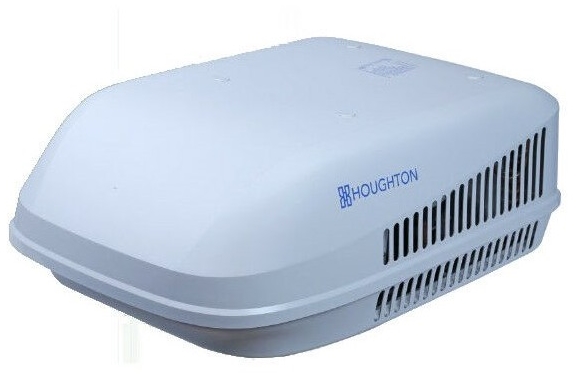 ---------
Top Features Of Houghton Belaire Aircons:
Choose from small, medium and large models to cover every application

Budget friendly – the caravan aircons offer the best value for money

Features include a remote control with cooling, heating, dehumidifying, dry, sleep and timing functions

Houghton Belaire designs super strong and lightweight air con units for light caravans

2 year warranty
Why We Love Houghton Belaire Caravan Aircons:
The best thing about Houghton Belaire aircon units is the value for money. The HB3500 model is especially popular for its cooling capacity and price, providing real bang for buck!


Need further assistance to choose the best caravan air conditioner for your requirements? Give one of our product experts a call on 1300 400 122!

DISCLAIMER* Please note, this advice is general in nature and we strongly recommend consulting the product manual and where relevant, a professional installer.