If you're in the market for a portable power station, the choices can be overwhelming. But it won't take you long to work out that there are two brands that stand out amongst the rest: EcoFlow and Goal Zero. Both brands provide a wide range of power stations with the features and performance you need for all sorts of adventures. The big question now is which one do you choose: an EcoFlow power station or Goal Zero? We've done the hard yards for you and found all the information you need to know to make the right decision for you.

Take a Look:

Goal Zero:
Goal Zero has been in the market for 15 years now, and in that time they have created a trusted reputation for power solutions. They offer a large range of power stations for lots of different applications. Choose from smaller power banks that you can fit in your pocket, right up to large backup systems for your home. Let's weigh up their pros and cons:
PROS:
Bluetooth connectivity and on unit display: Want to see what's going on with your power station at a glance? Goal Zero has made it easy thanks to the on unit display. You can also use Bluetooth to connect your phone and see the status of your battery on the app.
WiFi connectivity: This is a super handy feature if you're not standing right next to your battery but want to find out the status. Let's say you're in your camper and want to know whether your battery is charged - simply use the Goal Zero app on your phone and connect it to the power station. Using the app, you can check the battery status, power in, power out, and port status at a glance.
Versatility: One of the best things about Goal Zero power stations is you can use them to power a wide range of appliances. From your power tools to a coffee maker and laptop, Goal Zero has it covered. You get three different types of ports: 12V, USB, and 120AC which means you can run various gadgets all at once.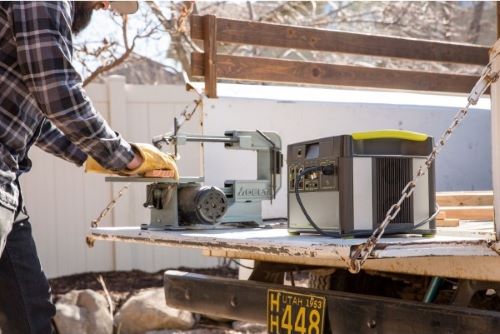 MPPT solar controller built in: If you want to charge your power station using solar, Goal Zero makes it fast thanks to the built-in MPPT solar controller. MPPT offers 25%+ faster charging when using solar panels, which is handy when you're in a hurry.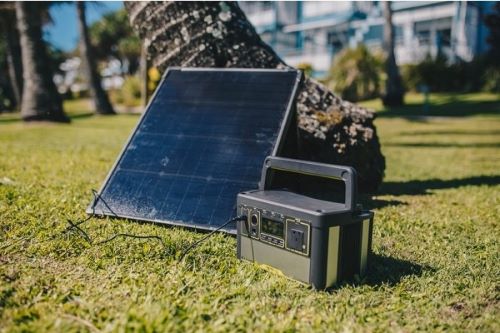 CONS:
You pay a lot: We're not going to lie - Goal Zero power stations don't come cheap. They offer a lot of great features but these features come at a price. At the top of the range, the Goal Zero Yeti 3000X Lithium Portable Power Station and Roll Cart is an investment of almost $6500.
Longer charging time: Compared to the EcoFlow power stations, Goal Zero power stations take significantly longer to charge. For instance, comparing the Goal Zero Yeti 1000X and EcoFlow Delta. The Delta takes just 1.6 hours to recharge fully via an AC wall outlet whereas the Yeti takes around 9 hours using the same method. If you want to speed up the Yeti recharge time, you need to plug it into a high powered power supply.
Less ports: You don't get as many ports on a Goal Zero as you do on an EcoFlow power station. That means you can't power as many gadgets and appliances at the same time.

EcoFlow:
If you haven't heard of EcoFlow, that's because they haven't been in the market long. They only entered the market in 2017, but in five short years they have proven to be hard hitters in the power station space. EcoFlow has a small range, but what they lack in variety they make up for in quality. They provide everything an everyday camper could want in a power station at a very reasonable price. But before we get ahead of ourselves, let's take a look at the pros and cons of an EcoFlow power station.
PROS:
Fast Charge: There's nothing more frustrating than hanging around waiting for your power station to charge so you can get on with your adventures. That's why we love EcoFlow. An EcoFlow power station charges a lot faster compared to Goal Zero. Some models, including the EcoFlow Delta, feature X-treme technology, which means you can charge from zero to 80% within an hour!
Intelligent display: With an EcoFlow power station, there's no guesswork. The display shows the battery %, charging status, temperature, port status and overload warnings, which is super handy if you want to keep tabs on your battery.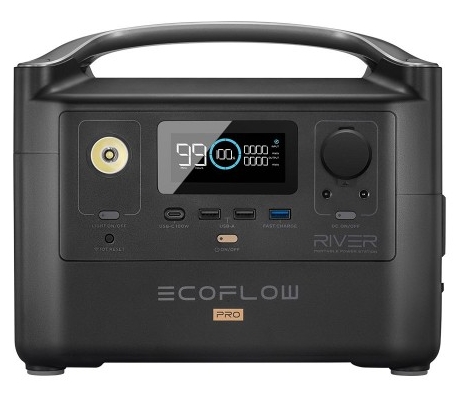 Bluetooth connectivity: Want to connect your EcoFlow power station to your home to see all the stats? That's what Bluetooth connectivity is for. It's a simple addition, but one you will use every day of your trip.
MPPT solar controller built in: Most camping set-ups have a solar kit these days. The EcoFlow power stations allow you to charge up faster from solar thanks to the built-in MPPT solar controller.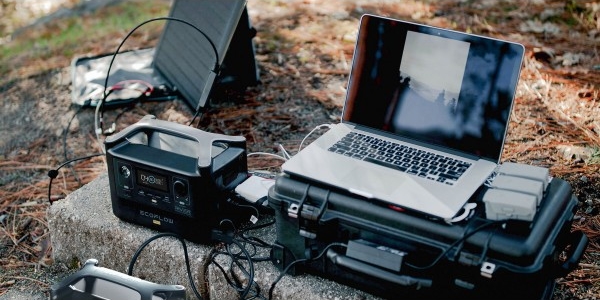 Cheaper: We don't always count "cheap" as a pro, but in this case it doesn't mean compromising on any top features. The fact that these power stations are cheaper than their Goal Zero equivalents means you are really getting great value for money.
Longer warranty: The EcoFlow power stations come with a 2 year warranty which is a real bonus. It means they back the quality of their products and you get extra peace of mind on your trips.
More outputs: Want to power up all your gadgets at the same time? Go right ahead. The EcoFlow power stations give you more ports so you can hook up more devices. The RIVER Pro can power up to 10 devices simultaneously, and includes three pure sine wave AC outlets.
CONS:
Smaller range: Full disclosure, we struggled to come up with any drawbacks to the EcoFlow power station range. The only problem is there aren't more of them! EcoFlow has a smaller range compared to Goal Zero. That said, the products they do have are very well designed and include pretty much all the features you could ask for in a portable power station.

The Verdict: EcoFlow or Goal Zero?
It's easy to see there are pros and cons to both brands of power station. However, if you really want to spend your money wisely, the EcoFlow power stations have the edge. Especially because you get more for your money – EcoFlow power stations are cheaper than Goal Zero and have a faster charging time. You also get more output ports which is perfect if you want to power lots of gadgets at the same time.
Looking for more? View all My Generator Power Packs here.
DISCLAIMER* Please note, this advice is general in nature and we strongly recommend consulting the product manual and where relevant, a professional installer.