Dreaming of your very own ultimate 4x4 off-grid tourer? Have you mapped out your next camping adventure? Start designing and building your go-anywhere, do-anything ultimate 4x4 adventure tourer. Here at My Generator, we want to establish your 4x4 with the best portable power solution possible. If you have started to research 12V systems, then no doubt you've been confronted with a mountain of information and advice. By focusing on the ultimate solution, this project is made simple, there is no need to cut corners.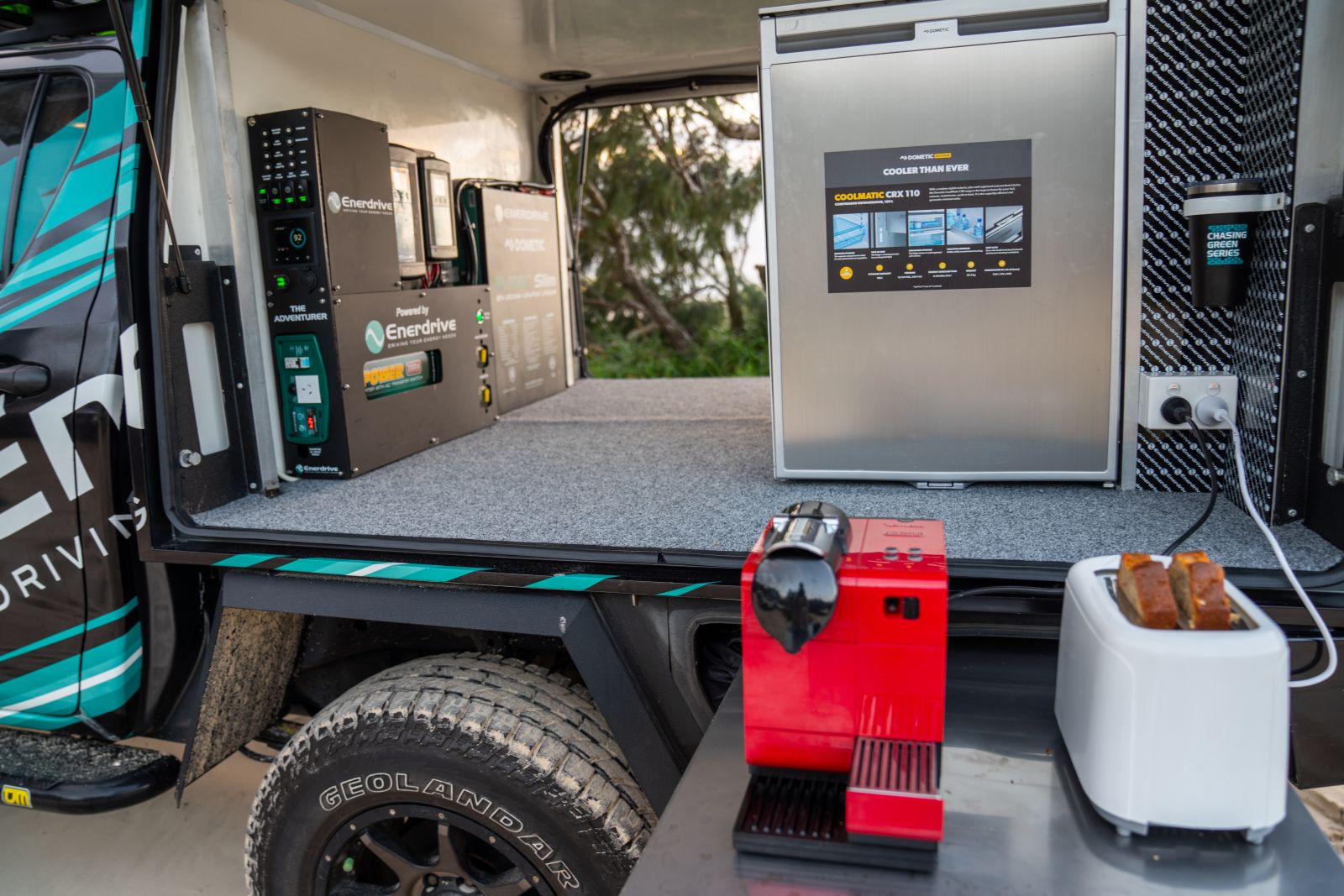 Lithium Battery Storage
Depending on the age of your 4x4, you may already have a deep cycle battery installed. Many second-hand 4x4's will have a pre-installed under-bonnet dual battery, or a wiring harness running from the start battery to a battery box in the ute tray, canopy or cabin. Many new 4x4's come equipped with a factory 240V inverter and/or a 12V cig socket installed in the back of the cabin. Both of the above have their place and can be considered useful for various applications. But we want to get serious, so we want to replace or bypass these installed systems.
The size and weight savings of a lithium battery are highly publicised. In terms of deep cycle battery storage, a 200Ah Lithium battery is the equivalent of 320Ah AGM. Specifically, an Enerdrive ePOWER B-TEC 200Ah Lithium Battery has the following dimensions: 505 x 172.5 x 265 mm (L x W x H) at 25kg. In comparison, the weight of 2 x 160Ah AGM is over 80kg and has a much bigger footprint!
LiFePO4 is the safest and most stable cell chemistry for deep cycle lithium batteries in a 4×4, caravan or RV, therefore we only recommend batteries with this cell chemistry composition.
Our recommendations will also include batteries with a high continuous discharge current. This is an important specification to look for. For example, a Enerdrive 200Ah Slim Battery has a maximum discharge current of 250A or less. This is a massive 3000W output at 12Volts. Be aware of this feature when selecting a battery to power an inverter, and in turn run high-current AC devices such as induction cooktops and coffee machines. Luxuries are important in an ultimate 4×4 touring beast.
Our Recommendations:
We can't go past the Enerdrive B-TEC 200Ah Slim Metal Case Lithium Battery. Canopy builds will be able to utilise this design to free up valuable floor space. Tried and tested over corrugated roads and the toughest terrain, the 5-year warranty will not leave you in the lurch. This product is very user-friendly and coupled with Enerdrive's unparalleled after-sales support, we see it as the perfect power companion.
-
Tech Talk:
Maximum Discharge Current 250A @ 25°C ± 5°C for 30mins - Can power an inverter up to 3000W for 30 mins continuously.

Recommended Charge Current for Maximum Life 60A - 120A

BMS reset port allows for a remote reset button to be mounted in a convenient location. You easily push the BMS restart button and it will wake up the battery.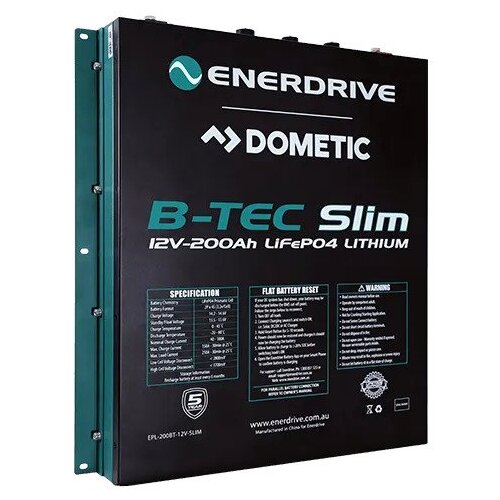 What About Under The Bonnet?
You can't put a lithium battery under the bonnet of your vehicle, right?…… Right? Wrong!
There is a battery out there, that can handle the high temperatures under your bonnet and can even act as your cranking battery. Invicta is an Australian battery manufacturer that has focused on research and development of a highly specialised battery management board and cell management system within its range of lithium batteries. We recommend their range of Hybrid Lithium Starter Batteries for under bonnet AGM upgrades. So for an ultimate tourer, you can replace your factory fitted starter battery with one of these. Then you've got a massive amount of deep-cycle storage with cranking ability too. You've saved weight on your start battery AND your auxiliary battery.
We love it because it is just so simple. No need for a dedicated DC-DC charger as the batteries can be charged directly from the alternator (such is the quality and stability of the hardware built-in).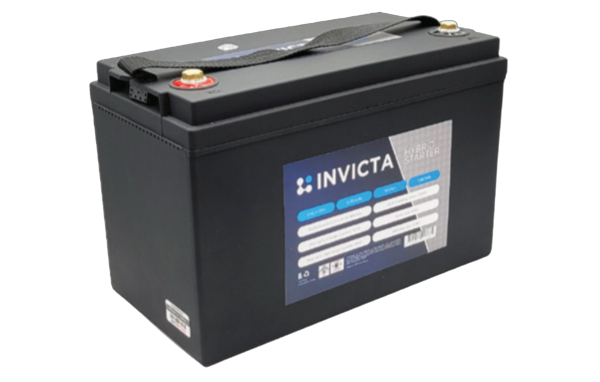 Battery Chargers and Solar Regulators
Charge, protect and prolong the life of your battery. There are 3 main ways to provide charge input to your deep cycle battery.
In-vehicle from the alternator of the car (via DC to DC charger or direct (DCS only)).

A dedicated AC to DC battery charger (input from mains power or via a generator).

Solar panel though a solar regulator (permanent roof-mounted and/or portable fold-out).
Ensure the chargers you select are equipped with a lithium battery charge profile setting. Lithium batteries require this profile to prolong their life span and maintain performance.
The ultimate tourer build should at least incorporate in-vehicle DCDC charging and solar input. An AC charger is optional and depends largely on your access to mains power, permissible space and type of travel. If you're garaging your vehicle for lengthy periods of time, this may be a good idea as you can maintain a trickle charge to your auxiliary battery. Regular driving should be enough to maintain the charger via alternator and solar. For the full range, check out our DC DC chargers here and extended blog article here.
-
Our Recommendations:
Our recommendation to pair with your Enerdrive 200Ah battery is the Enerdrive ePOWER 12V 40A DC to DC Battery Charger. One of the most popular products in 12V power, this product has a built-in MPPT solar controller and provides a safe lithium charge profile to maximise battery performance. The LCD programmable display is a sought-after feature and with a 5-year warranty, you know this product won't let you down.
For an AC charger, 30- 40A will provide a fast recharge for your 200Ah battery. The following two models are our recommendations. Both of these have solid warranty and can charge multiple battery banks. The Enerdrive has a higher current, but the Victron can be integrated into your Victron Connect App and managed and monitored via Bluetooth.
-
Pre-wired Canopy Power Systems
We can condense the individual components above into a specifically engineered Enerdrive pre-wired system, to fit a Ute Canopy. Most of the wiring, fuses and DC distribution are taken care of. These systems incorporate all the charging and monitoring in one sleek purpose-built fabricated box. An ultimate rig deserves a 2000W inverter to make barista-style coffee off the grid! So for a Canopy rig, we'd look at the Enerdrive 4WD Canopy Adventurer System with Simarine battery monitor and 2000W inverter. Click the image below to find out more.
Solar
The Enerdrive 190W Mono Crystalline Fixed Solar Panel provides a tremendous amount of current for the size. With size being a limiting factor on most 4WD builds, the 190W should definitely be considered. Coming in at 1500x680mm and looking slick in black, it is the perfect size for most roof rack/platforms and canopies; allowing plenty of room left over for your swag!
Battery Monitoring
This build has moved beyond a simple Voltmeter. We want real-time data and accurate battery status. A good quality lithium battery will have a built-in battery monitor, but a dedicated monitor and shunt will provide current and historical data up to 30 days to best manage your system. Victron battery monitors are the leader in this space and provide Bluetooth connectivity. Click here for our guide to 12V Battery Protection.
Option 1: The Victron Battery Monitor BMV-712 Smart Black. Why? With a 5-year warranty, this product is built to stand the test of time. The Victron Connect smartphone app is world-renowned.
Option 2: The Victron SmartShunt 500A/50mV. Why? Save money and enjoy all the benefits of the BMV-712 battery monitor, but without the LCD screen. Simply use your smartphone or device to access all your battery information.
We are confident this blog has delivered the right advice to design the Ultimate 4x4 Rig. Ask a question below if you want any extra information about power systems for a 4x4, or give us a call on 1300 400 122. A friendly product expert is waiting to take your call.
-
DISCLAIMER* Please note, this advice is general in nature and we strongly recommend consulting the product manual and where relevant, a professional installer.