How will you power your life on the road? Whether you've got a 4WD, camper trailer or caravan, it's important to choose the right battery charger for your set-up. But we're not just talking about on the road. If you select the right battery charger, you can use it at home too. Win, win!
To appreciate why battery chargers are an essential item of gear, you need to first understand how a dual battery system works.
What is a Dual Battery System?
A dual battery system is increasingly common in campervans, RVs and 4WDs. In addition to the standard battery in your vehicle, you install one or more auxiliary batteries.
Why? For the extra battery capacity to run appliances you need on the road. We're talking about those creature comforts like a fridge, lights, air-con, laptop charger and so on.
But here's the thing - using the auxiliary battery means you won't need to load the starter battery with these items. So, there's no risk of a dead battery when it's time to move on.
The question is: how do you keep your auxiliary battery system operating at peak efficiency when you're off the grid? This is where you need a battery charger.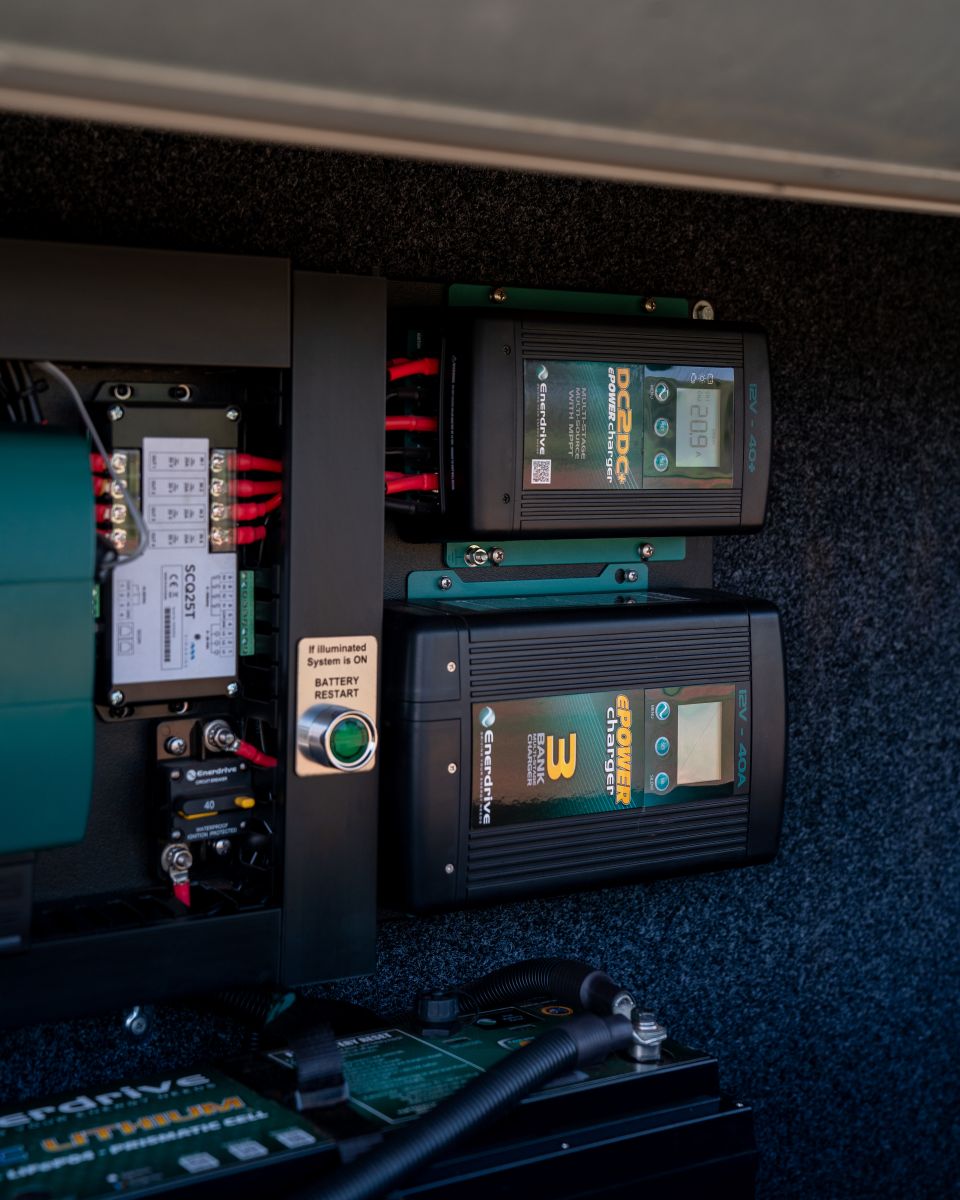 Types of Battery Chargers
There are two main types of battery chargers to consider:
Each comes with their own pros and cons depending on your travelling needs.
Let's take a look.
-
AC to DC Battery Chargers
AC to DC chargers are designed to charge your battery from mains power or a generator.
Rather than using a generator's 12V supply, you plug the regulated charger into the AC source on the generator. There are two major benefits to this:
Faster charging.

Less fuel wastage - a big bonus if you're hours from a fuel station.
To make life easier we have grouped the AC Chargers in their voltage and charging capability:
Plug and Play AC to DC Battery Chargers:
Some battery chargers will come with all of the wiring you need to connect to your battery. These are a multi purpose, mobile, plug and play system which can be use across a variety of applications. you may choose to leave this one in your garage or take it on the road.
The most popular example of a plug and play AC to DC charger is the Projecta 12V Automatic 16A 6 Stage Battery Charger - PC1600.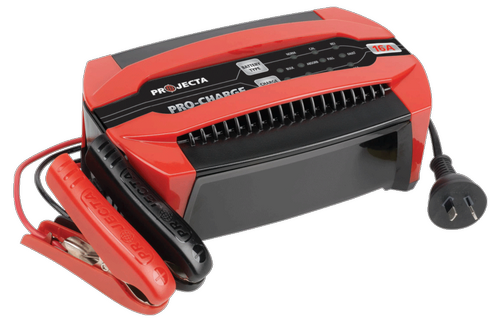 It's good to know that a charger like this comes with everything you need. Simply plug it into mains or a generator and connect the clamps to the battery terminals. Select the charge current and battery type and let the charger take care of the rest. Suitable for Deep Cycle Batteries up to 300Ah.
Permanently Mounted AC to DC Battery Chargers:
Want to step things up a notch? Go for a Permanently Mounted AC to DC Battery Charger.
These are for the really serious 4WD tourers and caravanners. By permanently mounting your AC battery charger, you can pull up at a powered site or crank up the generator and plug straight in.
Hard wiring brings the advantage of a secure connection with the ability to increase the cable size if you want faster charging from larger battery chargers. This no-fuss solution is well worth the effort for long road trips.
Enerdrive have a variety of size battery chargers for every battery type, size and application. Our development team has worked closely with the team at Enerdrive to release a DIY Battery Charger and Installation kit in 20A, 40A and 60A sizes.
The Enerdrive 40A AC to DC Battery Charging Installation Kit is suitable for all 12V Batteries including lithium. This premium battery charger has 3 outputs to charge three battery banks automatically. By far our most popular brand of chargers the Enerdrive ePower range are made for the tough conditions of the Australian climate.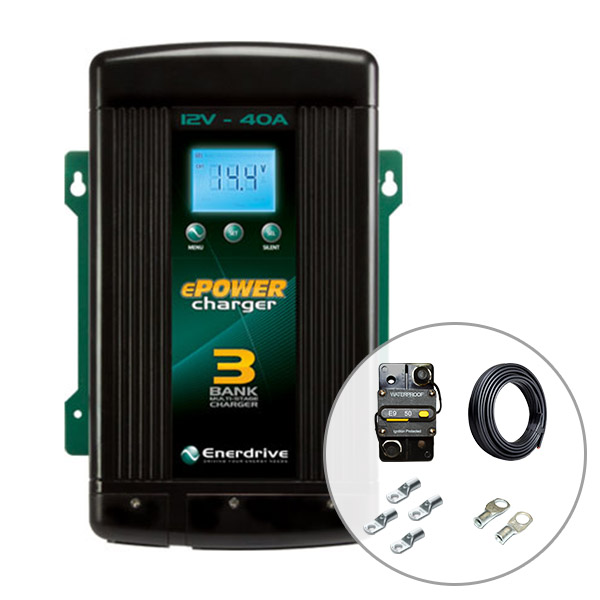 If you possess a battery system with a higher capacity and numerous loads, the Enerdrive ePOWER 100A / 12V Smart Charger could be the ideal choice for you. With its multistage smart charging technology, this charger can remain connected to your battery banks on a permanent basis. This impressive charger operates on a "set and forget" principle. Its purpose is to efficiently and precisely recharge your batteries by employing advanced algorithms that optimise their lifespan.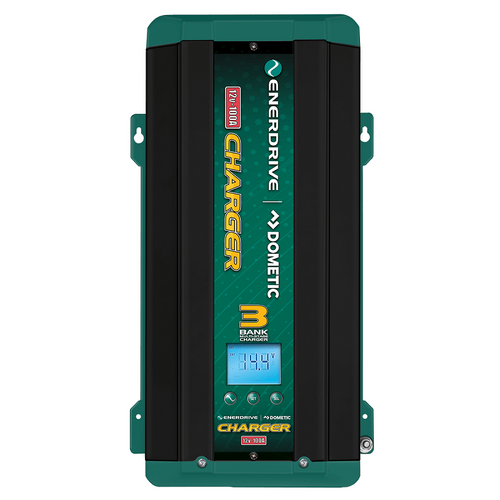 DC to DC Battery Chargers
A DC-DC battery charger is like a smart charger for your 12V system. You fit the battery charger to your car, caravan or RV to boost charge of your caravan's deep-cycle battery while you're driving.
At the same time, the charger acts as an isolator, protecting your starter battery from going flat while you're stopped.
Another great thing about a DC to DC battery charger is that they run a multi-stage charge which can charge your battery all the way back up to 100%. So you arrive at camp fully charged and ready to power up all your gear after a long day's drive.
The Enerdrive ePOWER 12V 40A is our most popular DC to DC battery charger. This fully automatic multistage, multi-input battery charger has everything you're looking for in a DC2DC charger.
-
This charger is a fully automatic multistage, multi-input battery charger which lets you charge from an alternator linked to the battery or from solar power using the in-built Maximum Power Point Tracking (MPPT) solar regulator.
Another handy feature is the LCD display which is fully programmable to show which source is charging the battery, plus charger status, voltage and amperage. We also feature our unique installation kit with the Enerdrive 40A DC to DC charger. Enerdrive 40A DC to DC Battery Charging Installation Kit
Another option is the Projecta 25A 5 Stage Intelli-Charge 9-32V Lithium Dual Battery Charger. This DC to DC Charger can be safely mounted under the bonnet and is dusk, splash and shock proof. It features simultaneous battery charging from solar and vehicle input.
PRO TIP: If you haven't already invested in an auxiliary battery, the best option might be to buy your battery and DC2DC battery charger at the same time. Check out our Enerdrive battery bundles with four battery sizes to choose from: 125ah, 200ah, 300ah and 400ah!
Do I Need A Lithium Charger To Charge My Lithium Battery?
Ideally you will need a battery charger with a lithium profile to charge a lithium battery.
Some battery chargers without a lithium profile, in theory, could be used to charge a lithium battery but they will never get the battery to 100%. There are also other technical risks associated. Our advice is to not do it. Our advice is to choose a battery charger with a lithium profile.
-
Wait... What About Battery Monitors?
You might have noticed that some travellers invest in a battery monitor as an extra accessory for the battery charger. The idea is that you can see the true state of charge in your battery system.
For example, the ePRO PLUS is a latest generation battery monitor comprising an intelligent shunt and a remote control display unit. Compatible with lead based and lithium batteries, the monitor can monitor up to three battery banks, supervise your system, and even control external equipment.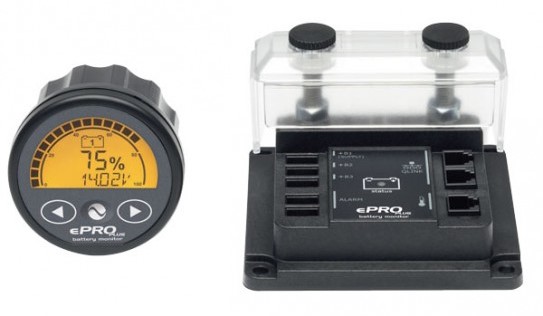 -
All in One?
Good news, if you're on the search for the ultimate camping battery and charger pack, look no further than the Enerdrive ePOWER B-TEC 200Ah Lithium Battery Pack! It Features a 200Ah Lithium Battery, a 12V 40A DC to DC Battery Charger and a 12V 40A AC to DC Battery Charger! Plus Enerdrive lithium batteries incorporate wireless battery monitoring technology. Simply download the Android or Apple app and you can monitor the following:
Battery Capacity

Battery Voltage

Battery Current (Amps)

Battery State of Charge (SOC)

Battery State of Health (SOH)

Battery Status

Battery Temperature

Individual Cell Voltage

Battery Cycles

Battery Alarms

Battery Event Information
Need more advice on choosing the right battery charger for your rig, give us a call on 1300 400 122!
-
DISCLAIMER* Please note, this advice is general in nature and we strongly recommend consulting the product manual and where relevant, a professional installer.