A battery system for your recreational vehicle is the essential power hub. It is important to make sure that you are equipped with all the tools to ensure that power hub is fully charged and maintained for as long as possible. That's where a DC to DC charger comes into play!
But with so many brands and models on the market, how do you choose the right charger for your application? We are here to help with our guide to DC to DC battery chargers:
-
What Is A DC to DC Battery Charger?
-
A DC to DC battery charger now plays a pivotal role in any recreational vehicle power management system. This type of charger brings the features of a traditional multistage AC (mains power) charger, to the world of off-grid touring.
While your engine is running, a DC charger will pull power from your alternator via your starter battery and safely charge your auxiliary battery.
See diagram below: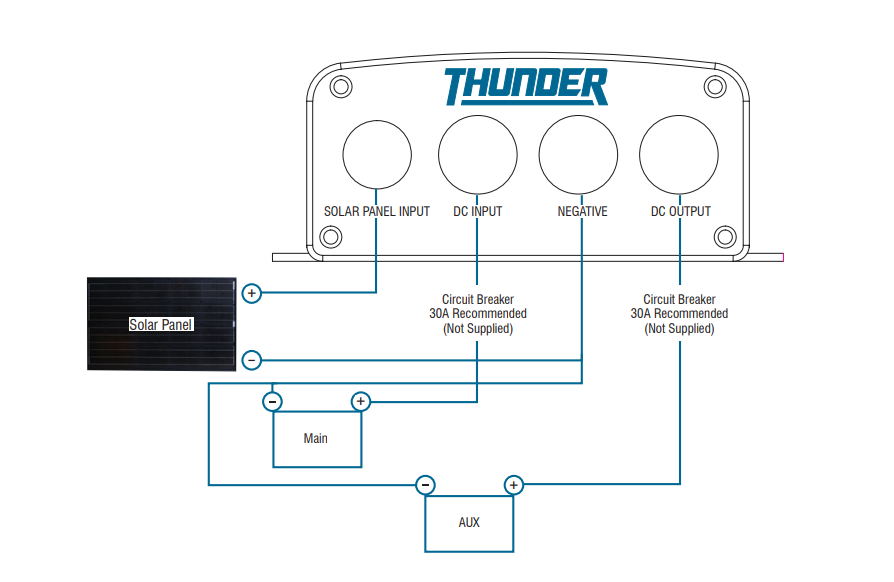 -
Traditionally this was achieved just using a fused cable and battery isolator from the starter battery to the auxiliary battery. Since the introduction of smart alternators in new vehicles, cable alone is no longer viable.
Let's run through some pro's and con's of these chargers:
-
Pro's:
Lithium batteries must be charged with the correct charging profile; a DC to DC battery charger is the only way to achieve this.

Modern vehicles are now fitted with smart alternators that don't produce a high enough voltage to charge auxiliary batteries. A DC battery charger will actually apply load to the alternator to achieve the correct voltage output.

In order to get the longest possible life span out of your battery, you want the optimal charging profile. Quality DC to DC battery chargers will allow you to select the correct charge profile to your battery type.

A good DC charger will often have a built in solar regulator for easy solar panel connection, therefore can save you purchasing another piece of equipment.
Cons:
DC to DC Chargers cost more than the old school techniques.

You will need to find room to mount this product in your vehicle.
-
Now we've run through the Pro's and Con's lets dive into the brands in our range:
-
Enerdrive:
-
Available in 12V and 24V, the ePOWER range from Enerdrive are by far the most popular DC to DC battery chargers on the market.
Why are they so good?
Bang for your buck! 40A for under $500.

Built in MPPT solar regulator that can handle up to 500W of solar.

Fully programmable LCD display to show which source is charging the battery along with charger status, voltage and amperage.

Lithium compatible.

Charge output can be manually adjusted up and down.

Temperature sensor included.

Unmatched after sales support from Australian manufacturer.

5 year warranty
Pro tip: to make life easier we have bundled the Enerdrive DC to DC battery charger with two installation kits for all you DIY off-grid legends:
Option 1 includes a 40A DC to DC charger, cable, fuses, fuse holders and lugs.
Option 2 includes a 40A DC To DC charger, breakers, lugs and wiring.
-
Victron:
-
The global leader in recreational, commercial and domestic off-grid power has just released a new DC to DC battery charger range into the Australian market! The range starts at 10A up to 30A depending on your application.
Why are they so good?
Value for money option!

Variations include Isolated and non-isolated models, 12 or 24 input & output combinations and 10 to 30 amps of charge current

Features built in bluetooth for programming and monitoring from your hand held device (smartphone)

Charging & monitoring bundles available

5 year warranty
Please note, this charger does not come with a solar regulator. The benefit of this is that it keeps the price down and ensures you purchase the correct solar regulator to match your panels.
-
BM PRO:
-
Looking for a value for money but quality DC to DC charger? We recommend the BMPRO MiniBoostPro 30Ah 12V DC to DC Battery Charger with Solar Input.
Why are they so good?
Value for money

Lithium compatible

Features both solar and auxiliary inputs

Multi-stage charge profile

Ideally suited to maximise the charging performance of the BMPRO BatteryPlus35 and J35 Battery Management Systems

2 year warranty
-
Thunder:
-
If you're looking for an entry level but quality and easy to install DC to DC charger with a built in solar regulator, we recommend the Thunder 20 AMP DC-DC Charger.
If you're looking for a more premium option we recommend the Thunder 20 Amp DC-DC Charger with Solar Input.
Why are they so good?
The premium option "Thunder 20 Amp DC-DC Charger with Solar Input" can operated in temperatures of up to 90 which allows for under bonnet mounting

It is IP67 rated

Remote mounted Bluetooth LCD screen

Can charge all battery types including lithium

Can link multiple units together to give you 20, 40 or 60A power output

1 year warranty on both models
Pro tip: looking for a entry level all in one solution? We have bundled the Thunder battery box with the DC to DC battery charger for a one stop battery shop.
-
Projecta:
Projecta are a reputable brand for dual battery systems and other 12V touring installations. They have a range of DC to DC chargers for various applications and battery chemistry's & sizes.
The model that we recommend is the Projecta 25A 5 Stage Intelli-Charge 9-32V Lithium Dual Battery Charger.
Why are they so good?
Value for money

Lithium profile

Under bonnet installation - operates in up to 80 degrees Celsius!

Sealed IP67 case which is splash, dust and shock proof

Capable of charging from solar and alternator inputs at the same time
-
To match the right charger to your application give one of our product experts a call on 1300 400 122 or jump on our website to explore our range.
-
DISCLAIMER* Please note, this advice is general in nature and we strongly recommend consulting the product manual and where relevant, a professional installer.