Generators are proving to be a flexible and convenient power option for outdoor events in Australia. Here's a quick guide to choosing the right portable generator for your event:
What events can you use a portable generator for?
Almost anything: market stalls, festivals, school fetes, pop-up bars and food vans.
Which is the best generator for your business or event?
The best generator option for outdoor events and food vans is usually an inverter generator. The inverter is a lightweight microprocessor that replaces the older style alternator in conventional generators. These units produce a pure stable sine wave energy and feature compact and lightweight designs that are ideal for businesses on the move. The only reason an inverter generator is not chosen for an outdoor event is due to power constraints – typically they max out at around 6kVA in output, meaning if you need more power than that, then a conventional generator may be required – these will still get the job done, they'll just be a little louder and heavier than an inverter.
Why is stable power important?
Inverter Generators produce clean power that won't surge or spike. This means you won't risk damage to more sensitive devices with microprocessors, such as laptops, tablets and mobile phones.
Are inverter generators compact?
Yes. Manufacturers are using inverter technology to design ultra light and compact generators for portable businesses or events. They can be up to half the size of conventional generators, meaning they don't take up much room…wherever you are.
What about fuel efficiency?
Inverter generators deliver great value for money. It comes down to how they work: the engine speed automatically adjusts in direct proportion to the load applied, so the generator maximises the fuel efficiency while maintaining 240V (50 cycles) supply. This means you don't need to refuel as often and can enjoy a longer continuous running time.
Be quiet
Inverter generators are built with sound-proofed casing, insulators and mufflers meaning the generator is blissfully quiet. You'll be able to hear your customers at normal speaking volume. Refer to the below noise level table for an indication of how quiete inverter generators are: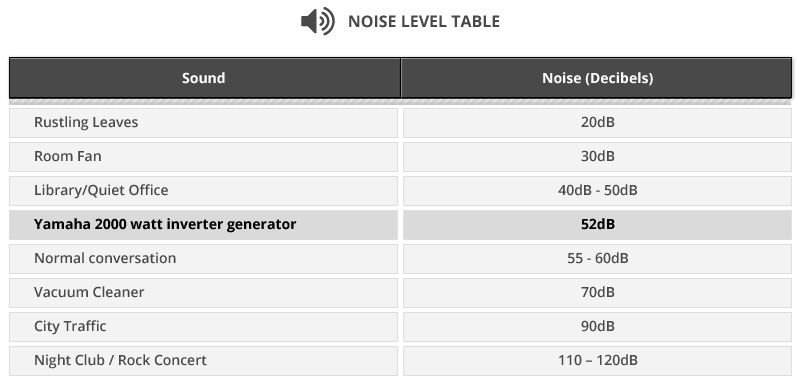 Check out our great range of inverter generators!