What is your budget and how frequently will you use your generator?
In today's marketplace, there is such a wide range of products available to cater for to different needs and budgets… However, there are some important factors to consider when shopping at the Budget, Mid-Range or Premium-End of the price range:
PREMIUM GENERATOR RANGE
Products that demand a higher price are typically built to a higher standard. Products in this category include the well-known fully imported Japanese brands: Yamaha, Honda and Subaru.
Also in this category are local manufactured brands like Crommelins Machinery, Advanced Power, Dunlite and Gentech. These generators are powered by imported genuine Honda, Subaru, Kohler and Vanguard engines. These dependable, Australian manufactured products are built and tested specifically for Australian conditions and have been supplied to the Hire Industry for decades.
These Australian manufacturer's provide a minimum 2 year warranty, often up to 4 years. One of the biggest benefits to purchasing a Yamaha, Subaru, Crommelins or Advanced Power generator is that their machines come backed with an Australia-wide group of accredited service agents who can look after any warranty or service issues that may arise.
Generators in this category are considered to be of high quality and are recommended for customers who intend to place heavier more frequent workloads on their generator.
Customer provides a product review of the Yamaha EF2000IS
MID-RANGE GENERATORS
These generators are manufactured by brands such as Hyundai. Hyundai Generators are assembled in China with components sourced from South Korea, Europe and China. These generators come with a limited two year warranty, are backed by a national service network and are part of the highly successful Hyundai global business.
This category is popular with customers who want a generator backed by a recognised global brand and who intend to use the generator on an infrequent basis. Hyundai generators have the benefit of a national service network and are a good choice for customers that are price sensitive.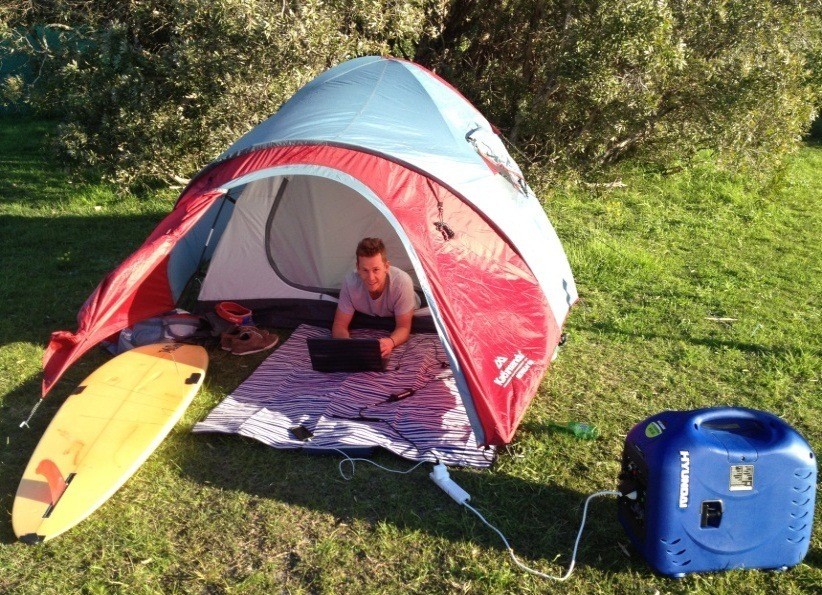 BUDGET GENERATOR RANGE:
There have been vast improvements in Chinese manufacturing standards in recent years. Brands like Lectron and Bush Power are manufactured in China and fully imported by Australian distributors.
Once upon a time, most generators from China were poorly manufactured and the units often experienced engine failures and the like…but thanks to improved quality control and strengthening manufacturing standards those days are now gone.
Our service technicians have undertaken quality control checks on the brands we carry, and we can confidently say that these units offer a good value for money, providing most of the specifications and benefits of the premium products, at a fraction of the cost. Even some of the premium brands are now using parts manufactured in China and South-East Asia.
So why is there such a price difference between the Premium and Budget ranges? …well, the Japanese and Australian brands have been around for a long time, are known for high quality and have earned a strong reputation over decades. The higher quality standards mean these manufacturers back their products with longer, more comprehensive warranties of 2 - 3 (plus) years. Products in the Budget and Mid-Range Categories offer shorter warranties of 1-2 years and they dont have a comprehensive national service network like the Premium brands do.
Be aware that generators in the Budget Range come backed with a 'No Questions Asked 30 Day Money Back Guarantee', for added peace of mind. We encourage you to check out the Warranty and Money Back Guarantee details on individual product pages throughout our site for more information.
Our main recommendation is that if you only need to use your generator occassionaly as a backup power option on your camping/caravan trip or on standby in case of blackouts, then a budget generator is a good value option...they will get you by when you need the occassional power source, but are not designed for constant, frequent use...
The right Chinese manufactured generator can offer a good value for money option for the right use
Lectron and Bush Power currently do not have service and warranty facilities located around Australia (although Lectron have announced they will be rolling out service agents in each captial city). These services are available from their company headquarters based in Sydney. This means that should a problem arise with one of their generators, you may need to return the generator to Sydney for inspection and/or repair.
SO WHICH ONE DO I CHOOSE?
Overall, based on our own experiences and customer feedback, we recommend that if you're shopping for a generator on a limited budget, the Budget Generator Range offers good 'value for money' options that will serve your ocassional portable power requirements well…
We've sold hundreds of generators in the Budget Range to happy customers needing portable power for many applications. Be they; camping/caravanning trips, small DIY domestic back-up power solutions in case of blackouts.
…On the other hand, if it is particularly important that your generator has a longer warranty and/or an accredited service technician nearby, then perhaps it is more fitting that you choose a well-known Japanese or Australian Manufactured Premium brand. We find that the customers who intend to place frequent demands on their generator, prefer a unit that is built to a higher standard, with longer warranty (3-4 years) and a strong brand-name reputation. Customers who go on longer trips, run small businesses or require a generator for dual purposes (recreation and backup) are better suited to a premium brand. They can justify the extra spend due to high frequency of use. It's no wonder that these brands are the preferred suppliers to the Australian Hire Industry, recognition of their long life and performance under intensive work loads...the premium brands also come with a national service network of accredited service agents around the country, whereas the budget brands dont have this.
Choosing between a cheap generator and premium brand generator
So whatever your preference, it's good to know that My Generator has you covered; with an extensive product range of high quality generators to suit all budgets and applications. For specifics relating to the level of warranty and other offerings such as money back guarantees, you can visit individual product pages at www.mygenerator.com.au
…and don't forget! – You can also call us on 1300 400 122 and we'll be happy to answer your questions and help you with your decision… we have an expert team here at My Generator, with highly qualified, technical generator experts available to provide you the best advice. The team is dedicated to offering our customers quality generators at the lowest possible prices; it's all about you and your portable power needs!