When you need to replace your caravan windows or choose windows for a new caravan, it pays to do your research. Your choice of caravan window will impact how secure your caravan is, the views you enjoy, noise and insulation, and ventilation on hot, sunny days.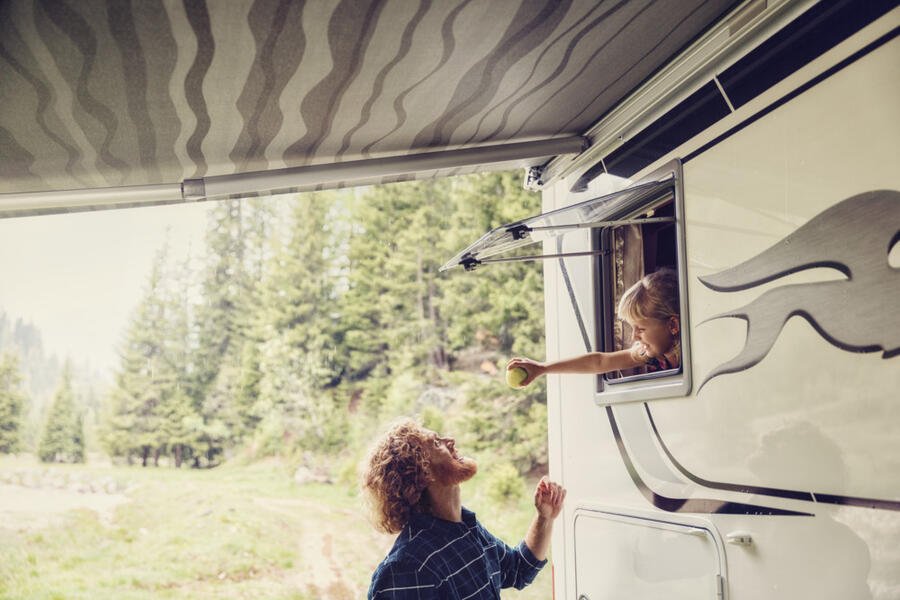 Though you might be tempted to choose windows based on price and looks, there are lots of features to consider. Read on for our top tips:
Types Of Caravan Windows
First, consider which type of caravan window you want. The most popular type of caravan windows are:
Hinged windows

Sliding windows
What Are Hinged Windows?
Hinged windows are the windows you'll see on most caravans today because they are super versatile. Depending on how much air you want to let in, you can open the window into numerous positions.
Styles can vary with their opening position; some will use a 'click clack' method and open to 3 different angles. Some have a friction method so they will stay at any desired opening angle. The friction styles are the most popular as they can open and stay at an angle to catch that perfect breeze.
PRO TIP: Check to see if the window includes an inner frame or cassette that has the Block Out Blind and Flyscreen fitted, some don't include it and will be an extra cost.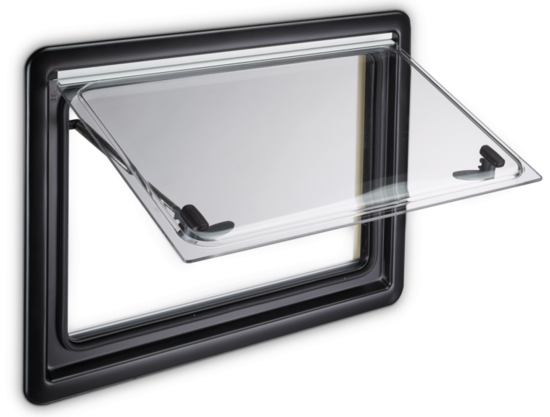 What Are Sliding Windows?
Sliding windows are a space saver for smaller caravans. Another benefit is that you can keep them open while you drive. Most sliding windows feature screens which stop insects. However, sliding windows offer limited sizes these days and most people end up choosing hinged windows for the versatility and security.
Choose Your Size
Whether you're looking for caravan windows for your new build or existing caravan, you can choose from a wide range of shapes and sizes.
For a window replacement, you need to determine what size cut-out you have before you start searching.
For a new build caravan, think about what size window you would like in different parts of the caravan. Consider the number of windows, orientation, and size.
Another important factor is the frame thickness and dimensions. Windows are made specifically for certain wall thicknesses. For example, the Dometic S7P range have clips available ranging in thicknesses from 26mm – 43mm while the Dometic Dlux suits wall thicknesses of 34mm
The most important thing to remember is that the size of the caravan window will be different to the cutout size - you need to allow for the frame.
How much should you allow? Typically, the overall dimensions of outer frames are 45mm wider and 30mm higher than the window. It's best to call and speak to one of our product experts to ensure you select the right size.
PRO TIP: Spending time choosing the window size before making the cut is very important, remember it is easier to make a hole bigger than trying to fill in a hole you cut too big!
Dometic S4 Window and Enerdrive Camper Trailer Battery Review
Choose The Brand
Choose from a wide variety of hinged windows on the market, including the popular Dometic Window in the Dlux, ABS, CHAL (otherwise known as Mobicool) and S7P range.
We now also stock the Aussie Traveller WW01C window and the Eurovision and Eurovision 2 range of windows.
Caravan windows are something you want to invest in - don't just choose the cheapest brand. Look for a quality brand that manufactures windows to last the distance.
One of the top brands on the market is Dometic.
Dometic caravan windows are popular in Australia for good reason. They are built with quality in mind and include lots of features to increase security and comfort in your van. You are guaranteed top workmanship, materials, and ease of use.
Our favourite Dometic windows are the DLux and S7P models - both are hinged windows. The ABS and CHAL range are also available and quite often used for straight swap outs of original windows as these are commonly used in caravan manufacturing.
The reason we love the DLux range is that it includes lots of details ideal for caravanners - like a built-in darkening blind and flyscreen, which add privacy, shade and keep insects out. They are built with quality in mind, using a double acrylic glazing for the windowpane and a robust polyurethane frame. This ensures excellent insulation of heat and noise. Another top feature is the safety interlock system, meaning the window cannot be opened from the outside. They also come with friction hinges so the window can be opened and will stay at your desired opening angle.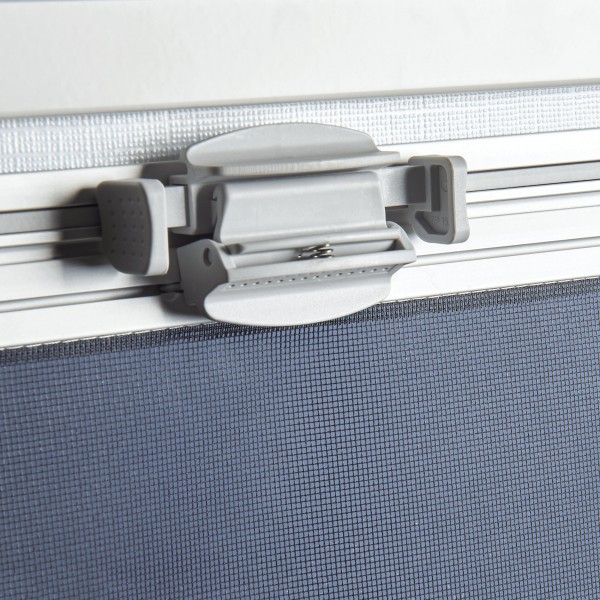 If you're adding extra side windows or converting a panel van into a camper, the Dometic S7P is a great choice. These are most used in bus and van installs due to their thin profile for a sleek exterior look. They come in a range of dimensions with powder-coated aluminium profile to reduce weight which is always important. You can also add a matching blind system if needed. If wall thickness is greater than 27mm you will need associated clips to suit wall thickness and don't forget your trim purchased by the metre - you can find these in the accessories list on the S7P windows.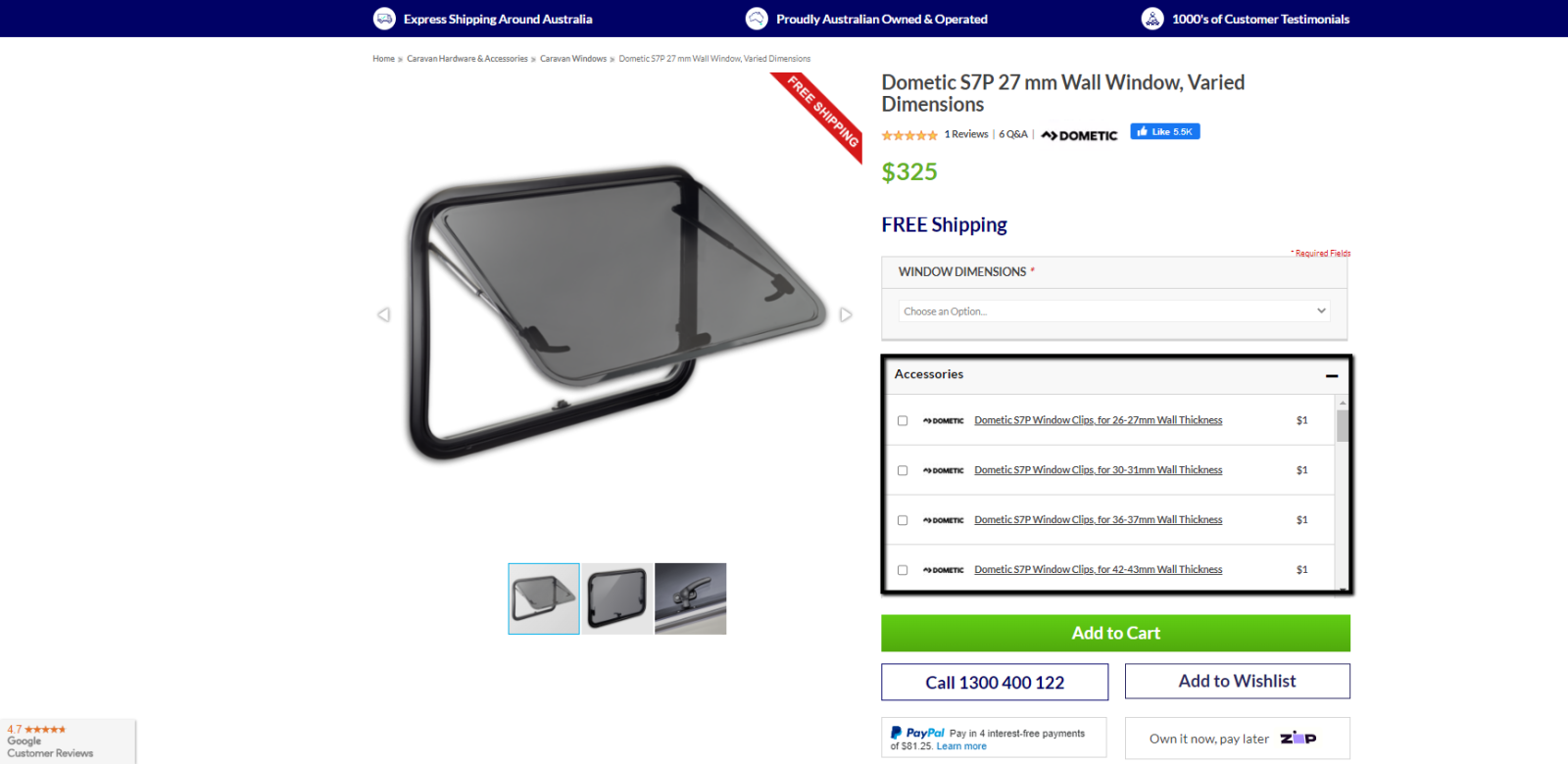 Another great contender on the market is the Eurovision 2 range, these are sleek in design with a nice dark tint on double glazed acrylic. They come with the built-in internal frame to include the block out blind and flyscreen for privacy and insect protection. It has a semi-locked position so you can have the window slightly open for ventilation in windy conditions. The Eurovision come in a wide range of sizes and overall is a great option for a window change over.
Look For Top Features
Security, style, durability, and lightweight designs are often at the top of buyers' lists when looking for new caravan windows. With that in mind, consider what is important to you and weigh up the features with your budget.
Top features include:
Flyscreens: Some caravan windows come with built-in flyscreens and others need to be retrofitted.

Glazing: Insulation is important when travelling, so look for double glazed models, the double glaze is designed to prevent the sun's heat from warming up the inside of the van and to help hold heat in if you are camping out in the winter.

Block Out Blinds: Block out blinds are a great option to have to rule out the need for bulky curtains. Privacy is important when parked up in Caravan sites, especially as some can be quite close together. The Block out blind can be adjusted to different openings in conjunction with the flyscreen.

Security latches: Don't risk intruders opening your windows from the outside. Dometic windows feature a multi-locking system with friction hinges to guarantee secure closure and give you peace of mind.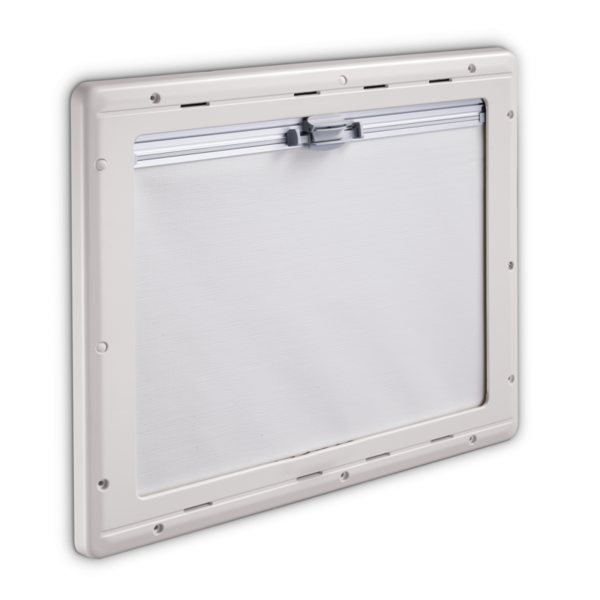 Replacing Caravan Windows
Put the tape measure away - you can simply find the number on the old caravan window which can sometimes tell you the size. So, if you are replacing a Dometic Seitz window, look for the numbers on the top right-hand corner of the outside window blade e.g. AGS50700X0300.
When you ignore the prefix AGS5, you have 0700X0300. This tells you it's a 700x300 window.
See below for a quick reference guide for our Dometic range of windows. These codes will be printed on the stick generally followed by the window size:
AGS5 – Dometic S4 Seitz window- unavailable as a new complete unit. Spare parts are still available with limited stock.

AGP7 – Dometic S7P Window.

MDL - Dometic Dlux.

MOBICOOL- 43R – Dometic ABS or CHAL- will need measurement of window and whether the outer frame is plastic (ABS) or Aluminium (CHAL).
That's it - you're ready to choose your caravan windows! Head over to our online store to compare the range.