When you're travelling in a caravan, more light and airflow can make a huge difference to your trip. That's why a caravan hatch or skylight is an investment you won't regret.
A caravan skylight brings more natural light and air, while also providing an escape for cooking odours and steam. All of this reduces the amount of power you need to use on lights, air con and fans.
There's a wide range of caravan hatches available from different brands, so which one should you choose?
Our caravan skylight and hatches buyer's guide answers your top questions so you can find the right one for your adventures:
Are You Replacing A Caravan Hatch Or Skylight, Or Buying For A New Build?
Is your caravan hatch or skylight in need of replacing? Maybe the hatch isn't closing properly, or you want to upgrade to include extra features?
The first thing you need to do is measure the cut-out size on your van, and check the specs of the models to find the perfect fit. Look at how thick your roof is too and get the right kit to suit the thickness.
If you're buying a caravan hatch for a new build, the biggest thing you need to work out is where you will place your skylight. Think about if there's anything on the roof that you need to avoid, like an air conditioner unit, solar panels, antenna. Also consider whether your hatch will cast a shadow over your rooftop solar panels and prevent them from working at their most efficient.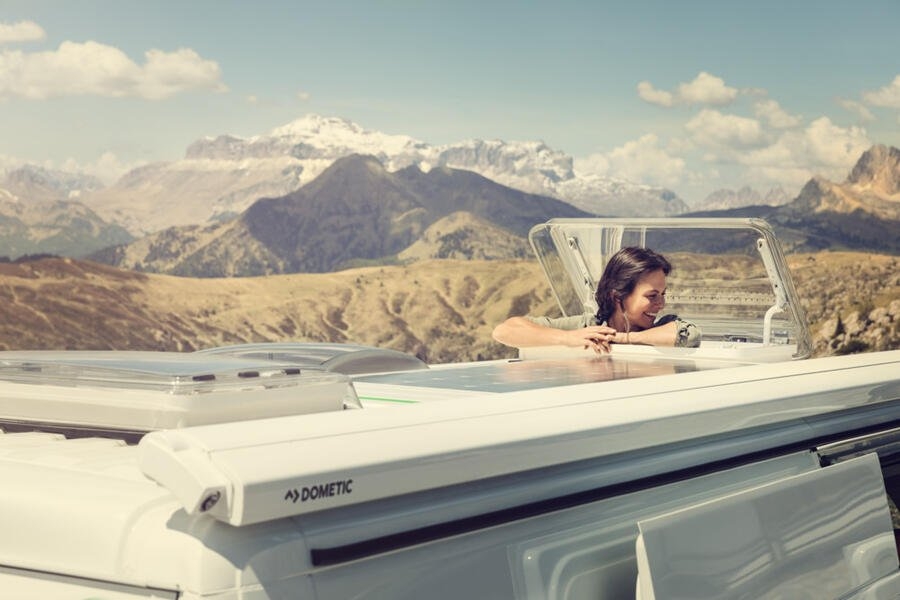 If you want a hatch, rather than a basic skylight, consider a location that makes it easy to open and close. Ideally, go for the kitchen / living area, rather than over your bed where ambient light might keep you awake.
Once you've worked out a location, you can see what size you need as well as any extra features. For example, if you're looking for a hatch for your bathroom, consider one with a two-way fan.
Pro Tip: No existing opening? A cut-out will be required.
One Or Two Caravan Skylights?
Depending on the size of your van, you can choose multiple skylights. If you have a larger roof space, with few obstructions, consider several skylights to add light and ventilation to different interior spaces. For example, you might want one over the kitchen and another in the bathroom.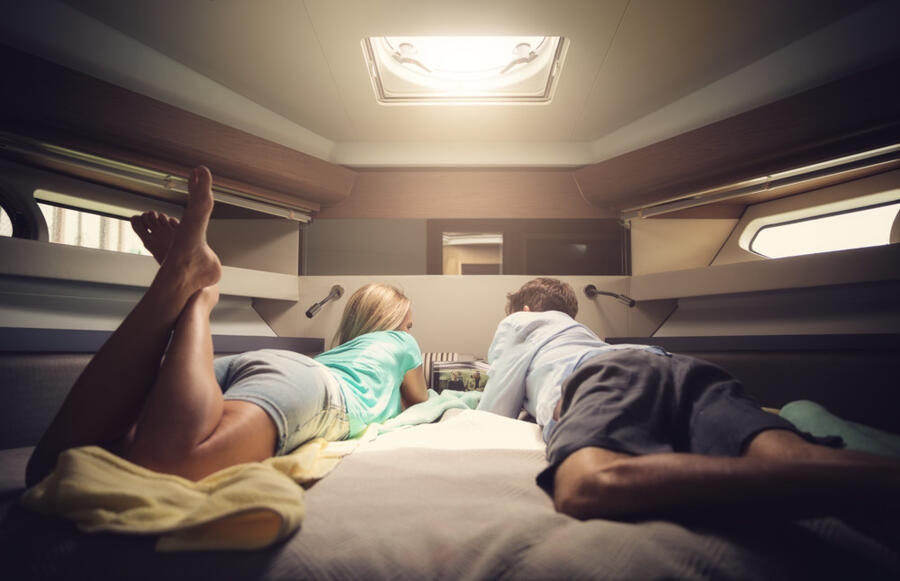 For smaller vans, it's likely you'll only be able to squeeze in one caravan hatch.
Which Features?
Depending on your budget, you can choose a caravan hatch with extra features to add even more comfort and convenience.
For example, the Fiamma 12V Turbo Vent Pro Hatch comes with a built-in thermostat and 12-Volt fan with 10 blades that can move air inside in your space in seconds.
The Aussie Traveller 320x320 Turbo Roof Shower Hatch comes with a 2 way fan, which you can use to extract steam from your bathroom or bring in fresh air from outside. Shower hatches are also smaller to fit a tighter roof space.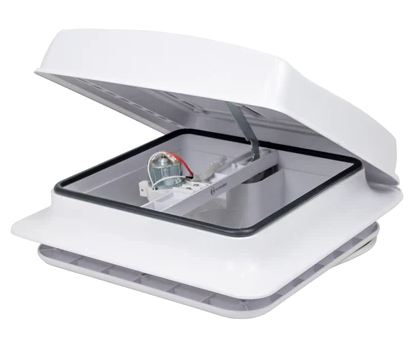 If you need to have your skylight or hatch installed over your bed area, look for one that has the blockout blind and flyscreen. Dometic Mini Heki Plus Skylight. It allows fresh air through the day and night with the added insect protection of a flyscreen. Once it is time for sleep simply slide over the block out blind and enjoy your sleep in.
If you are looking to add some extra natural light over your living area then check out the Dometic Heki 2 Skylight it has a huge opening off approximately 950x600mm to give you perfect natural light through the day with a 55 degree opening angle to catch that perfect breeze.
For an option that covers lighting as well the Dometic Midi Heki LED White Edge Dome Skylight is a great choice. It comes with the internal blind and screen and the LED lights for added use at night too.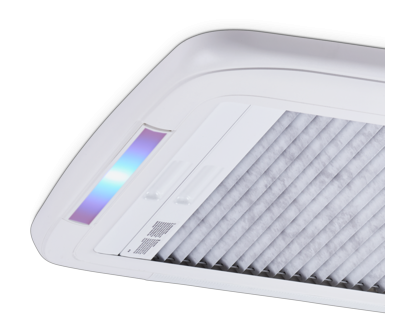 Pro Tip: If you want a 12V hatch, additional wiring will be required to run the unit.
Top Caravan Hatch Brands We Recommend
The most trusted caravan appliance brands, including Dometic, Camec, Maxx Air and Aussie Traveller, offer a wide range of hatches and skylights. It all depends on how much you want to spend and the features that are important to you.
Here are a few of the top models:
Maxxfan Plus:
One of our best sellers, the Maxxfan Plus comes with lots of features to create a comfortable caravan space. You get a removable flyscreen, 10-speed fan motor which can operate on intake and exhaust modes, and a thermostat. The vent is built tough, with twin lifting arms that limit vibrations from the wind when open.
Dometic FanTastic:
The Dometic Fan-Tastic Model 7350 is a popular lightweight, compact option. Highlights include the powerful fan which is controlled using a remote control. Simply set the temperatures and the fan motor will start and stop automatically as the interior temperature of the vehicle exceeds or drops below the selected level.
Aussie Traveller Roof Hatch:
Aussie Traveller offer a small range of hatches. They are the popular shower hatches to help keep your wet areas dryer when not in use and two sized hatches without the fans. The Aussie Traveller 400x400 Roof Hatch with Smoke Black Lid is a great solution for the smaller spaces, with a smokey black lid it provides the perfect choice to help bring fresh air into tight spaces for small buses and vans.
Camec 4 Seasons:
For a skylight that's been designed in Australia for Australia conditions, check out the Camec 4 Seasons. It comes with 3 set positions (closed, rain mode and fully open), a roller blind, and integrated dimmable LED lights. The roller blind also has multiple open positions - 30%, 60% and 100%.
Pro Tip: Check out our range of replacement parts to fix your existing skylight or hatch. No need to replace the whole unit if something goes wrong!