If you own a caravan, the reality is that you need a caravan cover. You won't be travelling all the time (as much as you'd love to!) which means there will be times when your caravan is sitting exposed to all sorts of weather, dust, moisture, tree sap and bird droppings.
While you can't control nature, you can control how you protect your caravan from damage. With the right caravan cover, you can make sure your beloved vehicle stays at its best, ready for your next adventure.
There are lots of caravan covers on the market, so it's worth doing your research to find the perfect match for your caravan.
Our top tip? Don't scrimp on a caravan cover - a low quality cover can deteriorate fast which means it's not doing the very thing you bought it for. Take a look at our guide:
Which Type Of Cover?
Caravan covers have come a long way in recent years and now you can buy a cover to suit the following vehicle types:
Choosing The Right Size:
Good news! Caravan cover manufacturers have made it super easy to find the right size cover by making covers to suit the standard RV height and width measurements in Australia today.
All you need to do is measure the external body length, then find the right cover to match.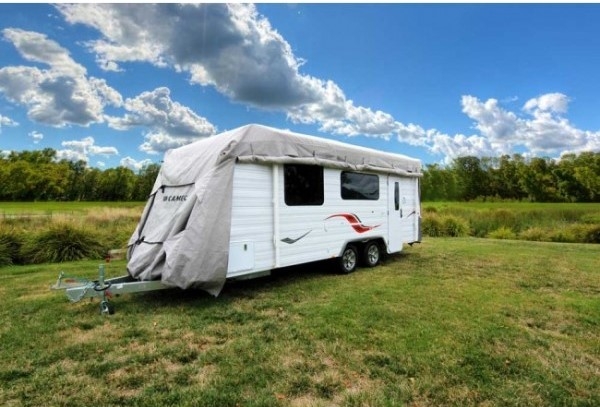 Pro Tip: Take the time to measure the length of your RV - manufacturer measurements are not always the most accurate!
You only need to measure the external body length - not the front and rear bumpers, spare wheels or tool boxes. If you try to cover all these things too, you'll have a cover that doesn't fit snugly enough.
Our top tip is that bigger is not better. If you choose a caravan cover that's too big for your vehicle, it won't fit right and you'll wind up having to use multiple straps to secure it in place. This means plastic and acrylic windows are more likely to be scratched and damaged.
When you're fitting your cover, always read the installation instructions to ensure it's fitted correctly and won't damage any parts of your vehicle.
Are Caravan Covers Waterproof?
One of the myths about caravan covers is that they are completely waterproof. In fact, most caravan covers are not 100% waterproof. Even if rated 100% waterproof, the caravan cover will still sweat, which results in problems with mould, mildew and other bacteria which can damage your RV exterior.
Does that mean you shouldn't bother looking for a waterproof cover? Not necessarily. The waterproof or water resistance qualities mean that rooftop accessories on your caravan are given extra protection - such as the antenna, solar panels, skylight and air con units.
Keep in mind that any seams and stitching will NOT be waterproof. That's done on purpose to help moisture and steam to escape, and make the cover breathable.
For example, the Camec Premium caravan cover is made from two materials:
Water resistant roof section for maximum protection.

Weather resistant breathable side panels to allow the cover to breathe and moisture to evaporate resisting rot and mildew.

The ADCO caravan cover has a similar two-part design:
Top panel is made of Olefin HDTM fabric which beads water on contact (ADCO warns that some moisture may still penetrate the cover).

Breathable layers and air vents to allow water vapor to escape and help prevent mold or mildew from forming.
Caravan Cover Brands We Recommend:
When it comes to caravan covers, quality is everything. Don't be tempted by the cheapest price - you'll wind up with a caravan cover that's made with low quality material that is damaged easily and doesn't last.
Instead, go for a caravan cover by a trusted brand like ADCO, Camec or Weisshorn . ADCO and Camec provide generous 3-year warranties on their products which gives you peace of mind, while Weisshorn provides a 1-year warranty.
Why Choose ADCO Caravan Covers?
Motorhomes, pop-tops, camper trailers, caravans - ADCO has a cover for every type of vehicle. Best of all, the manufacturer has a mission to create high-value, top product quality with excellent customer service.
Covers are made from innovative, high quality materials, which protect against high sun exposure, high moisture, long term storage and even snow. The top panel is made of Olefin HDTM fabric which beads water on contact. The superior UV stabilised and breathable fabric blocks out 99.8% of the sun's damaging UV rays.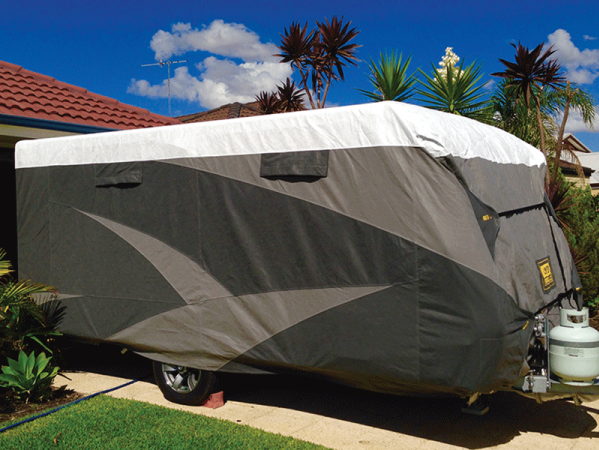 Zippered panels along one side allow you access to the interior of your RV whilst the cover is on.
With a huge range of covers, ADCO makes it easy to select the right size for your vehicle. Each caravan cover is protected under a comprehensive 3-year manufacturer warranty.
Why Choose Camec Caravan Covers?
Camec is known for its affordable caravan accessories, and its caravan covers are no exception. Even though they won't break the bank, they are still made to last.
The covers are made using a special composite of two materials which includes a water resistant roof section for maximum protection plus weather resistant side panels which allows the cover to breathe and moisture to evaporate. There's also a heavy duty reinforced skirt with an elasticised hem front and rear which guards against damage from sharp objects.
Other top features include double stitched reinforced corners and a soft non-abrasive lining.
Why Choose Weisshorn Caravan Covers?
Weisshorn sells a range of heavy duty caravan covers made from top-grade 4-ply non-woven polypropylene. The cover spans the entire roof of your caravan and is waterproof, UV-stable and 100% breathable. This prevents the build-up of mould and mildew, while ensuring dirt and debris simply slide off the cover.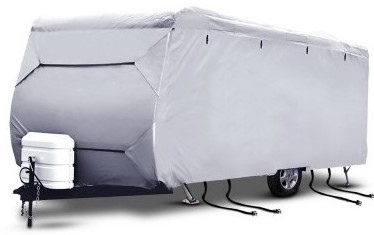 Four sets of tie-down straps make fitting easy, and there are zipper door panels and openable sides for easy access. For a tight and secure fit, Weisshorn caravan covers include elastic hems, adjustable straps and buckles. Caravan covers come with a 1 year warranty.