So you want to buy a generator online, such an auction site like eBay? You've found a bargain, done your research and are about to win the bidding war or hit 'buy now'. But before you make the final purchase, there are a few very important things you should know. First, did you know that auction fraud is one of the most commonly reported cases of online fraud? The majority of reports come from buyers who have received damaged products, misrepresented products or no product at all. Then there are credit cards and bank accounts that are compromised. [caption id="attachment_639" align="aligncenter" width="277"]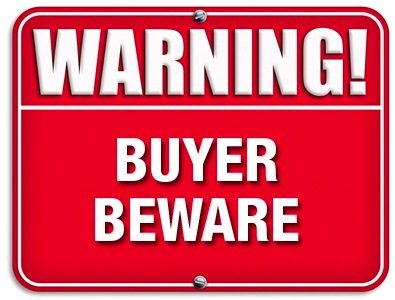 Buyers must be careful when dealing with sellers on auction sites[/caption] So without further ado, here are the seven biggest risks you face when buying a generator online through an auction site:
Seller fraud. No matter how reputable the auction site is, they cannot stop fraudulent sellers. Ultimately, those sellers who engage in fraud may be weeded out. Sites like eBay can remove them, but that's not before they've done their damage.
Faulty items. It's almost impossible to know whether you are buying faulty generators on an auction site. The images shown will look precisely like the legitimate working goods and it's only when the bidding is done and your prized inverter generator is in front of you that the crime is revealed.
Misrepresentation. Sometimes sellers will simply make false claims. For example, you might be enticed by a generator for sale that is described as a "4kVA generator", only to find in reality the generator will struggle to deliver 3000 watts. Similarly, you might see images of a generator and assume that all the instructions for use and associated accessories are included, when they aren't. It's hard to overcome this risk on an auction site. We've heard countless nightmare stories from customers experience exactly these issues.
No refunds. Many generators are sold on auction sites with no refunds or exchanges. That means, if the generator isn't working or is without critical parts, you really are on your own. You could literally be throwing money down the drain...Sellers will often not return calls or emails from customers who have been sold a dodgy generator.
Payment fraud: We don't need to harp on about the fact that giving credit card information to a stranger can be dangerous. Many auction sites will recommend PayPal but that doesn't stop sellers from sometimes asking for bank details to speed up the purchase or avoid fees. And because the buyer is seeking a bargain, they will do whatever it takes...even if that means putting themselves at risk of fraud.
Paying too much: We've all been there. You see what you think is a bargain and get it before someone else can. Then after some research, you find that this item is actually cheaper elsewhere. It wasn't the bargain you thought it was. This is a risk when you get caught up in an online bidding war for a generator.
Shipping damage: This is a fact of life with auction purchases. If you pay peanuts for a portable generator, you cannot expect the seller to take due care to get it to you safely. As an item with complex working componentry, you want your generator in safe hands when shipped to your home or business...often sellers on eBay and the like will post their items with freight companies that don't give due care. Good luck getting some sellers to help you if your unit arrives damaged!
These are just a few of the risks when buying a generator on an auction site. If you're unsure, stop bidding! Click over to My Generator and find out what a truly reputable seller would do. -
DISCLAIMER* Please note, this advice is general in nature and we strongly recommend consulting the product manual and where relevant, a professional installer.