Are you in the market for a reliable 9kVA generator for the worksite? It won't take long to narrow your top choices to MaxWatt and DeWalt generators. These generator brands are ahead of the game with their range of features and reliable performance. Now you just need to work out which model is the right one for you. Will it be the Maxwatt MX9000ES or the DeWalt DXGN8950i? We pitted the MX9000ES vs DXGN8950i in a battle of the generators.

Let's Delve Into The Features And Specs:

Power:
Both generators produce clean power that you can rely on for the job site or backup power. But let's get down to the nitty gritty: The Maxwatt MX9000ES is powered by a top-notch economical 459cc 4-stroke air cooled engine, which produces 7000-watts of continuous power, and 7500-watts of maximum power. That's enough for most electrical appliances and power tools.
The DeWalt generator has a powerful 420cc OHV engine for 8950 watts of maximum power and 7200 watts of continuous power - which is slightly more than the Maxwatt model. However, the Maxwatt MX9000ES boasts built-in Pure Sine Wave technology (THD<5%), which offers high efficiency, stable voltage and increased output - perfect for powering tools, domestic appliances as well as sensitive electronics.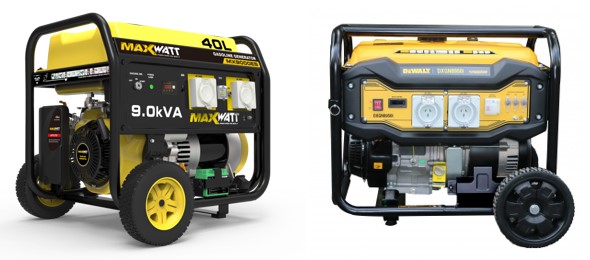 Run Time:
How long will the generators run for? The Maxwatt MX9000ES features a huge 40 litre long range fuel tank and provides up to 17.5 hours of runtime at 50% load or 14 hours at 100% load. By comparison, the DeWalt generator has a 23 litre tank - which is only just over half the size of the Maxwatt generator. As you'd expect, that halves the runtime too - the DXGN8950i provides an 8 hour run time at 50% load.
Weighing In:
When it comes to weight, there's not a lot in it. The Maxwatt generator is slightly heavier at 96kg, compared to 93.5kg for the DeWalt generator. But you have to remember that the fuel tank on the MX9000ES is almost double that on the DeWalt DXGN8950i, so when you have a full tank, it will add a heavy load. Maxwatt have included never run flat heavy-duty wheels and a U-shaped handle for easy transportation of the generator around the jobsite. The DeWalt generator also comes with never run flat wheels for easy moving
Starting:
You should always look for a generator that's easy to start - and that's where both generators tick the box. Both the DeWalt generator and the Maxwatt MX9000ES come with an easy electric start. The Maxwatt also comes with a 12-volt maintenance free lithium ion battery.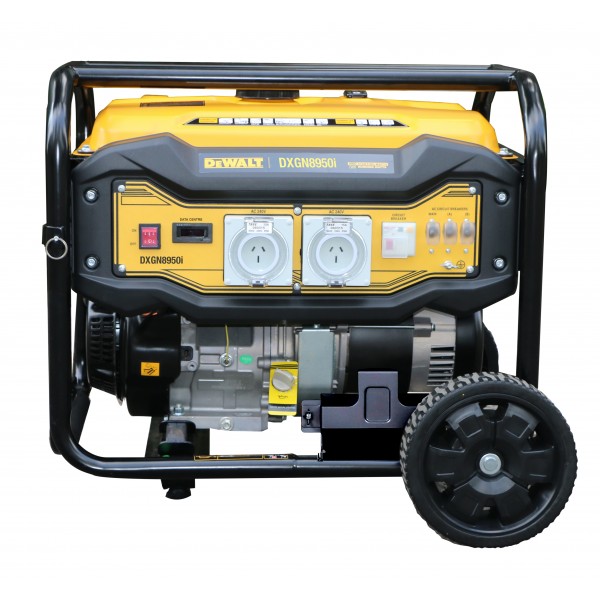 Additional Features:
When it comes to features, both generators are packed with top additions. The Maxwatt MX9000ES comes with two 15A IP66 weatherproof outlets and an RCD safety switch which enables you to safely run two appliances at once and still have the 12 Volt charging capabilities. It also comes with a neat 4 stage digital meter display.
But what really sets the DeWalt generator apart is the worksite approved features: a hydraulic/magnetic circuit breaker that provides overload protection, a digital hour meter for monitoring run time and tracking maintenance, and an idle control to reduce noise and save fuel. It also comes with two IP66 Weatherproof Outlets, RCD Safety Switch, Electrical Circuit Breaker - all covered to provide protection against rugged working conditions. This is all housed in a steel frame, which is also job site tested.
Noise:
No doubt about it, the Maxwatt MX9000ES is a noisy workhorse. Even with the large muffler, it puts out 82dB. By comparison, the DeWalt generator features a premium low tone muffler that delivers 73 dB(A) at 7 metres.
Warranty:
DeWalt backs its generator with a 3 year warranty, whereas Maxwatt provides 2 years.
Price:
Maxwatt has priced this generator so it's affordable for its class at $1,599. The DeWalt generator is more expensive at $2,169, but you do get an extra year of warranty for that price.

How Do The Specs Stack Up?

Check Out The Comparison Table:

Specs
Maxwatt MX9000ES
DeWalt DXGN8950i
Max Power
7500W
8950W
Rated Power
7000W
7200W
Fuel tank size
40L
23L
Engine size
459cc
420cc
THD less than 5%
Yes
Yes
Electric Start
Yes
Yes
Remote Start
No
No
Recoil Start
Yes
Yes
2 Wire Autostart
No
No
Digital Display
Yes
Yes
Weight
96kg
93.1kg
Noise level at 7m at 75%
load
82dBs
74-77dBs
Retail Price
$1,599
$2,139

Verdict:
There's a lot to love about both these generators but you need to pay attention to the details to find the right option for your worksite. In this case, there are two details that tip the scales towards DeWalt - even with its hefty price tag:
Warranty: You only get a 2-year warranty with the Maxwatt, while DeWalt gives you an additional year. This makes a big difference when you are using a generator every day and gives you peace of mind on the jobsite.
Power: DeWalt has a greater power output allowing you to run all sorts of tools on the worksite.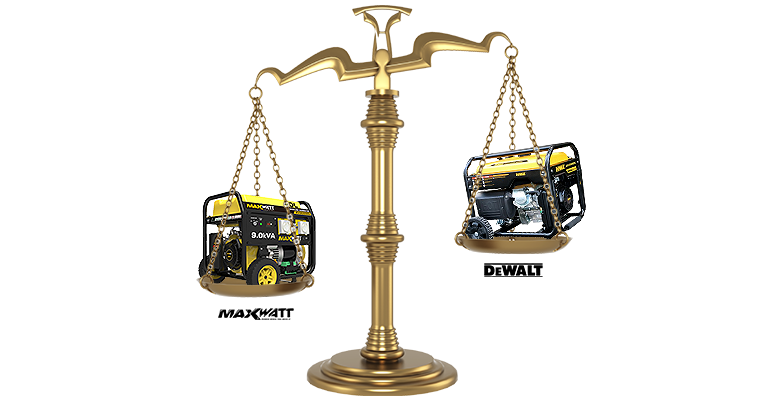 Tech Tip: It is worth mentioning that Maxwat also produces another 9kVA model with order start capability. The two wire remotes start feature of the MaxWatt 9kVA Petrol Generator with Electric Start + 2 Wire Auto Start is ideal for backup to solar off-grid insulations.
To view all My Generator Generators, click here.
DISCLAIMER* Please note, this advice is general in nature and we strongly recommend consulting the product manual and where relevant, a professional installer.