Honda generator prices getting you down? Before you start selling the contents of your garage to raise some extra cash, check out our list of top of the range generators to suit every budget.
When it comes to Honda generators prices are often much higher than their 'no name' equivalents. So are you just paying more for the name? Or is a Honda generator a guarantee of quality that other manufacturers simply cannot match.
Whichever camp you fall into, it's a fact that you can find top quality generators on the market to suit every budget. Some, such as the Powerlite Generators for trade and farm use, are even powered by Honda meaning you get the double benefits of a top-notch Honda engine and the highest Australian manufacturing and quality standards. This goes for other brands such as Gentech, Dunlite and Advanced Power.
If you're looking for a recreational or industrial power generator, before you settle for Honda generators prices, check out some of the generators below:
Generators Under $1,200
The newest budget generator around, Cromtech's Outback 2400w genset is already proving to be one of our most popular models for people only requiring their generator infrequently. A super quiet, compact unit, this inverter generator is ideal for camping, caravanning and home use. It comes with everything you'd expect from a portable generator, including 2 x 15 amp outlets, USB charging outlets and 12 volts DC charging. It even comes with a free dust cover for protection when in storage.
By far the best selling point of this generator (aside from its price) is the fact that it's brought to you by Crommelins Machinery, a veteran of Australian Power Equipment manufacturing and distribution. This means you get the backing of an award-winning national service and spare parts network as well as a 1 year Cromtech warranty. This is far more than you get from other Chinese-made generators, like Lectron, Fuji and other cheap brands sold on eBay. And makes the Cromtech Outback a great option if you're looking for an affordable, powerful inverter generator.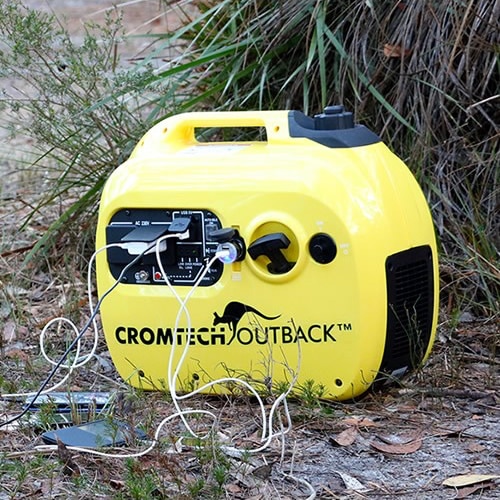 Generators Under $2,200
Powered by Honda, this Powerlite petrol generator is our best selling petrol generator and offers great value for money. It comes with all the features you need to run your tools on the jobsite and farm site. The 4-stroke unleaded engine features cast iron cylinder sleeves, a brushless alternator and an overhead valve to deliver a continuous output of 6800 watts; great for drills, drop saws, welders, pumps, brick saws, concrete mixers, pressure washers etc. The 6.5 litre fuel tank provides around three hours of continuous power. Built in a trade tough welded frame with heavy duty anti-vibration mounts, the unit features a rollover frame, and can be optioned up to comply with Workcover Approved requirements (weatherproof outlets and earth leakage protection). The generator is thoroughly tested and built by Australia's leading manufacturer of trade generating sets comes with a 2-year warranty for peace of mind you simply can't buy.
Generators Over $6,000
We're quietly impressed with the EF6300iSE. The way it effortlessly cranks out up to 6300 watts of pure sine wave inverter power at 230 volts to confidently run high-demand items like pumps, as well as sensitive equipment like laptops and computers, wherever you need power. The advanced features such as a single touch electric start and an economy mode to give better fuel efficiency. Not forgetting the automotive low oil shutoff feature that automatically protects the engine from low oil damage, hour meter to automatically track the maintenance and handy fuel gauge. And even though it produces a hefty 6300 watts, the engine is super quiet allowing you to have a conversation in normal voices just metres away. Complete with a four-year warranty, whichever way you look at it, the EF6300iSE is worth every last cent. Also worth noting its more than 20 kilos lighter than its Honda equivalent!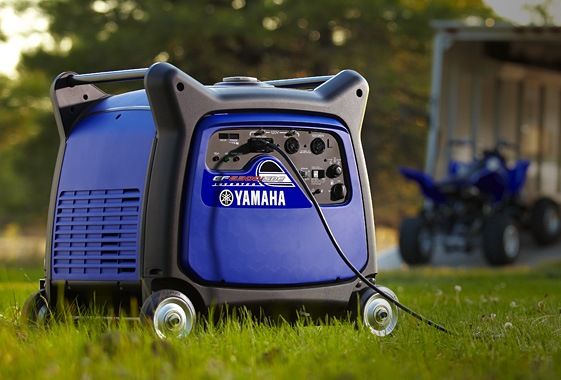 -
For more information visit My Generator. Just remember, when opting for a cheaper budget brand generator instead of a premium brand, make sure you go with a brand that provides after sales servicing and spare parts support:
-
DISCLAIMER* Please note, this advice is general in nature and we strongly recommend consulting the product manual and where relevant, a professional installer.