It's hard to imagine life without electricity. These days, you have constant access to power to keep life running smoothly. Long gone are the days of trying to squeeze every last drop of juice from your mobile - cafes, trains, and even planes allow you to stay connected, providing a continuous river of power. But what if you venture further afield? Suddenly you need an alternative way of powering your life - a Portable Generator.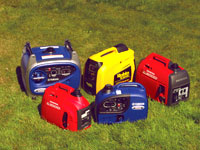 Portable Electric Generators provide power wherever and whenever you need it - at home, in the garden, on the road, at an event...wherever. The good news is, generator manufacturers are coming up with ways to make them even more portable and user-friendly. So there really is no excuse to find yourself without power.
Just to prove our point, here are five benefits of modern portable generators:
1. Ultra Portable
Today's portable generator are more lightweight and compact than ever before, truly living up to their name. This is ideal if you're caravanning, camping or hitting the road in your 4WD. The latest Recreational Range of Portable Generators features exceptional fuel-efficiency and easy-carry portable designs to keep you powered up with minimum fuss. Better yet, it means the generator can be neatly packed away out of sight when not in use.
2. Inverter Technology
By far one the best features of the modern recreational range is the advanced inverter technology. An Inverter Generator produces pure and stable power, free of surges or 'spikes' that can damage sensitive electronics such as computers and cause flicker on the TVs and lights. Inverter generators offer a number of other benefits, including less noise, lower weight and greater fuel efficiency when compared to traditional models. It's no wonder that on the road, you'll see most sites being powered by inverter generators.
3. Super Quiet
Most portable generator are now designed with peace and quiet in mind. Super quiet operation, sound mufflers and soundproof casing are standard in many portable generators, making them the perfect choice for work, home or play.
4. Value for Money
Modern Portable Generators are specially engineered to deliver great value for money. Models from the big name manufacturers such as Yamaha, Honda and Subaru are powered by highly efficient engines, meaning the fuel (and your money) goes further. This is especially the case with inverter generators, where the engine speed automatically adjusts in direct proportion to the load applied, maximising the fuel efficiency. This results in a longer continuous running time, while maintaining the frequency and power for your devices. Some are built in exceptionally robust, heavy duty frames to ensure they withstand more than a few knocks. And as extra backup, most generators come with a one, two or three year manufacturers' warranty.
5. Choices, choices
It doesn't matter whether you want to power up your campsite, a major event, a construction site, or even your home when disaster strikes, there is a vast choice of Portable Generators designed specifically for your needs. All you need to do is work out what you need it for, set your budget and do some research on the best generator that will tick all your boxes.
For more information and advice on portable generators, visit My Generator.
DISCLAIMER* Please note, this advice is general in nature and we strongly recommend consulting the product manual and where relevant, a professional installer.