Wanting to purchase a caravan battery management system but not sure where to start? Read our guide below!
What Is A Caravan Battery Management System?
A Caravan Battery Management System is the central hub where all your charging, monitoring and protection takes place. This central hub can be made up of one device with a display screen or multiple devices mounted on a pre-wired board or box. The best battery management systems will be able to perform the following tasks: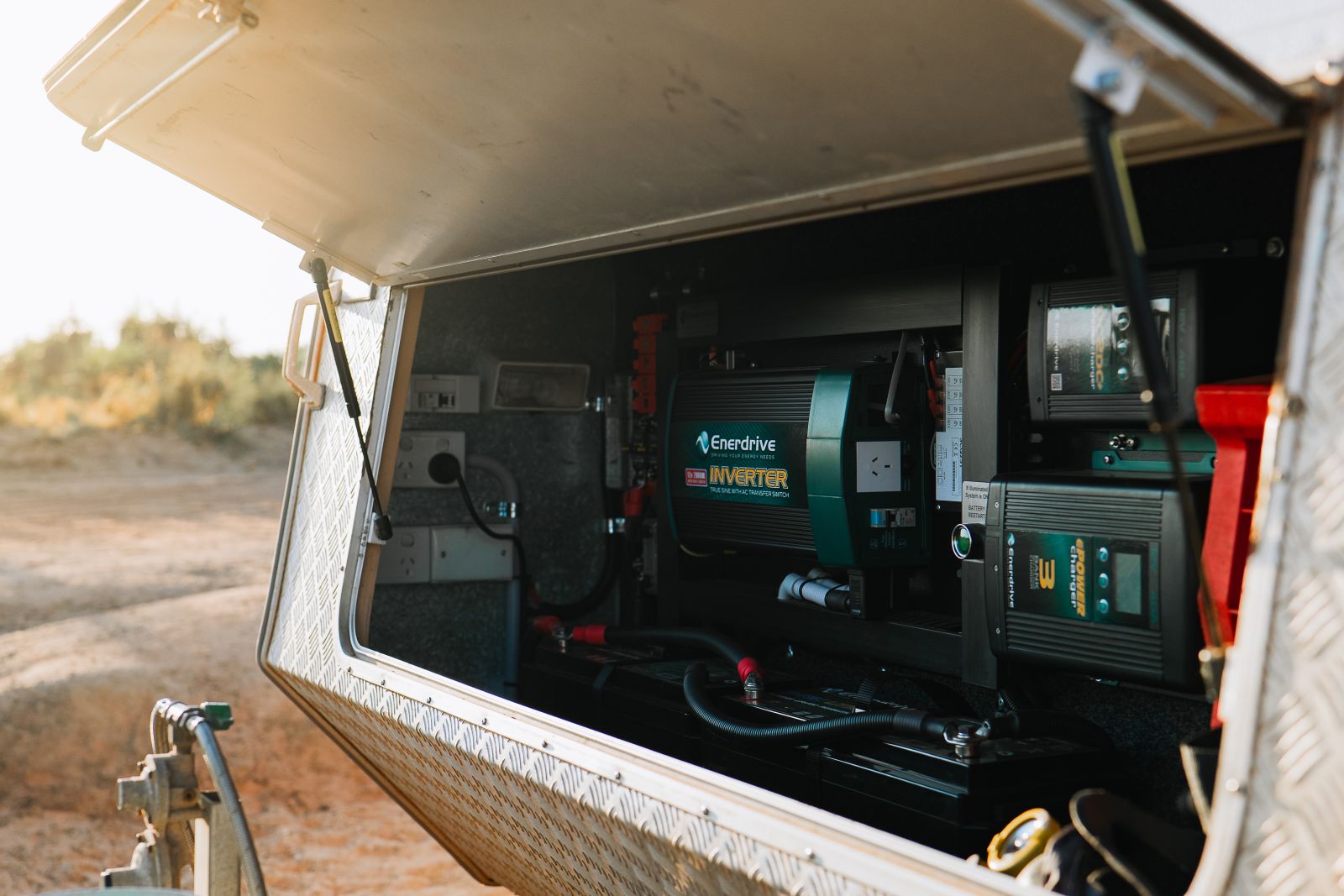 -
Why Do I Need A Caravan Battery Management System?
When travelling out on the road and off the grid, you are reliant on portable power. Prior to building your power system it is important to estimate the size of the system based on your daily power draw and how much solar energy you expect to harvest. As we are all too aware, weather conditions in this country are varied and unexpected. Your plans out on the road are ever changing and you might find yourself stuck one area without mains power for longer than expected. You need your battery management system to provide real-time performance data so you can manage personal power usage.
The luxury of opening a mobile phone app to monitor tank levels really provides peace of mind when camping out in remote areas. Or knowing how many amps your washing machine will draw from your batteries might help you estimate the right time to get a load done.
Different parts of the country will also produce different solar energy yields. The closer to the equator , the more sun hours per day. A good battery monitor will give you that real time data as your location changes.
-
Introducing The Big Players In Battery Management Systems:
-
Enerdrive:
The powerhouse in Battery Management and Charging equipment for Caravan , RV and 4X4 is Enerdrive. The reason why so many people are turning to Enerdrive is the rise of lithium batteries. Many people are doing away with their old AGM batteries and upgrading to Lithium. Enerdrive is the perfect partner to execute this upgrade.
Enerdrive also has the best warranty and back up technical support of any of the manufacturers in this field. If you purchase a pre-wired charging board or canopy system and combine it with their lithium batteries and charge cables, you have a turn-key solution and one phone number to call for technical support. All the boards and systems come with detailed wiring diagrams so installation is breeze for professionals and DIY installers alike.
The Enerdrive Battery Management system range can be split up into three main categories:
1. The Canopy Systems:
Enerdrive have created six compact power solutions to run electrical equipment in the back of your 4WD, including a fridge, lights, and even a coffee machine. The Enerdrive Canopy systems mainly target the 4x4 market, but have been known to get installed into toy hauler trailers and camper trailers as well.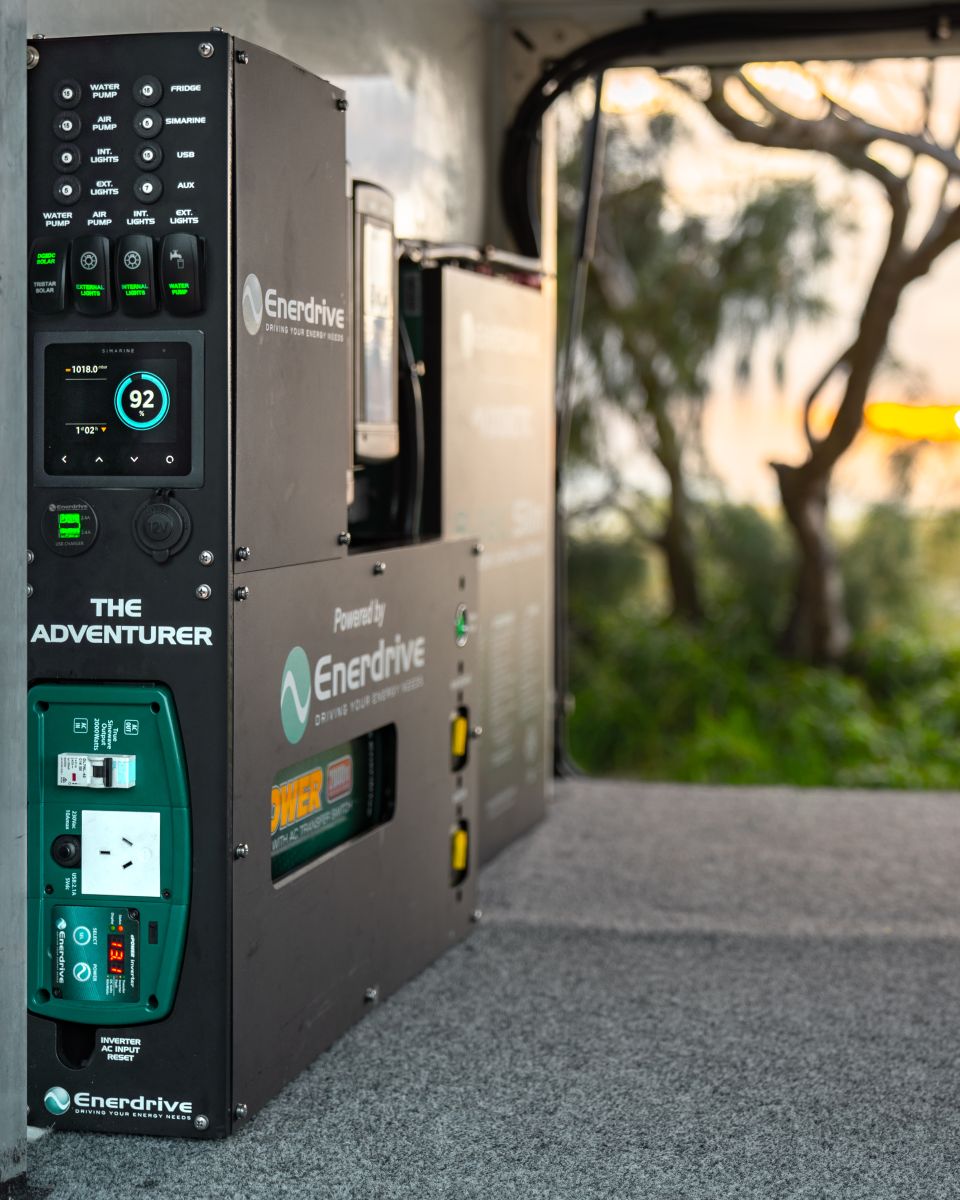 There are six models in this range:
All of these systems can be paired with any brand or model of battery including Wet Sealed, AGM, Gel and Lithium! These canopy systems are a first in the market and have taken the DIY installer market by storm.
2. The DIY eSYSTEM Charging Boards:
Enerdrive also manufacture DIY Installation Kits which are designed for the DIY'er with basic electrical knowledge up to professionals looking to save time on installations. These can be installed in 4WD canopies, caravans, camper trailers, commerical vehicles and more.
There are a number of board variations, with different layouts, dimensions and electrical components. There are smaller boards with AC & DC charging and battery monitoring, right up to kits with an inverter and individual charge and load monitoring.
Customers come to us and want a dual battery solution and list the appliances they need to run and how long they plan to camp off grid. After consulting our solar power calculator it soon becomes evident that the serious traveler wants a DC to DC charger, AC to DC charger, battery monitor, 240V inverter and all the appropriate cables, breaker and fuses to connect and protect the system.
The beauty of all of the Enerdrive Power Systems is they are as pre-wired as possible. This saves time and money in the long run. Our customers have peace of mind knowing they have the right size fuses and breakers, quality cable sized appropriately and secure connections that won't let you down on those corrugated dusty roads.
The biggest advantage of this system and any other Enerdrive system is the massive 5 year warranty and fantastic backup tech support on their hotline. It's what Enerdrive has built their brand on and it's why we partner with, and promote this Australian manufacturer.
Enerdrive Battery Monitoring:
Most of the canopy systems and pre-wired boards come with the option to choose either the Enerdrive ePro plus or Simarine battery monitor. Even though the Enerdrive Btec batteries come with an in-built Battery Management system it is still recommended to have an external battery monitor. A quality battery monitor will count the Amps going in and out of your battery system, thus providing an accurate "State of Charge" and "Depth of Discharge" data
The Simarine battery monitor is far more sophistaced than the ePro plus and looks great as part of your install. The Simarine monitors do have the ability to monitor up top 4 water tanks whereas the ePro plus does not have tank monitoring capabilities. Simarine also has inbuilt Bluetooth connectivity so you can remotely access the monitor's data from the convenience of your smartphone. All round the Simarine is a much sleeker-looking and user-friendly piece of technology than the ePro plus.
-
Projecta:
A traditional style of battery management system that you will see in a caravan or RV are the all in one style power distribution boxes like the Projecta Power Management series.
Ranging from $500 up to $2,600 the Projecta power management systems do cater mostly to caravans and RV's. This range does include DC to DC charging and in-built solar regulators for off grid charging but is mainly targeted to travellers staying in powered sites with 240V input. The units work really well as power supplies, essentially distributing the 240V power input around to many DC 12V outputs. The larger the unit the more outputs you can distribute. The unit is enclosed in a case and most people will view it simply as a fuse box.
The advantages of the Projecta range are they are compact with a lot of features. The larger models have in-built bluetooth for easy smartphone battery and water tank monitoring. The hero product is the Projecta PM400 model. This model comes with a LCD switch panel display which can be remotely mounted where desired. It provides remote operation of appliances, lighting and water pumps.
The disadvantage of Projecta models is the DC to DC charging works from a voltage sensitive relay and doesn't use its own dedicated charge profile like other battery management systems on the market. The Projectas also only come with a 1 year warranty.
-
New From Projecta:
Projecta have launched an entire new range of pre-wired, drop-in, off-grid charging solutions for 4x4, caravans and RV's. With lithium compatibly and Bluetooth connectivity in mind, these sleek looking boards are bound to grab the attention of 4x4 enthusiasts young and old.The cornerstone of the 4x4 models is the new Projecta 25A DC DC charger. Projecta have considered all types of travellers with a range of inverters and inverter chargers for high powered AC output on the road. Check out the new range here.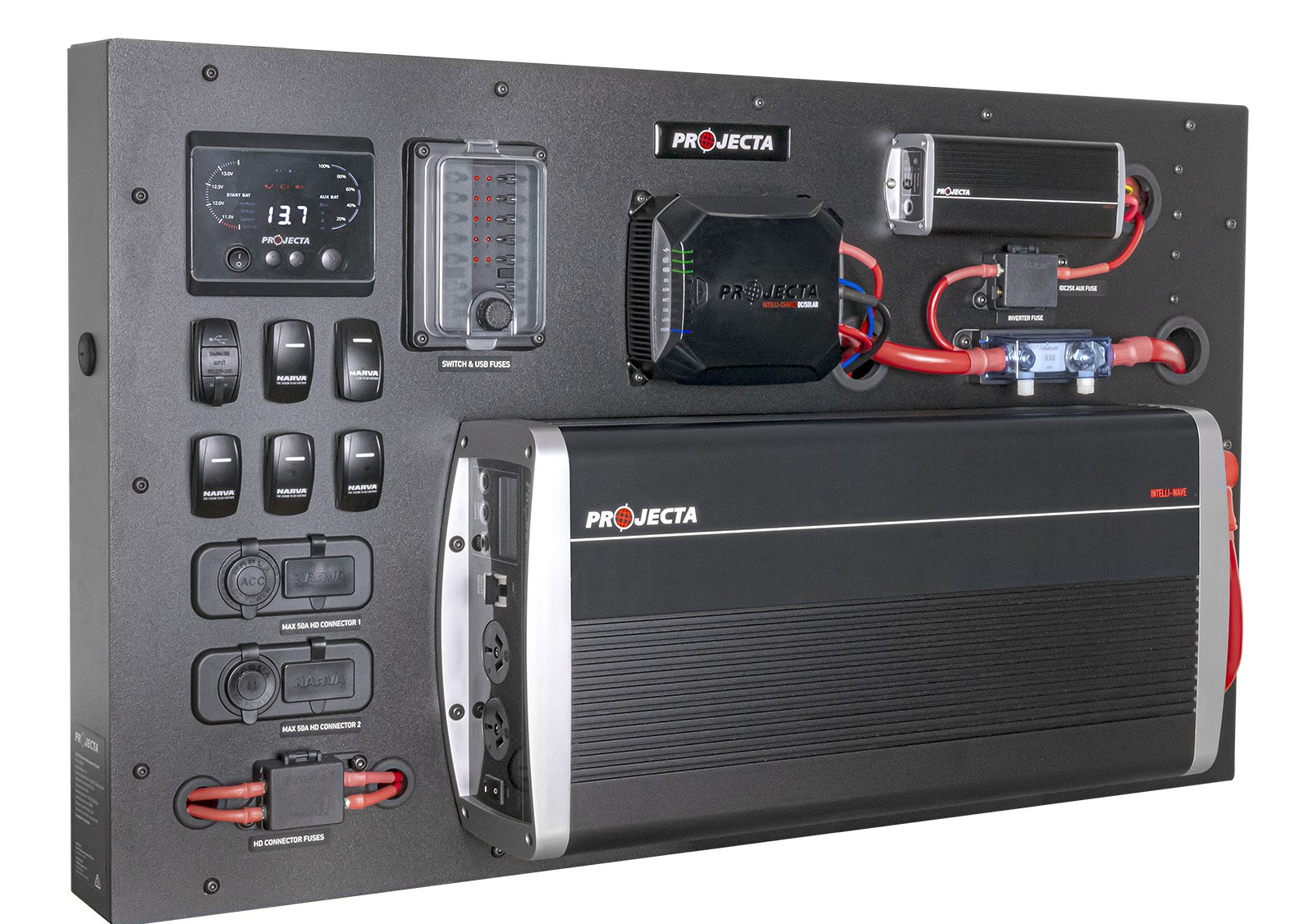 BMPRO:
BMPRO is another caravan RV centric battery management system manufacturer. In a similar vein to the Projecta range, the inbuilt power supply in the BMPRO range provides DC power distribution throughout the van. BMPRO have released quite a lot of models over the years, but have now rationalised down to 4 core products:
The Genius model is the entry level at only $550 and acts as a power supply and AC input battery charger for lead acid batteries only.
The J35 and BP35 models are much more advanced, including in-built solar charge controllers, DC distribution and AC input charging for lithium batteries.
The BMPRO range is designed to be modular, you can add various products to increase the performance and usability of the system. There are various battery monitor and smartphone apps used to monitor battery performance and tank levels. Check out our compatibility table and FAQ guide to help determine which products are right for you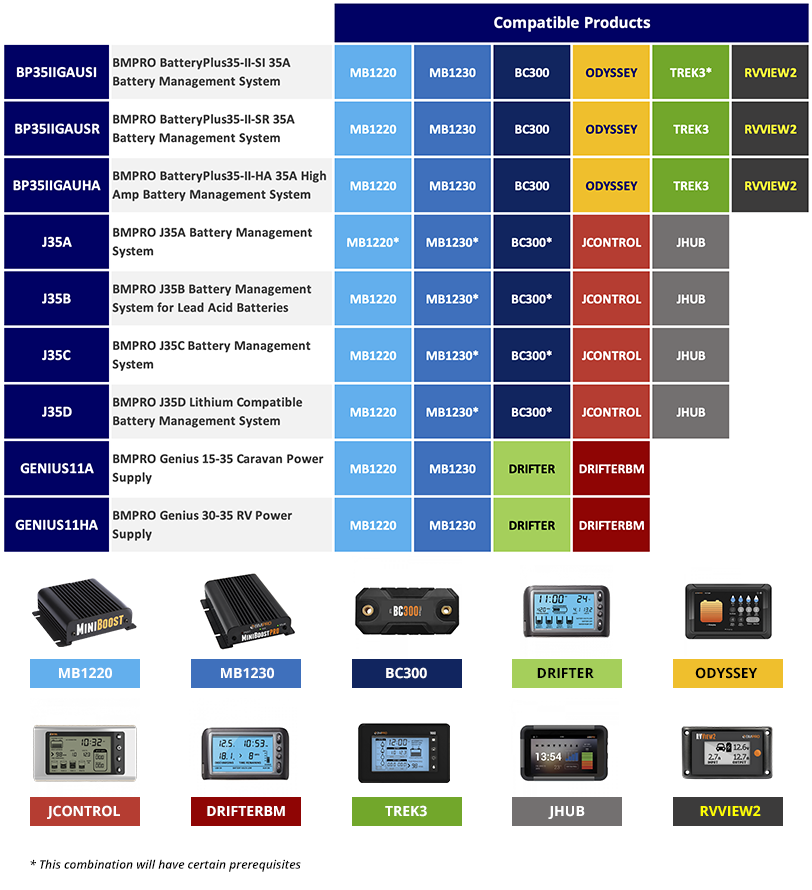 The newest and exciting release from BMPRO has to be the SMART CONNECT range of sensors. The smart connect range includes a gas level, temperature (fridge) and tyre pressure monitors. The cool thing about these monitors is they are wireless, so anyone can install them in minutes. Once in place you can monitor your fridge temperature, Tyre pressure and Gas bottle level with your smartphone app via bluetooth.
Victron:
Victron have been known for their off-grid battery inverter chargers and solar controllers since they started manufacturing power conversion equipment in 1975.
The Victron Pre-Wired Power Panel allows you to charge 12V batteries (from 100 to 300Ah) from 240V AC or 12V DC power. You can program the chargers to work with lead acid, AGM, Gel or lithium batteries. The board been designed for off-road vehicles, caravans and boats and is actually Australian made. Simply connect to the VictronConnect app via your smartphone and have access to real-time data to ensure all your must-have appliances stay powered-up while on the road.
You can also opt for a Victron battery management bundle with various charging and monitoring components. The parts haven't been mounted onto a board so you can personalise the installation. There are five bundles to choose from:
The Victron 30A Battery Management System Bundle is the most popular of the range and includes a smart charger, DC to DC charger, MPPT solar charge controller and smart battery monitor.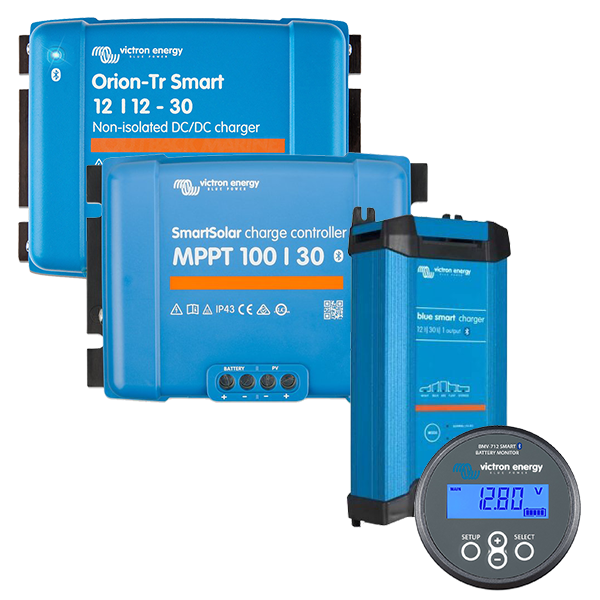 -
Overview:
Your battery is the heart and soul of your off-grid camping adventure and therefore needs to be looked after. A quality battery management system is vital in ensuring your battery is protected from overcharge or over-discharge, has a charge profile matched to the battery's chemistry and ambient temperature, and maximizes the number of cycles the battery can be discharged.
For more answers on Battery Management Systems and off-grid touring call 1300 400 122 and speak to one of our product experts today.
-
DISCLAIMER* Please note, this advice is general in nature and we strongly recommend consulting the product manual and where relevant, a professional installer.