Dometic is the brand to beat when it comes to caravan air conditioners. They make reliable, high-performing and forward-thinking products, like the Ibis 4, that Australian caravan owners know they can trust.
The biggest challenge you face now is deciding which model is for you.
The Dometic Ibis 4 was only released in Australia in early 2019, so it hasn't been around for long. But it builds on everything Aussies loved about its predecessor, the Ibis 3.
Then there's the Dometic Harrier Plus. The original Harrier held the crown for the latest and greatest rooftop air con unit in the market since its release in 2016. Then in 2020, Dometic relaunched the Harrier with a new generation variable speed compressor and sleek design.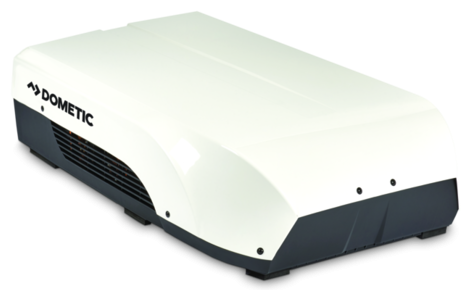 So, does the Ibis 4 have what it takes to steal the crown? If we compare the two Dometic products, which one has got the edge?
-
Let's Compare the Ibis 4 & Harrier Plus:
-
Price:
Which model will lighten your wallet more? The Ibis 4 is quite a bit cheaper (around $400) but you need to remember the Harrier Plus was only launched in the middle of 2020. You can also catch both of these air conditioners on sale throughout the year - score!
Both models also come with a 3-year warranty. If you were relying on price to make your decision, we recommend digging a bit deeper into the specs.
-
Power:
Here's where the differences come into play. The Ibis 4 has a cooling capacity of 2.6kW compared to 3.0kW for the Harrier Plus. The heating capacity for both models are the same at 3.0kW.
Here are the numbers again:
-
Dometic Ibis 4:
Compressor capacity: 3.6 kW

Cooling Capacity: 2.6 kW

Heating capacity: 3.0 kW
-
Dometic Harrier Plus:
Compressor capacity: 3.6 kW

Cooling Capacity: 3.0 kW

Heating capacity: 3.0 kW
-
Installation:
The Ibis 4 suits RV's up to around 7 metres in length compared to 7.5 metres for the Harrier Plus. But it's the design that wins this round for the Ibis 4 - one of the best things about the new model is its lightweight build. The Harrier Plus weighs 44kg, but the Ibis weighs in at just 40kg thanks to the use of expanded polypropylene (EPP) materials.
Dometic also streamlined the rooftop dimensions of the Ibis 4, so it measures only 758 x 230 x 1112 mm. This means less chance of damage from hitting branches, and more chance of parking in garages and carports with lower clearances.
The Harrier's external roof dimensions are slightly shorter in terms of length and width (1070 mm & 750 mm), however it is higher than the Ibis4 at 280 mm - but keep in mind it does have slightly more capacity. Pleasingly, both A/C models fit 360 × 360 mm and 400 × 400 mm roof openings straight out of the box. No need to buy extra components or accessories.
-
Features:
Both the Ibis 4 and Harrier Plus feature heating and cooling with four fan speeds. One of these is a new turbo-mode, which means accelerated cooling inside the vehicle. But keep in mind, the Harrier has a cooling capacity of 3.0kW, while the Ibis only has a cooling capacity of 2.6kW.
These models also both have a timer function and sleep mode, which reduces the compressor and fan speeds while you're sleeping, so no noisy, vibrating air con to disturb your slumber.
One of the best features of both models is that they boast highly efficient inverter technology. The original Dometic Harrier was the first use of an inverter compressor for an RV, and it brings some serious advantages. It means none of the start-up issues you might have when running your air con from a generator or restricted current supply. Thanks to the low start-up current, you can run both models off a portable 2000W Generator. Plus, they are extremely quiet.
-
Energy Efficiency:
The Ibis 4 features a dual-cylinder horizontal compressor - a first for the RV industry. This powerful innovation uses inverter technology to balance the unit and reduce vibration. As a bonus, it also helps reduce the running noise whenever the compressor kicks in.
-
The compressor in the Dometic Harrier Plus also slows down or speeds up to maintain the output as needed, which reduces energy consumption, noise and vibrations.
-
Operating Temperatures:
Dometic really knows how to make air con units for Australian conditions. Both the Ibis 4 and Harrier Plus operate in -2 to 52°C.
-
The Verdict:
Both air cons have everything you could want in an RV rooftop air con unit. So you need to look closely at the details. The Harrier Plus is the latest model to market and doesn't hold back when it comes to features - it has four modes, a new generation speed compressor and has a slightly greater cooling capacity meaning it's suitable for longer vehicles.
The Ibis 4 on the other hand, may have a lower cooling capacity but it does feature four modes, a lightweight design and incredible energy efficiency - a major bonus in our customers books!
Our top tip? Compare the specs carefully to work out the best one for your unique needs.
-
Still not sure which caravan air conditioner model to choose? Give one of our product experts a call on 1300 400 122!
-
DISCLAIMER* Please note, this advice is general in nature and we strongly recommend consulting the product manual and where relevant, a professional installer.