-
If you're looking to enjoy the outdoors but still want to charge and run your favourite appliances, then you might consider the Dometic PLB40 Lithium Battery.
Who Are Dometic?
Now before we dive in and just incase you are familiar with this brand, Dometic is a global leader in the caravan, RV and camping market. They are famous for their portable camping fridges and also their upright caravan fridges - both compressor and 3 way! Their advanced technology and quality is next to none which is why we high recommend considering their most recent release: The Dometic PLB40 Lithium Battery.
-
Dometic PLB40 Lithium Battery Features and Benefits
Released in mid 2019, this lithium iron battery is designed to power portable fridge freezers and other 12V appliances during your off grid adventure. It features 40amp hours of lithium capacity meaning this pack will provide up to 40 hours of cooling time for a 45 litre camping fridge on a single charge!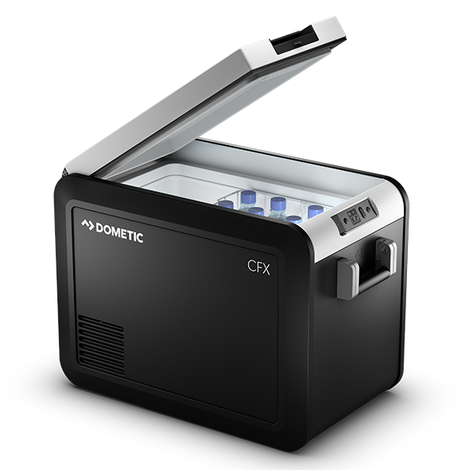 This portable power pack has an integrated DC to DC charger meaning it can be charged from a 12V socket in your vehicle, AC mains power or via a solar panel. These three convenient sources allow you to have constant power whether you're on or off the grid.
Dometic knows that the great outdoors doesn't always bring perfect weather, so they designed the PLB40 to withstand wet, windy and even dusty conditions! This is thanks to years of research and development to ensure this power pack featured the latest cutting-edge technology.
This lithium technology also enables this power pack to operate in an extensive range of temperatures. It is safe to charge the PLB40 from 0 - +45 degrees Celsius and discharge from 10 - 55 degrees!
-
The Dometic PLB40 also features a built in LCD screen from which will provide you important performance information including battery capacity, charging status and output status. This is an important feature that we love!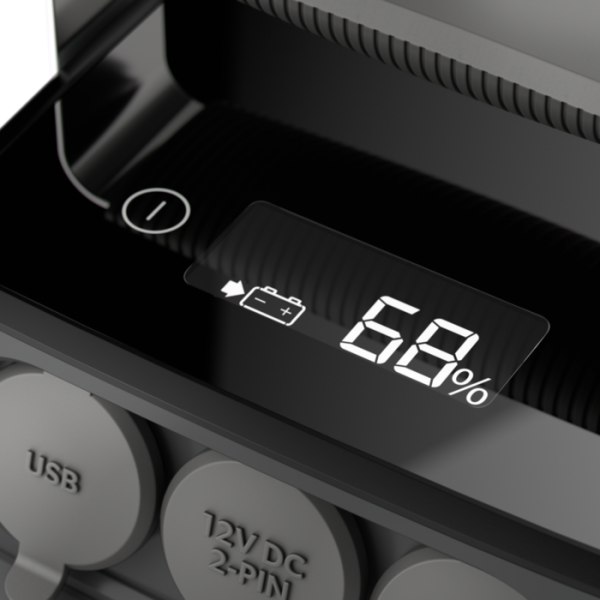 But we will be honest, our favourite feature is that this portable power pack weighs under 8kg! This makes it significantly lighter than other camping battery models and makes it easy to transport around your camp site! This is handy if you need to move your solar panels to chase the sun!
Now if you don't own any solar panels or blankets then we have great news, the Dometic PLB40 is also offered in a pack with the Dometic 150W portable solar blanket kit! This pack is the ultimate camping setup to charge all your favourite appliances.
Okay so if all of this isn't enough, the Dometic PLB40 also features 2 USB ports so the kids can charge their phone directly off the power bank and leave you to enjoy the peace and quiet!
Want more info on how this power pack operates? Check out Dometic's video below!
-
Any Downsides?
We love the Dometic PLB40 but if you are wanting to run larger appliances then this power pack might not be big enough for your requirements. In these instances we would recommend looking at a portable power pack by another brand such as Goal Zero or Baintech.
Another downside is that lithium power packs like the PLB40, are more expensive than AGM power packs. However this is because lithium is proven to be lighter and more efficient than AGM for most applications! It's a classic trade off of price vs performance.
Check out this video here to compare camping power pack brands and models:
-
Please note, both the Baintech Powertop and Goal Zero Yeti in the above video have been superseded for newer models - infact the Powertop got replaced by a Lithium version!
-
Our Overall Verdict:
Overall the Dometic Waeco Camping Power Pack is a great addition to your camping setup if you're looking to run your fridge and a few of your favourite 12V appliances!
Have a question? Give one of our product experts a call on 1300 400 122!
-
DISCLAIMER* Please note, this advice is general in nature and we strongly recommend consulting the product manual and where relevant, a professional installer.