Ready to put the finishing touches on your ultimate 4x4 rig? In our fourth and final instalment, we'll reveal the final trimmings you need for your off-road beast. We're talking about driving lights, communication, navigation, and recovery. So if you get yourself stuck or in trouble, you know your ultimate 4x4 rig is prepared with the right equipment that is tested and ready to go.
-
Lighting:
The adoption of LED lighting into the 4x4 world means far more affordable lighting, with greater performance and less power consumption. LED lights will last forever, and if you only need to buy once, you should buy well.
The first question you need to ask yourself when buying driving lights is whether you want a light bar or spotlights. Check out our full 4WD lights guide here.
We have a range of spotlights and lightbars from the folks at Bushranger 4x4 that we confidently recommend. Bushranger is the most popular brand for driving lights because they are renowned for their top quality, tough-engineered lights with innovative features, backed by a 5 year warranty and more than 40 years of supplying quality engineered 4×4 products to the Australian market.
-
Spotlights:
Spotlights give you more focused illumination over long distances so you can spot wildlife and navigate in poor conditions, like fog. Some spotlights give you the option to change the beam pattern, so you can enjoy a wider light spread. And they can double as camping lights too - a definite bonus.
-
Our Pick: Bushranger Night Hawk 9" (Pair) VLI Series LED Driving Light Kit
Why We Recommend It:
Night Hawk spotlights are so bright, Bushranger has added a feature to give you complete control of the light intensity in those conditions where too much light can be detrimental to clear vision.
You also get two protective covers with these driving lights which allow you to change the beam pattern with ease. The spot protective cover gives a clean, focused spot beam pattern which reaches extreme distances and is great for highway driving. Or clip on the flood protective cover and enjoy a wide, flood beam pattern which illuminates all the surroundings for excellent short to medium distance vision.
These driving lights are engineered with clever cooling ducts which channel cool air directly over the heatsink, which increases the heat dissipation of the LEDs. The Advanced Temperature Control System monitors and adjusts the output according to the environment to run the LEDs to their maximum potential.
Not to mention, these lights look really good on your rig!
-
Light Bar:
A light bar is mounted to your 4x4 and creates a wider spread of light, which is ideal if you want to see more of the track when the daylight fades. Light bars are usually LED, so they draw less power than traditional driving lights.
-
Our Pick: Bushranger Night Hawk 24.5" VLI Series SR LED Light Bar
Why We Recommend It:
This 24.5inch light bar can be mounted on your roof, forward facing for the ultimate in lighting in tough conditions. It's built tough with extruded 6061 aircraft grade aluminium housing and cast alloy mounting feet to ensure long term durability for even the toughest Aussie conditions.
Other top features include the active temperature control system, which provides intelligent onboard monitoring of the LED temperatures with a superior cooling design for maximum output in all conditions.
As with the spotlights, the light bar also comes with a full set of clip on/clip off spot beam and flood beam protective covers for complete customisation of the beam pattern depending on the conditions.
With a 5 year warranty, Bushranger 4x4 driving lights won't let you down!
-
Recovery:
Are you using your 4x4 to head off road? If the answer is yes (because what other answer is there?!), then you need to start seriously thinking about how to get out of a bog. Shovels and tracks are definitely recommended as they are an inexpensive and still very useful way to get yourself out of a jam. But when a shovel doesn't hack it - and that time will come - it pays to have a winch and appropriate winch recovery accessories handy.
A winch is one of the most crucial accessories to get yourself out of trouble. It gives you peace of mind that you can fully recover your vehicle no matter whether you head onto sand, mud or snow!
-
Our Pick: Bushranger Revo 10,000LB / 4,536kg Synthetic Winch
Why We Recommend It:
One of the most popular winches on the market, the Bushranger Revo 10,000LB has a gearbox mounted braking system and zero brake drag. The zero brake drag means you don't have to pull against the brake system to unspool, and avoids unnecessary heat build up. The power of the winch will do the unspooling.
If you're buying a winch, you need one with high-quality construction - and the Bushranger Revo ticks the box. It also has a low current draw, and 4 stage oversized gearing. This beast also has an advanced proportional friction braking system that will reliably hold 100% of the rated load with no slippage.
Our Pick: Ratcheting Spade/Shovel & Paddle Mount - by Front Runner
Why We Recommend It:
Need somewhere handy to put your spade? Front Runner has the best range of 4x4 roof rack accessories. With no drilling required, these brackets are ready to go straight onto the Front Runner Slimline II side rails so you can fit almost any size shovel onto your vehicle. It comes with a 3 year warranty too.
Our Pick: Recovery Device Mounting Kit - by Front Runner
Why We Recommend It:
You need a place to stow your MAXTRAX's so you can easily grab them when you get into trouble.
We already talked about roof storage in Part 3, and this is another example of how you can plan your roof storage to hold everything you need.
Front Runner has designed a simple and strong mounting kit especially to fasten your recovery tracks to the Slimline II Rack. It comes with 4 eye nuts and stainless steel hardware specifically designed for fitment of MAXTRAX recovery tracks, and mounts front to back or side to side on the rack with a low profile. And you can secure more gear on top of the recovery tracks using Stratchits (an optional extra).
Navigation:
Go anywhere and stay guided with a dedicated off-road GPS. Tracks can now be accessed right at your fingertips on your dash.
The great thing about a GPS unit is that they can be updated regularly - simply connect to Wifi to find updates. Many systems have compass sensors and multi-directional antennas so the GPS pinpoints you with an accuracy between 3 and 5 metres, which is very accurate! Depending on the brand and model, you can also access warnings about road conditions - perfect when you are heading into the unknown.
Hema is the premium brand for off-road mapping. When it comes to 4WD navigation, they're tough to beat! The team at Hema are out there in their patrol vehicles mapping the off-road tracks all around the country. In fact, Hema Maps has mapped over 690,000km of tracks and 545,000km of unsealed roads throughout Australia! Their modern off-road GPS system is preloaded with layers of information like campgrounds and points of interest.
-
Our Pick: Hema HX-2 Navigator
Why We Recommend It:
We recommend the Hema HX-2 which features the latest in off-road mapping data, and is used by all the big 4x4 personalities out on the open road. The Hema maps are also preloaded, so you can access them even when you're offline. This feature alone makes it a top pick for off road driving!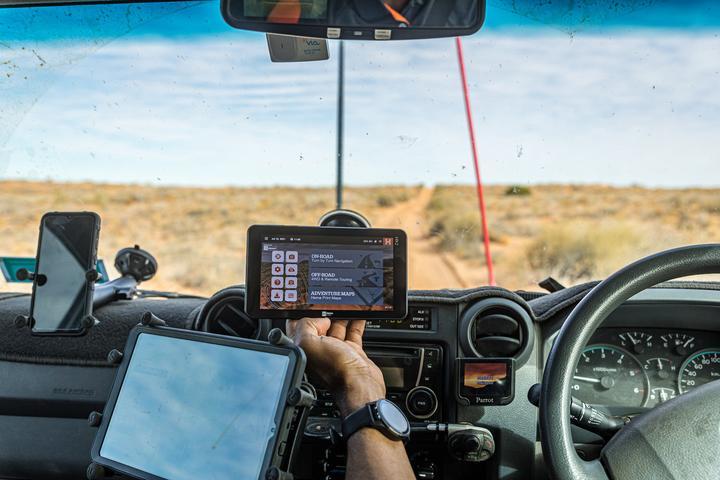 The Hema HX-2 Navigator does more than just help you map your route. You can create a personalised journal of your trip including photos, tracks and waypoints!
Another top feature of the HX-2 is that it boasts 45,000 Hema verified points of interest, such as campsites, caravan parks, dump points, rest areas, and more. You can also connect a reversing camera, so you don't need to add another screen on your dash.
-
Communication:
Once you've installed a 2 way radio in the cab of the fourbie, you'll wonder how you ever survived without it. If you're travelling with another vehicle, a UHF radio is an easy way to keep the lines of communication open and navigate tough sections of track, plus the kids love it too!
The bottom line? You shouldn't risk travelling without a radio. We recommend it as one of the first pieces of gear you should buy before you go off-road. Especially because we all know the best adventures are found where there's no mobile phone coverage!
Whatever you do, don't go for cheap, no-brand radio models. You need a trusted brand that will offer the warranty and support you need, as well as ACMA approval, which means it can legally be used in Australia.
-
Our Pick: Oricom UHF390 5W CB Radio with Controller Speaker Mic
Why We Recommend It:
One thing we love about the UHF390 is its size. It's super compact which means you can install it into any vehicle when you don't have space for a bulky transceiver. There's no need for a head unit - all of the radio's controls are in the microphone which makes it easy to use and hear.
Even though it's small, it still puts out 5 watts, just like any other radios on the market. It has a dual speaker system - one in the mic and one in the transceiver - for exceptional sound quality and volume.
As you'd expect for recommended products in your Ultimate 4x4 Rig, one of the the top features for Oricom radios is their tough construction. They're designed to handle anything the Aussie conditions can throw at them!
-
Air Compressors:
An air compressor is an essential addition to your 4x4 accessories list. If you're deflating tyres to drive on the beach, you can quickly inflate and get back on the bitumen with an air compressor. When a puncture happens and you've fitted your spare tyre, the next step is roadside puncture repair, so inflation is going to be critical. We're now seeing installations with on board air tanks and compressors with an in-built pressure switch.
-
Our Pick: Bushranger 12V 150PSI Max Air III Compressor
Why We Recommend It:
Backed by Bushranger's 5 year warranty, this quality affordable air compressor has been tried and tested in the toughest off road conditions. The thing you'll love about this compressor is that it's designed to be easy and quick to use. You can rely on the Bushranger Max Air III Compressor to inflate and deflate your tyres without breaking a sweat!
With smooth operation, it offers a flow rate of 72 LPM with a trigger-style inflation gun with a locking level and is super easy to operate, so you can use it without having to turn the compressor on and off all the time.
The included digital pressure gauge is extremely accurate so you can keep an eye on your PSI during inflation or deflation.
The whole package is compact and lightweight, so you can simply pack it away into the storage bag and forget about it until you need it.
-
That's A Wrap!
Thanks for joining us on the journey to design and construct the ultimate 4x4 touring rig. Here's a recap of our series of blog posts in case you missed one or need to remind yourself of the details.
Leave your comments and share your build with us on Instagram @mygenerator - we can't wait to see your ultimate 4x4 rig!
DISCLAIMER* Please note, this advice is general in nature and we strongly recommend consulting the product manual and where relevant, a professional installer.