It's time to utilise the outside of your 4x4 with the latest and greatest external vehicle accessories on the market.
Part 3 of building your ultimate 4x4 rig is all about maximising space and carrying capacity of your off-grid work horse.
From shade to storage, tents to tie downs, and showers to snorkels, My Generator has the vehicle accessories to take your ultimate rig from a dream to a reality, and from the garage to the open road.
Let's dive in:
-
Roof Platforms:
Not all roof platforms are created equal. So rather than tell you about a product that can't handle the rigors of off-road, we've got one brand to recommend:
-
Front Runner
Who is Front Runner, you ask? No doubt about it - Front Runner is the most premium roof platform on the market.
Front Runner was started in 1988 by a few friends sitting around the campfire in Botswana. Frustrated by the low quality gear on the market and with more than a couple of adventures in their tyres, they knew what people were looking for in 4WD gear. More importantly, they reckoned they had the know-how and skills to create a new premium range of products that people would love. And with that, Front Runner was created.
-
Our Pick:
Front Runner Roof Platforms:
Front Runner Roof Platforms are a top pick to carry even your most demanding cargo, from canoes, kayaks and surfboards to cargo carriers, gear and even roof top tents.
These accessories are lightweight, strong and designed to accommodate a long list of different Front Runner accessories.
You can remove and move around slats as you like, with different holes so you can place them in different places depending on how you're using the platform. The slats are made with holes and channels for different vehicle accessories, such as adjustable cargo chucks, mount kits, awning brackets, tie down rings and more. Did we mention there are more than 50 accessories to choose from?
These platforms are fully aluminium, including the corners, they are lighter and stronger than other racks. With no reduction in off-road load rating, these vehicle accessories won't let you down. They are low profile too, so there's no need to worry about your driving economy or noise when you're on the road.
Why We Recommend Them:
Front Runner vehicle accessories are as tough as it gets. But one of the top reasons we've recommended this platform for your ultimate rig is because they are vehicle specific.
In other words, you can choose the exact right fit for your specific vehicle model. This gives you peace of mind that the platform will be a secure and neat fit. No messing around during installation trying to force it to fit. In fact, they are super easy to install. You get all the components you need for installation included with each rack purchased.
Check out some cool and clever accessories like the Pro Stainless Steel Camp Table Kit.
-
Roof Platform Accessories:
When setting up your roof, think about where you're going, what you want to do, and what you need.
If it can go on the roof, then why not grab the right roof rack accessories and create extra space inside the car. Your first thought will be the essentials: fuel, water, gas , recovery.....oh, and a bottle opener.
Storage is also taken care of with the Wolf Pack Pro and locking brackets or the Dometic 50L GO Hard Storage (one of our personal favourites)
-
Our Picks:
Dometic 50L GO Hard Storage:
The Dometic 50L GO Hard Storage is, durable, versatile, and weatherproof, it protects gear during through the harshest conditions the tracks can dish up.
Why We Recommend It:
Not only is this an impressive storage box but Dometic also offers a clever range of accompanying accessories that fit inside including 10L Waterproof Storage, 20L Waterproof Storage and a Hydration Water Jug 11L with Self-Powered Water Tap. Looking for the ultimate storage bundle? Check out our Dometic GO Ultimate Hard & Soft Camping Storage Bundle.
Wolf Pack Pro:
Never underestimate the value of good quality storage boxes. That's where Wolf Pack Pro ticks all the boxes.
These plastic storage boxes are easy to arrange in a cargo bed and designed to avoid wasted space, so you can really maximise your storage. Stack them securely for convenient storage thanks to the neat lids fitting perfectly into the base of the box above.
These boxes are made to last - they are made from black, impact-resistant plastic and feature extra-secure latches sealing the boxes from water and dust. So you can be confident your gear will be protected from the elements when you're heading off road.
-
Why We Recommend It:
The Wolf Pack Pro is as tough as storage boxes get. They are IP66 rated, super durable and versatile, but only weigh 3.65kg each.
Pro Tip: There are several ways to secure the Wolf Pack Pro to your Front Runner rack, but we recommend the Wolf Pack Pro Lockable Mounting Brackets. They allow you to quickly and easily mount and remove your Wolf Pack Pros in just seconds, and are versatile for placement anywhere on your roof rack.
Pro Stainless Steel Camp Table Kit:
If you're looking for a durable and easily transportable camping table, the Pro Stainless Steel Camp Table Kit is a top pick. That's why we recommend it for your Ultimate 4x4 Rig.
The hygienic stainless surface provides a clean food preparation area which is corrosion resistant, so it won't rust after a few trips.
The table legs unfold in an instant and you can use the open and lock mechanism to hold the legs firmly into place.
-
Why We Recommend It:
Front Runner has come up with the ultimate table design and racking system. This pro stainless steel camp table actually slides under any Front Runner roof platform so storage is easy. Now you don't need to store your camp table inside your car, you can quickly slide out from the space between your roof and your rack.
The latch even secures the table in place to avoid rattling or damage to the table when you hit the road. Genius!
-
Spare Tire Mount Braai/BBQ Grate:
The perfect stainless steel cooking grate which can conveniently be stored over your spare wheel to avoid taking up any further space! The stainless steel grill ensures the BBQ grate will last the distance even in the toughest environments, whether you're on the beach or in the bush.
Why We Recommend It:
The aluminium legs hook onto the tyre and have a double use because they make it practical to cook over the campfire.
-
Gas/Propane Bottle Holder:
Trying to find a spot for your gas bottles is frustrating. They need to be safely stowed. You don't want them to take up too much space. And you don't want that annoying rattling noise when you're driving off road.
That's why we recommend Front Runner's Gas Bottle Holders for your ultimate 4x4 rig. These vehicle accessories have rack brackets that attach the gas bottle to your Front Runner roof rack. A two latch system features a lockable safety catch to ensure there is no movement whilst on those bumpy roads.
Why We Recommend It:
Front Runner has designed these holders to accommodate gas bottles of various sizes - you can simply adjust the collar and rods to suit your specific bottle dimensions. Easy!
-
Rooftop Tent:
No questions - a rooftop tent is the ultimate piece of 4x4 gear. No need to find flat ground when you want to pull up stumps. Sleeping on top of your vehicle means you're out of reach of animals and critters, so you won't get any unwanted guests in the dead of night.
But perhaps one of the major reasons to opt for a roof top tent is the superior comfort they offer over a regular camping tent. Elevation keeps you warm, safe and dry. A roof platform will provide a solid base for a thick comfortable mattress, whether you're camping solo or with your partner.
With express set up and pack down, it's not any wonder we're seeing so many of these out on the road. There's plenty of models out there to choose from. Here at My Generator, we look for suppliers that can provide robust camping equipment with intuitive design. So it's no wonder Front Runner and Dometic made our list of recommended vehicle accessories for your Ultimate 4x4 rig!
-
Our Picks:
Front Runner Roof Top Tents:
Front Runner have brought their A game to their rooftop tents. These tents are roomy enough for two people and open up in one smooth motion to create your camping retreat.
As you'd expect with Front Runner, the rooftop tent has durable features without compromising on all the functionality you really want when camping in extreme environments. We're talking waterproof and UV protected materials with a full coverage rainfly. And you're guaranteed a comfy night's sleep thanks to the high-density foam mattress which is designed into the tent.
Why We Recommend It:
The Front Runner roof top tent weighs in at only 43kg, which makes it lighter than most other roof top tents on the market. When optioned up with the Quick Release Tent Mount Kit, it can be removed with ease so you don't have to worry about carrying it everywhere you go!
Staying true to Front Runner's elegant yet durable design, this roof top tent would not look out of place on an ultimate off-grid rig. The tent cover is heavy-duty PVC coated 650g nylon for ultimate protection, the tent itself is constructed with a water-repellent durable 260g poly-cotton ripstop fabric.
Pro Tip: In true Front Runner style, there's a heap of accessories to make life easier. Check out the quick release tent mounting kit which means you can easily lift the tent off the top of your vehicle in seconds. Want an extra shelter under the tent? Front Runner's Rooftop Tent Annex slides easily into the channel of the tent base.
Dometic Roof Top Tent:
There are two rooftop tents in the Dometic range: the Dometic TRT120E electric set up features 12V operation and a wireless remote control, which means you can assemble the tent in less than 60 seconds! Simply push a button.
The manual model (TRT140M) might not have a remote control but it's still easy to set up and pack down in a few minutes.
Dometic rooftop tents feature a two-layer construction which makes them suitable for even the most remote destinations in the middle of a cold winter. They are packed with design features that make a comfortable and durable tent, like the high-density foam mattress that's 5cm thick - that's what you need for a good night's sleep! The tents are water resistant and boast a UPF 50+ protection from the harsh Aussie sun, and come with a PVC tent cover.
You even get the advantage of double layered windows with integrated fly screens, so you can enjoy plenty of airflow while keeping annoying insects out.
-
Why We Recommend It:
Despite being packed with amazing features, these rooftop tents are incredibly lightweight. The ladder and frame are made of lightweight aluminium alloy for extra strength. The whole tent set-up weighs in at just 56kg.
Pro Tip: You can choose an open and enclosed awning compatible with the Dometic rooftop tents.
-
Awnings:
Is there anything better than arriving at camp, pulling out your awning, and enjoying a few bevvies in the cool shade?
That's why it's worth investing in the best awning to create your ultimate 4x4 rig.
Before purchasing and mounting an awning, be sure to check the load rating of your roof rack or platform. Awnings come in various types and lengths and therefore varying weights. Once you add up all the other gear on your roof + your awning + your rack, ensure you are not overloaded.
-
Our Pick:
The NOMAD 270+ premium freestanding awning is one for the ultimate 4x4 rig. It weighs in at a featherlight 20.1kg including brackets. You're also treated to a humongous 270+ degree side awning, which swings out along the 4WD around to the back so you have maximum coverage - 13 square metres with a 2.1 metre wide coverage to be precise.
There's no question that the NOMAD 270+ boasts high-quality materials from the powder coated and adjustable poles to the 280gsm rip-stop cotton waterproof canvas. There's even a 1000D UV waterproof black transit cover bag, which is replaceable if damaged.
What's more, this 4×4 awning fits almost any height vehicle, but is purpose built with poles extending to 2.3m high for larger tyres and lift kits. The package is complete with L shaped (gusseted) bracket mounting kit complete with stainless steel bolts – everything you need to set up.
Why We Recommend It:
The "plus" in NOMAD 270+ refers to the extra forward awning that can double up as a wall. If you're dreaming about setting up at Double Island Point when the waves are pumping, this is probably the awning to do it with.
Our Pick:
A bit of personal space is hard to come by when camping – unless you have the NOMAD Shower Tent Awning, that is.
The NOMAD Shower Tent Awning lets you have your shower or get changed in peace. No more queuing up at the amenities block or crouching behind your vehicle.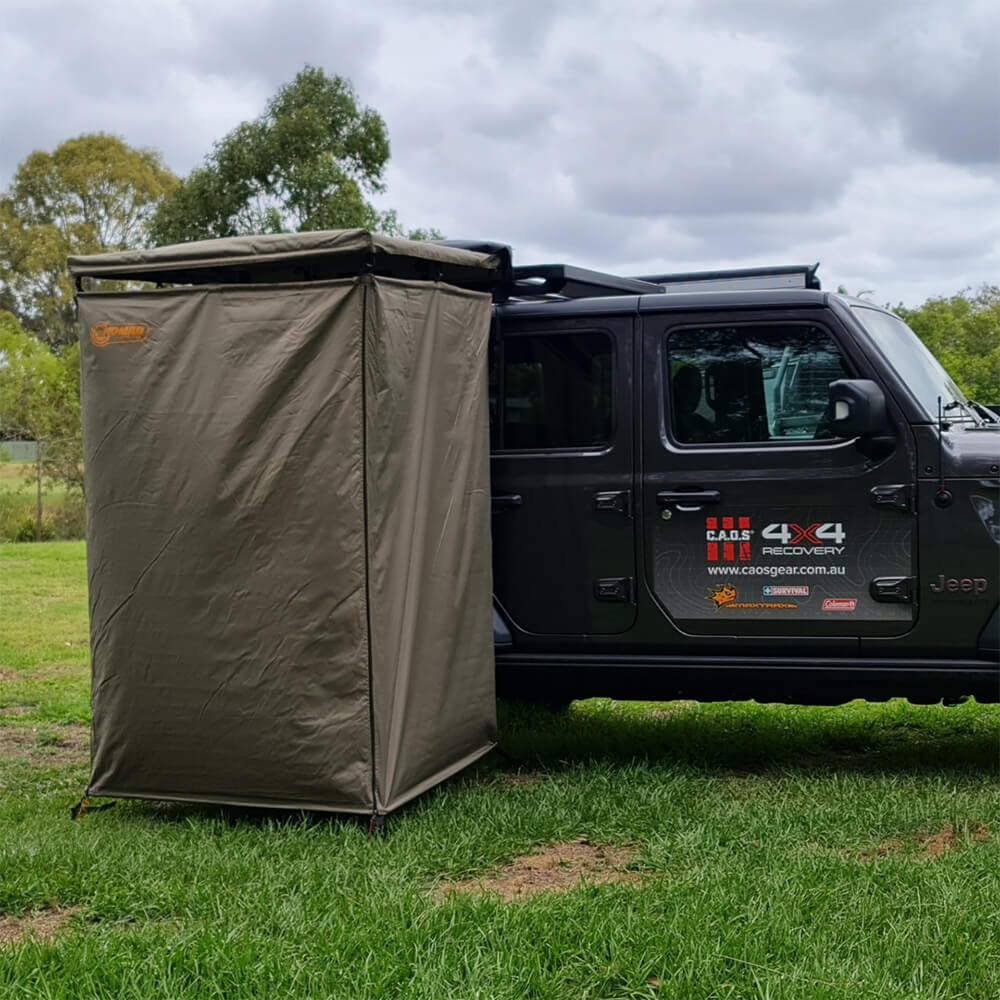 All you need to do is unzip, fold out, adjust the height, and peg it down – it really couldn't be easier. The height is adjustable, and there's a roll top roof so you can choose to have it open if you prefer. The awning is made from durable and rip-proof fabric too, with curtain weights to stop the side blowing in. There's even a shower head holder so you can enjoy the ultimate setup for camp showers.
Why We Recommend It:
We had to include this best seller from NOMAD. Shower in privacy with this easy to install and set up NOMAD shower tent awning. A clever addition to your ultimate 4×4 design!
Shower:
Speaking of showers… we couldn't talk about vehicle accessories for your ultimate 4×4 rig without recommending the best camp shower for your adventures.
If you're planning to camp off the beaten track where there are no shower block facilities – or even if there are shower blocks and you just want your own space – you'll want a shower kit for your vehicle. Freshen up after a day exploring and wash the sand off your feet after a day at the beach before climbing up into your rooftop tent.
Our Pick:
Bushranger is a leader in 4×4 vehicle accessories for good reason – they have been making gear for 4×4 adventures since 1977! That's just one reason we've picked the Bushranger Portable Gas Hot Water Shower.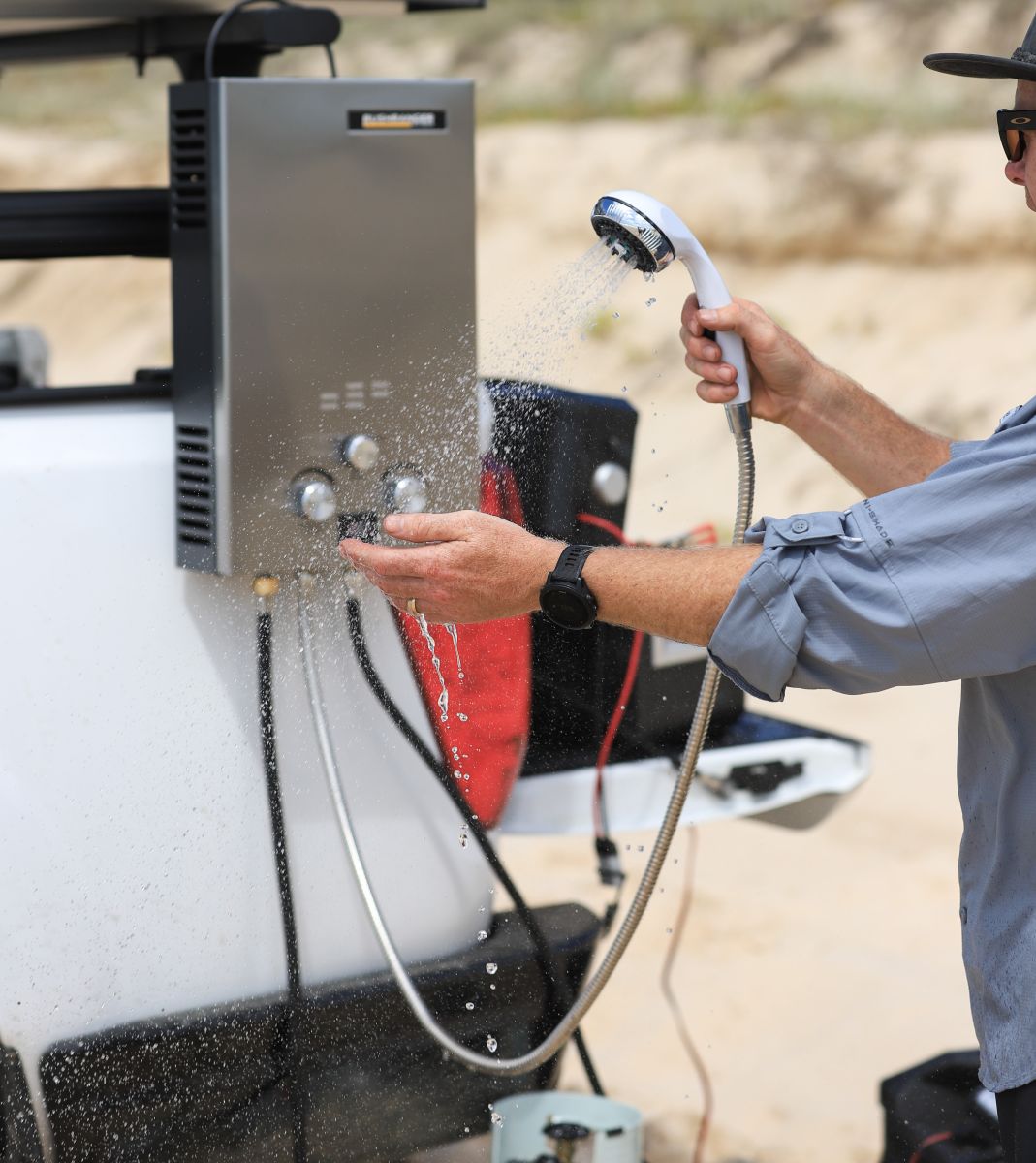 This quality shower kit allows you the option of instant hot water wherever you go. Taking only a few minutes to set up, the shower offers instant hot water from your water source. It can heat 360 litres of water per hour with a water-saving flow of only 6 litres per minute.
The kit comes with easily connectable components for easy set-up – all the controls, temperature gauge, and showerhead are clearly marked. Another thing that makes it handy for your adventures is that it uses LPG gas, just like your BBQ, and will last over five hours on a 9kg gas bottle, on maximum settings. The only other things you need are two 'D' cell batteries for the heat exchanger and 12V power for the pump.
There are lots of safety features too, including water flow and temperature sensors, tilt switch, and maximum water temperature shut off, which means the unit will shut off if the temperature hits 50 degrees.
Why We Recommend It:
This shower is designed to reduce water consumption which makes it a great pick for your 4×4 set up – no need to worry about carrying extra water! The shower uses only 6 litres of water per minute and still gives you that showerhead pressure you've been dreaming about.
Snorkels:
Snorkels are a great way to protect your 4x4's engine from water and dust. They are designed to be mounted on the roof of your vehicle, which raises the air intake above the level of water and dust on the ground. This helps to prevent your engine from ingesting water or dust, which can cause serious damage.
Our Pick:
We can't go past Safari for our recommendation for the ultimate 4x4 Snorkel.
Why We Recommend Them:
Durable and long-lasting: Safari snorkels are made from high-quality materials that can withstand the harshest conditions.

Water-resistant: Safari snorkels have a built-in water separator that prevents water from entering the engine.

Easy to install: Safari snorkels are designed to be easy to install, even for DIYers.

Warranty: Safari snorkels come with a comprehensive warranty that protects you against defects.
Conclusion:
Phew! That's a lot of vehicle accessories we know, but you really need some top-notch gear if you want to design the Ultimate 4×4 Rig. If you've got any questions or want to find out more about the vehicle accessories we've recommended here, give us a call on 1300 400 122. A friendly product expert is waiting to take your call.
Checkout our other parts of this series below:
-
DISCLAIMER* Please note, this advice is general in nature and we strongly recommend consulting the product manual and where relevant, a professional installer.