Hardcore adventures call for tough gear.
With so many 4x4 roof rack options, people are realising that it makes sense to pay more for premium options as they go the distance. That's why more 4x4 tourers are choosing Front Runner Roof Racks.
Front Runner's Story
Front Runner was started in 1988 by a few friends sitting around the campfire in Botswana. The South African mates were frustrated by the low quality gear on the market. With more than a couple of adventures under their belts, they knew what people were looking for in 4x4 gear and believed they had the know-how and skills to create a new premium range of products. Front Runner Outfitters was born.
----
Front Runner Roof Racks
Front Runner roof racks and roof bars are designed to be versatile, yet super tough. Take the Front Runner Slimline II Roof Racks. They are engineered in aluminium for unmatched strength with lightness and functionality.
The best thing about these Front Runner roof racks is they offer complete design flexibility. You can assemble the roof rack to meet your needs, depending on your vehicle set-up and adventure. Let's say you want to create a solid platform you can sleep on or chill out with sundowners - all you need to do is add more slats. Want to create access and views? Simply remove the slats. You can also convert the full size rack into a shorter rack by adding shorter side rails. Or make a shorter rack longer with the long side rails and additional slats, which are available to buy as extra accessories.
Each Front Runner Slat has the T Slot System making it easy to add your accessories and tie down points to your rack design. See the images below for example.
Roof baskets are very popular to store your gear while travelling. You can easily turn your Front Runner roof rack into a roof basket using expedition style rails.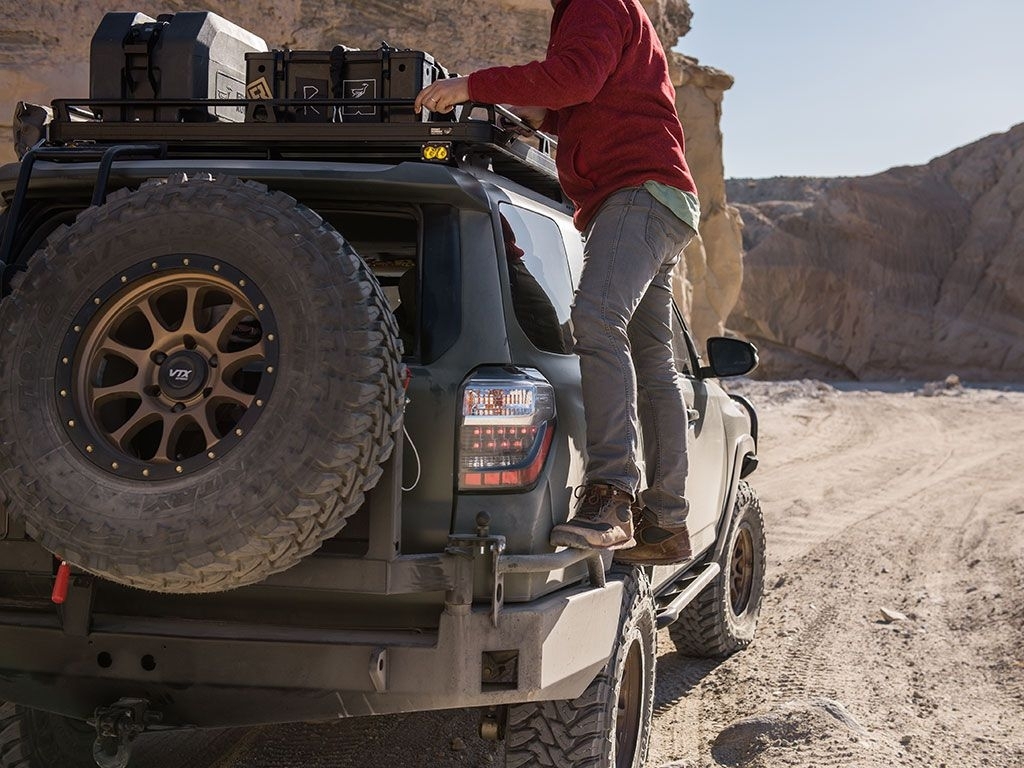 _
What We love About Front Runner Roof Racks:
The most popular feature of the Front Runner roof racks is NO LOAD DEDUCTION for 4WDing. This means your maximum load weight won't change if you're on or off the road like some other racks on the market.

They are modular - you can add and remove accessories to create the perfect roof rack for your adventures. There are more than 50 accessories to choose from!

They are built tough yet lightweight - roof racks are fully aluminium, including the corners, making them lighter and stronger than other racks.

Roof racks are low profile - you can drive knowing your roof rack is economical on fuel and noise.

Easy to install roof racks - All components required for installation are included with each rack purchased, making them easy to install.

Designed for your vehicle - Front Runner roof racks are vehicle specific so you can easily shop by vehicle and be confident you have the right fit.
Designed for your vehicle - Front Runner roof racks are vehicle specific so you can easily shop by vehicle and be confident you have the right fit.
___
Front Runner Roof Rack Accessories
When it comes to creating your perfect roof rack set-up, Front Runner has it covered. There are more than 50 accessories to choose from. Whether you want to safely store a battery in a battery box, secure your jerry cans, or simply add a handy bottle opener to your roof rack. Here are just a few of the Front Runner roof rack accessories we love:
Wolf Pack Pro - These plastic storage boxes are easy to arrange in a cargo bed and designed to avoid wasted space. You can stack them securely for convenient storage thanks to the lids fitting neatly into the base of the box above. The Wolf Pack Pro boxes are made from black, impact-resistant plastic and feature extra-secure latches sealing the boxes from water and dust.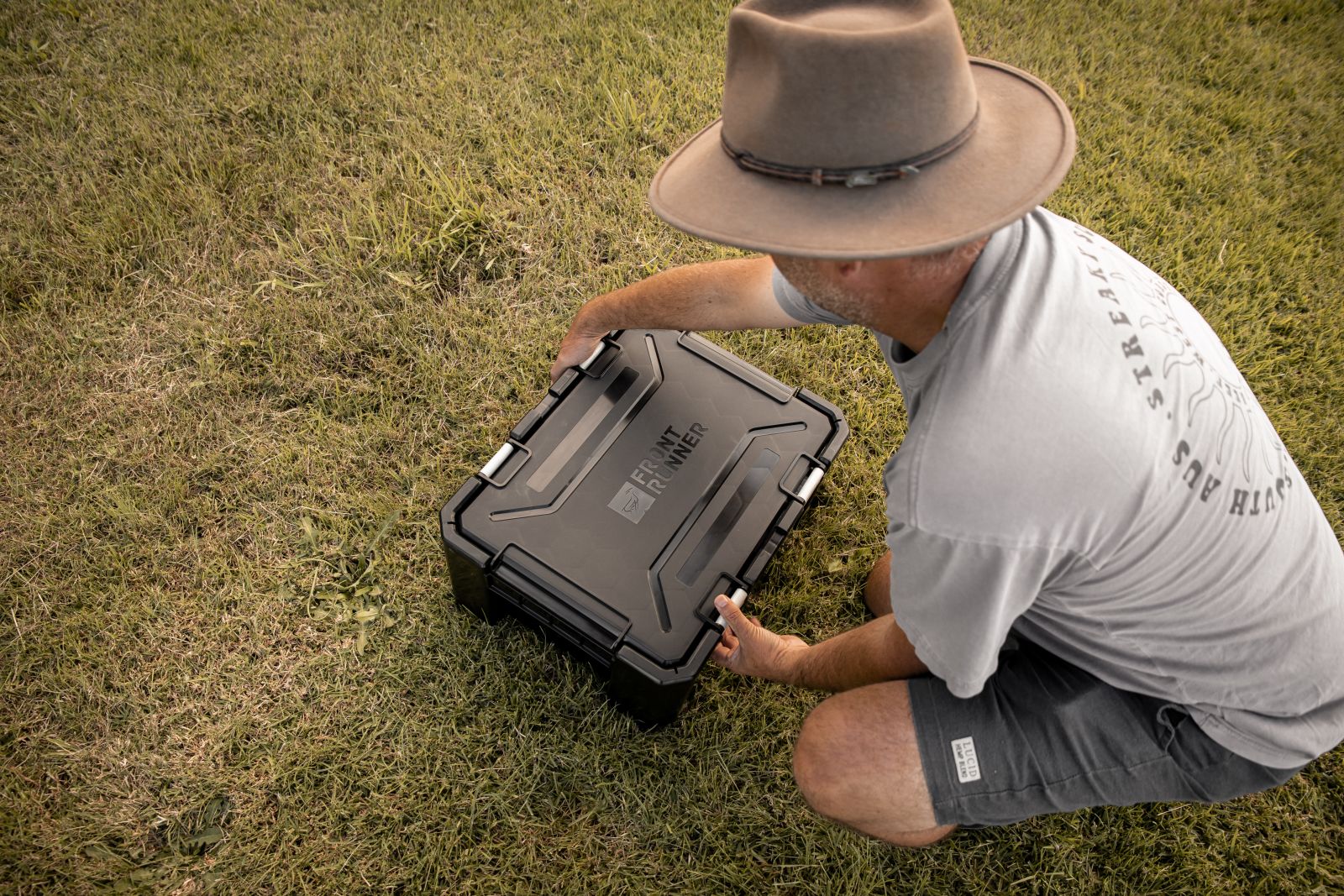 _____
Stratchits - No more worrying about gear rattling loose on bumpy roads. Stratchits let you cinch down loads simply and effectively, while absorbing tension like a stretchy ratchet strap.
Expander Chair - This is not just a foldable travel chair - the Front Runner Expander Chair can fold down to just 1/16th of its full size. That's the same size as a laptop case! Better still, the chair is so comfortable, you can sit in it all day and night, and not want to move.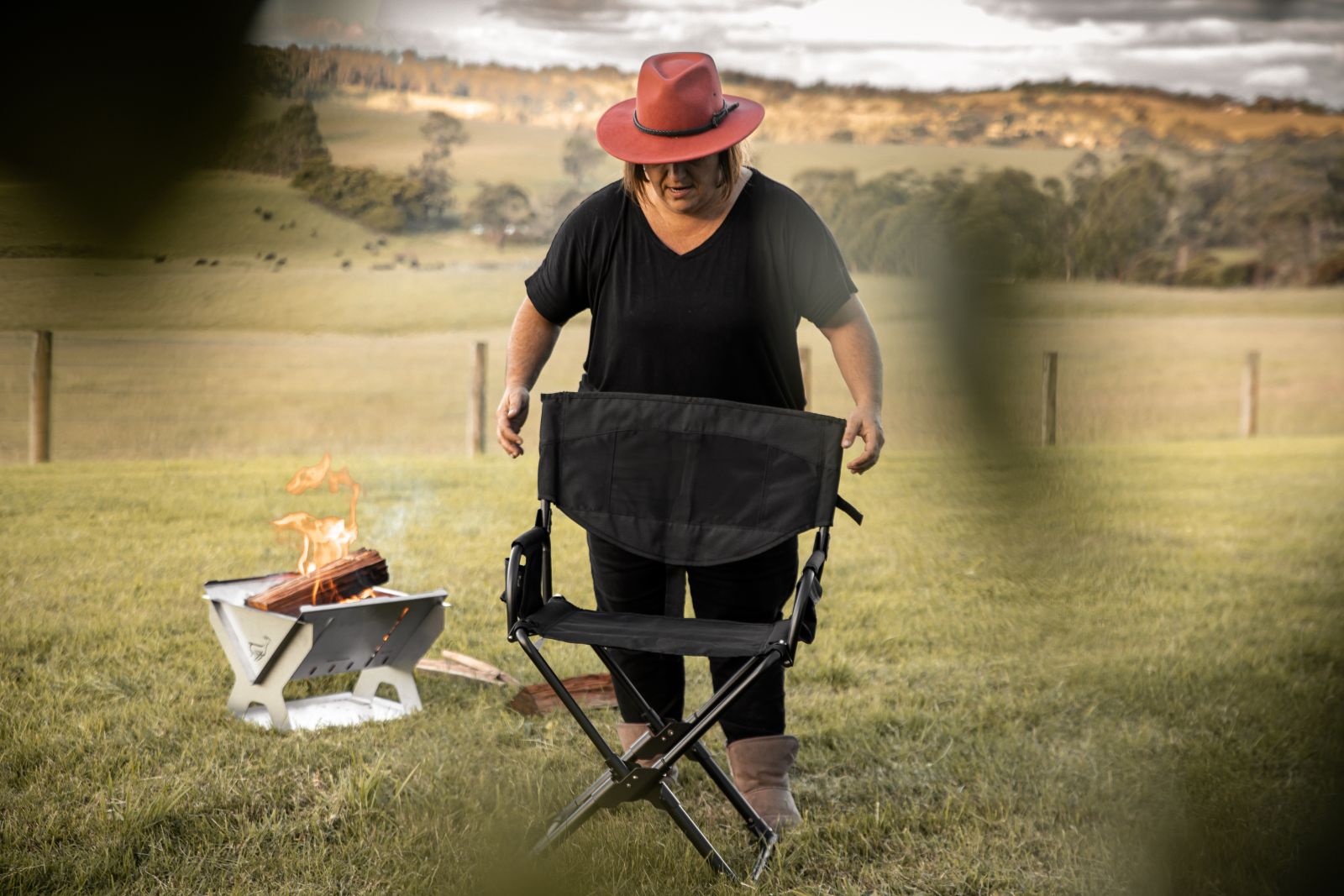 Spare Tire Mount Braai/BBQ Grate - The perfect stainless steel cooking grate which can conveniently be stored over your spare wheel to avoid taking up any further space! The aluminium legs which hook onto the tyre, also make it practical to cook with over the camp fire. 3CR12 stainless steel grill ensures longevity even in the toughest environments such as salt and sand.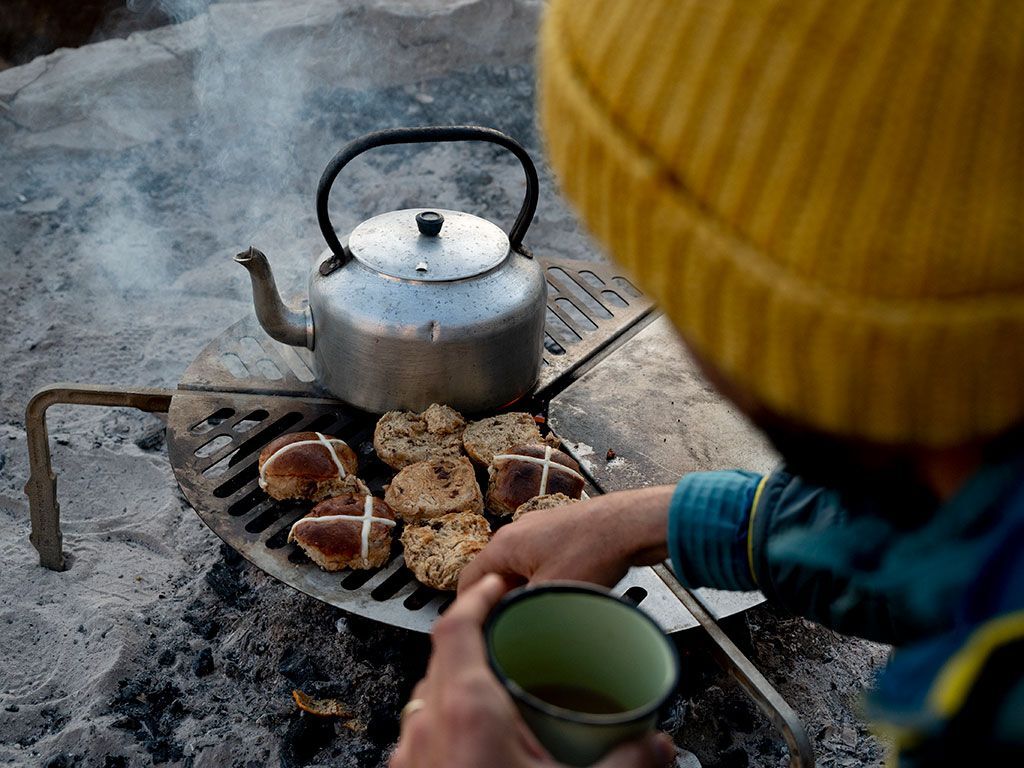 Pro Stainless Steel Camp Table Kit - Looking for a durable and easily transportable camping table? The Pro Stainless Steel Camp Table Kit is a great option. The hygienic stainless surface provides clean and corrosive resistant food preparation area. Legs easily unfold with an open and lock mechanism holding the legs firmly into place which makes it an ideal addition for the your family dinner. Storage is easy enough with the Front Runner under rack table bracket and slide latch. This provides use of the underside of your Front Runner roof rack to store the table. The latch secures the table in place to avoid rattling or damage to the table when travelling.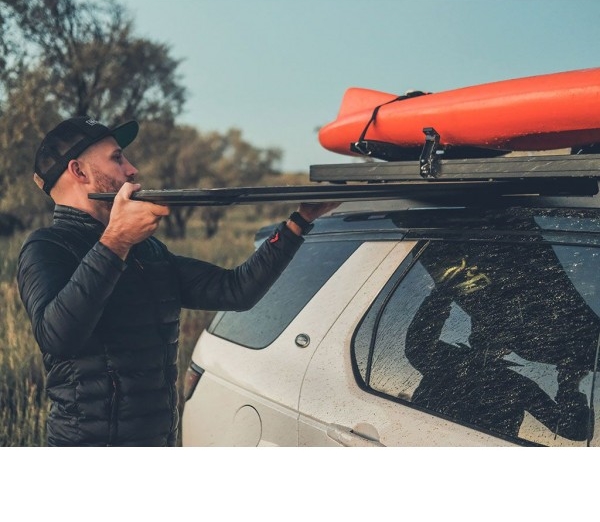 Rack Accessory Lock / Small - A lock specifically designed to secure your valuable Front Runner gear so you can travel around with peace of mind. Fortunately, no keys are needed with only a 3-digit code required. Suitable for all Front Runner accessories such as tables, water tanks, wolf packs and more.
Gas/Propane Bottle Holder - Safety when travelling with gas bottles is important. Front Runner has designed holders with rack brackets that attach the gas bottle to the roof rack. In addition, a two latch system features a lockable safety catch to ensure there is no movement whilst on those bumpy roads. To accommodate bottles of various sizes, the device includes collar and rods which are adjustable to suit your specific bottle dimensions.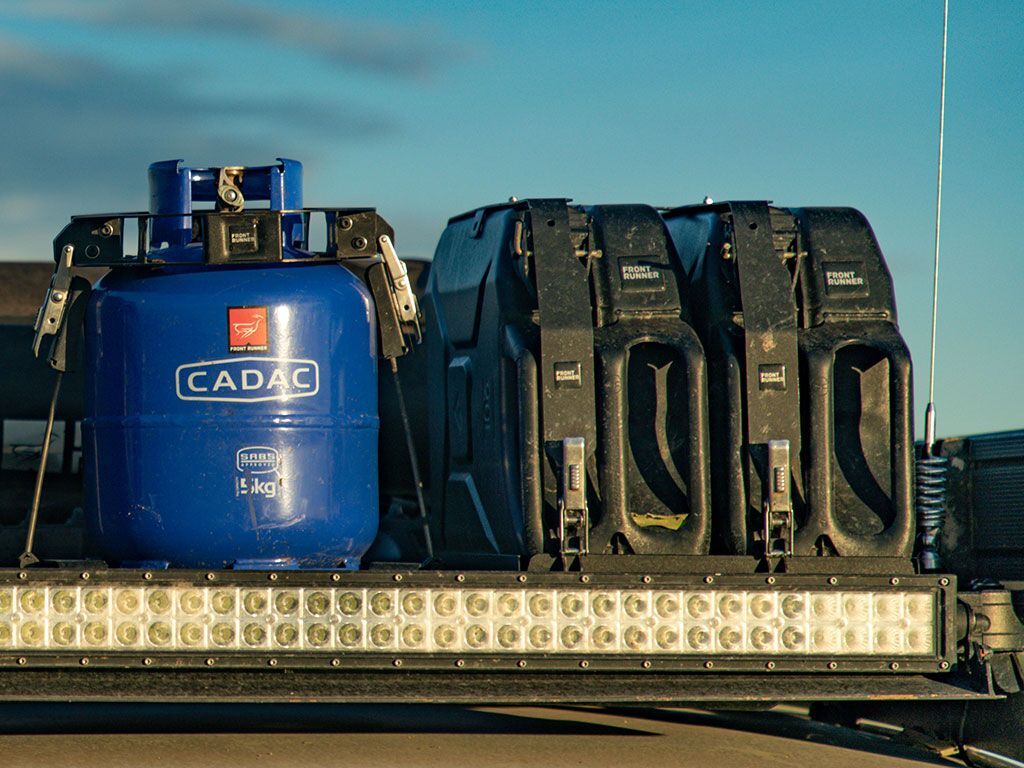 Recovery Device & Gear Holding Side Brackets - This Front Runner accessory is a must have for the avid 4x4 off roader. These brackets make securing your MAXTRAX or recovery devices easy and allows for quick access when you're knee deep in mud. These mounting brackets can also be used to mount your Pro Ski, Snowboard and Fishing Rod Carrier. They are adjustable in height and angle to use with various vehicle profiles.
42 Litre Water Tank With Mounting System and Hose Kit - Carrying water when travelling is a necessity to ensure you have fresh, clean drinking water wherever your adventures take you. The Front Runner 42L water tank is made of food polyethylene and is BPA free, keeping your water the highest class possible. This kit comes with the hose clamps, brass fittings and a tap for easy access to your water direct from your roof rack. This enables you to keep the tank on the roof without having to unload it at camp, providing you with convenience and ease.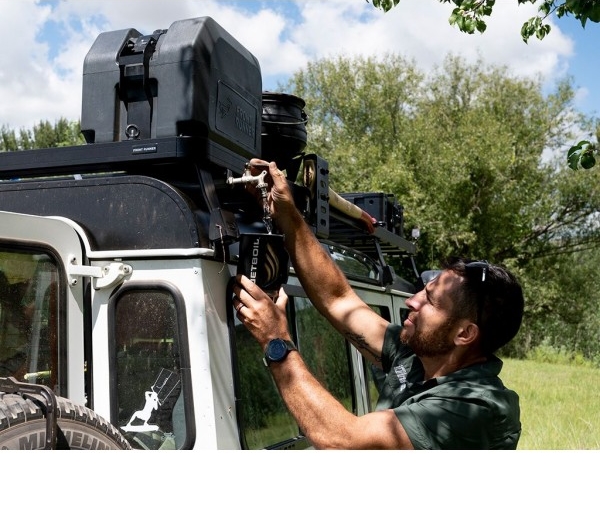 Single Jerry Can Holder - Never get stuck in the bush again with no fuel or options within close proximity. Front Runner has designed an adjustable stainless steel jerry can holder which will firmly hold your jerry can in place even on the roughest of roads. The single jerry can holder can be used with 20L military style cans which can be easily bolted to the Front Runner roof racks.
Ratcheting Spade/Shovel & Paddle Mount - Wanting to increase your ability to recover in 4WD settings? Front Runner has designed a ratcheting mount which enables you to attach your spade or shovel to your roof rack. This provides fast access to your recovery shovel to dig yourself out of those unpleasant situations. In addition, it can be used to mount your paddles for those avid kayakers.
Front Runner Load Bars
Don't need a complete Front Runner Roof Rack but still want durable cargo space? Check out Front Runner Load Bar Kit for your bike, rooftop tent, kayak, and other gear. The load bars have a smaller footprint, lower profile and lighter load capacity, while still being built for off road trips. You can still choose specially made accessories - but it's a limited range compared to the roof racks. You can use the Load Bars and Gutter Mount Legs as components to build a complete Front Runner Roof Rack.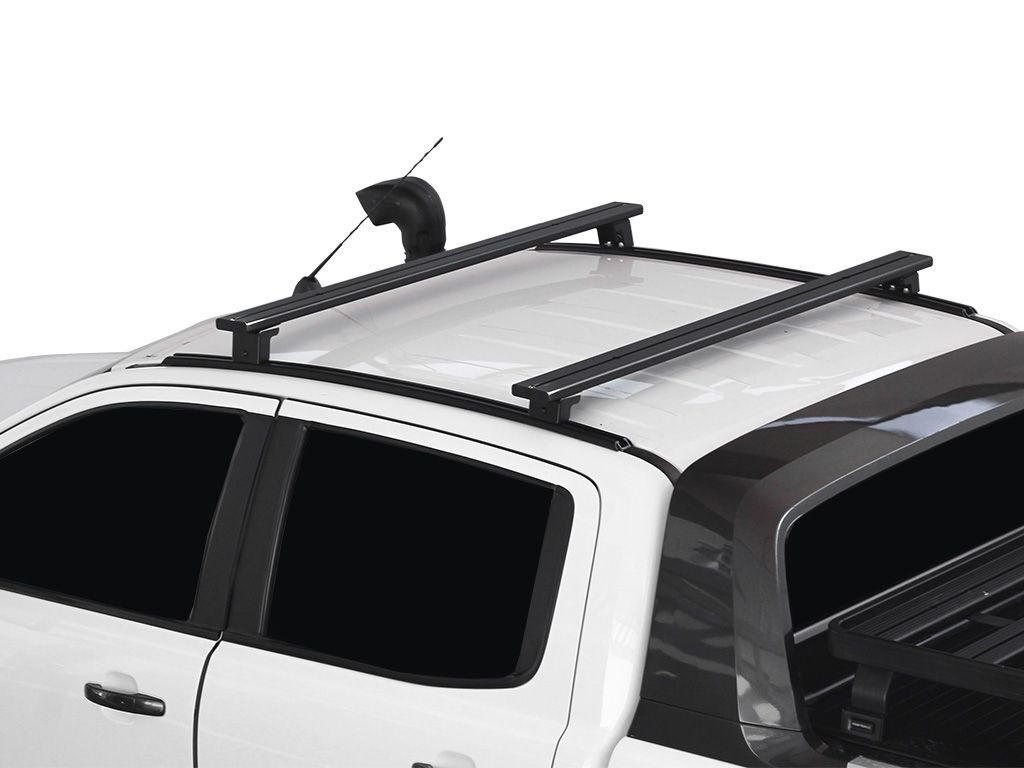 ___
Roof Top Tent
Front Runner roof top tents take camping to a whole new level. Spacious enough for two people, the tent opens up in one smooth motion to create your camping oasis. Best of all, it only weighs only 45kg - which makes it lighter than most other roof top tents on the market. With Front Runner you can expect the roof top tent to have durable features without compromising on functionality. The tent is waterproof and UV protected with a full coverage rainfly. And you're guaranteed a great night's sleep thanks to the integrated high-density foam mattress.
In true Front Runner style, there are accessories to make life easier. Check out the quick release tent mounting kit so you can easily lift the tent off the top of your vehicle in seconds. Want an extra shelter under the tent? Front Runner has designed a Rooftop Tent Annex, which slides easily into the channel of the tent base.
________
Shop Front Runner Bundles
We know 4x4 gear here at My Generator, which is why we've created Front Runner bundle offerings to suit your needs.
Buy the Expander Chair with a storage bag to match. Need an extra chair for your co-adventurer? Grab a pair of Expander Chairs with storage bag and carrying strap.
Create a spacious camping set-up with a rooftop tent and annex combo.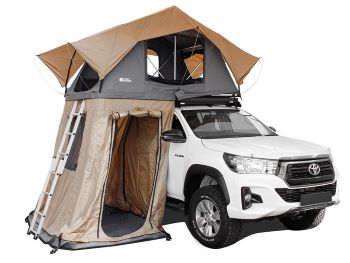 _______
Be sure to check out the special Ford Ranger WildTrak Ute Rack and Wolf Pack Pro combos too - either with the black tie-down rings or Front Runner Stratctits.

Shop the entire Front Runner range here. Have a question? Give one of our product experts a call on 1300 400 122.
-
DISCLAIMER* Please note, this advice is general in nature and we strongly recommend consulting the product manual and where relevant, a professional installer.