What Is A Caravan Underbunk Air Conditioner?
Most caravan air conditioners are mounted on your rooftop and blow air directly through a roof mounted distribution box into the centre of your van. A caravan underbunk air conditioner is mounted inside of the van and vented through the floor for air exchange. The cold air outlets are connected to ducting and distributed around the van.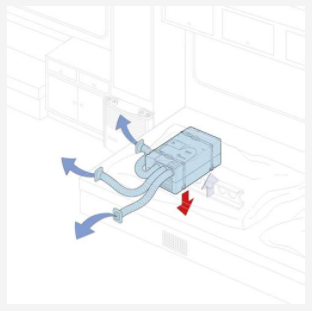 -
Who Should Buy An Underbunk Air Conditioner?
Underbunk air conditioners are designed for folks that decide against or are unable to mount an air conditioner on their roof. Pop top caravans generally do not have the structural integrity to hold a roof mounted air conditioner so an underbunk is an ideal solution.
Small off road camper trailers and caravans are an ideal candidate for the underbunk models. The recent craze of bus and long wheel base van conversions have leaned toward the underbunk air con to save space on the roof and maximise rooftop solar. Consider your storage height for your caravan, camper or RV before deciding between a rooftop air conditioner or caravan underbunk air conditioner.
Another consideration for underbunk vs rooftop AC units is weight distribution. A lower center of gravity for a camper trailer will help improve its stability, especially in off-road situations where terrain is not level.
-
What's The Range?
The underbunk models can cool a vehicle of a maximum up to 6.5m in length and have a cooling capacity of between 2.2 and 2.4KW. Heating is an option in these reverse cycle models but shouldn't be relied upon for heating in temperatures under 4C. For quality heating, we recommend a dedicated caravan heater like the Truma VarioHeat.
-
We Sell Two Quality Brands:
Premium German engineering with a 2 year warranty places this model at the top of the class for underbunk air conditioning. Some of these major selling features of the Truma Saphir is that it's light weight (23.5kg), operationally quiet and very compact for its power output/performance.
This unit can be paired with the Truma VarioHeat via the CP Plus Panel, which would give you a "Automatic Climate Control" function, whereby you set the system to "Auto", then set your desired temperature and the CP Plus will automatically turn on the gas heater when it is too cold, or the AC unit when it is too hot.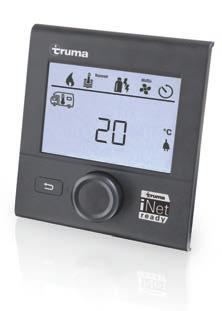 There are three lengths of ducting available to accommodate various sizes and types of installation (5m, 10m, 5m). We have sold this model to countless customers over several years. Check out our customer reviews, who score the product between 4 and 5 stars.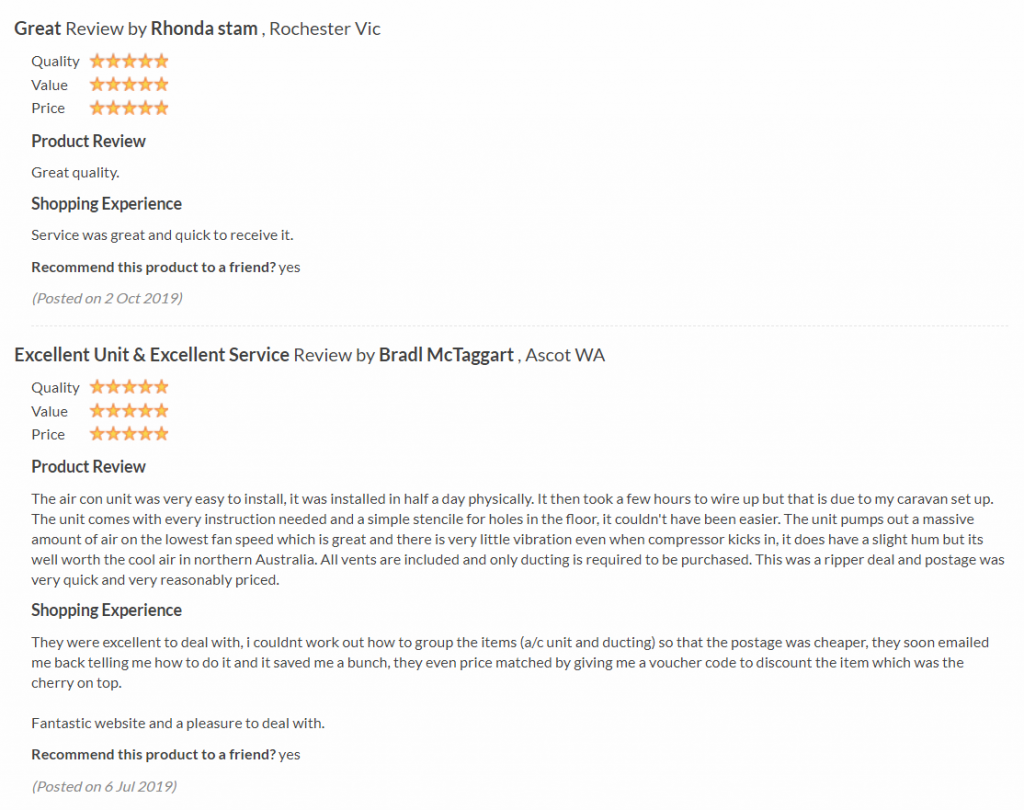 -
Major Specifications:
Best for Vehicle Length
Up to 6.5m
Cooling Capacity
(ISO5151)
2.4 kW
Heating Capacity
Approx. 1.7 kW (Note: Heating is not possible at an outside temperature of less than 4 °C)
Power consumption in
cooling mode (230 V)
4.2 A
Power consumption in heating mode (230 V)
3.7 A
Airflow (high fan)
380 m3/h
Dimensions (W x H x L)
400 x 290 x 628 mm
Net Weight (kg)
23.5 Kg
Accessories?
Comes with remote control
-
Truma Saphir Installation Tips:
1. Good ventilation!! Adequate Ventilation means a well running air conditioner
Keep floor cut-outs clear from obstructions, and ideally separated. Always use template included

Keep in mind things like river crossings with floor-mounted units.If you're building or outfitting a vehicle that will be used for river crossings, consider your wading depth. If your belly gets wet, so will your air con

Avoid blocking the air return.

Picking a good location is important to maximize storage space and unit airflow requirements. Underbed is often a favorite as it allows plenty of room for cut outs.
2. The unit will always work better/more effectively in cooling mode compared to heating mode.
May be an idea/option to pair with a Truma VarioHeat Gas Heater for complete "Climate Control" via the CP Plus digital control panel.
3. Of the 3 air outlets, use the one closest to the edge of the unit for the longest run of ducting.
The air pressure is strongest from this outlet, and weakest from the outlet nearer the middle of the unit.
-
The Saphir has a 240V cable pre-wired in, but there is no mains plug on the end. This is because sometimes a manufacturer may install a junction box, or they may fit a 240V outlet near the unit.
Legislation for electrical work is different state by state, consult your state laws and ensure any 240V electrical is carried out by an authorised person.
-
The Finch HB9000 is a budget friendly underbunk air conditioner that is around $500 less than the Truma equivalent. This model comes with a 1 year warranty and is a trusted brand in the caravan aftermarket space. Ducting is available in 5m, 10m and 20m lengths. The Finch HB9000 comes with an electronic climate control model with touch pad as standard.
Finch is an Australian brand found in many caravans and RV's. They also manufacture a range of rooftop air conditioners (branded "Houghton Belaire") including a small, medium and large option for most caravan sizes! Check out the entire Finch and Houghton range on our site here.
Check out our customer reviews, who score the product between 3 and 5 stars.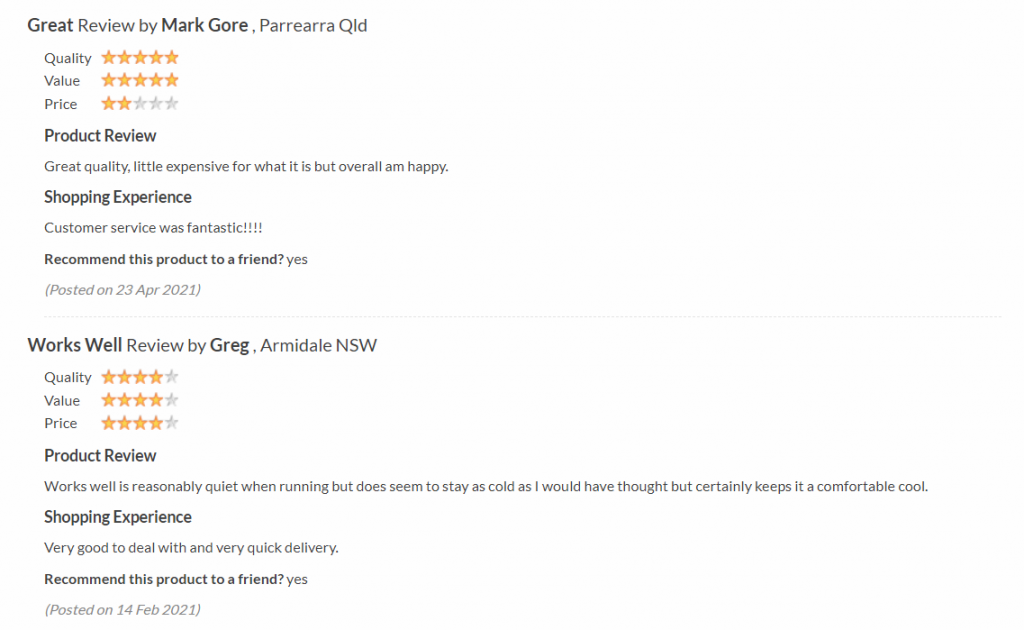 -
Major Specifications:
Best for Vehicle Length
Up to 6.5m
Cooling Capacity
(ISO5151)
2.2 kW
Heating Capacity
1.8 kW (Note: Heat pump reverse cycle heating & cooling with electronic defrost to allow operations as low as 1°C)
Current Draw (Cooling/Heating)
4.2 A / 5.3 A
Airflow (high fan)
350 m3/h
Dimensions (W x H x L)
398 x 296 (+30 mm) x 734 mm
Net Weight (kg)
29.0 Kg
Accessories?
Comes with remote control
-
Ducting & Other Accessories:
Most customers tend to purchase a 5m roll of ducting with their Truma Saphir or Finch HB9000 Air Conditioner. We also offer a 10m and 15m roll of ducting for the Truma and a 10m and 20m for the Finch. See the accessories section of these models to choose your desired length.
Both underbunk models come standard with a remote control.
The digital control panel that comes with the Truma Vario Gas Heater can be integrated with your Truma underbunk air conditioner. This is a streamlined install for a serious van fit out with quality heating and cooling.
-
What Size Generator: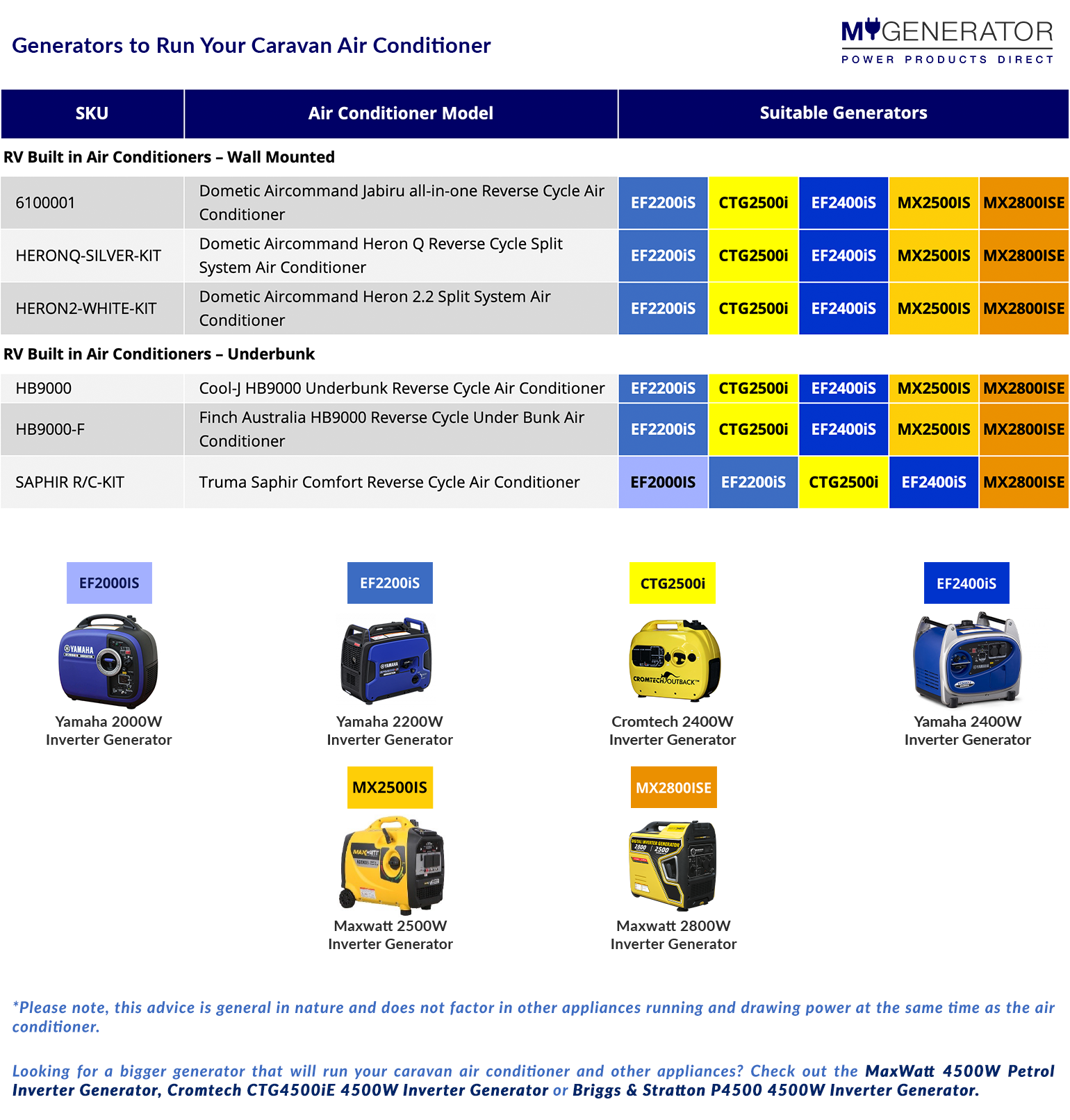 From our years of experience of selling caravan air conditioners we have put together a table of recommended generators to power both underbunk air conditioners. The table relates to new air conditioners and new generators. A very old generator may derate over time.
-
Can I Run An Underbunk From My Deep Cycle Batteries And Inverter?
A classic question and the short answer is yes. You can run anything from a battery and inverter, if your battery and inverter is big enough.
But in the world of off grid touring, you have to deal with the limitations of available space and budget. Some air conditioners are power hungry and tend to require a high start up current. We are confident that a quality 3000W DC to AC inverter like the Victron Phoenix Inverter 12V / 3000VA 230V Smart will do the job.
This inverter has a peak output of 6000VA and continuous output of 2400W (temperature dependent - check product card for variations).
The continuous power draw of the Truma underbunk is only 1008W which is quite low. At the time of writing this blog, we do not have conclusive start up data on this model, so we've recommended the Vitron 3000VA to give you enough headroom to do the job. Check your battery specifications to understand what size you need to power such an inverter. We recommend the Victron LiFePO4 Lithium Battery 12.8V/200Ah-a - Smart which has the high discharge current capability.
Check out our guide to running air conditioners from batteries for further information. We certainly only recommend an hour or two per day with a great lithium set up coupled with plenty of solar input or in vehicle battery charger. Our preference for powering an AC is from mains or a generator.
-
Summary:
Now you know that roof top AC is not your only option for staying cool and comfortable when you are out on the road this summer. Feel free to give us a call for the best prices and expert advice on 1300 400 122!
DISCLAIMER* Please note, this advice is general in nature and we strongly recommend consulting the product manual and where relevant, a professional installer.