There's a few things you should know when researching Upright Fridges for your Caravan/Motorhome/RV...
Today there are lots of different caravan fridges to choose from. Upright compressor driven, absorption, super-sized, compact drawer fridges – you name it, there's a fridge-freezer for every RV and budget.
2 Way Fridges vs. 3 Way Fridges for Recreational Vehicles
Absorption or Compressor?
For upright caravan fridges, the first decision you need to make is between an absorption fridge and a compressor fridge. Compressor fridges (also known as 2 way fridges) use a compressor as a cooler (like your fridge at home) and run on either 12/24V or 240V power. Absorption fridges (also known as 3-way gas fridges) are the most popular type of fridges in motorhomes, RVs and caravans. The bonus of a 3-way caravan fridge is that it has three power sources to choose from: 12/24V, 240V and LPG gas.
There are lots of factors to consider here and it may pay to read our full article on this here: Absorption vs Compressor Fridges Article. However, the short version is this; Compressor 2 Way Fridges perform better in the hotter environments, whereas Absorption 3 Way Gas Fridges are popular due to their ability to run off LPG gas, making them very efficient.
Automatic vs Manual
If you're thinking about absorption gas fridges (3-way gas fridges), you have an extra choice to make – Automatic Energy Selection (AES) or manual? Fridges with AES can automatically switch between power sources depending on what is available. If you prefer to stay in control, choose a fridge with manual power selection. It's not all manual – once you've selected the power supply, the fridge will still do everything else (such as light the gas). Generally, an AES model will be more expensive than the manual option.
How Big?
As with every piece of gear you buy for your RV, choosing a caravan fridge is all about getting the right balance. You want to have enough space for your food and drink without going overboard and wasting valuable power on cooling empty space. Caravan fridges come in all sizes from a tidy 40 litres right up to a cavernous 230 litres.
Larger fridges of between 120-220 litres are a better choice if you're travelling for the long haul – they are typically two-door fridge-freezers complete with a crisper section.
For a smaller option, look to portable fridges or more compact 40-80 litre compression fridges. There are also compressor drawer fridge options starting at 20 liters in size.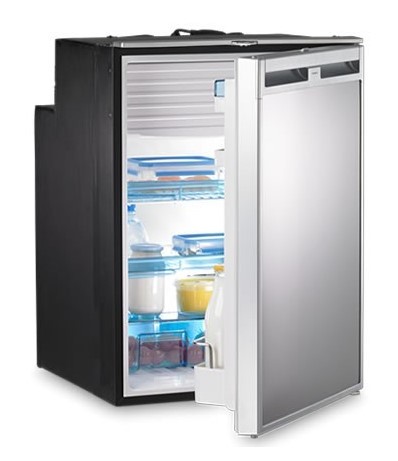 Upright Caravan Fridges come as either 2 Way Compressor (12/24V & 240V) or 3 Way Absorption style (12/24V, 240V, LPG).
Start by making a list of the things you'll need to keep cool for your regular trips. You can always invest in an icebox or portable camping fridge if you need a little more space once in a while. Also remember for upright fridges, you will need to look at the 'cut-out' required sizing so it will fit within the cabinetry of your particular recreational vehicle.
How Much $$$?
Now for the million-dollar question, how much have you got to spend? Caravan fridges for sale range from the very small at around $600 to a tear-jerking $2,500 plus for the larger models. If you're torn, think about how often you will use it and invest accordingly. Chances are you will replace it at least once during the life of the caravan.
Which Brand?
There are lots of brands to choose from. The most popular compressor fridge brands are: Dometic, Evakool, Engel, Thetford, Vitrifrigo & Isotherm. For absorption gas 3-way fridges the major brands in Australia are Dometic and Thetford.
Best 12V Caravan Fridge?
Added Extras
Buying caravan equipment isn't complete with a whole world of added extras to choose from. For example, some models have a freezer section that can be unclipped and removed when you need a little extra fridge space, or removable door/shelf sections so you can get the configuration that works for you. Some Dometic Waeco fridges come with a reversible door feature, where you can adjust the hinge to open to the left or to the right. Other features inbuilt to the model might include automatic defrosting, double lock system and a range of installation options, USB charging outlets, remote monitoring functionality etc…it all depends on the model of fridge of course.
The above features are what you might expect to be included as standard. There are also many optional accessories you might want to add. For upright fridges, this often includes accessories to help with installation such as frames, vents, gas piece connections etc.
Do Your Research
At the end of the day, the caravan fridge you choose depends on how you'll use it, how you'll power it, and how much you've got to spend. Do your research and opt for a quality brand that has national service support network so if you ever need parts, servicing or inspection under warranty when you are travelling, then you are covered!