YAMAHA vs. HONDA 2000 Watt Generator
When it comes to inverter generators, Yamaha and Honda are head and shoulders above the rest. And if you're looking for a 2000W generator for camping, caravanning or boating, there's simply no comparison between these two powerhouses and the rest of the field.
So how do you choose between them? Continue reading aboutthe da 2kVA generator.
Following from our in-depth comparison of the Yamaha EF1000iS and Honda EU10i, here we put their 2000 watt generators into battle.
Yamaha EF2000iS vs. Honda EU20i:
The Honda and Yamaha inverter generators lead the 2000-watt portable generator class. Both the Yamaha EF2000iS and Honda EU20i tick all the boxes. Reliable? Check. Lightweight? Check. Quiet, efficient and great value for money? Check, check, check.
So let's get down to the nitty-gritty:
Clean power:
Both the Yamaha EF2000iS and Honda EU20i have 2000W output with inverter technology. This means they can be hooked up to sensitive electrical devices, such as computers and mobile phones, without the worry of damaging surges and fluctuations in power. Perfect for recreational use. If your appliances require over 2000 watts at peak, then you will need to consider a larger generator, as gensets are fitted with a safety overload circuit breaker that will cut out the generator when too much more than 2000 watts is drawn.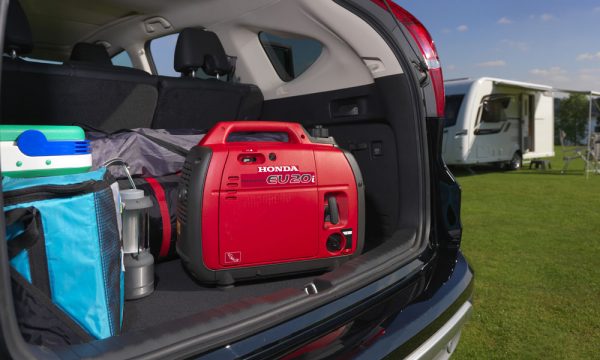 Easy Use and Maintenance:
When you look closely, the Yamaha 2000W generator is marginally easier to maintain than the Honda EU20i. While Honda recommends an extensive combustion chamber cleaning after 300 hours of use, the Yamaha only requires head cleaning after 300 hours of use or once a year, however both of these procedures would likely be undertaken by an accredited service technician. Both sets have a recoil start but unlike the Honda, the Yamaha has a handy fuel gauge so you can see when the fuel is getting low.
Size:
Look closely and you might notice that the Yamaha is slightly more compact than the Honda. The Yamaha measures 490x280x445 mm compared to the Honda's ever-so-slightly bulkier 510x290x425 mm. So if you're tight on space, the Yamaha is your best bet.
Weighing Up:
When we're talking about portable generators, every gram counts. And this is where the Yamaha generator comes up trumps again. The Yamaha 2000 watt inverter generator is almost a kilogram lighter. That's 1000 grams you don't need to lug from your vehicle to the campsite and back again. This makes the Yamaha EF2000iS the lightest portable generator in its class.
Quiet Please:
In the noise stakes, Yamaha and Honda are both ridiculously quiet. But the Yamaha generator takes things that little bit further with its advanced Noise Block sound reduction system. This is a specially designed set of features - a moulded case, intake silencer, sound absorbing materials, fibreglass insulation, mufflers and air fans - that takes the operating noise level down to a super quiet 51.5 dBA, which is 2.5 dBA quieter than the Honda.
Fuel Efficiency:
Here again, the Yamaha EF2000iS wins by a whisker. This impressive unit can run for up to 4.2 hours at a full load or 10.5 hours at quarter load. By comparison, the Honda 2000 watt unit will run for 4 hours at full load and 10 hours at quarter load. Both units have an economy feature that automatically adjusts the engine speed to match the load. The Yamaha unit also has a larger fuel tank with 4.4 litres compared to the Honda's 4.1 litres.
Added Extras:
The difference here really comes down to two things: DC cables and the Fuel Switch flexibility. Firstly, even though both the Yamaha EF2000iS and Honda EU20i are able to charge 12-volt batteries, only the Yamaha includes DC battery cables as standard. Secondly, the Yamaha comes with a fuel shut off switch which is separate to the on/off knob, enabling the user to turn off the fuel line when the unit is still in operation to drain the remaining fuel from the carburettor...The Honda does not have this separate knob which means that sometimes the Honda can be more difficult to start after being stored for a while, as the petrol in the carburettor can go off.
Also worth noting is that both of these models feature Parallel Connection capability, which allows you to link two EU20i generators or two EF2000iS generators by cable for close to double the output. This customer video review discusses the parallel connection feature:
-
Warranty & Support:
Neither Honda or Yamaha will leave you high and dry; both the Yamaha and Honda 2000 watt models boast a generous four-year domestic warranty, backed by the manufacturers' national service networks.
-
The Winner:
We'll admit that you can't really go wrong with either of these units for your camping and caravanning power needs. But if you really want the best 2000W in the market, the Yamaha EF2000iS is smaller, lighter, quieter and has a longer running time. A worthy champion with some nice additional extras.
Yamaha EF2000iS vs. Honda EU20i Comparison Table:
| | | |
| --- | --- | --- |
| | Yamaha EF2000iS | Honda EU20i |
| Maximum Output: | 2000 Watts | 2000 Watts |
| Rated (Continuous) Output: | 1600 Watts | 1600 Watts |
| Operating Hours (1/4 Load): | 10.5 hrs | 10 hrs |
| Fuel Tank Capacity: | 4.4 Litres | 4.1 Litres |
| Size (L x W x H): | 490 x 280 x 445 mm | 510 x 290 x 425 mm |
| Dry Weight: | 20 kg | 21 kg |
| Noise Level (1/4 Load / 7m): | 51.5 dBA | 54 dBA (Eco On) |
| Starting System: | Recoil | Recoil |
| Fuel Gauge Monitor: | Yes | No |
| DC Output: | Yes | Yes |
-
DISCLAIMER* Please note, this advice is general in nature and we strongly recommend consulting the product manual and where relevant, a professional installer.