EXPERTS PROVIDE CAMPING GENERATOR REVIEWS
Today you don't have to leave power behind when you hit the road. Camping generators mean you can power up things like microwave, television, laptop, toaster, coffee maker and even the air conditioner in your Motorhome. Of course, the other most common use for a camping generator is recharging your deep cycle battery packs which run all your favorite 12 volt appliances; this is where the 4x4 and camper trailer enthusiasts love to have a small generator included in their camping equipment, often to compliment their solar set up.
But not all camping generators are created equal: there are some differences in the features and specs depending on what you need it for. In almost all cases though, they are built with portability in mind; lightweight and compact design so you can always move it from site to site without any trouble.
Another common feature of camping generators is inverter technology. Most quality camping generators today use inverter technology to provide a stable power source that won't damage your electronic equipment - which is particularly great if you're travelling with laptops and other sensitive devices.
So what do you pay for a camping generator these days? That varies too. Whilst there are some functional and performance features that vary between models and brands, the key difference in price is whether you want a premium brand or budget brand. Depending on whether you want a well-known manufacturer such as Yamaha, or are happy with one of the value proposition brands such as Cromtech can mean several hundred dollars difference. The premium brands will have a longer warranty (typically 4 years) and a national approved service network, whereas the budget brands will have a shorter warranty (2 years or less) and only a limited number of service agents. Unless we're talking about Cromtech, which is backed by Australian machinery manufacturer Crommelins and its award-winning national service network.
So what should you choose?
Once you know how much power you'll need and the features you want, then we say that it mostly comes down to how frequently you intend to use it... If you intend to rely on the generator quite regularly or are planning long trips around the country, then we say opt for the premium brand like Yamaha; they are built to handle more frequent use and you can travel in comfort knowing that you have a 4 year warranty and there are over 200 accredited service agents nationwide should you require any maintenance. On the other hand, if your main objective for the generator is purely for occasional recreational use or back up purposes if required, then a budget brand such as Cromtech represents a very good value for money proposition. Cromtech has the backing of a national service network; you don't get this with most cheaper brand generators.
Here, we look at three of the most popular premium and budget camping generators:
Value for Money (Budget) Camping Generator
Our favourite budget generator is made by Crometch, a brand name you might not yet be familiar with. Cromtech offers 2400w inverter generator built specifically for outdoor enthusiasts with a 1-year warranty. With a compact construction and super quiet operation at just 52 decibels, this little beauty is perfect for campers and caravanning. It runs on petrol and has a 5-litre tank for 6 hours of operation at 75% load.
This powerful inverter generator packs away neatly with a dust cover for protection, and comes with extra safety features such as low oil level alarm, overload alarm and an automatic idle switch for efficiency.
Other handy features include two 15 amp outlets, USB charging outlets and 12 volts DC charging. But best of all, this camping buddy is brought to you by the guys as Crommelins Machinery, so it's backed by their award-winning national service and spare parts network.
Premium Camping Generators
Yamaha is one of the big players in the generator market, and it's easy to see why. Along with Honda, they have premium products backed by a long, strong reputation for quality. The great thing about buying a Yamaha camping generator is that you get a 48-month warranty and the backing of a national service network, with over 200 accredited service agents.
The Yamaha 1000W inverter generator is one of the quietest and lightest camping generators in the market, making it extremely popular in the caravanning world. At only 12.7kg, it's the lightest 1000W portable generator you can buy. Plus it only produces a super silent 50 decibels of noise at normal operating levels - much quieter than a normal conversation. The Yamaha smart throttle automatically adjusts the engine speed to maximize fuel efficiency. In fact, you can enjoy up to 12 hours of power before having to top up the tank!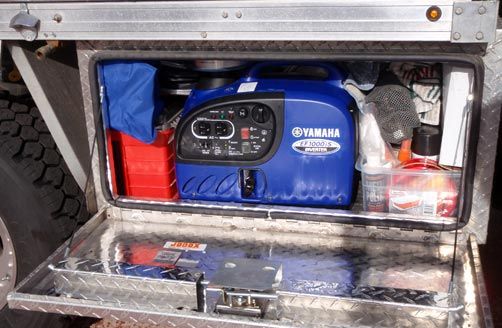 For more power, the Yamaha 2000W will become your best camping travel buddy. The Yamaha EF2000iS is the quietest generator in it class, producing noise levels of 52 decibels. It only weighs 20kg, which makes it incredibly compact for its power output. If you need even more power, this model can hook up to another EF2000iS to almost double the power output capacity. What more could you want? In fact, we are happy to stand behind the EF2000iS as the best camping generator on the market - it rates just ahead of the Honda EU20i Camping Generator as the best of the best: we compare the two models in this article.
-
Lastly, if you want to run your caravan air-conditioning unit then in many cases you will need more than 2000 watts for some larger items like a/c units, microwaves, washing machines, hair dryers etc. - you'll likely need a model such as the Yamaha EF2400iS. You can see the best generator options for your caravan in this summary here.
-
Explore the full range of camping generators at My Generator
-
DISCLAIMER* Please note, this advice is general in nature and we strongly recommend consulting the product manual and where relevant, a professional installer.