Spend time travelling in a caravan/motorhome around Australia and an air conditioner can become a must-have, not a luxury. But Caravan Air Conditioners don't come cheaply and there are a few different types. So you need to understand how each of them works before you decide which is best for your next adventure.
Air Conditioners for Recreational Vehicles
Why choose specialist caravan air conditioners?
Sure, you could get a household split air-con system for your van, but we don't recommend it. Air conditioners designed for caravans (that move) have different features than those designed for homes (that don't move). For example, caravan air conditioners are designed to keep water out while you're on the move, plus the mounting and fittings are designed to withstand vibrations of the moving vehicle.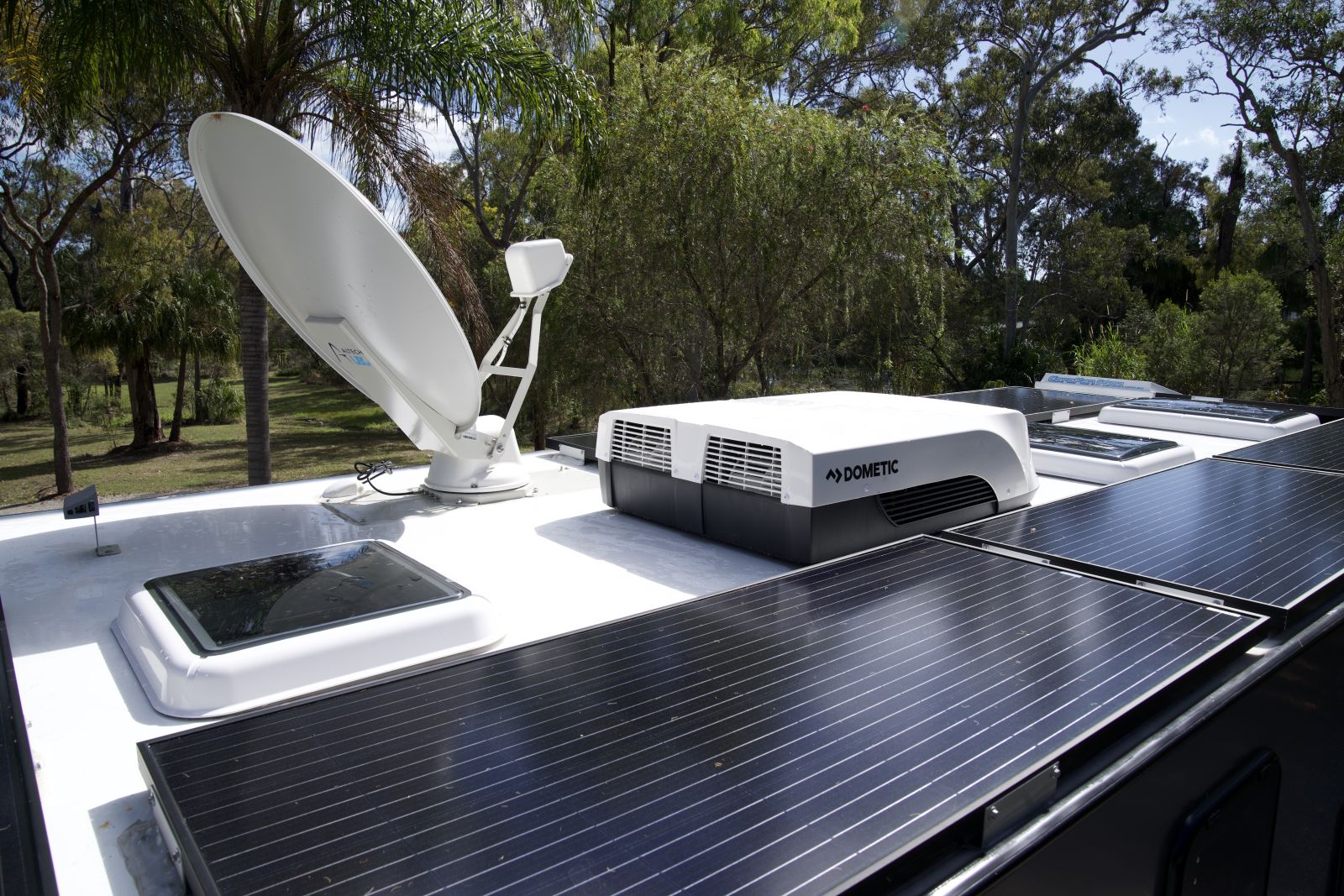 Caravan Air Conditioners have become a popular appliance for people travelling in an RV around Australia.
Roof Top Air Conditioners or Built-In Air Conditioners?
Rooftop air conditioners are made to fit the opening in your caravan's roof, which is either a 360x360mm or 400x400mm square opening (note that for caravans with 400 x 400 roof openings, a 360x360 air conditioner can be fitted with an adapter). The benefit of a rooftop air-con unit is that it doesn't take up valuable living space inside the caravan and it's easy to mount, making them the most popular type of caravan air conditioner if your RV suits a rooftop style. Plus some say that having it on the roof makes it more efficient because cold air tends to drop. And it shouldn't affect wind resistance either, though some models can be higher and wider than others, which is worth remembering when entering car parks and garages!
Built-in caravan air conditioners, on the other hand, are ideal for pop-top caravans, camper trailers or camper vans with a single skin roof. Rooftop air conditioners will add weight to the roof, which will affect the lifting mechanism. Built-in air conditioners are split system / ducted units and tend to be mounted in one of your caravan cupboards or under a bench/bunk. The benefit is they are generally quieter than roof-mounted units and some say that built-in units can cool quicker because they are installed lower, where the air is already cooler.
Built-in caravan air conditioners include under bunk style units that are fitted under a bed or cupboard with a vent to the outside and air is circulated within your vehicle via ducting.
Reverse cycle or heating elements?
Another major factor when looking at caravan air conditioners for sale is how the heating/cooling works. Some air conditioners use heat exchange to cool and an electrical heat element to warm. It's not the most efficient heating method, but it works no matter how cold it is outside.
Reverse cycle units are the more common type and they use a compressor whether heating or cooling. This is more efficient method but for some models can be an issue when there's ice in the outside air.
If you will be travelling into particularly cold temperatures, then a heating element system could be best for you. Otherwise, a reverse cycle air conditioner is very effective, and are the most popular type of RV air conditioner.
How is cooling and heating capacity measured?
There are two measurements you need to look for when comparing caravan air conditioners:
Cooling capacity (kilowatts): Power output of the cooling unit, typically between 2.0 to 3.2 kW.

Heating capacity (kilowatts or BTUs): Power output of the heating unit, typically between 1.0 to 3.2 kW.
What size air conditioner for my sized van?
As a general rule, there are two groups of air conditioner sizes:
2 to 2.5kW: Suitable for vehicles up to 5 metres

3 kW plus: Suitable for vehicles up to 7 metres
How much power do caravan air conditioners consume?
We're not going to lie: your caravan air conditioner will likely be the most energy consuming item in your caravan. An average unit consumes between 1000 to 2000 watts, compared to around 100-200 watts for your laptop, 50-100 watts for your fridge, and 40-50 watts for a fan.
However this will only be an issue if you are using a generator to power it, as powered caravan sites don't charge by the kilowatt! Trying to run your camping air conditioner from a large battery or solar system can be done in some instances, but typically is not economical, so it's worth making sure your generator has the capacity to handle it. For more info on running your caravan air conditioner from a generator, we recommend you read this article HERE.
What accessories do I need with the air conditioner?
Most caravan air conditioners will come as a kit, including all the required components for operation, install and fitting. However, there are some additional accessory items which might be relevant to your situation, including:
H-Frame for Roof Mounted Air Conditioners: designed for the roof of Caravans/ Motorhomes to provide extra strength and support for roof top air conditioners.

Thick Roof Adapter: If your roof is greater than 85mm thick you will need an adapter which can accommodate roof thickness up to 135mm.

Adaptor for 400mm Roof Opening: this frame allows 360 x 360mm caravan air conditioner models to be installed in a 400mm x 400mm roof opening.
What about installation?
For most quality caravan air conditioners models, the full fitting and install instructions come with the unit, but it is advised a qualified installer (electrical contractor) undertakes the installation.
Note that for some split system models, making refrigerant lines is required and therefore a licensed air conditioning technician is required for the installation.
Which brand is best?
We always recommend to opt for a quality brand that provides a good warranty, and has a national service and spare parts network. So if something does go wrong or you need a spare part, you won't be without cool air for long! Our best picks are:
Dometic: These guys have a solid reputation for being reliable, high quality and great value for money. Designed in Europe, these guys are at the cutting edge of recreational vehicle air conditioner technology, as illustrated by their release of the Dometic Harrier Inverter Air Conditioner in mid-2016 (which has now progressed to the 'Harrier Plus'); Featuring the first use of an inverter compressor in an RV application, the Dometic Harrier Inverter can help eliminate start-up current issues when running from generators or when current supply is restricted.
Dometic Aircommand: Dometic aquired Aircommand in 2018, making them the most appealing brand in the Caravan and RV air conditioner market! Their model, the Air Command Ibis Mark 3 was the most popular caravan air conditioner in the country - that was until their latest model came out the Dometic Ibis MK4 Reverse Cycle Roof Top Air Conditioner! This model makes improvements on many of the industry-leading features of the highly sought-after Ibis Aircommand 3 and packages them in a more lightweight roof top unit.
Truma: Truma have been a leading specialist in caravan accessories since 1961. They are known for their caravan heaters, hot water systems and of course, air conditioners! In their range they offer a rooftop air conditioner and they also manufacture one of the leading underbunk air conditioner models in the market: the Truma Saphir Comfort Reverse Cycle Air Conditioner.
Houghton Belaire / Finch: Houghton Belaire has established a reputation for offering great value for money caravan air conditioners! Their range includes a small, medium and large model, which covers most RV sizes. Their HB3500 model is particularly popular for its cooling capacity and price - it provides great bang for buck!
For more info on caravan air conditioners, check out our full range HERE.