Tough work environments demand tough generators. And there's no tougher work environment than an Australian mine. You can't settle for just any generator. You need to choose the most extreme Mining generator out there. One that is designed specifically to withstand everything a mining site can throw at it and still be begging for more.
Here are the five key factors you need to consider when choosing a
mine specification generator
:
1. Which fuel?
When it comes to mining, the choice of fuel is a no-brainer.
Diesel generators
supply more than 50% of the electrical demands of the mining industry in Australia. And for good reason; diesel fuel is less volatile and generally safer than petrol. Diesel engines don't start with a spark ignition - the fuel auto-ignites - so they are much safer than petrol engines. Plus, a diesel genset requires less maintenance than a petrol generator as there are no spark plugs or spark wires to worry about. Now all you need to think about is the size of the fuel tank. We recommend a massive 35-litre base fuel tank so you know your generator will go the distance (up to 14 hours depending on the load) without needing refueling.
2. Safety first
Look at the safety features of the generator. A mining generator from leading manufacturers will include things like an external 'emergency stop' in safety yellow, a galvanised earth stake and RCD Circuit Breaker or earth leakage protection. Also consider check systems for low oil pressure, high water temperature, low fuel level, fan belt fault, charge alternator fault, and over speed. Quality Australian built brands like Gentech, Dunlite and Crommelins will have these features on their Mine Spec Generators as standard. [caption id="attachment_662" align="aligncenter" width="311"]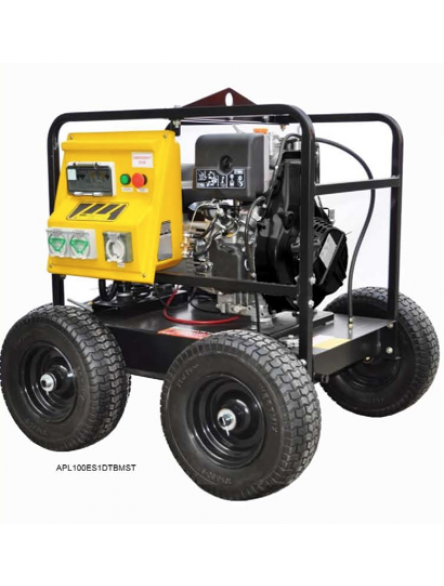 A quality Mine Spec Generator will come with Safety and Protection features as standard[/caption]
3. Weather proof
There's nothing like dust, dirt and grit to slow your generator down. That's why mine specification generators should come with weatherproof features. Look for a weatherproof generator board, lockable covers, anti-corrosive powder coated steel canopy, stainless steel hinges and door latches. Most of our
leading mine-spec generator brands
are fitted with a LifeGuard IP66-rated weatherproof generator board with individual RCDs, MCB, 10 amp test point and two 15 amp auto switch outlets with lockable covers. You don't get much more weather proof than that! [caption id="attachment_1776" align="aligncenter" width="540"]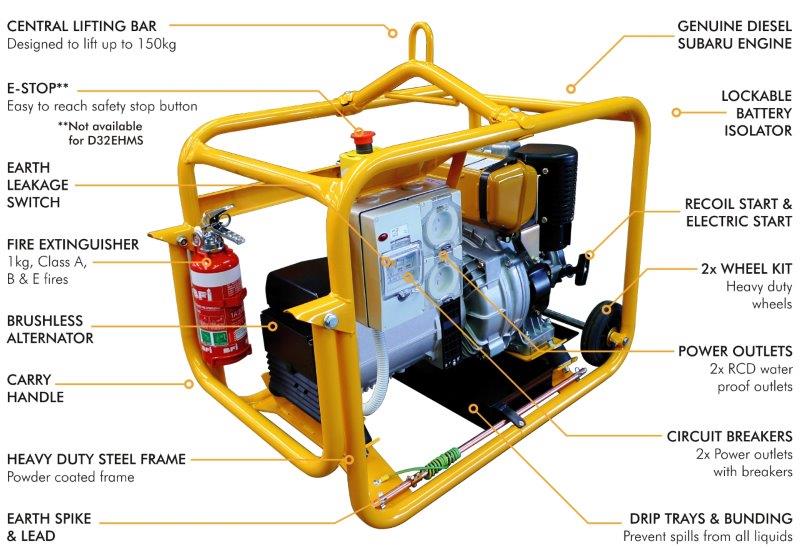 Crommelins Mine Spec Features[/caption]
4. Easy transport
For extra convenience, opt for a model with a containment tray, heavy-duty central lifting point and high puncture-resistant wheels. A central lift hook will take the full weight of the unit, meaning you can easily and safely transport the diesel generator to wherever you need power. [caption id="attachment_1774" align="aligncenter" width="480"]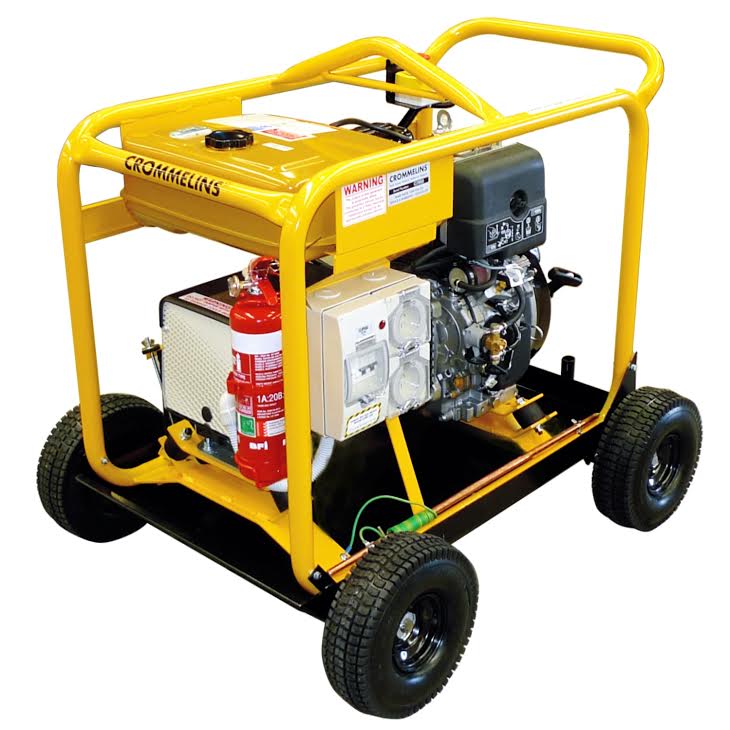 Crommelins Mine Spec Generator with lift kit, wheels, safety features and bunding[/caption]
5. Warranty
It goes without saying that you want a generator with a good warranty.
Gentech
and
Dunlite
Mine Spec Generators will come with a 2 year warranty and the
Crommelins
gensets will come with a three-year warranty as standard. Diesel generators come in various specifications and sizes, and can be customised for mining applications. Leading manufacturers Gentech, Dunlite and Crommelins both build robust, reliable and tough diesel generators proven to specifically meet the needs of Australian mining industry. And in addition to the excellent features, you get the peace of mind that comes from knowing your set is designed and built by people who know what you need from a generator and are backed by national service networks.
Visit the My Generator website to discover a wide range of mining specification generators.
DISCLAIMER* Please note, this advice is general in nature and we strongly recommend consulting the product manual and where relevant, a professional installer.