Kubota generators are high quality machines with one of the best reputations globally. But they also come with a higher price tag than other generator brands. So, are they worth the spend? Our Kubota generator review reveals what you need to know.
To answer the question, we challenged our experts to perform a Kubota generator review of the two most popular models: the GL Lowboy generators. Both of these generators can be used for rural property backup power, construction sites, satellite offices, road works, small events and large vehicles.
-
Here's a quick rundown of the specs:
This compact 6kVA diesel generator is powered by a Kubota Z483-Eb 2 cylinder, vertical water-cooled engine. The AVR alternator delivers single phase power. It has a 28-litre fuel tank and weighs a solid 235kg. As an added bonus, it comes fitted with Deep Sea DSE4520 Two Wire Auto Start Controller. This makes it a great backup power option for off-grid solar applications.
The 8.8kVA diesel generator has many of the same features as the GL6000 - the 28-litre fuel tank, compact design and low noise. But the maximum output of 8.8kVA (8.8kW) means these features are all the more impressive.
-
Kubota Generator Review: What we love
There's a lot to like about these two powerful machines, as our Kubota generator review shows:
Compact
The clue is in the name: "Lowboy". The low-profile design means these Kubota generators can fit snugly into places where other generators take up more room. Even with the 28-litre long range fuel tank and power output. This is a big advantage on worksites or at events, where space is at a premium. With the Kubota Lowboy, you can leave the generator in the back of your ute, or install it discretely at your home or office ready for backup power.
Super quiet
There's a lot to be said for quiet generators these days. Kubota uses the combination of an over-sized muffler, well-designed enclosure, noise absorbing duct, longer cleaner hose, and quieter fan to ensure the Lowboy generators operate with low noise output. The GL6000 operates at just 66.5dBA at 7 metres and the GL9000 at 68dBA, which is impressively quiet for a generator that size.
Fuel efficient
Investing in a more expensive generator can pay off if the price is offset by great fuel efficiency. That's the case with these generators. Our Kubota generator review revealed that not only are the diesel engines very efficient, the long-range fuel tanks means you can go a long time between refueling. The Lowboy's start out at using around 2.4 litres per hour at 100% power load...compare that to other diesel generator models from different brands which consume around 3 litres of diesel per hour on a like for like size & power basis.
Off-grid solar applications
Both machines come fitted as standard with a Deep Sea Two Wire Auto Start Controller, which means they are ready to go as backup for off-grid solar power. The Kubota generator review shows these generators are great for residential or small business backup too. They can be fitted with an optional Auto Mains Failure (AMF) https://www.mygenerator.com.au/?rf=kw&kw=lowboypanel, so you can safely connect the generator to your home or office electrical circuits. In the event of a power outage, the AMF flips the switch from mains power to emergency generator power. Then switches back again when utility power returns.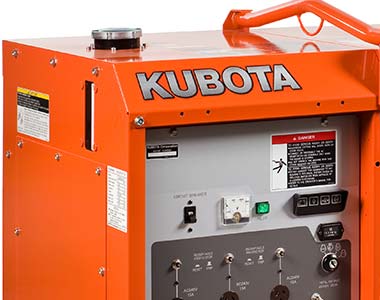 -
Water-cooled diesel engine
The water-cooled diesel engine offers the additional benefits of quiet operation and an evenly controlled temperature. There are other diesel generator options around the 6 to 9kVA sized which are air-cooled... these options are likely cheaper, but not suited for prolonged operation like the water cooled sets are.
2-pole single phase
Compared to 4-pole, these 2-pole Kubota generators are simple, no-fuss machines with minimal maintenance.
2-year warranty
If Kubota's attention to detail and proven reliability isn't enough, they provide a two-year warranty on these Lowboy generators. Kubota also has a comprehensive national service agent network for any spare parts or servicing/warranty support.
-
The Final Verdict
If our Kubota generator review taught us anything, it's that there are not many other high quality water-cooled options at this size that offer compact appeal and longer running capacity often needed in a backup power source. Yes, you will pay good money, but you are getting a very high quality, reliable product that will deliver when it counts.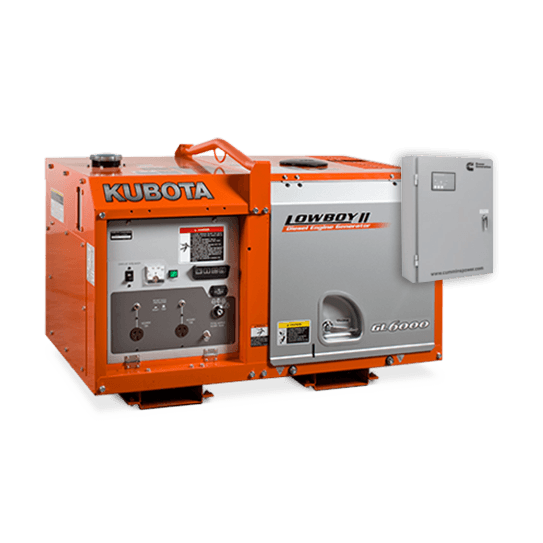 There are cheaper options, especially for lighter duty applications, like this range of budget diesel generators HERE. However, we say that if you intend to use the generator frequently, or for important commercial purposes, then its hard to go better than a Kubota. Furthermore, as they come fitted with the Two Wire Auto Start Controller, they are ready to be easily connected by an electrician for automatic solar or mains power backup. It would be our most recommended diesel generator brand for applications in the 5 to 10kVA size.
Want to compare bigger Kubota generators? Browse our full range here.
-
DISCLAIMER* Please note, this advice is general in nature and we strongly recommend consulting the product manual and where relevant, a professional installer.