YAMAHA vs. HONDA 3kVA Generator - Who Will Win?
It's Honda versus Yamaha, as My Generator compares the features and specs of the Yamaha EF2800i and Honda EU30iu portable inverter generators.
First, let's look at why you might choose a Yamaha or Honda 3kVA generator in the first place. These generators are designed for portable use, but they provide more power than you would generally need for the average camping and caravanning trip. Most will look for something closer to a 2000 to 2500 watt maximum output. But the additional capacity can be great if you want to charge your van's battery while also running higher wattage appliances like the air-conditioner, microwave and other electrical equipment.
Where these generators also really come into their own is for the trade, events, farming, DIY use, domestic back-up and small business operation. Though slightly heavier and bulkier than their 2000W siblings, they are still built as portable generators and, for that reason, will be easy to move wherever you need them.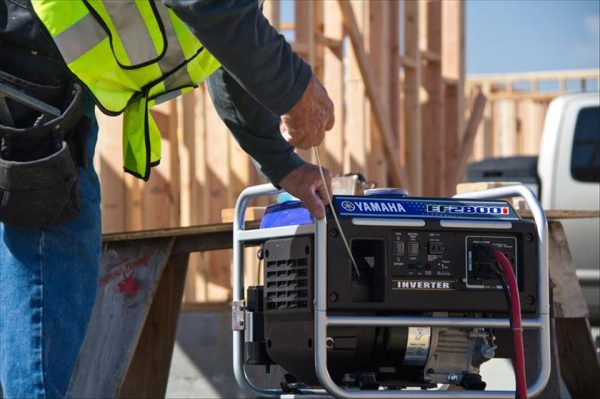 Comparing the Yamaha EF2800i and Honda EU30iu isn't an exact like-for-like comparison. But the Yamaha is rated at 2500 watts continuous, compared to the Honda's 2600 watts continuous, so there's really not much in it. Worth bearing in mind when you consider that the Honda as a pricetag of around $1000 more!
-
Let's compare:
-
Clean power:
Both generators have an inverter system to stabilise the amount of voltage and frequency produced by a petrol engine driven alternator through the supply of sine-wave electricity with a distortion ratio of less than 2.5%. This makes them the ideal power source for micro-computer controlled electrical appliances. In other words, you can use them to safely power laptops, computers, mobile phones, camera equipment etc.
Weighing Up:
The Yamaha generator is significantly lighter than the Honda at only 29kg compared the Honda's 35kg. So even though Honda boasts that the EU30iu is the lightest in its class, you can get almost the same rated output for a good 6kg less.
Quiet Please:
Honda claims the Honda EU30iu is the quietest generator in its market segment. And with a range of only 56-60dBA, it just might be. It's worth noting that the lower end of this noise range is only achieved when the Eco mode is switched on. The Yamaha EF2800i is pretty quiet for a generator of its size, producing a respectable 60dBA.
Fuel Efficiency:
Both the Honda and Yamaha generators run off standard unleaded fuel. Yamaha has the "smart throttle" feature, which automatically adjusts the engine speed to precisely match the energy load. Honda has the "Eco mode" feature, which does the same thing. With a 5.9-litre fuel tank, the Honda EU30iu runs for 7.7 hours continuously on a single tank, so long as the Eco-throttle is switched on and it's only at 1/4 output. However, the Yamaha is in a class of its own. It has a massive 11.2 litre fuel tank and will run for an astounding 17 hours continuously (also 1/4 load). There's really no contest there...
Added Extras:
The Honda 3000 Watt unit comes with a special cable, so it can be run in parallel with another EU30iu to double the output if required. Unlike the Honda, the Yamaha has a handy fuel gauge, which is particularly useful for when you need to plan ahead.
Warranty & Support:
Both Yamaha and Honda provide an impressive 48-month warranty: nice... and if you ever require repair or servicing, both brands have accredited national service networks.
What Do Our Customers Say?:-
-
The Winner:
Both generators have their advantages, but with an extended running time, it's the Yamaha EF2800i that comes up trumps for recreational, trade and domestic applications alike. The Yamaha is a little louder, but its lighter and did we mention that it's around $1000 less than the Honda EU30i?
Yamaha EF2800i vs. Honda EU30i Comparison Table:
| | | |
| --- | --- | --- |
| | Yamaha EF2800i | Honda EU30iu |
| Maximum Output: | 2800 Watts | 3000 Watts |
| Rated (Continuous) Output: | 2500 Watts | 2600 Watts |
| Operating Hours (1/4 Load): | 17 hrs | 7.7 hrs |
| Fuel Tank Capacity: | 11.2 L | 5.9 L |
| Size (LxWxH): | 487 x 395 x 425 mm | 622 x 379 x 489 mm |
| Dry Weight: | 29 kg | 35 kg |
| Noise Level (1/4 Load / 7m): | 60 dBA | 57 dBA (Eco On) |
| Starting System: | Recoil | Recoil |
| Fuel Gauge Monitor: | Yes | No |
| DC Output: | No | Yes |
Still not sure which generator is right for you? Give one of our product experts a call on 1300 400 122!
DISCLAIMER* Please note, this advice is general in nature and we strongly recommend consulting the product manual and where relevant, a professional installer.