We Interviewed Joss and Megan from " Seaustravl " to find out more about them, their travels, and their canopy build!
With International travel put on hold in 2020 the couple started Seaustravl to live out their dreams of the ultimate trip around Australia.
Continue scrolling for a look at their impressive tiny home on wheels!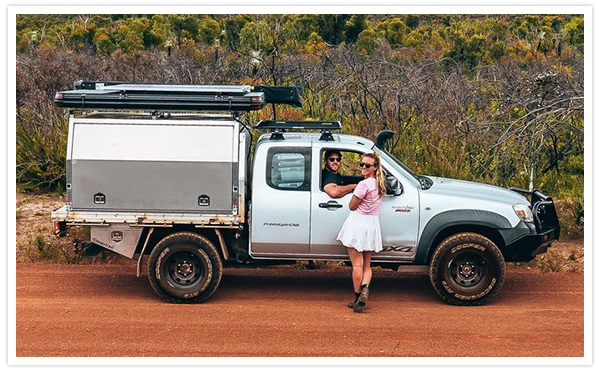 Tell Us A Bit About Yourself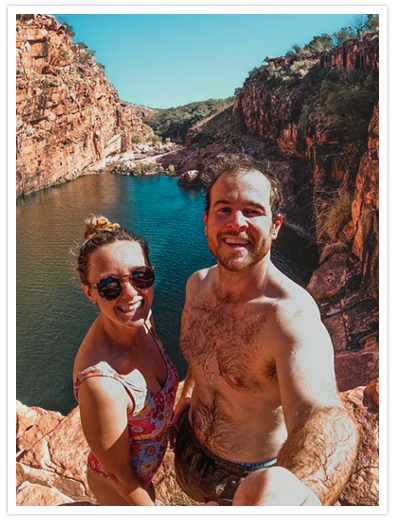 "We are Joss and Megan and we make up Seaustravl. We have always loved camping and have always headed out on an adventure every opportunity we had. Our initial camping set-up consisted of simply our tray, an air mattress and an esky. During Covid, we decided that we wanted to set-up our 4wd for a trip of a lifetime around Australia, so the build began.
During the tense period of Covid we decided to start the Instagram account "Seaustravl" and start posting some of our travel pics. We managed to gain a fair bit of traction and people seemed to like what we posted. As this page grew momentum, we decided we should pack up our lives and give living on the road full time a go. Our thinking was, while we are still young enough, no kids and no other commitments, it was a great time to go!"

Tell Us More About Your Build
"Our initial camping set-up consisted of simply our tray, an air mattress, and an esky..
We decided to buy an empty aluminium canopy from MRT that could sit straight on the tray of our Mazda BT50 Ute. From there we fitted it out exactly how we wanted it and with accessories that would make life on the road as comfortable as possible.
We knew we wanted a roof top tent (which was a huge upgrade from the swag), an upright 12V fridge and a sturdy easy to use kitchen. We did a lot of research on the best products out there and how we should design the setup to suit our needs. After countless camping trips and now 2 months full time travelling, we are stoked with how our set-up turned out."

Why Did You Choose To Shop With My Generator & Why Would You Recommend My Generator To Others?
"Shopping with My Generator was a no-brainer for us. The huge range at My Generator made the early stages of our research and purchasing much easier. My Generator had most appliances and accessories that we needed, especially when it came to 12V. One of the items we wanted the most was the Bushman upright fridge, which we were stoked to find on the My Generator website. The whole process was seamless so then we also bought our Lithium Battery and our Sirocco Fan, which have been essential living on the road.
The above is why we recommend My Generator to our friends, the huge range is second to none and not to mention the decent sales and discounts they commonly have."
What's In Your 4x4?
Appliances & Electricals: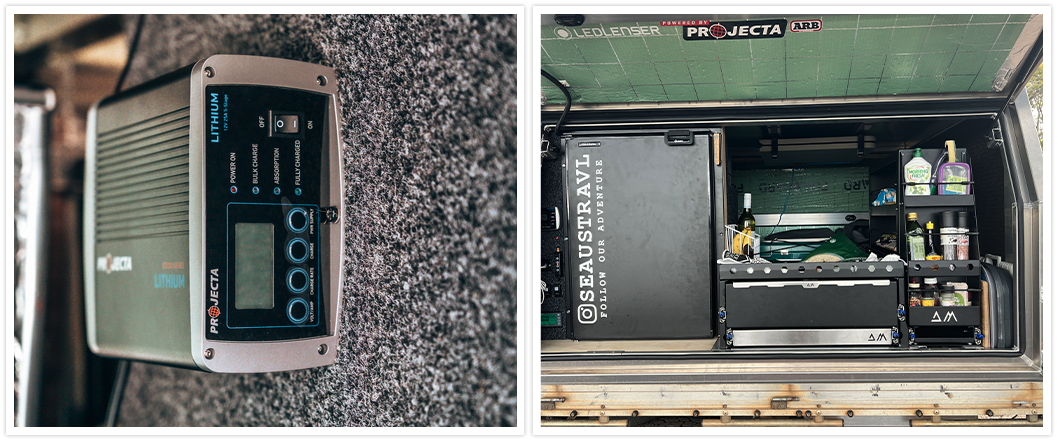 Hardware & Accessories: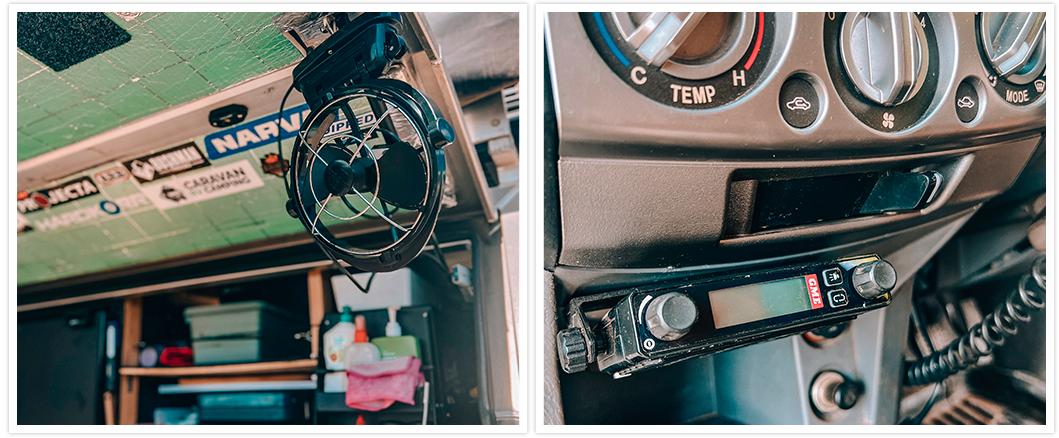 Extra's:
What Product In Your Setup Could You Not Travel Without?
" There are a few products that we absolutely couldn't live without on the road. Our Projecta 12V setup with Enerdrive battery enables us to have luxuries on the road, such as our Bushman upright fridge which makes us feel at home (and we love not having to dig through a chest fridge). Our roof top tent is also one of these essential products, sleeping off the ground means less dust and dirt into your sleeping area, and much cooler when sleeping at night, and the best thing is it's so easy to pack up!
An honourable mention would be to our MukMats. These mats are absolute game changers for us. There are many campsites where the ground may be just dirt or even dusty and to be able to wipe your feet/ shoes after a shower or before bed is very handy, and such a simple product! We love it "

What Is Your Favourite Australian Destination You've Travelled To And Why?
"The Gibb River Road is definitely our favourite destination that we have travelled too so far. We spent 15 days on the Gibb, and it is hard to choose one specific location, but the trip itself is our favourite. There is a lot of free camping by rivers where you can swim and relax with amazing birdlife and other spots that offer awesome hikes to epic waterfalls. The Kimberley region in WA is in a league of its own and even though the Gibb River Road is a challenging one, being rough and remote, it's a great accomplishment with amazing views."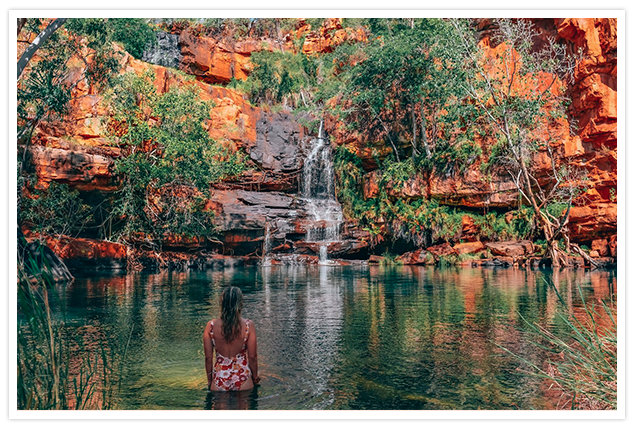 Is There Anything Extra You Think Woud Be Great For Our Audience To Know?
"For anyone wanting to change or build their set-up so they can do more camping or even embark on a touring trip of a lifetime, here are some of our tips.
You don't need the best of the best when it comes to cars, products, accessories. There is a lot out there these days that is in everyone's budget and if you have a reliable vehicle and you're comfortable with your setup, you'll be fine.
Do your research. When buying products for your setup it is important to read reviews, forums and social media groups to understand what products would work the best for you. Places like My Generator have a huge range of reputable brands so it's important you buy good quality items within your budget.
Take the plunge. If you have always wanted to take the leap into travelling full time, our advice would be to just do it. The people you meet, the experiences you have are immeasurable and we are so glad we did it."

Full List Of Products In Seaustravl's Van:
Appliances & Electronics:
Lithium Battery: Enerdrive 100Ah eLITE Lithium Battery
DCDC Charger: Projecta IDC25L 25 Amp 5 Stage Intelli-Charge 9-32V Lithium Dual Battery Charger Inverter: Projecta 12V 1800W Pro-Wave Pure Sine Wave Inverter
Battery Charger: Projecta 12V Automatic 50 Amp 5 Stage Lithium Battery Charger (IC5000L) Projecta Polycrystalline 12V 160W Fixed Solar Panel with MC4 Connector
Battery Monitor: Renogy 500A Battery Monitor with Shunt
12V Accessories:

Narva Heavy-Duty Twin Accessory/Dual USB Sockets
Narva 6-Way 12/24V LED Switch Panel with Circuit Breaker Protection
Narva 5V Heavy-Duty Dual USB Socket, Black
Narva 25A 5MM Twin Core Sheathed Cable (30M) Red/Black (Black Sheath)
Narva 6-Way Standard ATS Blade Fuse Or Plug-In Type Circuit Breaker Block
Narva 12/24V Off/On LED Illuminated Sealed Rocker Switch (Red)
Narva 10mm Corrugated Split Sleeve Tubing (10M)

Canopy Lights: Teralume X1 LED lights - mounted in canopy doors and on rear of canopy.
Awning Lights: Hardkorr LED light strips mounted in awning
Fan: Caframo Sirocco Fan 12/24V 3 Speed – Black
Fridge: Bushman DC130X 12/24v Upright Fridge/Freezer 130L (DC130-X)
Drawer and Pantry: AM Off Road slide out bench and pantry
Kitchen Utensils: Grab Me Gear
Vehicle Accessories:
Spotlights: Narva Ultima 215 MK2 Black Driving Light
Bullbar: WA Bull Bars - Steel Bullbar
UHF Radio: GME 5W Super Compact UHF CB Radio with ScanSuite & Speaker Microphone
Seat Covers: Gotya Covered Seat Covers - Standard Flat Canvas
Bash Plate: Ironman 4X4 UnderBody Protection
Suspension: RidePro Suspension Lift Kit 500kg Constant
Tires: Cooper AT Discover 265/75R16
Storage Drawer: MRT, DXD1000 Aluminium drawer.
Canopy: MRT, 1800mm x 1800mm x 1000mm high, Flat Alloy finish with 3x ladder racks
Rooftop Tent: Drifta Stockton Tent, 1.4m wide, mattress upgrade, comes with telescopic ladder - mounted on canopy ladder racks.
270 Degree Awning: "30 Second Awning", mounted to the uprights on the ladder racks.
Universal Bin Bag: Grab Me Gear
Recovery Gear: MaxTrax
General Accessories:
Ground Mats: 2x Grey MukMats
Canvas Storage: Grab me Gear - Canvas Storage Pouches, Canvas Storage Pods, Hanging Roll Organiser
BBQ: Baby Q Weber
Air Compressor: Kings Thumper Max Compressor
Head Torch: Led Lenser, MH5 Outdoor Headlamp
Binoculars: Nikon
Drone: DJI Mavic 2 Pro
Camera: Fuji XS10
GoPro: GoPro Hero 10 Black