Imagine being able to do your travel washing whenever and wherever you want. No need to store your smelly washing in your van while you wait to get to a laundromat or wasting half a day waiting for the cycle to finish.
Buying a caravan washing machine is the perfect solution.
You get the freedom of doing your washing when it suits you. Plus, they are compact, efficient and boast almost all of the same features as your machine back home.
Ready to save time and stress on your next trip? Read our caravan washing machine buyers guide: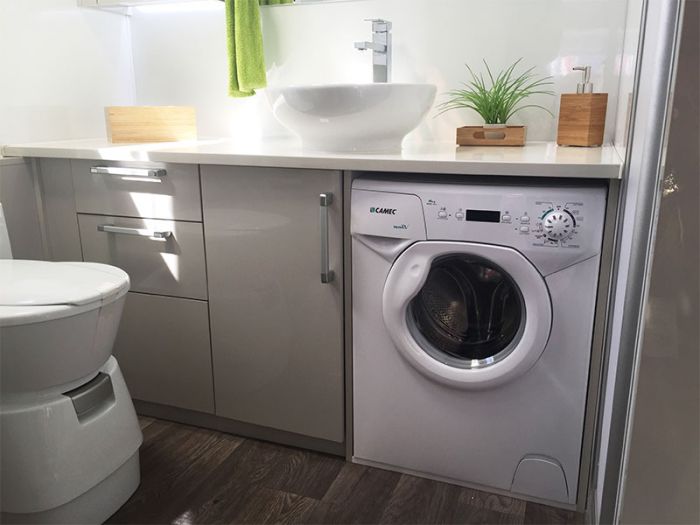 What Are The Different Styles Of Caravan Washing Machine?
The different styles you can choose from are:
Let's weigh up the pros and cons of each style.
1) Front Loader
Front loader caravan washing machines are a great option for smaller spaces, because you can install it under the work bench and maximise your bench space. Remember, they still need enough space to open the door outwards. The downside is these washing machines can typically only work if the caravan is level.
Our Top Pick: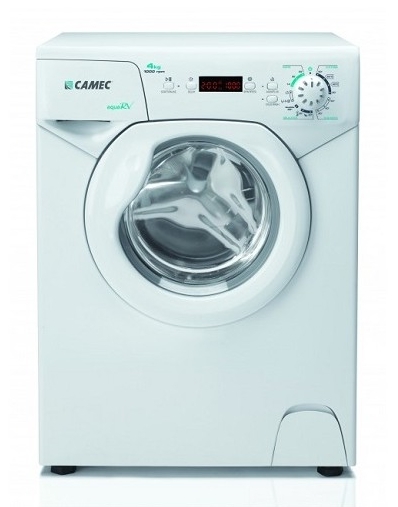 2) Top Loader
Top-loading caravan washing machines are extremely efficient and easy to use, but the downside is they need enough space above to open the lid. That means you need to sacrifice valuable bench or table space. You can also choose mini washing machine sizes, which are designed to fit in even the tightest spaces.
Our Top Picks: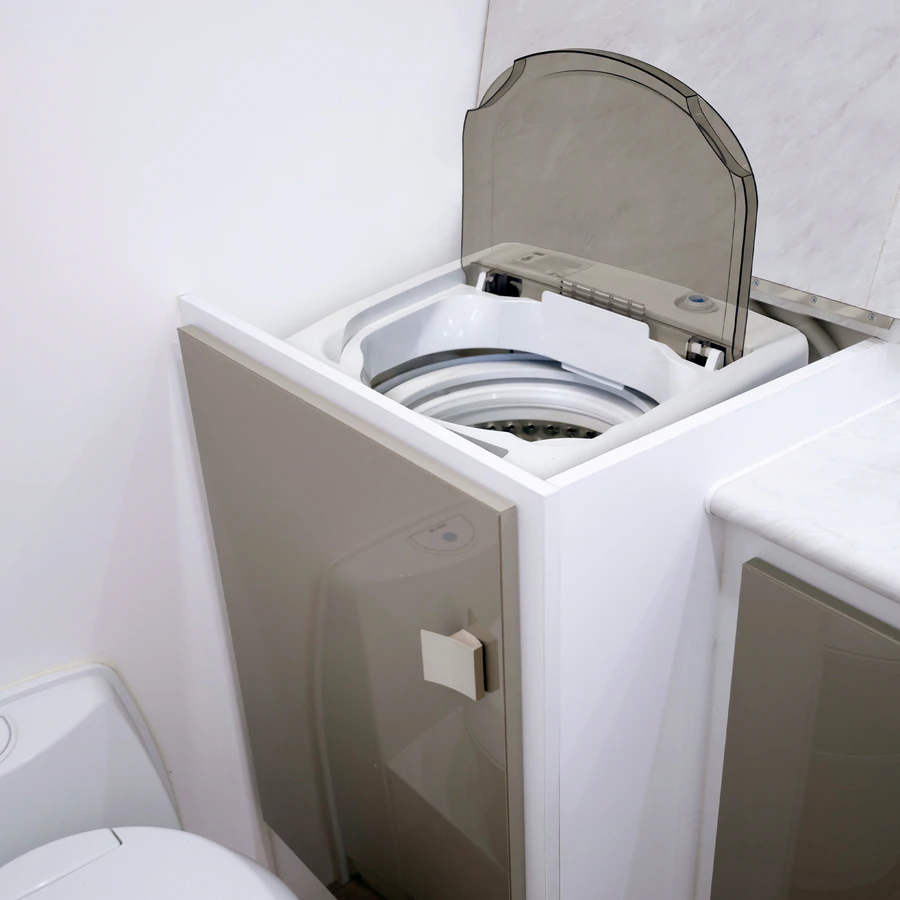 3) Wall Mounted
A wall mounted washing machine is a smart way to save valuable floor space in your caravan. Just like at home, these units can be mounted to any wall and are lighter than other caravan washing machines. The downside is they tend to have lower wash load capacities to limit the weight on the wall.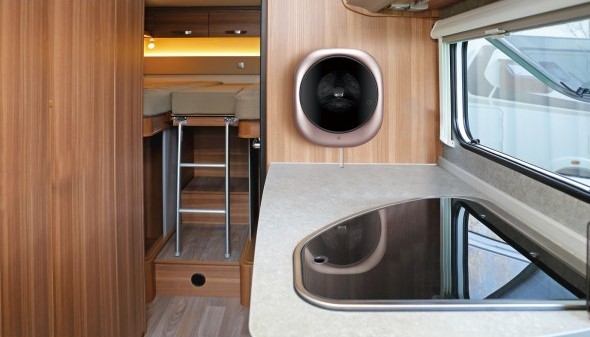 Our Top Picks:
4) Portable
These caravan washing machines are designed to be lightweight and easy to move, so you can bring it out to use, and then stow it away when you're not using it. Perfect for smaller caravans and RVs. On the downside, these washing machines are not as robust as other machines and tend not to come with all the features and programs. But if it's something basic and budget-friendly you want, this is the caravan washing machine for you.
Our Top Pick: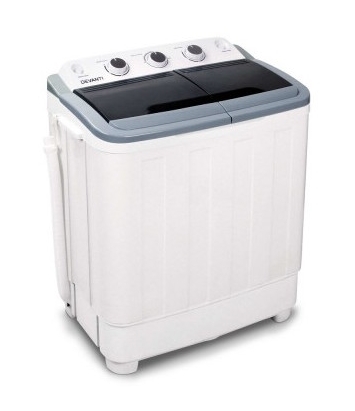 Which Load Capacity?
Depending on how much washing you need to do and the space available in your caravan, you can choose anything from a mini 2.5kg up to a massive 5kg washing capacity.
Some caravan washing machine brands have a range of sizes to choose from with very similar features on each. Some include programs that mean you don't always have to use the full capacity – simply turn on the water adjustment to suit the load size.
Hot Or Cold Wash?
The good news is caravan washing machines usually only need cold water supply. This means most models are limited to a cold wash. But some – like the Aussie Traveller 3.2kg Top Load Washing Machine – use an in-built heating element so you can still operate a warm or hot wash.
Added Features?
Just like your washing machine at home, caravan washing machines come with various modes and features. For example, the Camec Compact 4kg RV Front Load Washing Machine has 15 wash programs, including three Quick Wash modes. It even has a special AQUAPLUS "delicate skin" wash mode where dedicated cycles ensure detergents are completely removed from the clothing.
The Aussie Traveller 2.5kg and 3.2kg models can also be purchased with a Northstar RV Pump. A great addition to your caravan if doing the installation for the first time. This bundle has been designed to take into account the water pressure required to run the washing machine.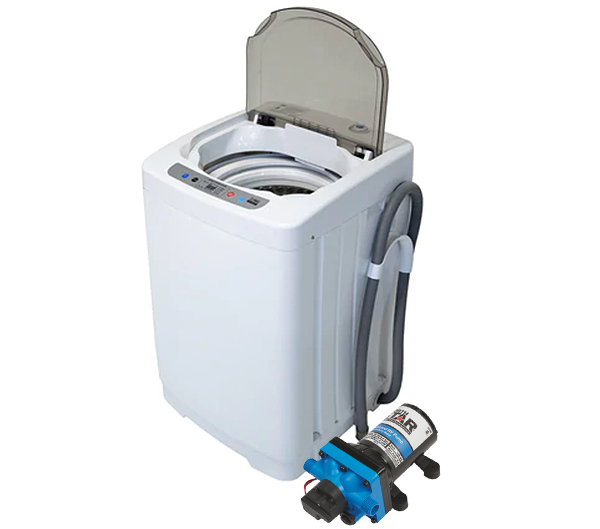 Pro Tip: When buying a caravan washing machine don't skimp on a cheaper unit, in most cases they are not automatic and have a smaller spin capacity than its wash capacity.
Top Features To Look For?
Caravan washing machines come with lots of features. Aside from the capacity, you can get different wash programs, spin speeds, eco features, and more.
Weigh up what you need to compare models:
What About Warranty?
Top brands including Camec, Sphere and Aussie Traveller back their machines with a one-year warranty. Devanti only backs its portable washing machines with a 3-month warranty.
Pro Tip: Bigger is not always better! Make sure you choose a suitable size that suits your needs, so you are not wasting valuable space or water.