Thinking about powering 240V appliances when you're travelling off-grid? You need to buy a caravan inverter. Here's how to choose the right one for your trips.
Why Do You Need A Power Inverter?
Caravan inverters let you run 240V (AC) appliances when mains power is not available. They are an essential device if you're travelling off grid and still want to enjoy your home comforts, like heaters, kettles, microwaves and more.
The power inverter works by converting DC (battery) power to AC power. The most popular units will convert 12V to 240V but you can also buy caravan inverters that convert 24V to 240V if needed.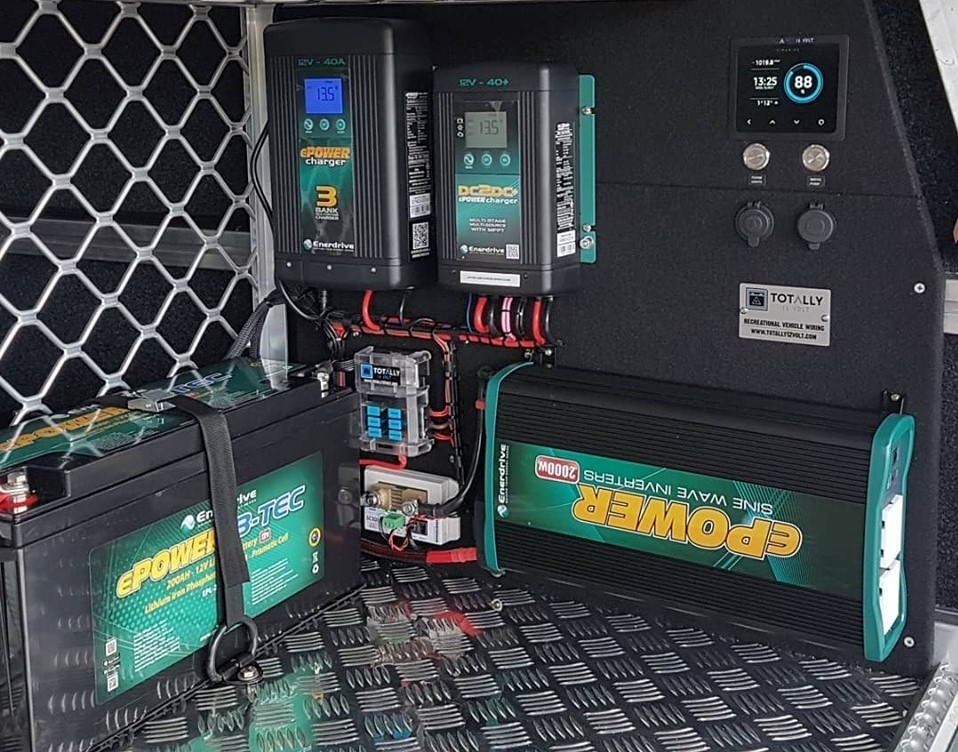 What Size Do I Choose?
To find out which size caravan inverter you need, follow these easy steps:
Match the inverter to the load: Think about which appliances you are likely to run at the same time. Then, add up the total wattages of each appliance. Focus on their peak wattages, which is their initial start-up power draw. If you want to run lots of appliances at the same time, you'll need a larger inverter.

Make sure your battery bank can power the inverter: Our rule is that for every 100Ah of deep cycle battery, you can power a 1000W DC to AC Inverter. For example, an Enerdrive 200Ah Lithium Battery will run a 2000W Enerdrive ePower Inverter, which is perfect for most caravans. Please note, this is a general guide only, it is best to refer to the specifications on the battery to ensure enough current will be provided to power the inverter. Quality lithium batteries are generally very good for powering inverters at high currents.

Work out for how long you want to power these appliances: For this you need to consider how long the battery can produce its maximum discharge current and the continuous wattage draw of the appliances you are powering.
Need more detailed step-by-step instructions? Use our guide to work out which size inverter you need.
What Do I Need To Spend?
Like most caravan devices, the price of inverters depends on size and quality. The better and bigger the caravan inverter, the more you can expect to pay.
You'll find caravan inverters range from 150W right up to 5000W depending on the load you need to power.
When you're working out your budget, consider if there's an installation cost. Larger inverters from 600W upwards need to be hard wired into your vehicle, so remember to factor that into your calculations.
Small Inverters:
A 150W pocket inverter can be as cheap as $50. But don't be fooled – this Baintech pocket inverter can be used to run very small 240V appliances including smart phones, laptops, camera chargers, drone chargers, shavers, small power tools and more. Just don't expect it to power your air con or coffee machine!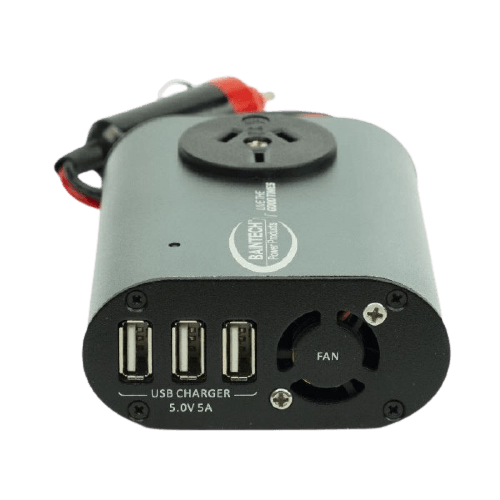 You can pay up to $150 for a 350W inverter, like this Dometic Sine Power Inverter. This is ideal for running appliances such as electric toothbrushes, laptops, TV sets, DVD players, and mobile phone chargers. The great thing about the Dometic inverter is how it has an extraordinarily high peak output rating, allowing it to seamlessly supply electronics with high start-up currents.
The great thing about these small caravan inverters is that they come with all the cabling you need to get started. Simply "plug and play". The largest good quality "plug and play" inverter is on the market right now is the Enerdrive ePower 400w inverter.
Another thing to factor into your budget is the brand. You will pay more for a pure sine wave inverter from a trusted and reputable brand like Enerdrive or Victron. But you really get bang for your buck – these brands offer extensive warranties and service agent support around Australia.
Large Inverters:
On the larger end of the inverter scale, 600W to 1800W caravan inverters range between $450 and $1400. This is where it really pays to work out what size inverter you need for your adventures.
These inverters will all require hard wire installation, and because they are 240V, they need to be installed by an electrician or electrical contractor following the Australian Standards Guidelines. That's where the extra cost comes in. Don't scrimp on installation – you'll only end up paying for it later!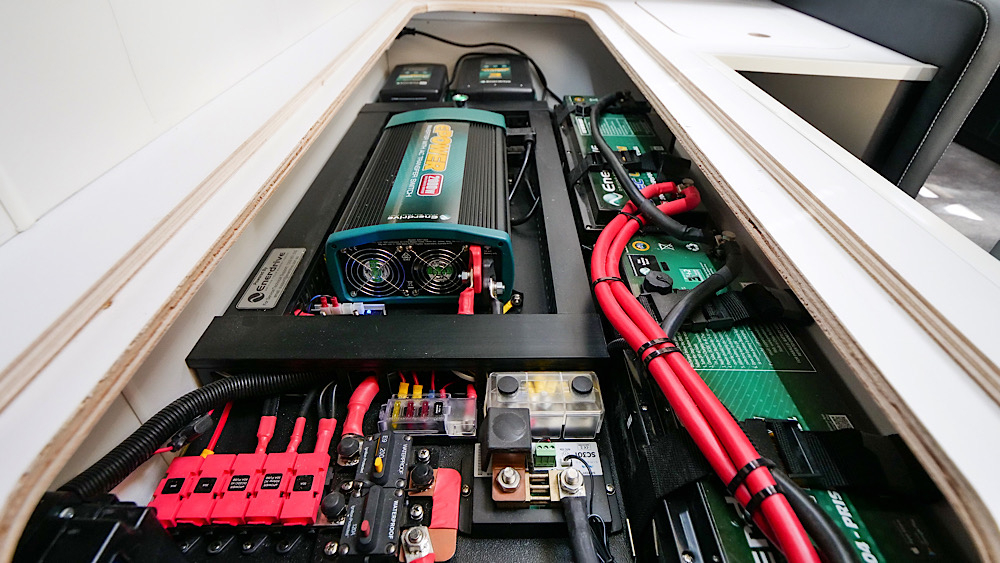 Even Larger Inverters:
By far the most common size of caravan inverter for off-grid touring is 2000W to 3000W. Expect to pay anywhere between $900 and $3000 depending on the brand and features. This size is brilliant for caravans because it can be used for powering high current appliances like microwaves, coffee machines and even air conditioners (depending on the model).
Our Recommendations
Here are some of our top picks for caravan inverters:
This robust 12V / 800VA inverter offers brilliant value for money with a 5-year warranty. It also comes with a remote on/off and an ECO mode, which automatically switches the inverter to standby when the load decreases below a pre-set value (min load: 15W). Victron has an extensive range of 24V and 48V inverters to choose from to ensure you can find the right one for your needs.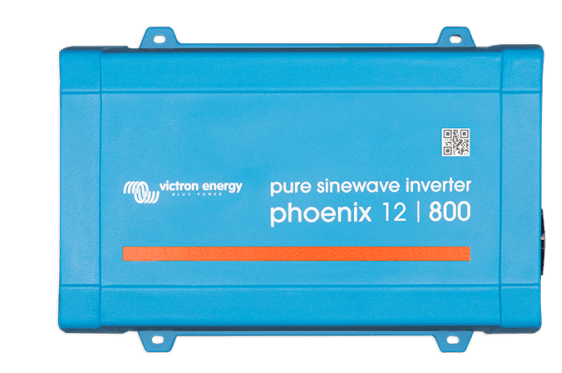 What we love: It comes with top of the range features including Bluetooth connectivity via the Victron VE.Direct Bluetooth Smart Dongle, which allows you to monitor your loads on the Victron Connect App. Genius!
Enerdrive ePower 2000W Inverter:
This pure sine wave inverter is another great value for money option. We always advise to stick with one brand when designing your power system, and this one offers a closed loop solution. The Enerdrive 2000W inverter can be fully powered by an Enerdrive 200Ah B-TEC Lithium Battery. This inverter comes with the bonus of 5V USB power so it's easy to charge many USB powered devices.
It's also available with an RCD and AC Transfer switch or pre-mounted on a GPO board for maximum convenience.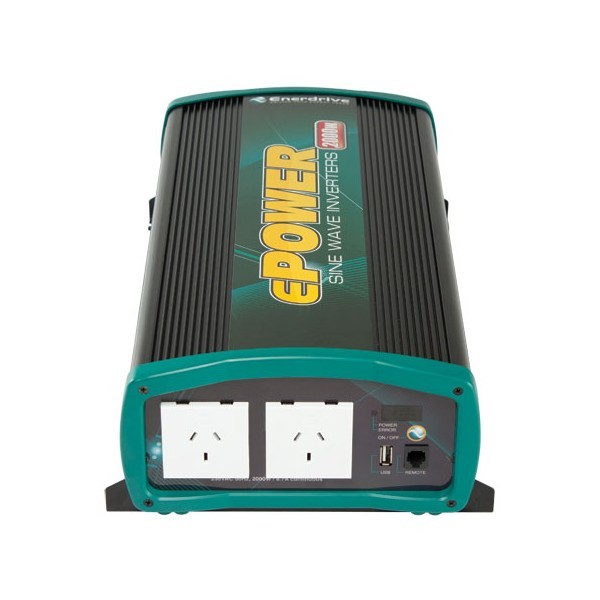 What we love: This Australian company offers a 5 year warranty with nationwide service support, which gives you peace of mind as you travel.
Need to run your caravan air con unit, microwave or hair straighteners? Most high current appliances will need an inverter larger than 2000W. So, Enerdrive has the inverter for you. This Australian brand is a market leader in the 12V product space so you know you are getting a well-designed device with nationwide service support. The Inverter features a 16A AC Transfer Switch meaning you get seamless AC power when transferring between Mains/Generator and the Inverter. This works brilliantly even in Australia's harsh conditions.
Remember to consult with a local electrician to ensure you have enough battery power to run a large inverter like this.
What we love: This inverter is extremely robust and reliable, making it ideal for off-grid touring in the harshest Aussie conditions.
Pro Tip: When using high voltage equipment, it is critical that you and your loved ones are safe and protected. The Enerdrive 2000W inverter with RCD has a built in RCD safety switch which protects the user and will switch off the inverter if there an electrical fault is detected. This model also includes an AC transfer switch for seamless transfer from the battery power source to the mains (caravan park) power source when running AC appliances in your caravan or motorhome.