Hot water is one of the simple pleasures on the road. But what are the best caravan hot water systems?
There's nothing like heading off into the outback knowing you have access to hot water, wherever you end up. Nowadays there are lots of options for your caravan hot water system: gas, electric, solar, diesel, instant, portable, space-saving and more. It pays to take your time, weigh up the pros and cons, and work out the best caravan hot water system for your needs.
We're here to help with our guide to caravan hot water systems:
Truma's Aqua Go Instant Water heater... Expect more!
Types of Caravan Hot Water Systems:
Gas and Electric:
Caravan hot water systems can run on gas, electricity, or both. This gives you the option of hooking up to mains power when it's available, or using gas when free camping.
These systems are silent and will heat the water quickly. The Truma UltraRapid Gas water heater, for example, will heat the water in under 30 minutes. Plus, it will continuously reheat the water while you're showering, so a second person can shower immediately afterwards.
These systems require a steady flow of clean water – something that's not always possible on the road. You cannot use water straight from the nearest creek, however beautifully clear it may seem.
Another downside is that caravan hot water systems running on gas tend to cause condensation and need to be externally vented.
Remember – gas and electrical hot water systems always need to be installed and serviced by professionals.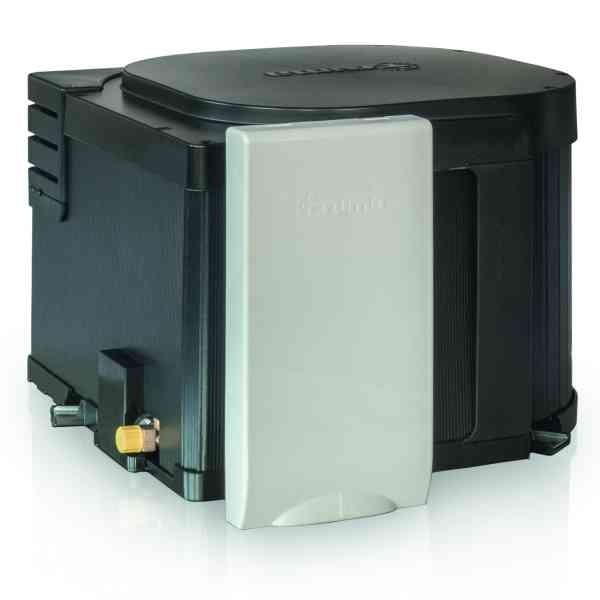 Truma UltraRapid gas/electric hot water system
Portable Caravan Hot Water Systems:
Everything comes with a portable option these days, even caravan hot water systems! Portable gas/electric hot water systems have rechargeable lithium-ion batteries that can be charged on the move. They are great for washing, cooking, cleaning and showering – but you must be outside the caravan. So, if you're planning lots of off-roading and are happy showering in the Aussie bush, this is the system for you.
Instant Caravan Hot Water Systems:
Instant caravan hot water systems heat water as it passes through the tap. They are energy and water efficient, because they only heat what you need, when you need it. The Truma AquaGo provides hot water in just six seconds!
How does it work? The Truma AquaGo instant water heater is connected between the caravan's water supply and the hot water system. The burner starts automatically when the hot water tap is opened and the flow of the water is greater than 1.5 litres per minute. A burner control adjusts the heater output according to flow and inlet water temperature to maintain a consistent outlet temperature of approximately 49°C. To conserve gas, the burner switches off automatically when the tap is turned off.
As these systems are becoming more popular, innovative manufacturers like Truma are adding more features, like a thermal cut-off switch that prevents very hot water temperatures. Typically, they fit neatly into the sink top which is perfect if you're short on space.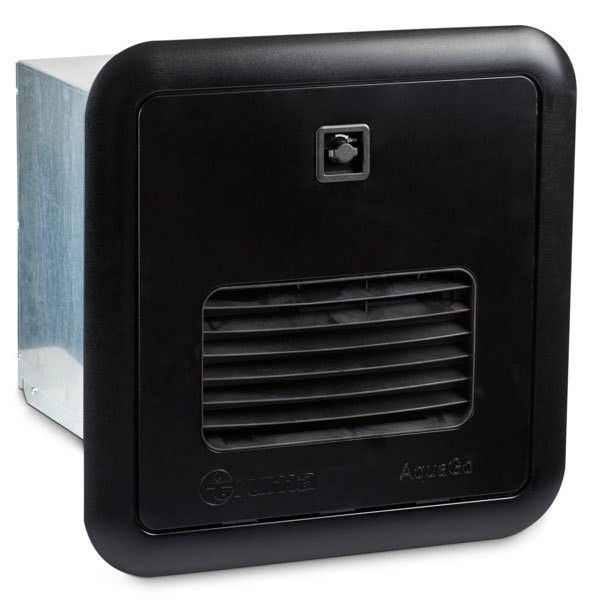 Truma AquaGo Instant Gas Hot Water Heater System, Black
You can also check out the Camec 13kW Digital Instantaneous Gas Water Heater in white or black. This is a more budget friendly option plus is uses less gas! The unit will take approximately 20 seconds to heat your water and it will provide an instant and continuous supply of hot water at your selected temperature via the remote digital display. You also get the added peace of mind of a 2 year warranty.
Diesel:
As with all things diesel, these hot water systems are extremely efficient. The trade-off is that the generator can be noisy. You can typically use these systems to draw water for the nearby creek or an on-board water tank, which makes them a convenient option if you're off-roading.
Solar:
Manufacturers are in the early stages of solar hot water systems for caravans. The weight of the unit on the caravan roof is still a challenge, and a good system doesn't come cheap. Of course, you can always hang a solar shower bag outside your door…!
What to Consider:
When choosing a caravan hot water system, consider the following factors:
1. How Much and How Often Will You Use It?
This will determine the storage capacity of your caravan hot water system. In other words, how much hot water you have on tap while caravanning. There are lots of other factors you need to think about here, such as how many people are in your caravan, the weather conditions on your trip, and whether you enjoy long showers. Also, look at the recovery rate of the system. This determines how quickly it can heat or reheat the water stored in it. The better the recovery rate, the better your energy savings.
2. What Power Source Will You Have?
Are you travelling with gas cylinders? Will you be relying on a caravan park's mains power supply to run your gadgets? Think about the power sources at your disposal. A combination gas and electric caravan hot water system is a smart choice if you want some flexibility. For example, the Truma Combi Hot Water System requires 12v to ignite, then operates on gas or 240-volt power when available.
Truma Combi Systems are another great idea to consider when looking to provide hot water to your RV. The Combi system comes in three models and is a Heater and Hot Water System in one compact unit. The Truma Combi 4E Kit, Gas Heater / Hot Water System is the entry level model and it is powered from gas and electricity.
The Truma Combi CP Plus
3. What's Your Budget?
How much do you have to spend on your caravan hot water system? Whatever your budget, opt for a trustworthy brand, like Truma, so you know you are getting a well-made, reliable system with a warranty. If you need to tighten the purse strings, don't compromise on the quality – choose a model with fewer features.
Final Thoughts:
Space-saving designs, faster hot water, different power sources, super efficiency – whatever you need, you can bet there's a caravan hot water system out there for you. But don't be lured in by fancy features and high-tech gadgets. Always do your homework to work out the best option for your needs and budget.
Still having trouble selecting the Caravan Hot Water System for your needs? Give us a call on 1300 400 122!
-