Selecting the right caravan door can be a challenge. Which style, size and features should you look for? Whether you are looking for a door for a new build, or a replacement door for your existing caravan, we've got the answers.
Read our buyers' guide to caravan doors:
Which Size Caravan Door?
Before you do anything else you need to work out which size door is right for your caravan.
Look at what size cut-out your caravan has.
The size of the caravan door is ALWAYS determined by the cutout, rather than the overall dimensions of the door.
The reason is simple: it needs to incorporate the door frame.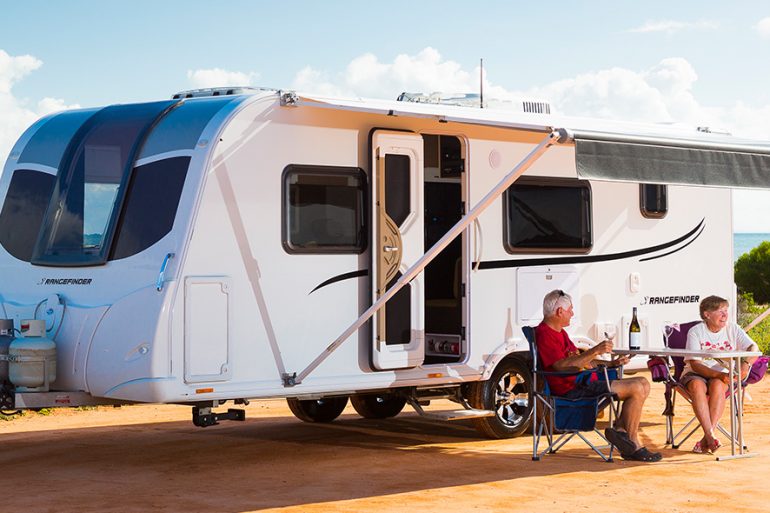 Choose Between Left-Hand Or Right-Hand Hinge
Which direction do you want to open your door? Hinges are either fitted to the left or right-hand side of the door, when looking from the outside.
How do you work out which is best? Think about any obstructions that might get in the way when opening and closing your door.
Pro Tip: Use a left-hand hinged door if installing on the passenger side of the caravan.
Which Shape Door?
All doors are rectangular, right? Wrong! You can choose a curved (aka radius) or square edged design to suit your caravan exterior. The most popular option is for all four corners to be square.
For a more modern look, opt for two radius corners. Or you can go for four radius corners for a super contemporary style, which mirrors the USA trend.
However, when replacing an existing door, you need to choose the same style as the one you're replacing so you don't try to fit a square cornered door into a curved cutout.
Choose Your Door Colour
Consider which colour will best suit your caravan exterior. For the frame, you can generally choose from black or white. Then you can choose door panels in either white, black or silver. Depending on the door model, you may also be able to choose the colour of the vent (black or white).
The combinations are endless! You can have a white door in a black frame with a black vent (like this Milenco Columbia door), or an all black door in a black frame, and so on.

Added Features
Think about any additional features that are important to your caravan. For example, you might want a screen door or added security features, such as locking systems.
For example, the Milenco Columbia caravan door features a heavy-duty safety mesh, which has been tested to resist up to 180J of impact, plus a secure four-point locking system to ensure that intruders are kept out.
The Dometic CaraD door does things a bit differently. It is a sandwich door panel, which includes an aluminium frame and a high security safety mesh screen, with an integrated blind and four point locking system. Everything you could want in a caravan door!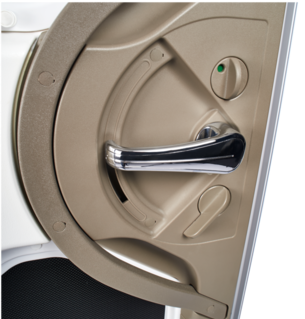 Caravan Doors We Recommend:
Aussie Traveller Caravan DC Door
Australian company Aussie Traveller have a range of caravan doors suitable for almost every type of caravan.
With up to 8 opening sizes you are sure to find a door to suit your existing cutout or new build.
The Aussie Traveller range of doors are made with a high quality powder-coated frame and panel, available in black and white and frame corner options of both square and round.
The sleek high quality doors come with a window, outer door, security door and triple lock system for peace of mind.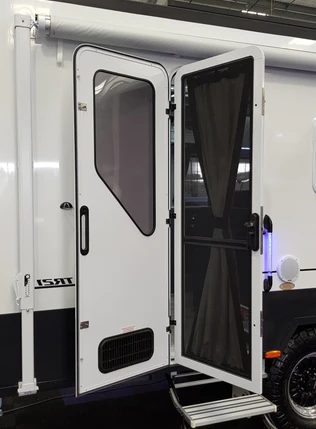 Milenco Columbia
There's a lot to love about the range of Milenco Columbia caravan doors, from the sleek design to the special safety features.
You can choose from right hand and left hand doors, in different sizes with lots of black and white colour combinations.
Top features include the four-point locking system, highly resistant safety mesh and built-in vent for excellent air circulation.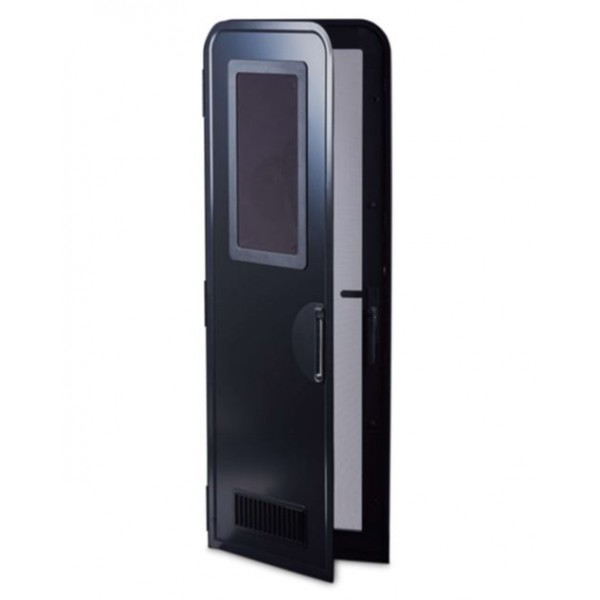 Dometic CaraD
Dometic CaraD doors offer a unique sandwich door design, which boasts all the features you could want in one slick unit. We love the high security safety mesh screen, integrated blind and four point locking system.
The range is also ADR approved for use in motorhomes and buses, which means the doors can be internally secured while the vehicle is moving to provide added safety for young children and passengers.