Solar Buyer's Guide:
Thinking about buying a solar power system? Our Solar Buyers Guide will help you make the right decision.
Powering Your Trip With Caravan or Camping Solar Panels
Benefits of Solar Power:
Solar power for your caravan or RV is a great way to live off grid while travelling. You can generate your own power using the sun's rays.
Here are some of the top benefits of solar power:
Clean Power: Solar panels don't have any emissions, which means you and the environment are benefiting from clean power.

Free Power: Aside from the upfront equipment cost, generating solar power is completely free. There's no need for fuel, as with generators.

No Noise: Solar panels generate energy without making any noise.

Minimal Maintenance: Portable solar power systems are easy to maintain, as they have no moving parts. Simply give them a wipe down on a regular basis.
Drawbacks of Solar Power:
Solar power isn't perfect, though. Here are some cons you should know before you invest:
Weather Dependent: Solar panels rely on the sun to function efficiently. No sun = no power. If you have a few cloudy days in a row, you can easily run out of power.

Limited Use: Solar panels tend to be limited to running low-current appliances. You can only fit a certain number of solar panels on your caravan's roof, which means they're not always enough to run all energy-hungry appliances (such as fridges and air con). You may also need back-up generator.

Delayed Power: Solar power is not immediate. It's not a case of turning on the panels and getting immediate power. You need to wait for solar power.
Solar Power Options:
There are four main options for solar power:
Portable Solar Panels: A great option if you're on a budget and aren't expecting to travel on a regular basis or for extended periods. Solar panels tend to be heavier and bulkier than solar blankets. However, if you're only heading off for a week-long adventure, they can be a convenient option. Discover the best solar panels for camping.
Goal Zero Boulder Solar Panels | Tech Video
Fixed Solar Panels: If you just want to set and forget your solar power, fixed panels are the option for you. The panels are attached to your caravan (usually on the roof), so you can charge your battery while on the road or parked at your campsite. The downside is that solar panels need to be in direct sunlight for the best result, which isn't the best option when parking your van.
Solar Blankets: Solar blankets are like portable solar panels, but much lighter and more compact. As with portable solar panels, you can move the solar blanket to chase the sun – even draping it over your trailer or hanging it from your awning to catch the most rays. They are the most expensive option, but you're paying for better quality, durability and convenience.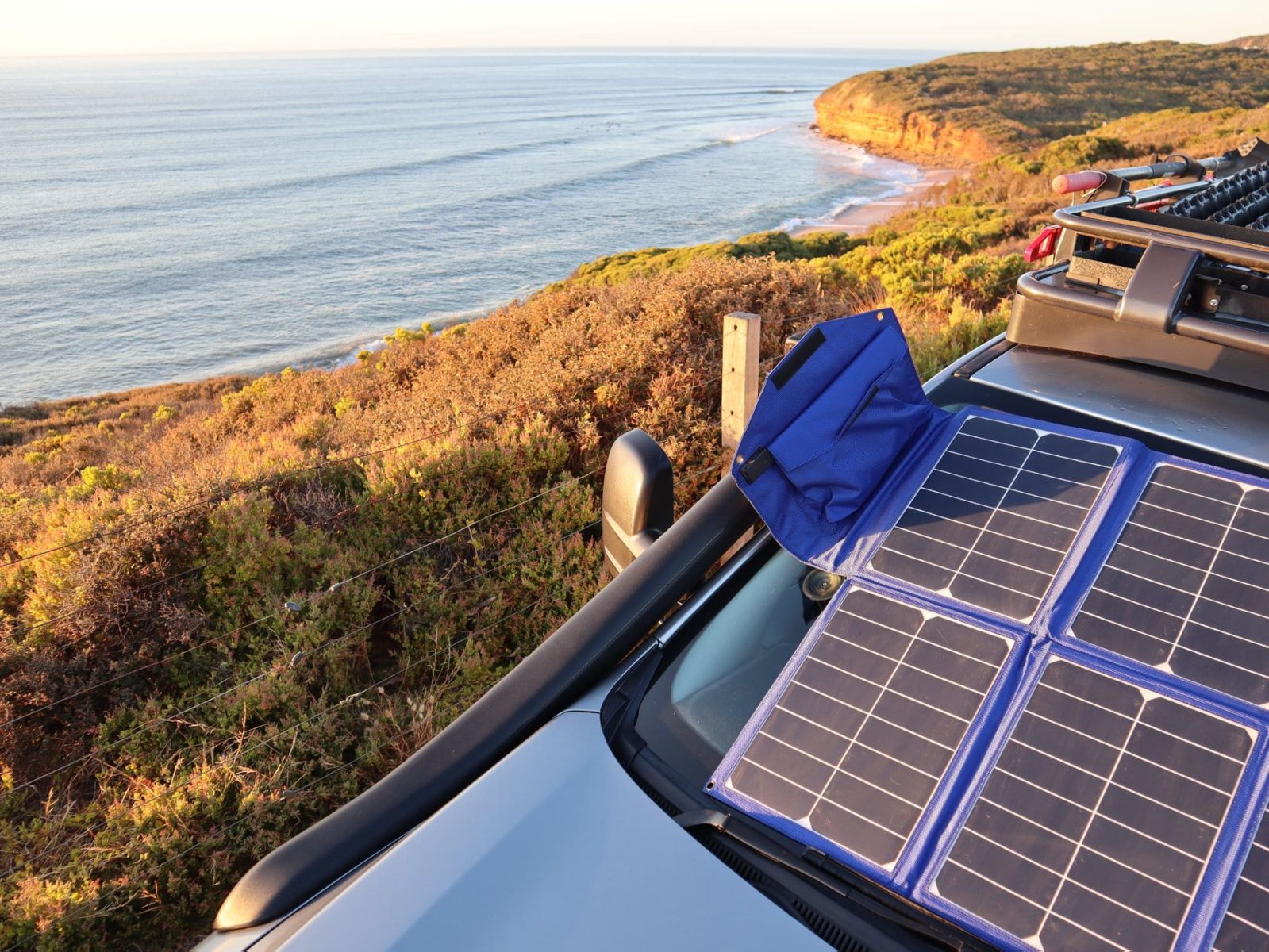 Flexible Solar Panels: Flexible solar panels are your go to if you need to attach your solar to a curved surface such as a boat or curved roof of your van. They are also extremely lighweight and don't require clunky mounting frames or drilling holes into your vehicle. Flexible solar panels are installed by simply taping or sticking the panel to the surface using a double-sided tape or an adhesive (most panels come with the adhesive strips included).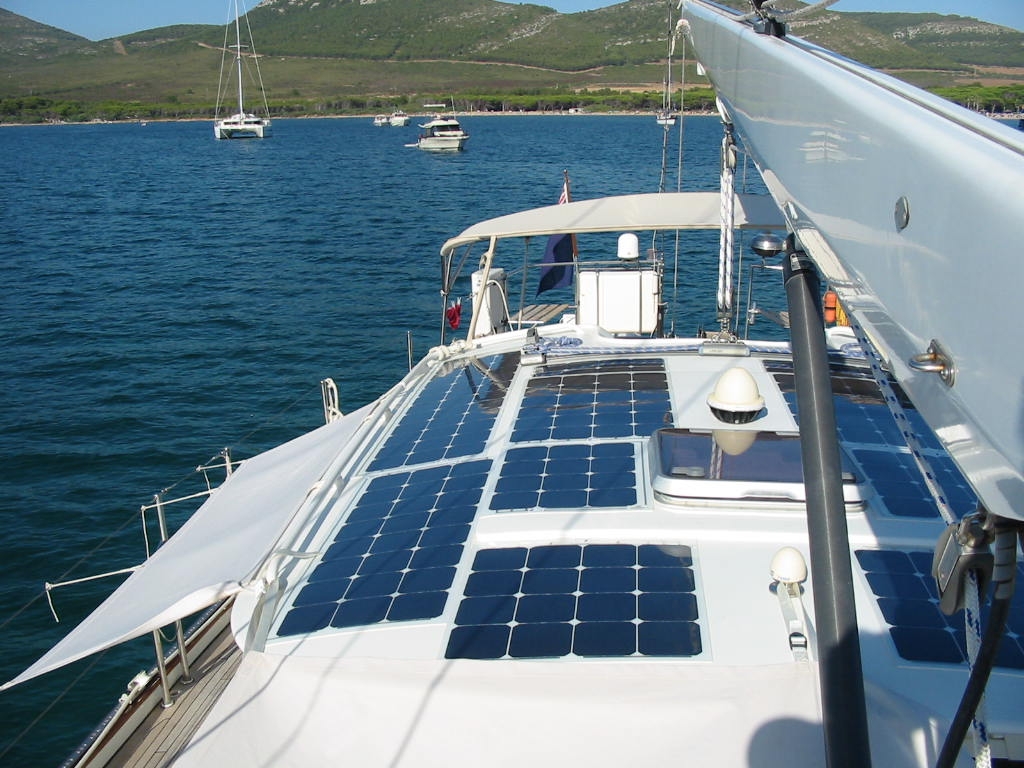 Ready to weigh up your options? Compare solar panels and solar blankets in this article.
Solar Panel Cell Materials:
Solar panels are made up of cells, which can either be monocrystalline, polycrystalline or thin-film solar cells. Depending on how you plan to use your solar panels, each type of solar power cell has its own pros and cons:
Monocrystalline (Single-Crystalline):
Pros:
High efficiency rate, so you can have smaller solar panels without compromising too much on solar power.

Monocrystalline solar panels boast longevity and durability.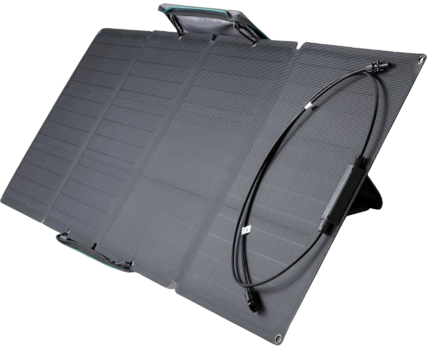 Cons:
Conditions need to be right – they generate the most power at a 90-degree angle to the sun and during perfect weather conditions (i.e. clear, sunny days).

Any shade, dirt or dust covering the panels can cause a break in the circuit.

More expensive than their solar cousins.
Polycrystalline Solar Cells:
Pros:
Can be placed at different angles thanks to their construction using multiple crystals.

Good performers in lower light conditions and warmer climates (great for Aussie road trips).

Less expensive than monocrystalline solar panels and will still last as long.
Cons:
Slight internal losses of energy

Tend to be slightly bigger than their counterparts to make up for internal losses e.g. 180 watts is produced by 1 square of polycrystalline cells vs 190 watts for the same size of monocrystalline cells.
Thin-film Solar Cells (Amorphous):
These are made using a completely different process than crystalline cells. Instead of using blocks of silicon to create cells, the silicon is placed in one or several thin layers onto a surface, which creates the solar panel.
Pros:
Tend to be cheaper to make than crystalline cells.

Solar panels can be attached to almost anything, because the photovoltaic material can be placed on flexible material.

High temperatures, shading and dust have less impact on efficiency.
Cons
Tend to be less efficient than crystalline cells, so you need more solar panels. In some cases, monocrystalline solar cells can produce up to 4 times more power than thin-film solar cells in the same amount of space.
Equipment You Need for Solar Power:
Solar Panel: To capture the suns power.
Solar Regulator: This ensures you avoid over-charging the battery.
Anderson to Anderson Plug Lead: An Anderson Plug is the socket at the end of a 'charge circuit', which allows charge to travel from the panels to the battery. Anderson plugs are usually grey in colour. Ideally you want your cabling to be as short as possible. Voltage drops increases over cable distance.
Alligator Clips to Anderson Plug: Connects the solar panels (or regulator) directly to the battery terminals.
Battery: To store the energy produced by the panels. This stored solar power can be used to power your fridges/appliances at night when there is no sun or on bad weather days.
Brackets: Depending on the style of solar panel you choose you may also need to purchase brackets to fix your panels to your vehicle.
Which Size Solar Power Kit?
Choosing the right solar power kit is important, as it will determine what appliances you can power and for how long. Here's a quick guide:
List the gadgets and appliances you'll be taking on regular trips.

Calculate their daily power usage. Take the total number of amps used by the gadgets per hour and multiply this by the number of hours you plan to use them each day. This is your daily usage.
Next, you need to ensure the battery is the right size. The total power needs of your devices must be less than the total storage of your battery (or batteries).
What Will My Camping Battery Run?
Will you be taking long or short trips?
If you only expect to travel for a couple of days at time, you should be able to manage with a solar panel that does not completely top up your battery each day. You'll probably drain it at about the same time you return home. Then, charge it fully before your next short trip.
If you are planning to travel for an extended time, invest in a solar power kit that will meet or exceed your daily power usage. That way you can be sure your battery is fully charged each day and you won't be left stranded without enough power.
How Much to Spend on Solar Power?
How long is a piece of string?! It depends on the following:
Inclusions: You will pay more for models that include solar regulators and Anderson to Anderson plugs (but these items are also really handy to have in one package).
Solar Option: Will it be a solar blanket or solar panel, fixed or portable?
Cell Material: Certain cells perform better and therefore cost more. For example, monocrystalline are generally more efficient than polycrystalline cells.
My Generator Recommends:
Budget Under $300:
If you want to benefit from solar power but aren't yet ready to shell out the big dollars, the Drivetech 4x4 120W Portable Monocrystalline Solar Blanket is a great place to start. Using monocrystalline cells, the panel is made from six panels. It comes with an MPPT Solar Regulator/Charge Controller and an Anderson plug that can be directly connected to AGM, lead acid, Gel & Calcium batteries. Great value at just $235.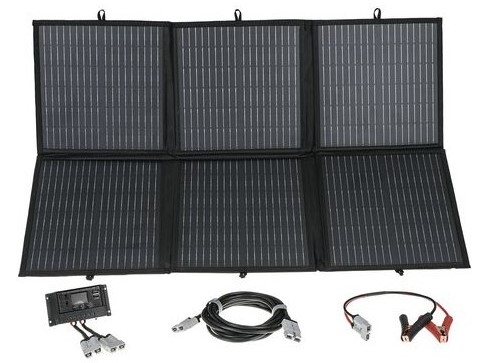 Budget Under $600:
Our pick of the fixed solar panels is the Enerdrive Twin Pack. You get two 180W solar panels (totalling 360W) made by the Australian brand renowned for its quality power solutions for caravans, camping and boating. The panels are easy to install and use. Plus, they come with a 5-year warranty backed by Enerdrive's nationwide service agent support. All this for just $559.

Budget Under $1000:
We love the Baintuff 180w Foldable Solar Blanket for lots of reasons. Not only is it super lightweight and compact, it takes the best of high-yielding monocrystalline Sunpower solar cells for maximum performance. Even in cloudy conditions! Plus, it comes with everything you need to just plug and play, including Anderson plug connection, 5m solar blanket lead and a smart 20amp 12/24v PWM Charge Controller. Okay, at just over $900 it's considerable more than the solar panels above, but you get what you pay for.