Looking to buy a Caravan TV? Start here with our Caravan 12V TV Buyer's Guide:

Types of Caravan TV's:
There are two types of caravan TVs to choose from depending on the power source available in your caravan:
12V

240V (standard mains power)
Whether you're choosing a TV for your caravan, RV or even a boat, it's important to ensure you can use it running off DC power, as you may not always have mains power available. The good news is that many televisions designed for caravans are 12V to allow for this. Some caravan TVs can be used with both 12V and 240V.

What About Smart TV's?
Just like at home, you can also buy a smart TV to browse the internet and stream from your favourite channels through apps like Netflix, YouTube, Stan or Amazon Prime. They will also still pick up the usual free to air channels, so you don't miss out on Home & Away! The 12V caravan TV experts at Englaon have a range of smart TV's that run off 12V power and also include Bluetooth, WiFi and even a DVD player. That covers all your entertainment needs!
With a smart TV, you really do need access to a strong WiFi connection, as well as the usual antenna. That's where it's worth investing in an RV WiFi system, as it's designed to work off the 4G mobile network. Check out the Englaon 24" Full HD Frameless Smart 12V TV.

What About Projectors?
Who said you need to have a television screen inside your caravan? Another option is a camping projector. A camping projector lets you create your very own outdoor cinema wherever you travel. One of the top brands of camping projectors is BenQ. These camping projectors are designed especially for travelling. They are compact and lightweight, run on rechargeable batteries, and have good water and shock/drop resistance. They even double as Bluetooth speakers.
BenQ has two popular models: the mini portable video projector which comes with in-built Wi-Fi connectivity, or the GS50 model featuring 1080p resolution for big screen movies.

Caravan TV Sizes:
Like your TV at home, 12V caravan TV's come in a range of sizes to meet your needs and budget. The best size for you depends on the space available in your caravan or RV. Choose sizes from a compact 18.5" up to 32". The most popular size in our store is 24" - which is somewhere in the middle! The great thing is that 12V Caravan TVs are designed to be compact and thin, so they easily fit into smaller spaces.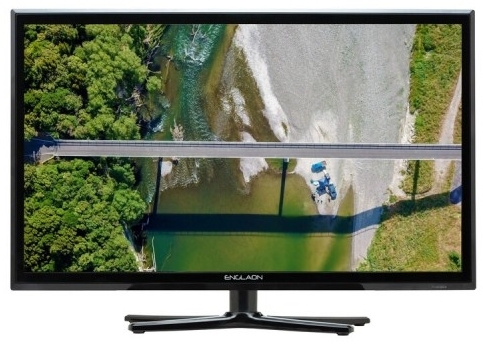 Englaon 24" Full HD Smart 12V TV Android 9.0 with built in DVD player & Chromecast
Features To Consider:
We've already talked about Smart TVs, and there are lots more features to consider when choosing the right Caravan 12V TV for your RV or caravan.
Here are a few to consider for your entertainment:
WiFi

Chromecast – This is technology that lets you stream your favourite entertainment and apps from your phone, tablet or laptop right to your TV.

DVD player – If you can't stream your favourite movies, go old school with a DVD player!

USB multimedia playback – Use a USB dongle to play your movies and other entertainment on your TV.

Quick tune buttons for easy tuning – Don't waste time tuning your TV every time you get to a new destination. Use the quick tune buttons.

Low RV battery warning – No need to panic about running your battery low and missing the end of the movie.

Bluetooth functionality for speakers – Why not add on extra speakers for surround sound in your caravan?

Headphone outputs – Don't disturb your fellow travellers, listen to your favourite shows with headphones.

PVR for pausing live TV -- No need to miss a second of your favourite shows with this pause function.

Backlit remote – Switch off the lights and enjoy the ambience, and still find the right remote buttons!
Installation:
Consider how you will install your Caravan 12V TV. Options include mounting it on the wall, or buying a stand. It all depends on the space available and your TV size. Check the specification of the TV model to help you work out what's right for your caravan.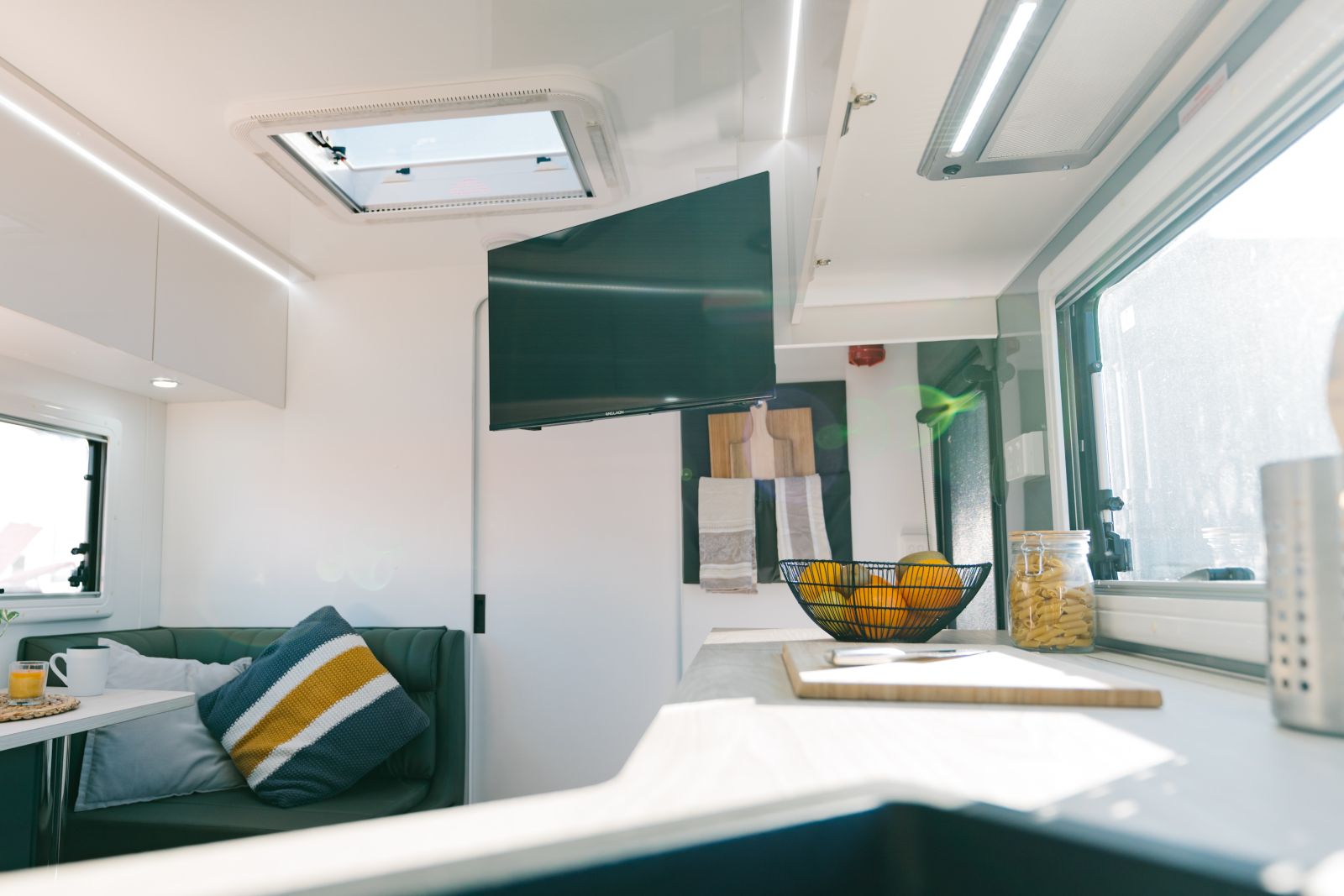 Accessories:
Depending on the type of TV and the installation method, there are a few extra accessories you may need:
WiFi System – For a smart TV, you need a reliable WiFi system, like RV WiFi.
Antenna – Most models come with a built-in antenna, but some require an add-on accessory. Be sure to check before you buy.

240V Power Adaptor & Lead – Check whether you need to buy this as an extra accessory.

Stand or Wall Mount Kit – Depending on the model and how you want to install your TV, you may want to buy a stand or mounting kit.
Comparing TV Brands:
Here at My Generator, we stock three caravan TV brands:

When you buy Englaon, you know you are getting a TV made for caravanners. All models come with a built-in HD tuner, so you can access free-to-air channels, and there's still the option to buy a separate antenna if you're travelling into very remote areas. Their Smart TVs also mean you watch Netflix, YouTube, Spotify and other apps on your TV, when connected to WiFi.
Englaon offers a wide range of sizes, from compact 22" models to a variety of 24" TVs and larger 32". Whichever you choose, Englaon TVs are lightweight compared to equivalent sizes by other brands – the Englaon 24" Smart TV weighs just 3kg. They also boast low power consumption and exceptional durability, thanks to a built-in 10-30V surge protector and vibration resistance.

RV Media by Camec is another tried and trusted name in the Australian RV industry. They've offered quality TV DVD combos for years, and were the first to extend their range to include a 12V Smart TV. The Evolution range is a great pick for caravanners with an inbuilt DVD player, long range HD digital tuner, PVR and USB media playback. There's also a low voltage warning to protect against potential damage.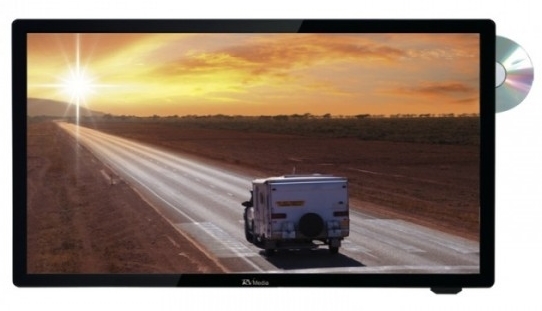 RV Media Evolution 19inch LEF HD TV/DVD/PVR, 12/24 V

Sphere TVs are made by Coast to Coast RV and are a popular brand for caravanners and RV manufacturers. They sell a wide range of models, which are designed to withstand the demands of travel while being easy to use. Top features of the models include built-in DVD players, auto-tuning, USB multimedia playback, PVR, stand and 240V adaptor.

Need further assistance? Give one of our product experts a call on 1300 400 122.
Ready to purchase? Shop our full range of Caravan TV's HERE.