Thinking of buying an ultra-reliable inverter generator for camping, caravanning or around the home? Chances are you're torn between the two most popular inverter generators on the market: the brand new Yamaha EF2200iS and the Honda EU2200i.
Who can blame you? When it comes to portable inverter generators, Yamaha and Honda are streets ahead with their ultra-durable, reliable units. But which one do you choose?
We pitted the EF2200iS vs EU2200i in a battle of the generators.
(If you're after something a bit smaller check out our comparison of the Yamaha EF1000iS and Honda EU10i. If you want something bigger, here's how the Yamaha EF6300iSE stacked up against the Honda EU65iS / Honda EU70iS)

Let's delve into the features and specs:
Clean Power:
-
Both the Yamaha and Honda offer 2200W maximum output and 1800W continuous output. The great thing about these generators is that they both feature inverter technology, meaning you can safely run sensitive electronics such as laptops, camera equipment, phones and power tools.
Yamaha offers a TwinTech Parallel Kit so you can hook up two EF2200iS units for almost double the power output, with the same voltage and frequency of a single unit. You can do the same with two Honda generators with an optional cable to get up to 4400 watts of power.
-
Weighing Up:
-
When it comes to dry weight, the Yamaha 2200W generator comes in at 25.04kg compared to the Honda's 21.10kg. To be fair, anything under 25kg is a pretty lightweight and compact for powerful generators like these.
The Yamaha model comes with a clever tri-handle design (a handle at the top and on each side), so it's easy to share the load while moving the generator from place to place.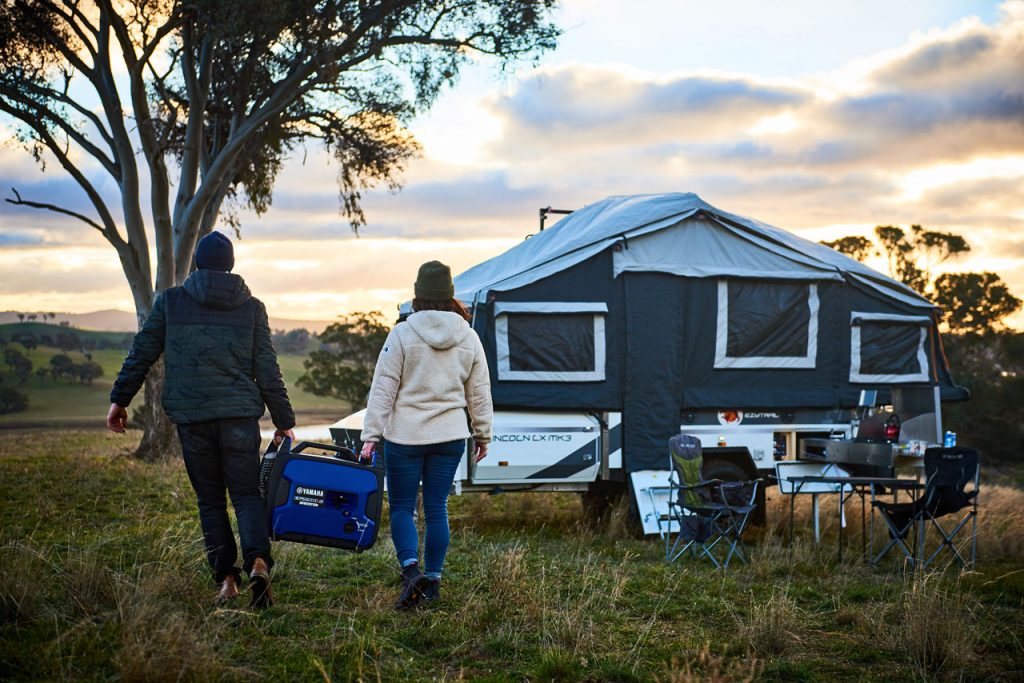 While the Honda is lighter, it only has a single carrying handle, making it difficult for two people to share the load.

Quiet Please:
-
The Yamaha operates at a quiet 57 to 65dBA which is quieter than a normal conversation - perfect for blending into the background.
The challenge here is that Honda uses a different measurement to rate the Honda EU2200iS Generator, so we can't easily compare the volume. But we can tell you it's rated at LwA 90dB(A), which they promise is "whisper quiet".
-
Fuel Efficiency:
-
Both generators run off standard unleaded petrol. But here's where we separate the best from the rest: the Yamaha EF2200iS runs for an impressive 10.5 hours at ¼ load, thanks to a fuel tank capacity of 4.7 litres. By comparison, the Honda runs for 8.1 hours at ¼ load and has a fuel tank capacity of just 3.6 litres. That's a whole two hours extra run time you get with the Yamaha.
-
The Yamaha has a Smart Throttle which allows the computer to regulate the engine RPM to match the load for better fuel efficiency (and quieter operation). We also love the fuel drain switch which lets you drain fuel from Yamaha generator before storing it. Handy!
The Honda also offers an economy mode thanks to its Eco-Throttle System.

Control Panel:
-
Both generators offer the usual circuit breakers and LED indicator lights for run, overload, and low oil. But one feature we really rate on the Yamaha EF2200iS is the multi-function LED indicator with a night running light, so you can still see the control panel in the dark.
It also has a digital load meter and fuel gauge, so you can check your power usage and fuel levels at a glance. You DON'T get these with the Honda EU2200i.
-
Added Extras:
-
The Yamaha offers a handy boost feature to give you extra power when you need it. Yamaha also features a reset button so there's no need to restart the generator when you overload it - score!
Warranty:
-
Both the Yamaha and Honda generators come with a generous 4-year limited warranty, backed by a huge service and spare parts network.

Price:
-
Let's be frank, neither of these models are going to be cheap. But then, you are paying for the innovation and reliability that comes from top manufacturers like Honda and Yamaha.
Yamaha RRP is $2299
Honda RRP is $2099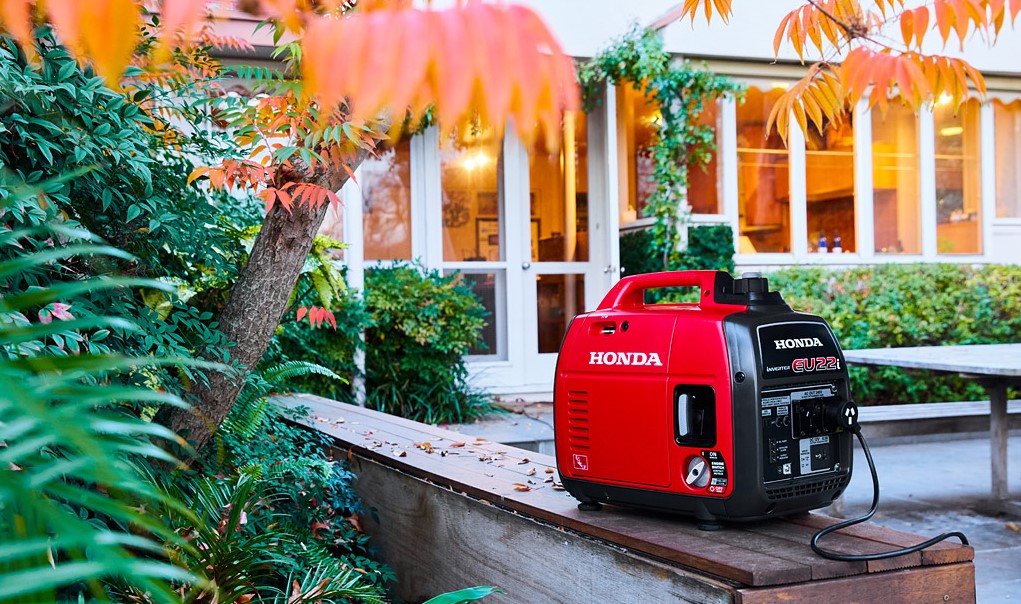 -
Verdict: EF2200iS vs EU2200i
-
So when you compare EF2200iS vs EU2200i, who's the winner? Looking at the specs, the new Yamaha EF2200iS has the edge over the Honda for a few reasons:
Better handles for easier transportation
More advanced user controls
Boost feature
Longer run-time by 2+hours
Even though the Honda is marginally lighter and quieter, these differences makes the Yamaha EF2200iS our number one choice.
-
Yamaha EF2200iS vs. Honda EU2200i Comparison Table:
| | | |
| --- | --- | --- |
| | Yamaha EF2200iS | Honda EU2200i |
| Maximum Output | 2200 Watts | 2200 Watts |
| Rated (Continuous Output) | 1800 Watts | 1800 Watts |
| Operating Hours (1/4 Load) | 10.5 Hours | 8.1 Hours |
| Fuel Tank Capacity | 4.7 Litres | 3.6 Litres |
| Size (L x W x H) | 555 x 300 x 470 mm | 511 x 290 x 425 mm |
| Dry Weight | 25 kg | 21 kg |
| Noise Level | 57~65dBA | LwA 91dB(A) |
| Starting System | Recoil | Recoil |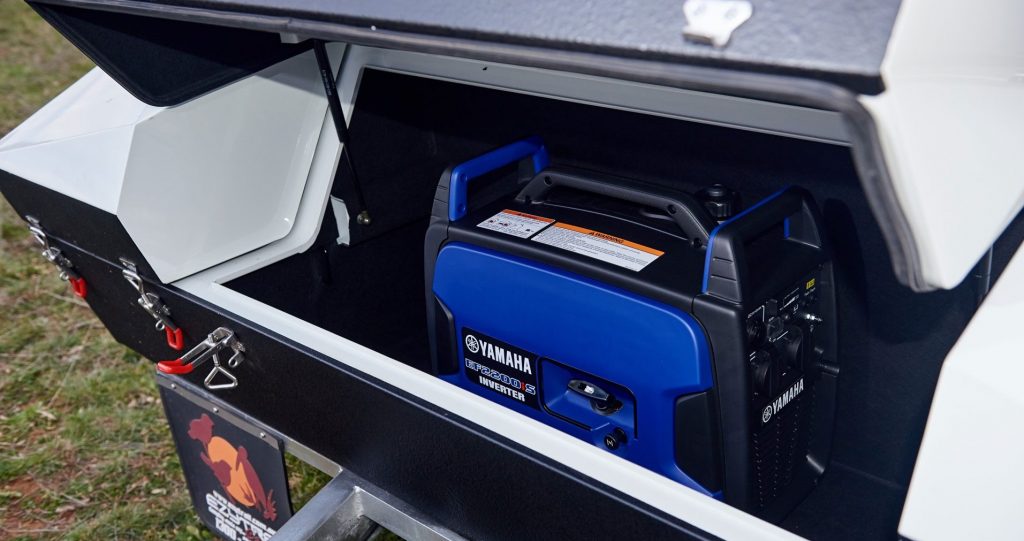 Still need help choosing an Inverter Generator to suit your needs? One of our generator experts is more than happy to assist - simply give us a call on 1300 400 122!
-
DISCLAIMER* Please note, this advice is general in nature and we strongly recommend consulting the product manual and where relevant, a professional installer.