Back in 1973, when Yamaha first started producing generators, nobody could have imagined that 50 years on they would be building gensets that make manufacturers like Honda quake in their boots.
Yamaha is recognised as one of the biggest names in generators today. If you're looking for portable generators for camping/caravanning, they've got it. Rugged, powerful workhorses for the jobsite? Reliable, hassle-free companions for your mobile business? They've got it. The fact is, Yamaha designs and manufactures such a wide range of portable generators suitable for so many different applications. And they make it look easy.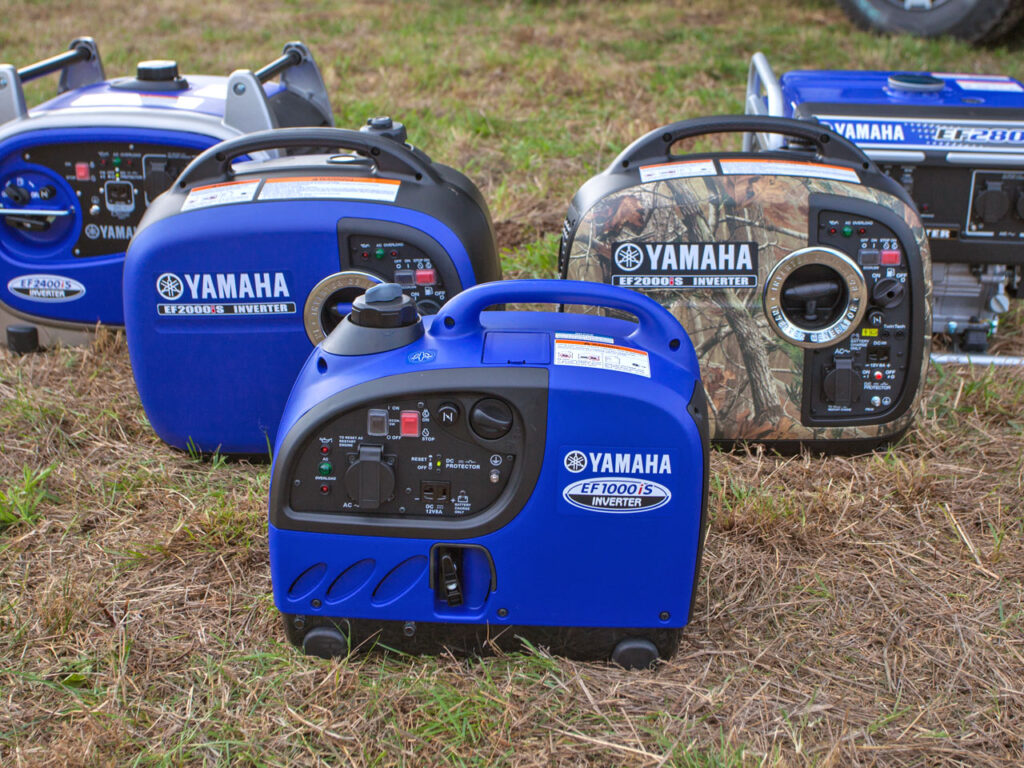 -
So what is it about Yamaha Generators that makes them exceptional?
Worldwide Experience and Motoring Experts
Over 50 years of worldwide experience puts Yamaha on a different playing field to most manufacturers. In fact, the Yamaha innovators don't just meet the benchmark when it comes to designing, testing and manufacturing engines for generators; they set it.
When you think about it, we shouldn't be surprised that Yamaha generators are amongst the best on the market. After all, their engines lead the way for motorcycles, all-terrain vehicles, wave runners and golf cars. It's from these exciting fields that Yamaha can feed expertise and ideas into all its product lines, including generators.
Yamaha Inverter Generator
This piece of kit alone is enough to put Yamaha at the top of the list. Yamaha's portable range of 4-stroke petrol powered inverter generators tick all the boxes for clean, high quality, light-weight package. They're not only safe to use and easy to transport, they provide reliable power for almost any job - whether that be four-wheel-driving, fishing, DIY with sensitive power tools or backup power during a blackout.
Super Quiet Power
True, most generator manufacturers will boast about their whisper quiet performance. But with Yamaha, it's the real deal. The proof is in Noise Block - Yamaha's acoustically engineered sound reduction system. This advanced technology comprises various sound absorbing materials, moulded cases, an intake silencer, fibre glass insulation, plus uniquely designed mufflers and fans. Together, this delivers virtually silent running without compromising on the performance of the generator. This technology is included as standard in the latest range of Yamaha portable generators, without busting your budget.
Serious Power
Yamaha generators aren't only for campers or recreation. Check out the powerful range of Yamaha generators for sale to jobsites too. These robust generators combine the best in Yamaha's engineering with a long-range fuel tank, safety features and brushless alternator to provide power you can count on when the job relies on it. We've got customers who run their mobile food businesses or coffee vans on the Yamaha 6300W inverter generator every day and have been doing so for over two years straight!
Double Up
We won't deny we're fans of big power, which is why it's hard to go past the TwinTech function on Yamaha generators. Also known as the parallel use function, TwinTech lets you hook up two generators of the same specification to enjoy almost double the power output. Give it a try with the Yamaha EF2000iS and EF24000iS - you won't go back!
When it comes to the crunch, you can't go wrong with a Yamaha generator - they simply are the best in the business. And with Yamaha continuously raising the bar, the benefits to generator users in Australia will only get bigger and better. So watch this space!
For more information and to explore the benefits of Yamaha generators, check out the range at My Generator. You can also refer to the following Yamaha Generator Selection Chart to see which Yamaha model best suits your application requirements:
-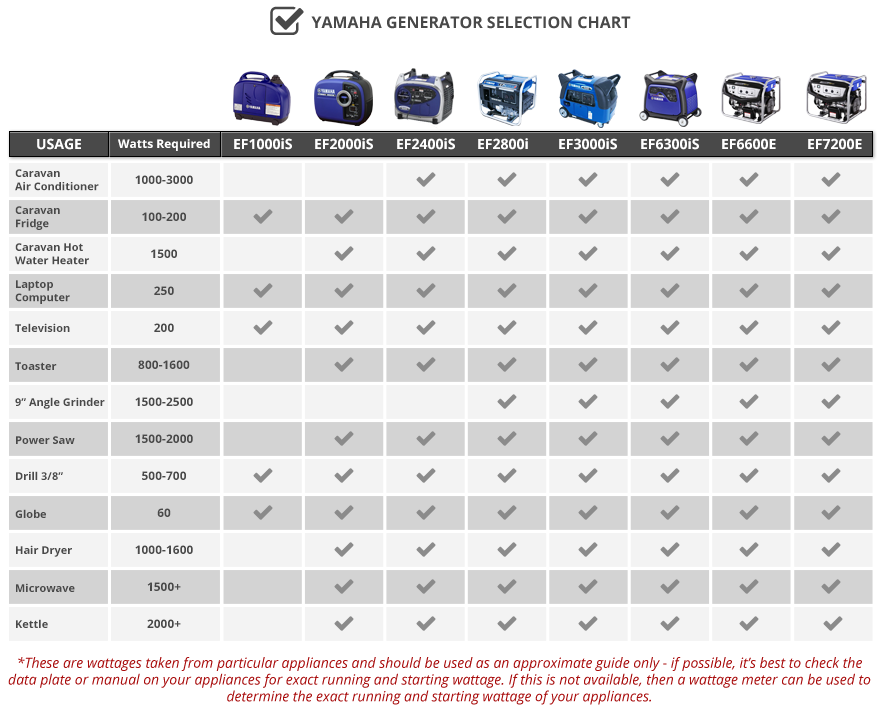 DISCLAIMER* Please note, this advice is general in nature and we strongly recommend consulting the product manual and where relevant, a professional installer.