If you're planning a caravan trip that involves free stay camping, then chances are you'll need some power to run your appliances (caravan generator). Many caravan owners will pack a portable generator as an option to charge their deep cycle batteries, or to run those appliances that generally require a bit more power such as caravan air-conditioning units, washing machines, microwaves, kettles, hair dryers and the like.
2020 update note: this content still holds true today with the main FAQ's relating to Caravan Generator selection being answered in this article. The main update being that some more generator models have been released in recent years which can be seen in this link here: GENERATORS FOR CARAVANS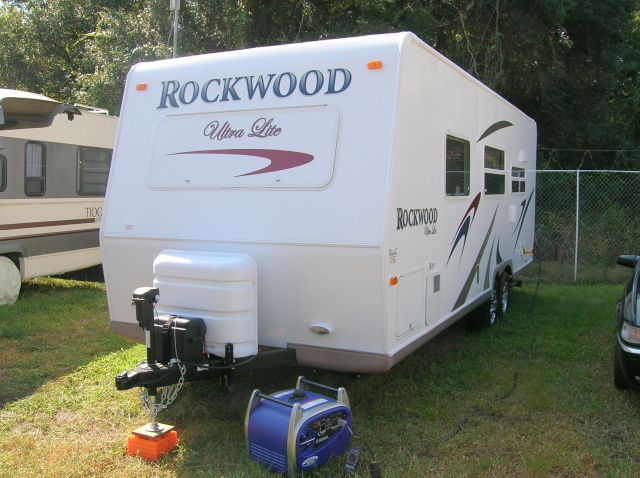 Our team of generator experts sell portable generators for caravans to customers every day from all over Australia. So here, we have compiled responses to the most commonly asked questions by customers wanting a generator for their caravan. If you're in the market for a caravan generator, then the below will likely help you make the best choice for your upcoming trip:
Selecting A Generator For Your Caravan:
-
1. What Size Generator Do I Need to Run My Caravan A/C Unit?
If you need to run a caravan or motorhome A/C unit, the most popular caravan generator models are typically between 2000 - 3000 watts. However, every A/C unit is different, manufacturers are reluctant to supply accurate power ratings. An Air conditioner has two power ratings first being "cooling capacity" rated in kilowatts. This describes the air conditioners output and should not be used to size a generator.
The power rating second is the current draw, which is rated in amps and does give a general guide to a generator size required.
There are two types of air conditioners on the market, the first, most popular and modern air conditioner styles are the inverter powered models. This includes the likes of the Dometic IBIS MK4 and the Dometic Harrier Lite. These air conditioners have very low startup current and can be run with a minimum 2000W high quality generator.
The second style is are the traditional non-inverter technology models. These tend to have a higher startup current and therefore require a larger generator in some cases.
Through our extensive market research we have put table below that will cover almost every air conditioner model from Australia: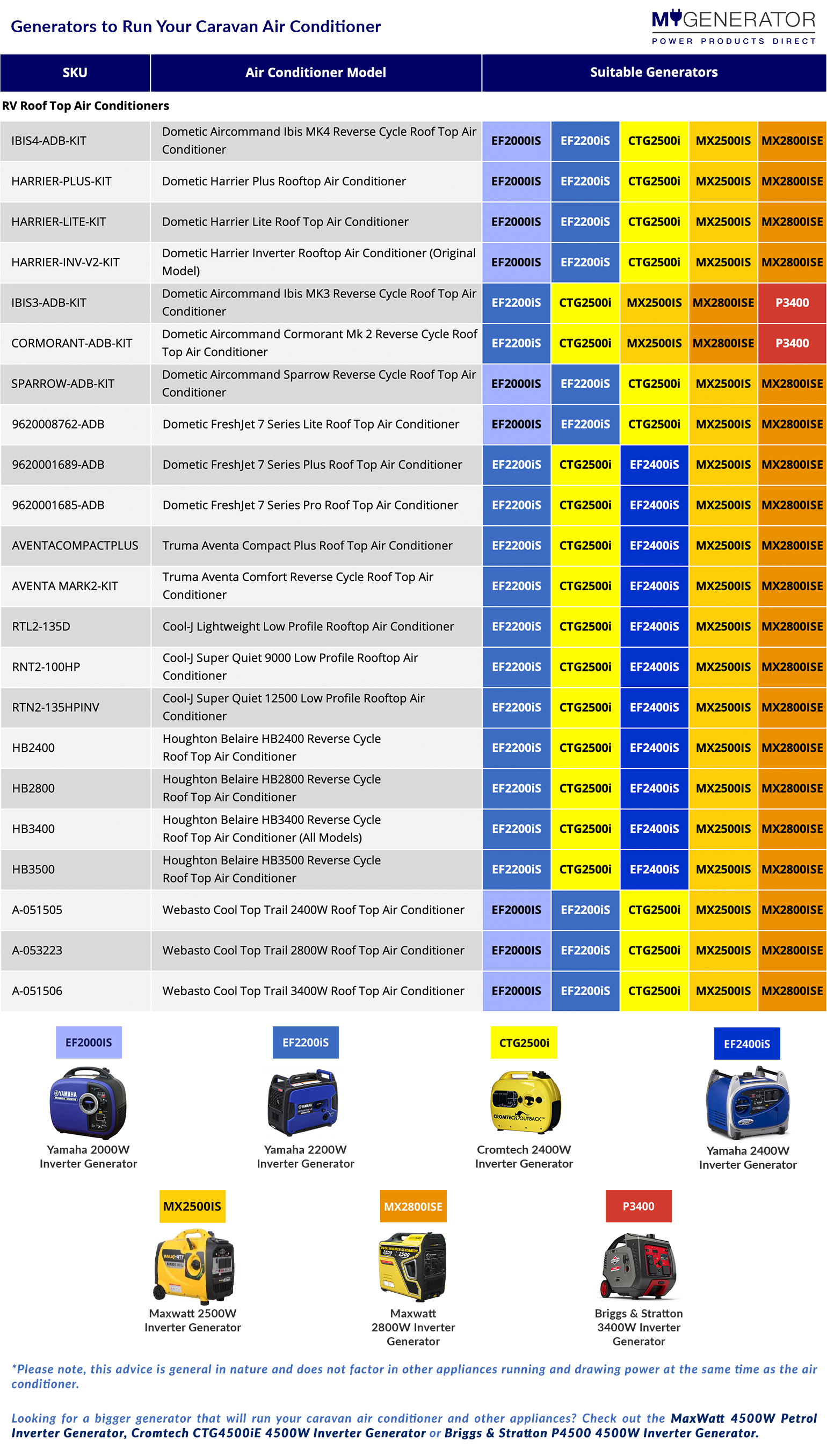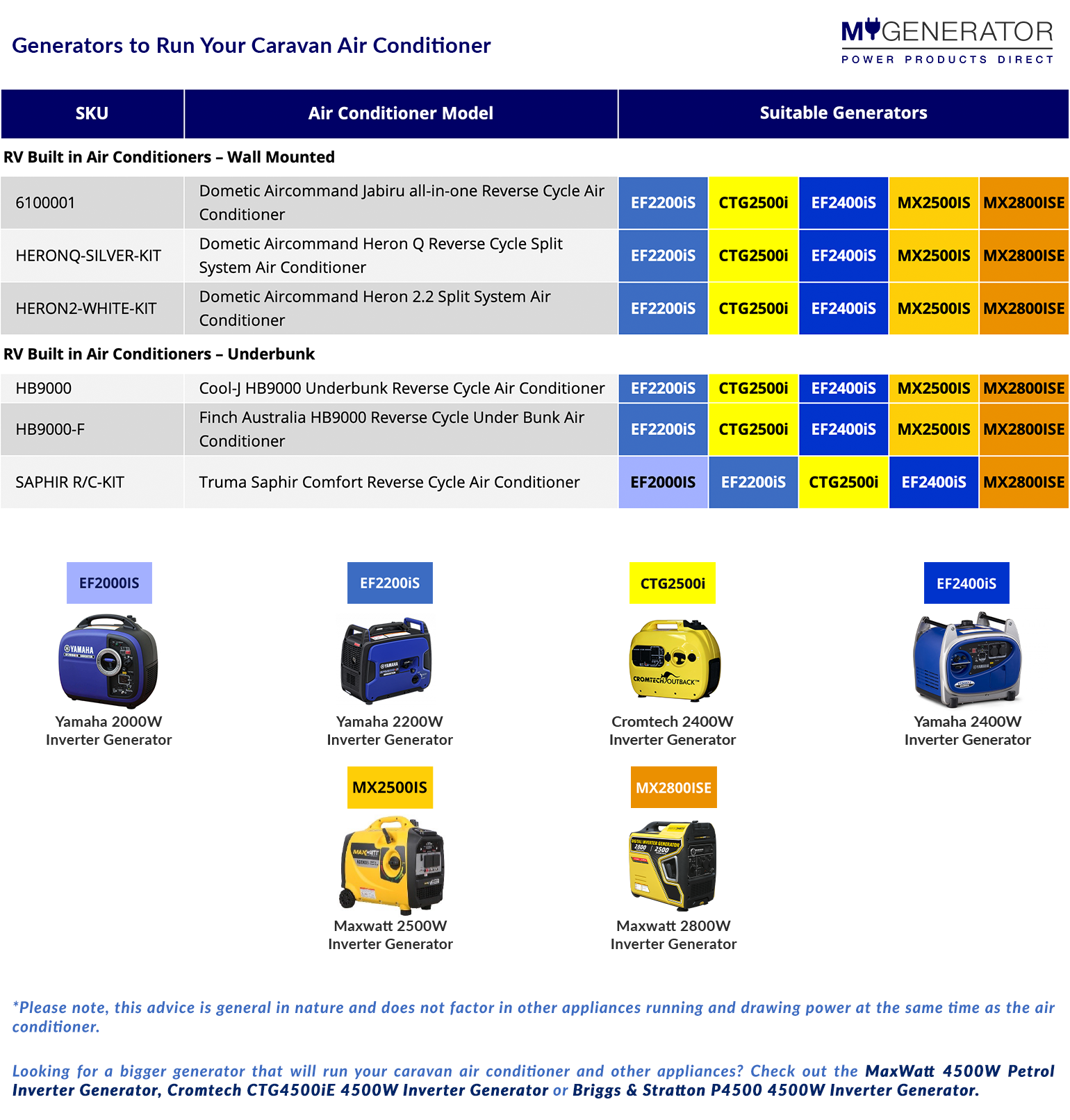 Please note: if you want to run other appliances at the same time as the A/C, you need to find out all the running power watts for your other appliances too (e.g. fridge, computer, TV, lights etc.), then add that total to the A/C start up power wattage amount to determine what caravan generator size you need. Check out our buyer's guide to generators for a step-by-step example to help you select the right sized generator for your specific uses. Also see our dedicated blog post to running a caravan air conditioner from a generator.
-
2. Can You Recommend The Best Generator For A Caravan Trip?
No doubt about it, the number one caravan generator is the Yamaha EF2200IS. Why? Because it's ultra quiet for its power output (around 57 decibels at quarter load) and extremely fuel efficient - you'll get around 10.5 hours of run-time at around quarter load.
The reason the Yamaha EF2200IS is the most popular model of caravan generator is largely because it can run all caravan A/C units in the table above. This generator has a unique boost feature which when activated allows you to run appliances with a high startup current for a short amount of time just to get them started. Maintenance is also a breeze with the tool-less entry for servicing. The carburetor drain cock is accessible from the outside of the unit and allows you to store the generator without fuel which is crucial best practice for generator storage. It is also very lightweight at 25kg with two solid carry handles.
That said, some people will opt for a 3400W generator which has more power if required. In any case, to be 100% sure you get the right caravan generator size for your appliances, you can refer to our buyer's guide. You may be able to use a smaller unit such as the Dometic PGE121 2100W Inverter Generator which is often the choice for customers that purchased a Dometic inverter style air conditioner.
Another unit worth considering is the new Cromtech Outback 2400w generator (more on this below). All of these generator models are inverter generators, meaning they are suitable to run all your other sensitive electronic appliances like TV's, laptops, mobile phones etc.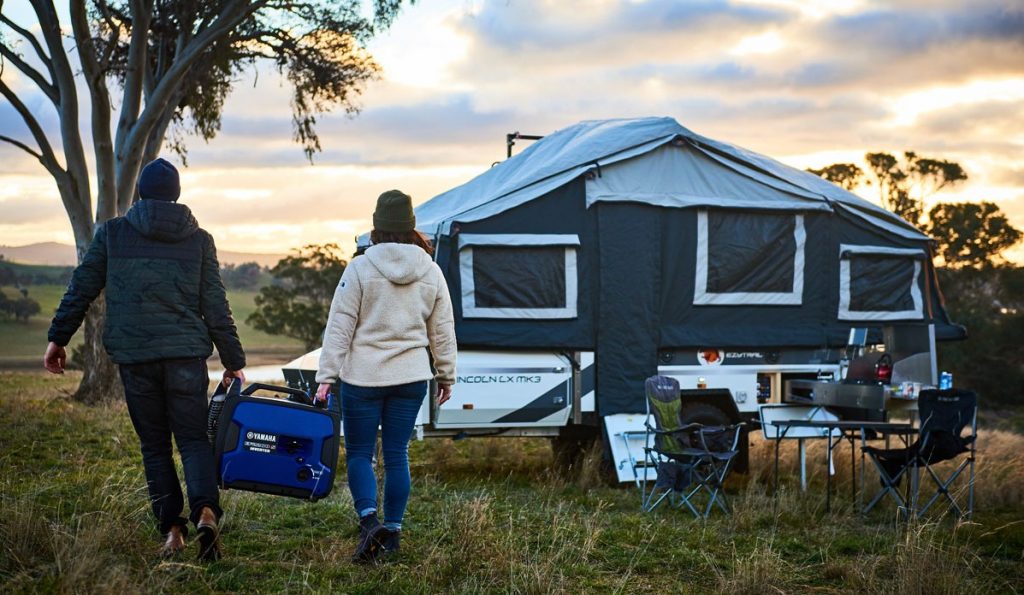 If you are looking for a built-in generator mounted externally to your vehicle which can be turned on inside your van, then you can't go past the Dometic TEC29 Built-In 2900w Inverter Generator - once installed, this unit is easily controlled remotely from inside the vehicle via the wall-mounted digital control panel and also has high operating safety with integrated alarm functions, service reminders, running hours and kilowatt output on the digital display panel.
If you only require a generator on your caravan trip to top up your deep cycle batteries and not to run larger appliances (such as an air conditioner, microwave, kettles etc.), then you can consider a smaller option such as the Yamaha EF1000iS. This model is definitely the most popular for charging your battery packs (often used in conjunction with your solar set up) - its extremely lightweight at less than 13 kilos and is the quietest generator on the market. Just remember it is recommended to use a battery charger between the AC outlet of your generator and your batteries - that way, the power charge is correctly regulated. If you want to run a few more small appliances as well (lights 12 volt fridge, TV, smart phone/tablet etc.), then the Yamaha EF2000iS is worth your consideration.
-
3. We are interested in a generator for our caravan - what can you tell me about the Chinese brands? Are they just all the same and should they be avoided?
In many areas, Chinese manufacturing has come a long way. Even some premium brands are using parts manufactured in China and Taiwan these days. However, not all Chinese generators are made equal - some are more reliable than others. Cromtech is one such brand. Manufactured in China and backed by Australian manufacturer Crommelins, Cromtech generators are getting a good reputation for certain types of uses. There are two things we especially like about them:
Firstly, they actually deliver the power output as stated (e.g. many Chinese brands on eBay claim to produce 4000 watts, when they actually struggle to put out 3000 watts!)

Secondly, they come with a one-year warranty which is backed by Crommelins' award-winning service network in Australia. Most Chinese budget generators are not backed by national service networks.
Our most popular Cromtech generator for caravans is the Cromtech 2400w Inverter Generator. It produces a peak of 2400 watts, is super quiet and a 5-litre fuel tank for 6 hours continuous run-time.
When it comes to choosing between a 'value for money' brand (like Cromtech or Maxwatt) or a premium brand (like Yamaha and Briggs), there are a few important questions to ask before you buy... Essentially, Cromtech is a good value for money option if you only need the generator for occasional or 'just in case' use. If you will be using your generator more frequently, intend to go on extended remote trips or use your genset for more than just caravanning, then it makes sense to opt for a premium brand; designed for more intensive use and they come with longer warranties - you can justify the higher spend with the higher usage!
-
4. Do you think a generator cover is necessary to maintain the unit in the best condition? Most of the time we would have the generator stored within our caravan.
Generator covers are designed to protect those generators stored in a garage or shed from dust. The cover should never to be used when the unit is operating and they are not weatherproof. If your generator will be stored in a small caravan storage enclosure, a cover is not essential.
Here's a quick tip: if your generator is on the ground, always sit it on a board when running. This prevents the ground dirt and dust being sucked into the machine.
-
5. Do I Need A Generator For My Caravan or Can I Just Use A Solar Power Set Up? We Plan To Be Free Camping, Not Using Power From Caravan Parks.
It all comes down to what appliances you intend to run and how much power they require. Some people get by on solar power alone. Others may own a generator as a backup just in case the sun isn't shining for a while. While some like to run appliances, such as air-conditioning units or some coffee makers, washing machines, kettles, microwaves etc. - all of these types of appliances can require more power. More often than not, solar power isn't enough for these types of appliances and you'll need generator power (especially to start them up).
To determine the power required to run your appliances, start by checking both the starting and running wattage of each appliance. This can be found in the product manual, on the product data plate or from the manufacturer of that product. Once you know the power required, you can determine whether your solar set-up will be enough or if you also need a generator. If you decide you need a generator, check out our step-by-step buyers' guide to make sure you get the right one to run your particular appliances.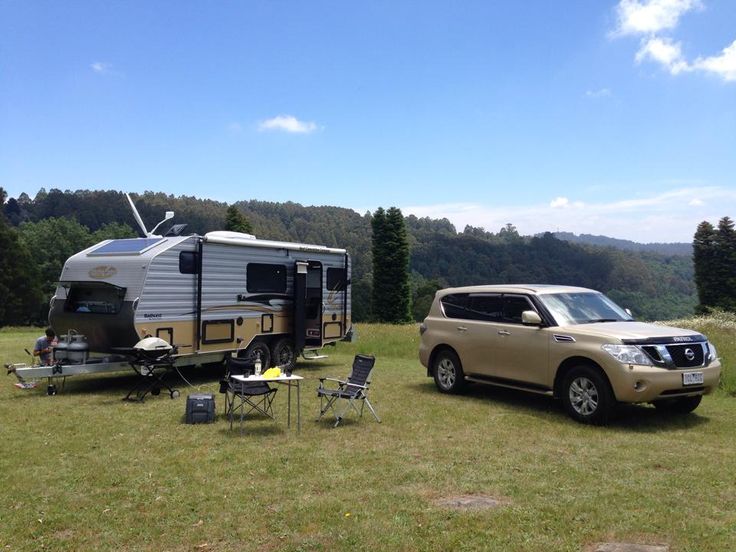 -
6. Any other advice regarding selecting a generator for a caravan?
Just be weary that with any generator, there are some external factors that will slightly affect it's performance. The most common one is temperature - running a generator in hot weather (over 30 degrees celsius) will slightly de-rate the generator's power output. As a rule of thumb, for every 5 degrees in temperature above 25°C, the generator's capacity will be reduced by around 10%.
Another factor that can slightly reduce the power capacity of a generator is extension leads. The longer the lead from the appliances to the generator, the more the power will be affected, noting that anything over 3-4 metres will slightly de-rate the power of the generator.
Also just be conscious of additional demands that you may be unintentionally placing on the generator when running a particular appliance. For example, we often speak to customers who are trying to run their caravan air-con but having trouble as power is also being drawn to charge their battery system. Once they isolate the power to run just the air-con only, then the generator runs it with no problems.
So just keep the above in mind when selecting your generator size for your caravan. You might need to make sure you have a bit of extra generator power up your sleeve for your caravan trip. This is often why the Yamaha EF2400iS is the best choice - for many caravan sets ups requiring air-conditioning and other appliances, you'll need the power that this generator model produces.
-
More Info:
For more information on caravan generator recommendations, you can read the following article which our experts pick the best models:
-
Any other questions?: You can contact us directly at mygenerator.com.au or on 1300 400 122!
--
DISCLAIMER* Please note, this advice is general in nature and we strongly recommend consulting the product manual and where relevant, a professional installer.