Most caravanners fall into one of two camps: those who don't want the distraction of the internet while travelling versus those who want to stay connected.
The fact is even if you want to get away from social media and the outside world, there are still lots of benefits to staying connected while travelling in remote areas.
It could get you out of a sticky situation, and even save your life (not to mention give you access to your favourite movies and TV shows!)
The big dilemma is how do you stay connected when travelling off-grid?
The answer is RV WiFi.
RV WiFi routers are developed specifically for the Australian RV community. You install the router (base unit) inside the caravan and an antenna on the roof. The base unit creates a hot spot that allows you to use multiple devices at the one time. It also works while you're on the move or towing your van.
Here We Answer Your Questions About RV WiFi:
-
Q. How Much Does RV WiFi Cost?
A. You only pay for the initial RV WiFi router and then only the time you're using the caravan. You can choose your own provider to access the internet, which gives the best price options to fit your budget.
-
Q. Is It Easy To Set Up?
A. Yes! Even for the tech-phobes, an RV Wifi system is easy to install and get started. The router is installed somewhere inside the van. Simply plug it in using the 12V outlet. Then you can attach an external antenna to the caravan roof or you can screw flexible antennas into the router. Next, insert the SIM card by your chosen provider, set up your devices and connect them to the internet.
-
Our tip? The external antenna gives better reception. You can purchase the RV Wifi - Portable Caravan Wifi+4GX bundle with High Gain Antenna to save some $$!
-
Q. Which Devices Can I Connect?
A. Having and RV WiFi in the van will allow you to connect the same devices that you would to your inhome WiFi router i.e mobile phone and computer.
However another thing to consider is your caravan TV. Most traditional 12V caravan TV's will not have an inbuilt WiFi receiver. However, we recommend looking for a modern caravan TV that lists "built-in WiFi" as one of it's features. This way you can connect to your favourite streaming service and stay up to date with the latest episodes! We highly recommend the Englaon TV range.
-
Q. How Good Is The WiFi Connection?
A. It depends where you're travelling. RV Wi-Fi is designed to help you get a better connection, so you enjoy faster and stronger internet. You should enjoy constant Wi-Fi service with a good operating zone around the caravan and even on the move. Of course, if you travel into areas where there's no 3G, 4G or 5G mobile reception, you won't be able to access the internet. But that requires you to go far off the beaten track.
-
Q. Does The Router Need Power?
A. Yes, you need to power your RV WiFi router with your caravan power system. The RV WiFi system only needs 12V power.
-
Q. Which RV Wifi Router Should I Buy?
A. There are a few very good options to choose from, depending on the features you want.
Our top pick is the new RV WiFi +5G Portable Caravan WiFi. This model features a 12V power connection, is not locked into any provider and has unlimited user capabilities!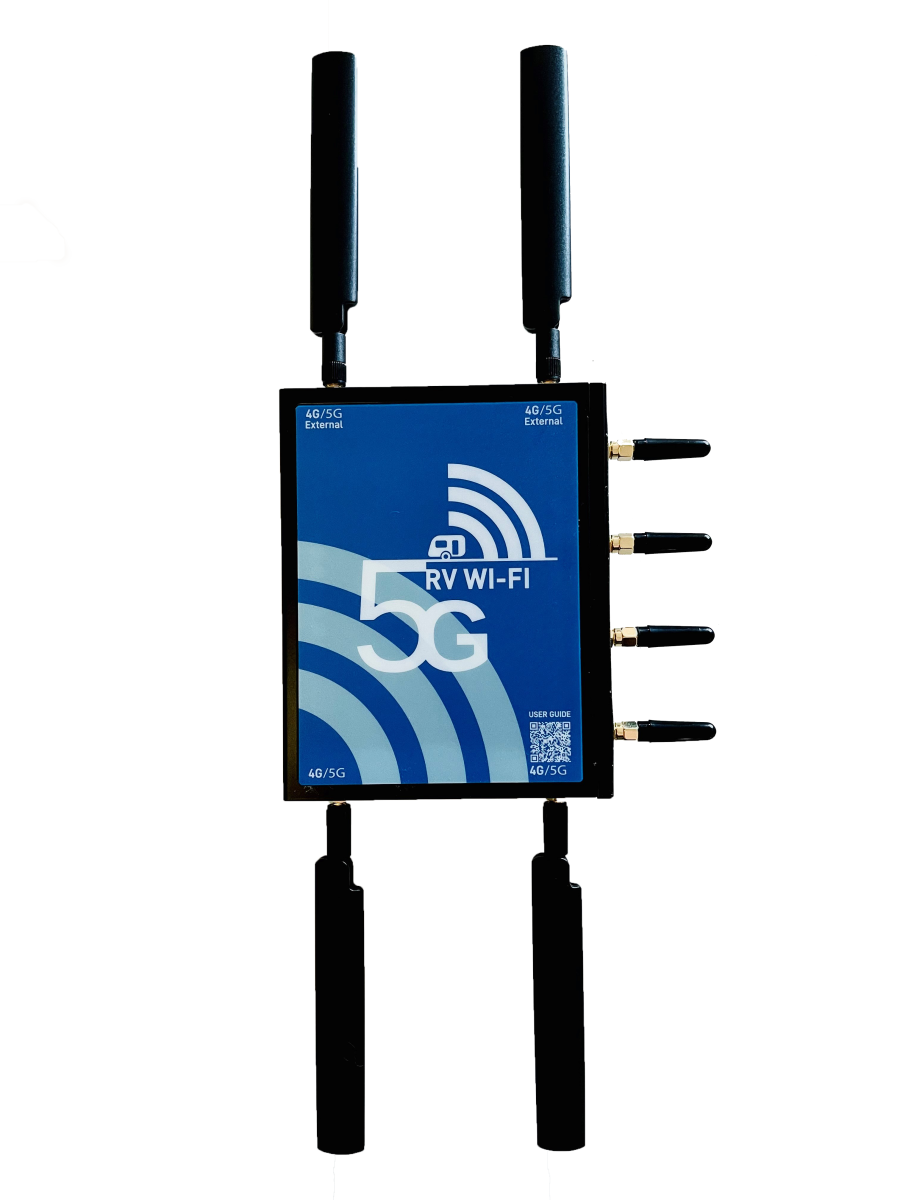 Another feature we love is the Inbuilt Media Bank/Server which lets you watch your own movies and view photos on your phones/tablets and computers. You can also use the internet up to 50 metres from your van. So, if you've parked the van and gone fishing nearby, you can share your catch with your friends!
If you're looking for a cheaper option, RV WiFi also offer a 4G RV Wifi router kit, which our customers also love!
Are you looking for greater signal strength and faster speeds when travelling through remote areas around Australia? The Cel-Fi Go is the answer.
-
The Cel-Fi Go
The Cel-Fi Go will provide you with greater connectivity and increased internet speeds so you can get the most out of your off-grid set-up. This means less time watching your Netflix buffer and more time sharing your adventures with family & friends.
The Cel-Fi Go will not only operate when you are stationary and have set up camp but also when you are on the move. This handy unit will increase your signal by 2 to 3 bars when in stationary mode and by 1 to 2 bars in mobile mode. That's a 200% increase in signal strength!
Under Australian law, signal boosters cannot be used. However the Cel-Fi GO has been approved to be used with the Telstra and Optus signals.
The Cel-Fi Go is your solution to finding cellular coverage while on the road. Here at My Generator we offer the ultimate off-grid bundle with the RV WIFI+4GX Portable Caravan Wifi, RV WIFI High Gain Antenna and Cel-Fi Go Repeater. Check out the Optus or Telstra bundle.
Got more questions before you buy your RV Wifi? Our experts are here to help. Just give them a call on 1300 400 122.
DISCLAIMER* Please note, this advice is general in nature and we strongly recommend consulting the product manual and where relevant, a professional installer.