Looking for a water pump? Whether it's for water transfer, fire-fighting, cleaning farm machinery or pumping dirty water, Honda water pumps have got the job covered.
As the world's largest engine manufacturer, Honda knows how to build water pumps that offer an uncompromising level of performance. They tick all the boxes - easy starting, quiet performance and highly durable. And as an added bonus, all Honda water pumps are backed by a 2-year warranty and national service network.
Overwhelmed by the range of Honda water pumps on the market? To help you choose, here's our pick of the best:
-
WATER TRANSFER PUMP
It was tough but we've narrowed down Honda's water transfer pumps down to two Water Master Water Transfer Pumps renowned for their durability and portable design.
At the lower end of the price scale, there's the Water Master Honda Transfer 1" Water Pump. Simple, reliable and efficient, this dynamo Honda water pump is ideal if you want a portable unit that can still transfer high volumes of water at relatively low pressures. With an east recoil start, it weighs just 6.5 kilos and flows up to 130 litres per minute, which is perfect for flood irrigation, construction site dewatering and fast-fill tanker applications.
For something more powerful, the Water Master Honda Transfer 4" Water Pump is a solid choice. Powered by the famous Honda GX390 engine, this robust pump features heads to 34 m and flows up to a massive 1680 litres/min. It's also available as an electric start model as an optional extra.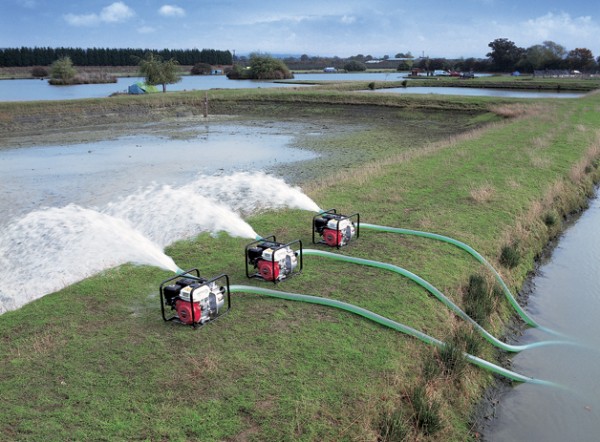 -
FIRE FIGHTING PUMP
Whether you're preparing your property for bushfire season or need pressurised water to wash down farm machinery, it pays to choose a firefighting pump that is reliable and versatile. Powered by Honda, Water Master fire fighting water pumps won't let your down. Our top two are easy to transport thanks to the lightweight, portable design and robust rollover frame. And because easy starting is non-negotiable, both models also come with an optional electric start.
The Water Master Honda Fire Fighting 1.5" Water Pump features an impressive high flow rate of 570 litres/min. Powered by a genuine Honda GX200 engine, you can rely on the pump when you need to move water quickly, with no fuss, such as during floods or bushfire season.
Stepping up, the Water Master Honda Fire Fighting 3" Water Pump is powerful, efficient, lightweight and portable - everything you need in a fire fighting pump. Use it confidently for fire fighting, high pressure water transfer, spray irrigation, flood irrigation, high pressure spraying, boom spraying, wash down and fast fill tanker applications.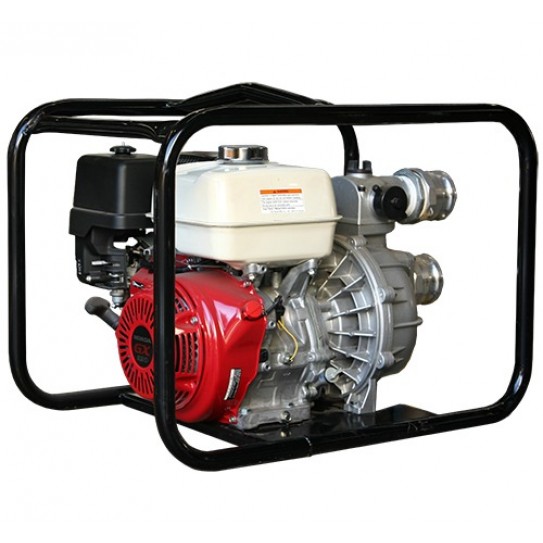 -
TRASH PUMP
Trash pumps are designed to shift dirty water, which may contain leaves, pebbles, twigs, sand and other debris. Built with larger impeller veins and pump housing, there's no grinding or pumping - everything leaves the pump in tact. The key when choosing a trash pump is to choose a higher horsepower engine, which is where Honda water pumps prove their worth.
The Water Master Honda 3" Trash Pump offers rapid self-priming capability, with heads to 30 metres and flows up to 1400 litres/min. Powered by a genuine Honda GX240 4-Stroke Petrol engine, it's designed to transfer high volumes of dirty water through big single closed style impellers. As such, it can handle small solids and debris up to 25mm in size. If you're looking for something to handle waste water, effluent pump out, slurry pumping and construction site dewatering, this Honda water pump does the job with ease. Best of all, it has a quick release clean-out feature for no-fuss maintenance and added durability.
For higher volumes of water, the Water Master Honda 4" Trash Pump is powered by the renowned Honda GX340 engine and produces an impressive flow of 2200 litres/minute. The Honda water pump also has quick-release feature so debris can be quickly and easily removed from a blocked impeller.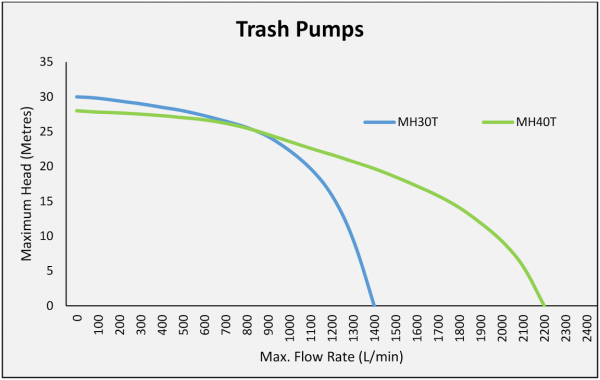 -
Need more advice on selecting the right Honda water pump? Check out our Water Pump Buyer's Guide to Water Pumps.
DISCLAIMER* Please note, this advice is general in nature and we strongly recommend consulting the product manual and where relevant, a professional installer.