So you've decided to follow your dream and travel around Australia. Good on you! First thing's first - you need to invest in a motorhome. Or should that be an RV? Perhaps a caravan? Hmmmmm...
Choosing the perfect rig is the challenge every new Grey Nomad must face. And there is a long list of factors to consider: level of luxury, driving performance, add-ons and of course, space. Not too long ago, bigger was definitely better. But the rising cost of fuel has put the brakes on this trend and many Grey Nomads are sacrificing size for fuel-efficiency.
To help, we've compiled a list of the top 5 types of rigs for Grey Nomads: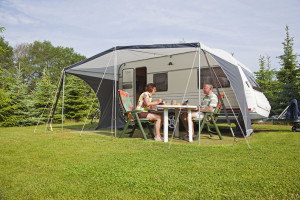 Grey Nomads With Caravan - A Popular Choice!
Caravans: The most popular form of nomad dwelling, caravans marry comfort with privacy and security. But by far the best thing about caravans is the freedom they allow. Once you've set up your pitch and said "G'day" to the neighbours, you can drop the caravan and explore your new surroundings in your tow vehicle. That said, some drivers are put off by the thought of towing a large caravan. For portable power whilst on location you will need a portable generator for your caravan.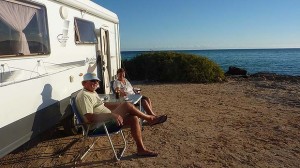 Grey Nomads taking in the view from their Motorhome
Motorhomes: If you often hear yourself saying "we can't leave home without it!" then this is the rig for you. A motorhome is exactly that - a home away from home. And today's motorhomes are kitted out with everything. Everything. Think high definition TV, satellite, air conditioning, sat nav, full barbecue, full sized fridge, expanding verandahs with shade sails. You can even tow a 4WD in case they need to drive to the nearest shops for milk and bread! They don't come cheap (think in the hundreds of thousands...) or small (think anywhere up to 40 feet), but for many, it's worth every cent. For portable power whilst on location you will need a portable generator for your motorhome.
]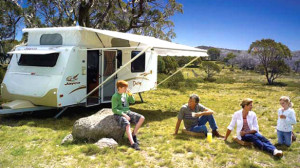 Poptop Caravan on location
Poptop Caravan: The poptop is just like a standard caravan with a twist - its roof folds down when you're travelling. Why? It's all about better driving stability. The streamlined caravan offers less wind resistance on the road meaning fuel consumption is generally less than your average caravan. The downside for some is that the maximum length of a poptop is around 17 feet, because this is all the roof can support. For others, this is the perfect size. For portable power whilst on location you will need a portable generator for your poptop caravan.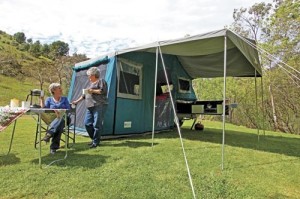 Grey Nomads with Camper Trailer
Camper Trailers: We'll admit this isn't the dream for the vast majority of Grey Nomads, but there are some who happily tour the country in a camper trailer for years. That's because camper trailers have become a lot more advanced than their prehistoric forefathers. Modern camper trailers can be unfolded or packed away in a matter of seconds...okay, minutes. Some even come with a hard roof that transforms into a hard floor for the annex. Light, easy to tow and a less expensive option, the camper trailer provides a more down and dirty camping experience. For portable power whilst on remote location you will need a portable generator for your camper trailer.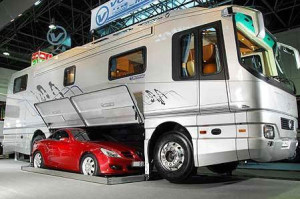 Travelling in style with a Volkner Mobil
The Ultimate Dream: Heard of Volkner Mobil? If you haven't, it might be best to stop reading and stay in the dark because once you have seen their mobile homes it's hard to go back to the camper trailer! The German design geniuses at Volkner Mobil have created an uber-luxurious bus which comes complete with space for a super car underneath. Is that all? No. How about a fully fitted kitchen with integrated dishwasher, full-size massage shower, underfloor heating, and integrated music system? All comfortably housed in a 40ft-long Volkner Mobil Performance bus. Not even a cool million will buy you this dream. Maybe it's time to weigh up options 1 to 4 again! Whichever rig you choose you'll be sure to have the adventure of a lifetime. Get out there and join the grey nomads today! For more helpful information visit www.mygenerator.com.au
DISCLAIMER* Please note, this advice is general in nature and we strongly recommend consulting the product manual and where relevant, a professional installer.