Investing in a high pressure water cleaner for your job site, farm, factory or business? Don't spend a cent before checking our essential guide.
Commercial high pressure water cleaner units are known for their powerful engines, durable pumps and ceramic pistons. But the list of advantages goes on much longer. There are some quality manufacturers that build models designed to tackle your general business cleaning right through to the the toughest industrial grade tasks with ease.
Commercial high pressure water cleaner units are packed with features, accessories and high quality components to make them suitable for practically any application, from concrete cleaning, mechanics garages, removing mold and mildew, washing fencing and retaining walls...the list goes on!
-
What makes high pressure water cleaner different from Domestic Pressure Washers?
With higher pressures than domestic pressure washers, pro pressure washers are fast and effective. Whether you need to wash down equipment on the farm or in the factory, they will cut cleaning time so you can move onto the next job.
Commercial: Quality commercial grade pressure washers from brands such as Gerni, Crommelins, Subaru, AR Blue Clean will use brass pump heads which are stronger, can handle more intensive use and have a longer lifetime.
Quality commercial grade pressure washers will also use solid ceramic pistons to avoid corrosion and thus also extending the unit's lifetime.
Domestic: Pressure washers built for home use will typically use an aluminum pump head and solid steel pistons. These are lighter in weight and suit household cleaning requirements. When looking at domestic washers, again its best to opt for a quality brand (as listed above) as they will use non-corrosive aluminum which will prolong the life of the unit, as compared to cheaper brands which are often prone to corrosion.
-
Electric, Petrol, or Diesel Commercial Pressure Washer?
Deciding between an electric, petrol and diesel powered commercial pressure washer is the first decision you need to make.
Commercial electric pressure washers are more powerful than their domestic counterparts, so they can tackle larger areas and work for longer. They are quieter than fuel-powered machines and can be used in certain areas (such as indoors, or around food etc.), often where fuel-powered machines cannot. You also won't need to spend as much time and money maintaining the machine with servicing, fresh oil, fuel etc.
For business use, electric high pressure water cleaner models are typically used for light to medium tasks such as; agribusiness cleaning, small automotive garages, car rental companies, cleaning tools/equipment, small building facades, graffiti removal, sandblasting and more.
Petrol and diesel powered pressure washers are more powerful still and are used for medium to heavy grade cleaning tasks in commercial industry. They have the benefit of not being restricted to access of mains power and can handle regular, intensive use for larger tasks.
Good quality petrol powered high pressure water cleaner models are powered by the likes of Honda engines - designed for professional and commercial requirements and built to handle intensive use over many, many years.
Similarly, premium grade diesel powered pressure washers are powered by the likes of Subaru engines are designed for industrial grade tasks. When choosing between petrol or diesel pressure washers, it often comes down to what fuel your business is using for other power equipment such as generators, pumps, vehicles etc. Diesel engines don't have to work as hard as petrol engines to get the same power output and have the benefits of longevity, whereas petrol engines are typically cheaper and there is a greater choice available.
Petrol and diesel powered pressure cleaners are most commonly used for commercial requirements such as; paint stripping, large shop front cleaning, washing down dusty & dirty machinery, construction & mine sites, concrete cleaning, vehicle fleets, agricultural and hire industries.
-
What size do I need?
When choosing a pressure washer for sale, an important thing to note is that you can actually clean just about anything with a pressure washer over time...for example, you could use a small, entry-level 1500PSI domestic pressure washer to clean a large semi-trailer truck, but it would take a very, very long time! So one of the key things you are buying is time; generally speaking, the larger the task, the larger the required pressure washer.
Be sure to consider not only the pressure rating (PSI) of a high pressure water cleaner, but also the flow rate (Litres per Minute). The combination of these two specifications on the pressures washer really tells the story of the cleaning power of the unit. This table provides a good guide for what sized pressure washer (in terms of PSI and Flow Rate) you should look for to undertake your commercial cleaning tasks: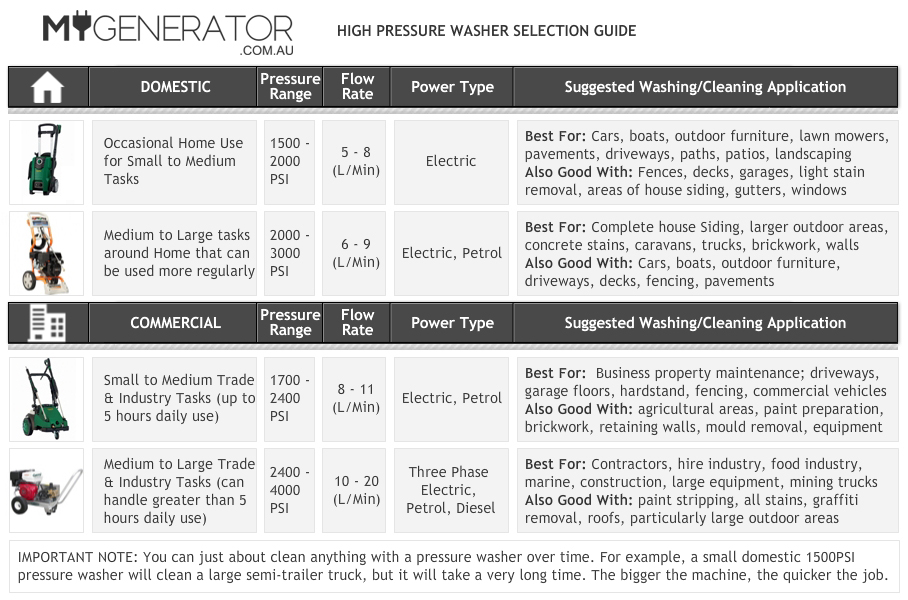 -
Features to look for?
1. Thermal Relief Valve/Thermal Dump: You want a good quality unit that has Thermal Cutout in the electric models - This feature the motor cuts out when heating is excessive to protect the unit. For petrol and diesel models, you want a 'thermal dump' feature which involves a valve that releases water when pressure is built up, but the trigger of the gun is not pulled to release, also designed to protect your unit.
2. Robust build: If you are looking at a petrol or diesel unit for tough work sites like construction jobs or mine sites, then look for features like rugged steel roll over frames, anti-vibration mounts, pneumatic wheels and a rubber isolated engine mounting plate. Other options include models that can be built to satisfy mine-spec standards including fire extinguisher, bunding and safety stop.
3. Compatible Accessories: There are many types of additional compatible nozzles, guns, extension lances/hoses, surface cleaners that you can look for. Two of the most popular ones are:
Turbo heads / turbohammer nozzles / powerspeed nozzles - This kind of nozzle spins a zero degree spray in a wider circle at 3000 rotations per minute. The spinning water jet hits the surface area from multiple angles, quickly breaking down the substance you want removed. As a result, turbo nozzles can cut cleaning time significantly. Very popular for concrete/paving cleaning to rid of moss, mold, stains paint etc.
Commercial Surface Cleaner - designed for fast cleaning time of driveways, warehouse, floors, large paved areas, etc. It is easy to use, has minimal splash (ideal around buildings, shop fronts, paths) and is ergonomic in design. Similar to the turbo nozzles, but limits splash.
4. Quality Brand: opt for a quality brand with a solid warranty and national service support network. Its not worth going down the path of finding the cheapest pressure washer on eBay that has no brand recognition and no service agent backing. Not only will a quality brand have superior performance in areas such as design, ease of use, reliability and output, but you'll experience a much longer life with a reputable washer as opposed to a cheap no name product.
-
Recommendations?
Electric high pressure water cleaner for small to medium business duties:
Gerni MC 4M Pressure Washer, 2320PSI
The Gerni MC 4M is one of the latest releases in the professional Gerni water pressure cleaner range. This new model features increased power, a new design and a unique and fast foam sprayer system with a separate bottle for efficient cleaning.
A portable single phase cold water pressure cleaner, designed for light to moderate commercial use that delivers superior cleaning results, saved time and lower costs. The powerful performance of the MC4M is ensured by a high-quality 1450 rpm motor-pump with a brass pump head. A great pressure washer all-rounder for your business.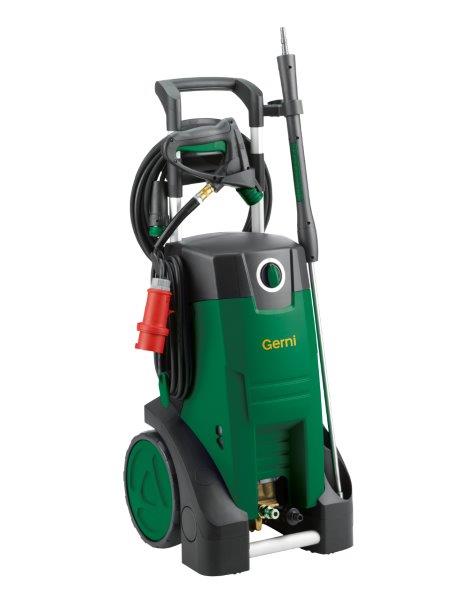 Petrol high pressure water cleaner for all purpose commercial cleaning:
Gerni Poseidon 3-39PE Honda Powered Petrol Pressure Washer, 2400PSI
Compact and robust commercial pressure washer powered by Honda, The Gerni Poseidon 3-39 PE designed for everyday cleaning in the Agricultural, Construction, Food or Transport industries and where there is no electrical power.
With a world leading Honda engine, ceramic pistons, pneumatic wheels and tough framing, this is a premium choice for any business cleaning and wash down tasks.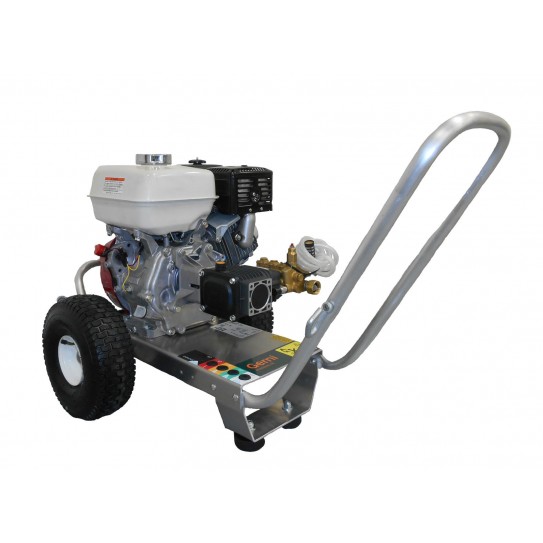 Diesel high pressure water cleaner for heavy duty industry requirements:
Crommelins Subaru 3000PSI Diesel Professional Pressure Washer
Powered by the 9.4hp DY42 Subaru Engine, delivering a max power of 3000psi. Ideal for washing down dusty & dirty machinery, cleaning work sites and construction/mining equipment, as well as agricultural and general trade uses.
The benefits of Diesel longevity and tough roll frame, the unit is popular for mining jobs and can be fully equipped with bunding, safety stop and extinguishers if required.
-
FOR MORE COMMERCIAL HIGH PRESSURE WATER CLEANER OPTIONS, SEE OUR FULL RANGE HERE!
-
DISCLAIMER* Please note, this advice is general in nature and we strongly recommend consulting the product manual and where relevant, a professional installer.