WIN AN ENERDRIVE 100AH LITHIUM BATTERY & 40A DC2DC CHARGER PACK WORTH $1,560! -
This Competition Is Now Closed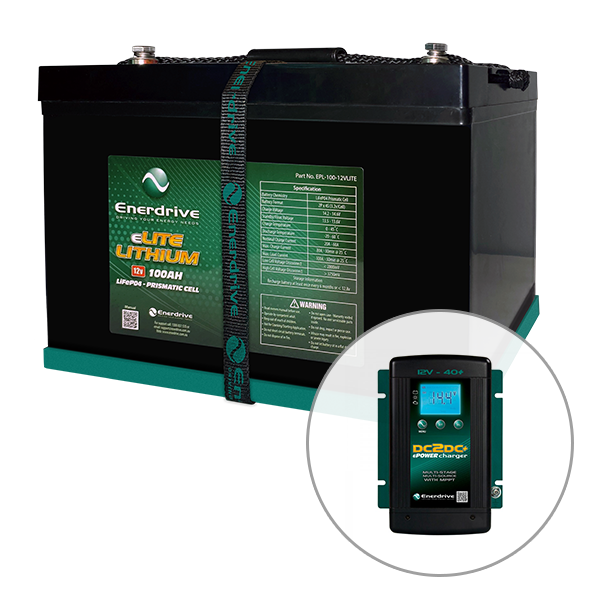 We have partnered up with Trip In A Van to giveaway an
Enerdrive Elite 12V 100Ah Lithium Battery
& 40A DC to DC Charger Pack worth $1,560!
To enter:
Fill in the below form
Subscribe to Trip In A Van on Youtube (see vid below)
---
Trip In A Van: 12 Volt Power System In A Choppped 200 Landcruiser + Enerdrive Giveaway!
---
About The Prize:
This battery and charger combo is perfect for powering your favourite appliances and electronics in your caravan, RV, camper trailer or 4WD!
The newly released Enerdrive 100Ah eLITE battery provides 60% more usable power than its equivalent lead acid cousin and being nearly 50% lighter and 30% smaller makes for a superior alternative.
The Enerdrive ePOWER 12V 40A DC to DC Battery Charger is the most popular DC to DC Charger currently on the market. It is designed to meet the rugged demands of Australian conditions and delivering multiple source charging for DC systems.
For more details on the prize, click here
---
Exclusive TIAV Discount Codes with My Generator:
You can shop our entire site here and use these discount codes:
Use TIAV40 in the check out to get $40 off any product over $1,000.
Use TIAV50 in the check out to get $50 off any product over $1,700.
Use TIAV75 in the check out to get $75 off any product over $5,000.