From prime to continuous to standby, buying a stationary generator for business use requires some important considerations. Here are 5 decisions you need to make before you buy.
Prime, continuous or standby?
Your choice of generator will differ depending on whether you want prime/continuous power or standby power. Continuous and prime generators both function as the main source of power, rather than standby power, they are designed to operate for extended periods of time. Standby/emergency generators, on the other hand, are designed as a power backup in the event of a mains power outage - not for continuous use. A popular option for a standby generators is Powerlink:
Generator for business size?
The power output of the generator is one of the first things you need to think about. Look at the KVA of the generators - how much do you need for your business? Look at the essential systems and equipment, and consider what you need to keep your business running. Heating, air-conditioning, ventilation, industrial equipment, major appliances, lights, computers, printers, sump pumps - it all adds up!
You should also note that stationary generator for business use will have both a standby power rating and a prime rating. So depending on your requirements, check what the generator is capable of for your intended use and ensure the size matches.
The generator you choose must be sized to either handle the full electric load or use an automated transfer switch (ATS) or manual transfer switch to prevent the standby generator from overloading. Remember, more power is required to restart systems and equipment in a power outage than to continue operating them. Stationary generators can provide power outputs ranging from a modest 8kVA to a massive 2Megawatts and beyond.
Canopy, open-set or containerised?
Commercial generators today come in a range of set-ups, so you need to think about the best design for your application. Do you need a silenced canopy or can you afford to have an open-set? There are also container-style generators. For example, the Himoinsa 17kVA Super Silent Diesel Generator features a soundproof canopy for just 62 decibels of sound at a distance of seven metres. The robust anti-corrosive powder-coated steel canopy also acts as protection for the generator in harsh conditions.
Fuel source?
Stationary generators are typically powered by either diesel or natural gas. There are pros and cons to both, so make sure you do your research by speaking to your utility company or a licensed electrician. The building's specifications might make the decision for you! Either way, your commercial generator for business should be installed by qualified technicians to comply with utility company regulations, as well as local and national building codes.
Engine preference?
The great news is there's a wide choice of quality engines when used when it comes to looking at a generator for business. The bad news is you need to make a decision. Will it be Yanmar, Perkins, Cummins, Kubota or even Volvo? Do your research into the pros and cons of each, and ultimately weigh them up with the other features. In addition to the reputation of the manufacturer, look at the warranty they offer with their engine.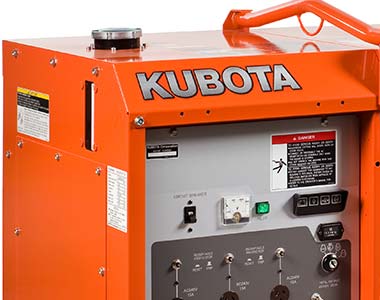 Don't forget about other top features!
If you're feeling green, some commercial generators are a more environmentally friendly choice than others. For example, some Himoinsa models have fully bunded fluids preventing external fuel and oil spillages.
Another chief consideration is maintenance. Even the most expensive generator for business models need some TLC from time to time, so before buying make sure you know you can get spare parts delivered and get your machine serviced locally. Better yet, make sure you can do the basics yourself without too much hassle. Take the Kubota models, which feature oil, water and filters on one side for ease of maintenance as well as a double air cleaner element.
Need a generator for business backup or prime power? Check out our commercial generators and compare.
-
DISCLAIMER* Please note, this advice is general in nature and we strongly recommend consulting the product manual and where relevant, a professional installer.