Choosing suitable pressure washer accessories is just as important as choosing the pressure washer! These accessories, nozzles and fittings can potentially make your life and job easier and more efficient. To find out which pressure washer accessories are suitable for your needs, read on.
-
Pressure Washer Nozzles:
-
When it comes to pressure washer nozzles, having the right spray tip for your pressure washer unit could potentially reduce your run time and increase your efficiency.
The base line units will come with 4 or 5 coloured quick connect snap-in spray tips, which will each give you a different spray stream. Below is an example of the standard tips and an idea of the spray they will provide. It's important to note, these tips are entry level and due to being plastic, tend to break easily.
-
Another fitting that has stormed the industry is the Pressure Washer Quick Connect Turbo Nozzle. These high pressure nozzle heads are the latest and greatest in cleaning power for your unit. Not only do they increase your pressure, they will also oscillate a thin steam of pressured water in a cone like radius.
You're able to select a nozzle radius of 30, 40, 45 and even 50 cm. These are ideal for deck or fence timber revival, concrete cleaning, and stubborn high pressure cleaning jobs and stain removal; but be careful and ensure to wear leg and foot protection, this turbo head has a lot of power and will cause you injury if not used safely.
Below is an example to further illustrate their function, with a recommended video of one in action. I think you'll agree with us that this addition is the way to go for your new machine.
-
Pressure Washer Hose Fittings:
-
Now, hose fittings can become extremely confusing and complex - we will try our best to keep it simple.
Pressure washer fittings connect pressure washers between the high pressure hose and trigger gun/accessories or between the pump and pressure hose.
As a general rule, when you purchase a pressure washer it will come with the fittings to suit the unit and attachments, couplers and adapters needed to make it work straight out-of-the-box. You will only start to need fittings when you want to:
If this is the case than you may need to purchase additional fittings. There are two different types of fittings: Quick Connect and M22 Swivel Fittings.

Quick Connect (QC) Fittings:
Quick connect fittings allows hoses and equipment to be connected and removed fast and easy.
There are two ends to these fittings: The female and male side.
The female end has threading on the inside, while the male has threading on the outside; so the male threads into the female. Female quick connect hose fittings have an o-ring to prevent leaks.
*These Quick Connect fitting have an o-ring that will sometimes need replacing.
-
Swivel Fitting (M22 Female/Male):
Now, we all know one of the most frustrating parts of pressure washing is when your hose becomes quickly intertwined and tangled. That's why we strongly recommend you look into getting a swivel fitting for your machine. Swivels stop the hose from kinking when in use and helps to untangle it when you first unravel the hose.
It works by allowing swivel (spinning) of the hose, without you having to twist the spray trigger gun and extension wand in big circles.
You can just walk it out and the gun swivel twists out the hose kinks as you walk. Trust us when we say, once you give this fitting a try, you will never want to pressure wash without it!

High Pressure Cleaner Fittings and Fitting Threads Explained:
-
Fitting Sizes
High Pressure Cleaner Fittings and fitting threads can be quite confusing. However, as a rule there are three main styles of fittings which we've added below:
-
M22 Threads (Both male and female threads):
This refers to the threaded Male and Female end of the fitting, rather than the connection fitting at the other end of the fitting.
Generally used to connect a lance to the trigger gun, the trigger gun to M22 screw on fitting (used by most smaller Domestic High Pressure Washer units and Kranzle)
-
3/8? Threads (Both Male and Female threads):
This refers to the threaded Male and Female end of the fitting, rather that the connection fitting at the other end of the fitting.
-
1/4" Threads:
Usually hose, gun and machine thread connectors. This refers to the threaded Male and Female end of the fitting, rather that the connection fitting at the other end of the fitting.
-
Here's a complete overview of fitting and their respective sizes of threads: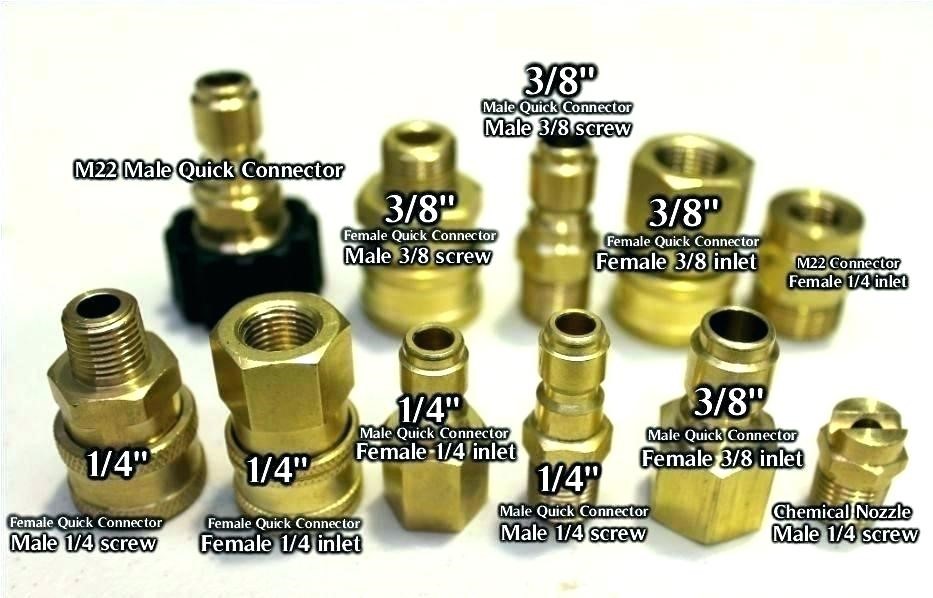 Wanting a more detailed explanation of fittings and threads? Check out this video:
Please note, our friendly team at My Generator is able to assist you in selecting the right fitting for your application. You can call one of our product experts on 1300 400 122 during business hours or Contact Us Here.
-
Pressure Washer Accessories:
-
If you've made it this far, you must be super keen to learn more, so let's take you through some added accessories that make your pressure washer a useful must have' tool for any user.
If you have a large area of concrete like paths, driveways or around a pool to clean, the best attachment tool for the job has got to be the Powershot 18" (450mm Round Floor Cleaner and for a larger area the Powershot Heavy Duty 21" (530mm Round Floor Cleaner. Check out our full range of round floor cleaners here.
Naturally, you can't go past the Turbo Nozzle that we've mentioned above, but another great attachment is the Foaming Lance Bottle. This accessory sends out streams of air and bubbly mixes such as degreaser, soap, window cleaner, car wash and deodorizers, to assist you with the cleaning process. It's a fabulous addition to your high pressure washing equipment.
There are many other attachments on the market, but we've touched base on the main ones we recommend as a necessity, depending of course on the job your doing.
Other attachments worth checking out are the 30 metre Hose Reel and 60 metre Hose Reel, Sand Blast Set, Double Lance, Underfloor Lance, Lance Extensions and 5 Metre Telescopic Wand Lance. These accessories will save you bending over for extended periods of time which can make all the difference to your overall comfort and work output.
-
Final Notes:
-
If you've made it this far, Congratulations! You have now completed our crash course on pressure washers and their accessories. Remember, if you have any questions or need advice with your Pressure Washer purchase, please reach out to one of our friendly staff at My Generator.
Wanting information on which pressure washer is suitable for your needs? Check out our dedicated blog post here.
-
DISCLAIMER* Please note, this advice is general in nature and we strongly recommend consulting the product manual and where relevant, a professional installer.